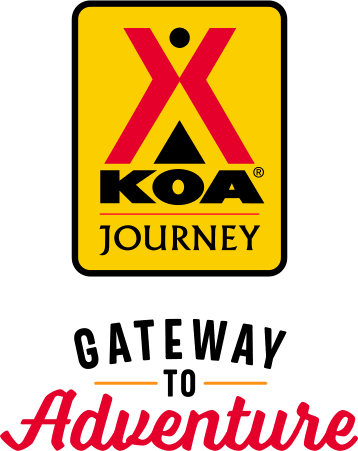 KOA Journey Campgrounds
KOA Journey campgrounds are the perfect oases after a day on the road. Whether it's along the way or a quick getaway, they've got you covered. Located near the highways and byways of North America with long Pull-thru RV Sites, they deliver convenience to the traveling camper. Pull in, ease back and take a load off.
KOA Journeys Feature:
Pull-through RV Sites with 50-amp service
Premium Tent Sites
Well lit after hours check-in service
Directions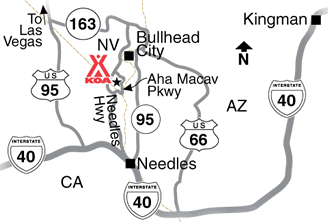 Located on the Arizona, California & Nevada Border, at the Avi Resort & Casino!
From I-40 Exit River Rd cutoff, which becomes Needles Hwy, north 14 miles to Aha Macav Parkway. Look for the Avi sign. Turn right and continue 2 miles to the Avi.
CLICK HERE For Directions Via Google Maps!
Get Google Directions
Feb 28, 2021
We had a 3 mth stay at Laughlin KOA and it was great! Office staff is great and very accommodating. Sheri is great! Fireworks happen, but not on the KOA Kampground, only at Casino. Never bothered us. Yes, you will hear them, but don't get upset with the KOA employees for it's out of their control. The employees will do what they can to accommodate you. We will be back. Then you for everythi
Feb 28, 2021
We had a pleasant stay. We had friends with us and we had a buddy site. We all agreed we would stay again. Campground was clean, sites were nice size. Convenient to places we wanted to go to.
Feb 27, 2021
enjoyed the stay, convenient to the Avi Casino, laughlin casinos and AZ grocery stores. will return
Feb 27, 2021
It was good. Just basic dirt sites. But full hookups that was nice.
Feb 25, 2021
The stay was nice clean pleasant rates are very good. Employees was nice. I be back again.
Feb 24, 2021
The location of this KOA is ideal for visiting Laughlin, Oatman , or Las Vegas . Always kept clean ! Office person is always polite but could use another person to help out when busy! Fireworks need to end by 10:00 pm but seldom is enforced !!
Feb 24, 2021
We've been going there for years it has gone down hill! Use to have green grass now all dead! No control over speed limit! No limit in vehicles at sites!
Feb 24, 2021
Awesome. Best showers on our trip. :-)
Feb 23, 2021
The railroad ties between the campsites are a trip hazzard and a bad idea. They should be replaced with something flush with the ground or eliminated. I have seen multiple fall caused by them. It's a matter of time before there is serious injury.
Feb 23, 2021
Campground is unkept. Dog park has dead grass. I picked up 20 piles of other people dog feces. There are sprinkler heads but they are not in use to keep the dog park green. They have a wetland area that says stay out but yet the maintenance guy in the golf cart was continually driving over it. the wetland is dry it is not being watered either.
Feb 23, 2021
Campsites too small...they were narrow...you either had to set your rug and chairs in the front or back of your rig....employees were great and helpful!
Feb 23, 2021
Super quiet and friendly people.
Feb 23, 2021
Great staff got my Family in last minute. We will Definitely be back soon. This place is VERY CLEAN AND NICE
Feb 22, 2021
You're prices skyrocketed to almost double last year and we couldn't use our points due to employees not trained to apply them!
Feb 22, 2021
Everything was good.
Feb 22, 2021
We enjoyed our stay. The campground was neat and clean convenient to everything. Will return again.
Feb 21, 2021
Will not be back. RV park was fine but the fireworks were awful and will not be back or recommend the park.
Feb 20, 2021
Laughlin/Avi Casino KOA has a friendly and helpful staff. In our opinion, the campsites are spaced a little too close together. If you have two families coming along you will face one another at each site, which is desirable. Otherwise, it is unavoidable due to the direction you are required to park your rig. The "beach"/pool at the Casino were closed due to Covid in mid-February '21.
Feb 20, 2021
The campground was nice enough, but there is a field for shooting off fireworks just across the road, where folks are permitted to shoot off fireworks 7 days per week and well into the night...even after bedtime. It was extremely noisy every night we were there. Also, we were positioned next to the main road...also noisy all night long.
Feb 20, 2021
We were lucky to get our favorite site. Hopefully we will again. Thank you.
Feb 19, 2021
It was an ok stay, but it's just a sand parking lot. Hard to keep sand out of the rv. Didn't really appreciate the nightly fireworks late into the night.
Feb 19, 2021
Campground is clean. We did not use bathrooms or laundromat. Nightly fireworks (not KOA or AVI sponsored) were hard on our dog as well as being late in the evening. Convenient to groceries and diesel fuel.
Feb 19, 2021
Small sites. Sites faced each other. 3 out 4 night firework were going off. All gravel sites. Had to ask for a picnic table and then it barely fit on the site.
Feb 19, 2021
Other than it being a very windy and dusty place everything was great. The caretakers do need to clean the dog pen more often. There are not a lot of responsible dog owners unfortunately.
Feb 18, 2021
Decent enough campground, mostly dirt and rock. Right next to a nice golf course and casino. The fireworks are ridiculous and go off every night for hours. They do mention that fireworks are allowed by never expected them to be so much. It was very windy during the stay.
Feb 18, 2021
Way too many fireworks every night! Don't stay in the first row 880's if you don't want to hear the casino traffic! Lots of dirt, friendly staff wish I would have known they would bring a table to our site. Not every site had a picnic table. You can walk to the casino but due to Covid not a lot of kid activities right now.
Feb 18, 2021
We stay here every once in a while and really like the Long & Wide sites, very nice. An added bonus this time, nobody had stole the cable splitter from the pedestal. The staff is always very nice and gives you another one but really, don't take the cable splitters! If you can afford to RV, surely you can afford a splitter.
Feb 18, 2021
It's fine for a few nights except for the fireworks that get set off in the park.
Feb 17, 2021
Disappointed..too crammed cant even park my own truck on my spot..no picnic table. Absolutely no good
Feb 17, 2021
The day I arrived I tried contacting the office they closed early. They don't follow posted hours. There were fireworks being shot off every night. I would never recommend this park to dog owners. One day the fireworks were being set off at noon two other days at 2-3 pm and until midnight. The site we were in was small, no table. I enjoyed dog run and bags provided. Park is clean.
Feb 17, 2021
We didn't know they had daycare until the last day we were there ��
Feb 16, 2021
Our 2nd time staying there. Will probably stay there next year also.
Feb 16, 2021
Left a day early it was really loud at night.
Feb 16, 2021
Overall a good visit. Only a few issues with sewer smell with being so close to the dump station. Clean restrooms and showers.
Feb 16, 2021
Great people facilities always clean
Feb 16, 2021
It is a great place for camping. Loved the camp site next to the grass area or protected wetlands. Easy to drive through with a 32ft trailer. Lots of room to turn. The spaces are clean and easy for kook ups. I will be going back.
Feb 25, 2021
Amazing place and if you love golf the golf course is right next door.
- Jose Rodriguez on Google
Feb 21, 2021
I particularly l liked the golf cart valet to and from the campground. Would have liked better food choices during the day.
- Chris Elwonger on Google
Feb 20, 2021
Nice Clean RV PARK !!!
- Jerry Huff on Google