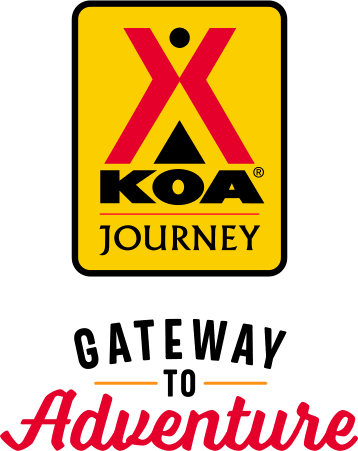 KOA Journey Campgrounds
KOA Journey campgrounds are the perfect oases after a day on the road. Whether it's along the way or a quick getaway, they've got you covered. Located near the highways and byways of North America with long Pull-thru RV Sites, they deliver convenience to the traveling camper. Pull in, ease back and take a load off.
KOA Journeys Feature:
Pull-through RV Sites with 50-amp service
Premium Tent Sites
Well lit after hours check-in service
Directions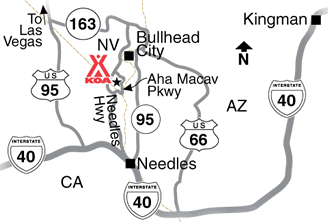 Located on the Arizona, California & Nevada Border, at the Avi Resort & Casino!
From I-40 Exit River Rd cutoff, which becomes Needles Hwy, north 14 miles to Aha Macav Parkway. Look for the Avi sign. Turn right and continue 2 miles to the Avi.
CLICK HERE For Directions Via Google Maps!
Get Google Directions
May 10, 2021
It was adequate for our one night stay as a stopover. However, it's just a huge gravel parking lot with hook ups. I know it's dry there but they need to do something to pretty-up the place. I can safely say it's the ugliest KOA where I've stayed.
May 10, 2021
Somebody's car alarm would start honking every morning at 4:30 a.m. Local fireworks a little out of control at times. Smell of reclaimed water used at the golf course next door was awful. KOA itself is good. Clean restrooms, friendly staff, good location.
May 09, 2021
Large site for our 5th wheel and everything worked well. Pool at the csino was nice and not crowded at this time. Had a good time.
May 08, 2021
Quiet clean and peaceful
May 08, 2021
Did not stay. Reserved online. Unfortunately we had to Cancel for which I emailed them a cancellation. Seems they cannot answer email but can reserve and take your money online. They left a message on my voicemail a day after I emailed them and they told me they will check me in. They did and they charged me. Would not recommend based on this.
May 07, 2021
Very friendly people and great campground.
May 07, 2021
Very nice campground!
May 07, 2021
A big beautiful park with lots of large and some shades sights. However, we were output in the smallest space and could not pull through because the camper next to us parked in the road. The sight was so small that we couldn't put out our awning. Someone is not paying attention.
May 07, 2021
Loved it. Level, clean, quiet. Fun to walk over to the casino, pool, and beach area.
May 06, 2021
We really enjoyed our stay! The campgrounds were very nice, clean and quiet. The casino was nice, too and the staff very friendly. We will definitely be back!
May 05, 2021
We have stayed many other times and like always the staff was very friendly , helpful and nice and the park was clean we once again had a enjoyable time at the Avi KOA Thanks to all of you. Chuck & Maritza S.
May 04, 2021
Great place, very clean and quiet (after the fireworks)
May 03, 2021
Scheduled a week at the campground having never been to the area before. check in was a breeze and site was spacious. Site is hard packed desert sand. Access to casino and amenities was easy. We left after 5 days as we had visited locations in the area we wanted to. Notified office of early departure, was not an issue and received credit for days not used promptly.
May 03, 2021
We asked for a shady spot, and were put right next to someone, (tight sites) when there were plenty of empty sites. Scolded by clerk to wear a mask, yet the other clerk did not wear one. Laundry had 6 machines not working. Fireworks from nearby went off every night and sometimes during day. We know KOA can't stop it, but people should be aware of it. Casino was filled with smokers.
May 02, 2021
Only real complaint is that amenities were closed, pool, etc. As result would have been nice to have been given a discount on stay. Toward end pool did open however its not on site but over at casino.
May 02, 2021
Office and laundry closed at 4 pm... we arrived at 3:30 for a one night stay... couldn't even do our laundry. Very inconvenient.
May 01, 2021
Nice location with good sized sites. If you like casino action, it's right across the street as well as a convenience store. Smith's, Safeway and CVS are a 5 minute drive away. Will stay again
May 01, 2021
office people was great park was clean & nice bathrooms clean will be staying again in future
Apr 30, 2021
The campsite is clean and the services are good. But we don't like the area. We don't gamble. We enjoyed the pool at the casino.
Apr 30, 2021
Friendly staff and clean. Great rates.
Apr 30, 2021
Great for overnight while traveling and if you want to gamble at the casino.
Apr 29, 2021
Love it here we've stayed here twice now and will be back again staff it's great friendly park is maintained beautiful
Apr 28, 2021
Always great!
Apr 28, 2021
The staff was very friendly and helpful at both the RV Park and the Casino. The park was very clean and setup well. We were traveling and received a call from the office to make sure we would make it by check in time, we were running late so they checked us in over the phone and our site information was ready for us when we arrived. We will be coming back in October.
Apr 28, 2021
Just needed to relax
Apr 27, 2021
Large spots. Great for groups traveling together. Wish there were more trees.
Apr 27, 2021
Clean restrooms and level sites. Lots of sand! Very reasonable prices, too.
Apr 27, 2021
Grounds very well taken care of and clean. Staff friendly and helpful.
Apr 27, 2021
Clean sites, quiet surroundings and shuttle service to casino
Apr 27, 2021
we had a wonderful time thanks for having us, see you again.
Apr 27, 2021
It was fine, except for the fireworks every night.
Apr 26, 2021
We've been staying with you in Laughlin annually for more than 20 years... always enjoyable.. Thank You Again.. Jim Costalupes
Apr 25, 2021
We stay here every year. Clean and neet.
- Karen Peterson on Google
May 11, 2021
The campground experience was greater than the AVI Casino!
- beverly bradshaw on Google