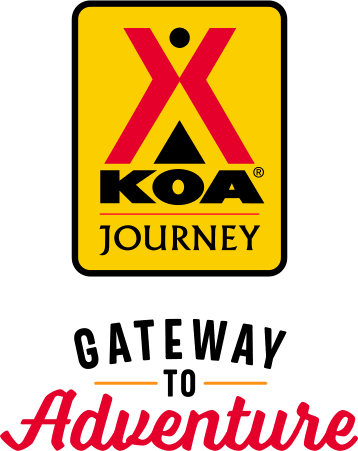 KOA Journey Campgrounds
KOA Journey campgrounds are the perfect oases after a day on the road. Whether it's along the way or a quick getaway, they've got you covered. Located near the highways and byways of North America with long Pull-thru RV Sites, they deliver convenience to the traveling camper. Pull in, ease back and take a load off.
KOA Journeys Feature:
Pull-through RV Sites with 50-amp service
Premium Tent Sites
Well lit after hours check-in service
Directions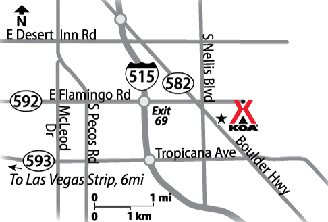 From Interstate 515: Exit 69 Turn East (away from the strip) onto Flamingo, Turn Right onto Boulder Highway South, Watch for left turn lane into campground just past (south) Sam's Town Hotel and Gambling Hall.
Located near many RV rental depots, including Apollo, Road Bear, El Monte, Best Time, Cruise America, Escape and JUCY, also close are several grocery stores and restaurants both dine in and take out, making Las Vegas KOA at Sam's Town the perfect place to start your RV Journey.
Get Google Directions
Jul 05, 2020
The customer service is awesome. The space we were in was tight with not a lot of room to sit outside, but honestly it's too hot to be out there for long anyway. We had a last minute stay because of truck issues, but they were very accommodating and reassuring that they could make our last minute, early check in work.
Jul 04, 2020
Excellent and quiet. I used it for work the entire month to avoid hotels and restaurants. Just disappointed that I ony got 2,250 points for an $800 stay on my value rewards.
Jul 04, 2020
Stuck me next to some full time residences, most likely tweakers or meth heads. Horrible conditions, couldn't stay, too dangerous. Didn't even dump my tanks, went straight for home even though it was 6 hours away after driving all day.
Jul 04, 2020
Very clean. People are friendly and close to everything. We have traveled over 3000 miles From Tennessee and stopped at many KOA's along the way and have to say this was at the top of our list clean and easy access to everything. Thank you KOA
Jul 03, 2020
Looked a little run down upgraded to patio site not very impressed broken chair on site positive priceing was good
Jul 03, 2020
Always clean and quiet. Staff is professional and polite.
Jul 03, 2020
Late night arrival and was greeted by friendly staff. Easy to use the facilities and nice prices of small goods at the shop that we left at home.
Jul 03, 2020
Good location. Little space and no place to sit outside. If there had been some shade, it would have been a lot nicer.
Jul 03, 2020
A great pass thru location to your vacay destination. Dog park is nice with grass. Pool a little small but its clean. Big pull thru sites with easy access and a casino to have a little fun before heading out on the road.
Jul 02, 2020
Excellent caring and knowledgeable staff. Very clean facilities. We truly appreciate the extra mile all of the staff has demonstrated, to keep us safe, during the Covid19 crisis. Thank You
Jul 02, 2020
It was just overnight but the site was nice, we had not stayed in that site before. Power, water and sewer were in good condition. We always know we will return to the nice sites and the top notch team there
Jul 02, 2020
Everything was good,but the pool wasn't open..
Jul 01, 2020
Ordered $47.99 per night plus $6.18 per night additional person. The additional person, my daughter passed away before we made the trip. I did not mention it when I checked in, because it was uncomfortable for me to talk about at the time. However we needed one extra day when I made that reservation I did tell them that it was just two of us and instead of the 47.99 we were charged 62.34
Jul 01, 2020
Clean, nice size sites and next door to the casino
Jun 29, 2020
Very nice Park. Wish there were picnic tables.
Jun 29, 2020
We stayed briefly as a stopover on our road trip. The campground was very nicely maintained with easy check-in and friendly staff.
Jun 29, 2020
Stayed here for years in our travels. Not as clean, nor as well kept.
Jun 29, 2020
Thank you!!! Lovely stay. Great facilities
Jun 29, 2020
Great KOA, clean, good bathrooms, conveniently located, works!
Jun 28, 2020
Staff was amazing, can not say enough good things about them. Grounds and facilities were nice. Showers and restrooms were plentiful and clean for the most part. Temperature control on most of the showers was difficult, water was either scolding hot or cold, very hard to find middle ground. Staff was incredible.
Jun 28, 2020
Nice facility but a little pricey for summer rates. After all this is Las Vegas! It was 105 and to hot to do much.
Jun 28, 2020
We stopped there for one night on our way home to California. Only wish that there were more trees. It was one of the hottest days in June. Went to the pool to cool off. Went to open up the umbrella and no pin to hold it up so we used a branch to make it work. The umbrellas need to be fixed. Pool was nice and refreshing.
Jun 28, 2020
We just stayed one night on our way to the Grand Canyon. The hostess was very nice and upbeat. She gave us information about everything. It was easy to find and easy to get into with our 37' 5th wheel. It was a bit off the strip, but that was just fine. It was still close enough to take our 9yo for a drive to see all the lights.
Jun 28, 2020
We only stayed one night as a layover before returning our rented camper. Both receptionists were super friendly and the bathrooms were clean as well. We were initially parked close to the main road however they were more then willing to help me find another spot which we did and worked out great. Will stay there again if passing through.
Jun 28, 2020
Very friendly staff and nice facilities.
Jun 28, 2020
The staff was very friendly and the allot I was given was perfect. The only downside was there were so many kids at the pool being loud and taking up the whole pool, so I couldn't actually swim. The bathrooms and showers were clean and well kept, as was the park. Really lovely place to stay and for a great price.
Jun 27, 2020
Great place, easy hookups, but our stay was ruined by the 110-degree heat, not under your control, which is why we left a day early.
Jun 27, 2020
Quiet and close to a lot of essentials while traveling cross country.
Jun 27, 2020
Stay was great but we had a hard time getting level. Haven't had that problem before. Space 313
Jun 26, 2020
The pool was a godsend for us! With 110º temps each day, we appreciated it's cleanliness! The WiFi was so-so which was tough for those of us telecommuters. The staff at check-in was extremely friendly and helpful and the Wal Mart across the street made running for supplies easy. If/when we come back, I will request a shaded spot but overall, we enjoyed this KOA!
Jun 26, 2020
Well maintained clean perfect location. Little to no noise from outside.
Jun 26, 2020
Great shower. Good pool to cool off on. Unexpectedly a spa also. Easy access to Sam's town for food
Jun 26, 2020
We arrived late, needed to change campsites, they were extremely helpful and welcoming.
Jun 25, 2020
Showers take 10-15 minutes to get warm water. Landscaping scarce, trash all over. Pool was often dirty with debris and pine needles. Unattended minors in pool often. No change machine in laundry.
Nov 26, 2020
Nice clean park. The pool was warm even in November. Staff was friendly and even moved us to a new site because we couldn't fit into the one they had for us.
- Katie Miles on Google
Nov 23, 2020
This place is really nice, most of the staff is super friendly. The bathroms are clean with handicap friendly restrooms and showers. nice pool & jacuzzi. And also lundry costs $3.00 per load..( if you have your own soap)
- William Wilkinson on Google
Nov 22, 2020
This KOA is especially well managed, comfortable and safe during these tough times. They manage the sites to be as socially distant as possible and offer a sense of safety. We will always return to this KOA
- David Porter on Google