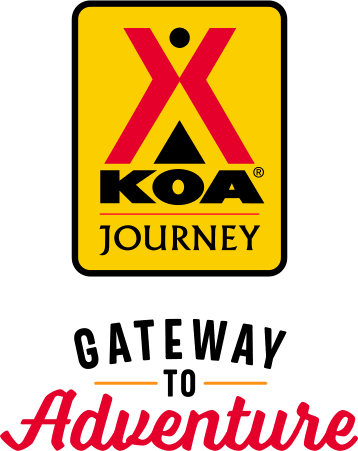 KOA Journey Campgrounds
KOA Journey campgrounds are the perfect oases after a day on the road. Whether it's along the way or a quick getaway, they've got you covered. Located near the highways and byways of North America with long Pull-thru RV Sites, they deliver convenience to the traveling camper. Pull in, ease back and take a load off.
KOA Journeys Feature:
Pull-through RV Sites with 50-amp service
Premium Tent Sites
Well lit after hours check-in service
Directions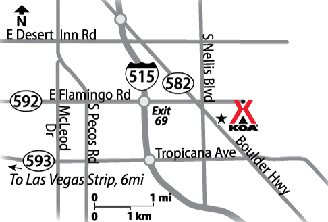 From Interstate 515: Exit 69 Turn East (away from the strip) onto Flamingo, Turn Right onto Boulder Highway South, Watch for left turn lane into campground just past (south) Sam's Town Hotel and Gambling Hall.
Located near many RV rental depots, including Apollo, Road Bear, El Monte, Best Time, Cruise America, Escape and JUCY, also close are several grocery stores and restaurants both dine in and take out, making Las Vegas KOA at Sam's Town the perfect place to start your RV Journey.
Get Google Directions
Jul 27, 2021
Although this KOA is in the "bad" section of Las Vegas, the park hosts and employees were very friendly and helpful making our stay very enjoyable. Thank you.
Jul 27, 2021
Great Staff. Friendly and communicative. We had an electrical malfunction during the night, and the staff was exceedingly helpful and accommodating. Location itself was very secure, easy to locate, close to the Strip, and clean.
Jul 27, 2021
Absolutely love Sam's Town KOA. We will be back
Jul 27, 2021
The hosts at check-in were very cordial and helpful. My husband needed a recommendation for a trailer repair and between the information Gary provided him and KOA's brochure , the repair got taken care of . It was a short walk to Sam's Town Casino which was convenient
Jul 27, 2021
2 days,,great stay, no problems
Jul 26, 2021
Had a great stay! Security is visible at night and felt safe to walk back and forth to the casino. Will definitely stay here again when we pass through Vegas.
Jul 26, 2021
Great location Friendly staff Great pull thru sites We stay there at least once a year if not more
Jul 26, 2021
Always great check in. Always clean facilities. Always great to stay here when we're traveling through lv.
Jul 26, 2021
It was not a good experience....I dont think I would ever stay here again or advise anybody to.
Jul 26, 2021
������������������������� �������������������� ������� RV���������������� �� �������������������
Jul 25, 2021
excellent, and will stay again.
Jul 25, 2021
Clean and quiet! We stay here every time we are in Vegas, never disappointed!
Jul 25, 2021
Easy check-in and check-out. Clean, well-maintained grounds. Close to restaurants, etc. Love the Walmart across the street.
Jul 25, 2021
We didn't like our spot as it was a wierd space for our hookups and they accommodated us and moved us to a different spot! We liked it so much we stayed 2 nights. Friendly people and quiet minus the street noise!
Jul 25, 2021
Staff very helpful and friendly in moving my friend and I to another spot.
Jul 25, 2021
Very accommodating since we are 70+ft long. Back row is the best.....
Jul 24, 2021
The host could have been more friendly at check-in but maybe he was having a bad day. Found him more friendly in later encounters at office. Park was clean and well maintained. KOA really must consider having a time set aside for adults only at its pools because empty nesters, seniors and singles do not always enjoy being with young children and screaming toddlers. Low power suspected (heat wave)
Jul 24, 2021
Very friendly staff even though the temperature was in the triple digits. The casino was not operating their shuttle services but the campground had no control over their services. We asked for a shady site and we were accommodated. Clean park. Pet friendly. Too bad they're losing trees due to bark beetle infestation during times of drought. Our stay was very pleasant.
Jul 24, 2021
Fantastic staff I'll come back just because of them
Jul 24, 2021
Requested a different sit and was gracefully accommodated. Check in was prompt and efficient. My only issue was the speed that people were driving. Way too fast, not looking where they were going and general disregard for the safety of others.
Jul 23, 2021
Nellis property. Restrooms dint have soap at sinks. The second restroom/shower area stunk badly, and the showers drained very slowly, causing us to stop the water to allow the floor to drain. All the sites are gravel and ends up inside the RV. The pool area building could use a fresh coat of paint outside, and the remote shower building needs an upgrade. The staff were great. The water and elec ok
Jul 23, 2021
Had a great stay. People at check in were friendly and helpful. Bathrooms and showers were CLEAN!! Only RV park to stay at in Vegas and we love the easy access to casino.
Jul 23, 2021
It was hot… 108!!! Staff was exceptional, accommodating and friendly.
Jul 22, 2021
It's a place to stay for a quick overnight. Our particular spot smelled of sewage. Not pleasant. There's lots to do there however. There's a large laundry facility which was nice.
Jul 22, 2021
Nice and park. Gravel on our site was very loose and made it hard to level our class C. Nice park! Location was good.
Jul 22, 2021
Great. Thanks
Jul 22, 2021
Friendly staff.
Jul 21, 2021
Was a great place to stay great worker ,clean laundry, clean bathrooms and great location. The only thing is the site are to close together can't sit out side.
Jul 21, 2021
Great place, been there many other times, has everything we need. Thank you.
Jul 21, 2021
Upon check-in, both staff members were very outgoing, very helpful and friendly. The staff members in the golf carts were friendly as well. I will definitely return.
Jul 21, 2021
Great campground and casino. I especially like how close you are to the casino. It's an easy walk from your camp site
Jul 21, 2021
Chris was great when we checked in. I asked him for a shady spot for our '97, 17' Dodge Roadtrek as it was 107 when we arrived. He gave us a spot with three trees that completely covered the van in shade. Sam Town's Casino next door door saved our lives as they have a movie theater inside, so we escaped the heat for awhile by watching Fast and Furious.9. Would stay again, but not in the summer.
Jul 31, 2021
Great location and staff.
- David Nestor on Google
Jul 26, 2021
Everything was outstanding from check in to check out would definitely recommend this koa
- Jerod Frame on Google
Jul 25, 2021
Great location and clean facilities. KOA is the standard!
- Richey Vickers on Google