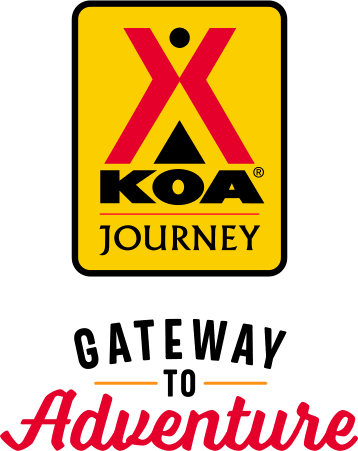 KOA Journey Campgrounds
KOA Journey campgrounds are the perfect oases after a day on the road. Whether it's along the way or a quick getaway, they've got you covered. Located near the highways and byways of North America with long Pull-thru RV Sites, they deliver convenience to the traveling camper. Pull in, ease back and take a load off.
KOA Journeys Feature:
Pull-through RV Sites with 50-amp service
Premium Tent Sites
Well lit after hours check-in service
Directions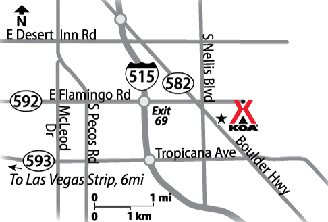 From Interstate 515: Exit 69 Turn East (away from the strip) onto Flamingo, Turn Right onto Boulder Highway South, Watch for left turn lane into campground just past (south) Sam's Town Hotel and Gambling Hall.
Located near many RV rental depots, including Road Bear, El Monte, Cruise America, and Escape , also close are several grocery stores and restaurants both dine in and take out, making Las Vegas KOA at Sam's Town the perfect place to start your RV Journey.
Get Google Directions
Oct 13, 2021
Great location next to Sam's Town Casino. Big RV sites.
Oct 13, 2021
Much cleaner than it used to be when it was owned by others.
Oct 13, 2021
Some deferred maintenance issues with the showers closest to the office (doors that didn't latch. Locks changed on Thursdays with promise to advise campers by email did not happen so I had to track down a yellow shirt. Pool is not of resort quality.
Oct 13, 2021
Clean, close to Casino, friendly staff.
Oct 12, 2021
Had a wonderful stay. Utilities worked beautifully, space was clean, had a fellow musician for a neighbor, I will definitely be back!���
Oct 12, 2021
All staff was super friendly, and even made some friends among guests. The park is super clean and maintained. Great place to stay!
Oct 12, 2021
Staff was friendly and efficient. Park had a number of long term guests with rigs in disrepair. Our neighbor had to use our plug for their residential AC. Standards for guests could be a little higher. Will look for a different park next time.
Oct 12, 2021
Good area but, a lot of road noise on the back lots.
Oct 12, 2021
This was an overnight stop for us. Nice park. We will be back.
Oct 12, 2021
Visiting friends in area, always enjoy your park!�
Oct 12, 2021
Clean, friendly, safe. Everything you can need for a great little park. Thanks!
Oct 12, 2021
My Bride & I Always enjoy staying here. Great safe easy location. Very personable & professional Staff. We literally stay for months. And eagerly return.
Oct 12, 2021
We were put in a back in spot next to the freeway. Very very noisy and planes overhead all night. Plus band music until about 10 pm. Would highly recommend a pull through or some place away from the freeway.
Oct 11, 2021
The bathrooms were very clean and the staff was super helpful and friendly. Some more greenery/trees could help spruce up the camp sites.
Oct 11, 2021
We Stayed one night on our way to g to the Grand Canyon. Clean safe place, easy check- in, and most importantly nice helpful people at check in. I'll be back for a longer stay.�����
Oct 11, 2021
This was an awesome campground, the staff was friendly and very helpful , facilities were very clean and everything was very well taken care off. Every time we come to Las Vegas we will be staying here!
Oct 11, 2021
Sites are very close with no picnic table or fire pit but the park is safe, clean, and adequate for an overnight stay.
Oct 11, 2021
Great place. We've stayed her many times as far back as before it was a KOA. Great park. Easy in and out. Friendly people. Close to the things that matter to us.
Oct 10, 2021
We had issues with our rv and they went out of there way to accommodate us until repairs could be made
Oct 10, 2021
Great place to stay. Unfortunately lots of people with poorly trained dogs and "packing" by some dogs in the dog parks.
Oct 10, 2021
Super clean, the entire facility is beautiful and very well maintained. The staff is very nice and helpful. It was really helpful that it was across the street the street from Walmart. We will definitely stay here on our next visit.
Oct 10, 2021
Stayed for 6 nights. The location was great. The place was clean and felt safe.
Oct 10, 2021
Great location. Friendly and helpful staff.
Oct 10, 2021
Very helpfull customer services thx so much for all your help.
Oct 10, 2021
Very friendly staff member who accommodated a request I had. Amenities were great. We had a pull through spot since we only stayed one night. Close walk to the huge casino. Will definitely stay again.
Oct 10, 2021
Staff were friendly, bathrooms were very clean. The grounds were all kept up nicely. I will definitely use the KOA again!
Oct 10, 2021
Wonderful campground, very clean, staff is friendly and great location.
Oct 10, 2021
People great but we paid for a pool but both were at 70 degrees...you try swimming in that. The cable sucked and you know it is. Most channels are snowy. Feel very cheated about what we paid for and didn't get. Not sure we will stay again.
CAMPGROUND RESPONSE / COMMENTS:
I do apologize for the pool heater breaking. the cable is fairly new with in 2 years and should be great, as we always recommend please contact us while your here so we can fix any concern for you.
Oct 09, 2021
Very convenient location to visit Valley of Fire State Park and Las Vegas.
Oct 09, 2021
Sites were small, dog park was nasty, trash cans were full and no security. We were to by others that thrift was high in this park. I have never experienced these issues at other KOA's that I have stayed at.
Oct 09, 2021
dogs barking day and night
Oct 09, 2021
Convenient, but even Covid masked we had a very unpleasant stench of cigarettes having to go through the slots to get to the food court. Should consider isolating the smokers in their own area separately filtered before being blown back outside. Yuck!
Oct 09, 2021
Too many long term RV'S staying in the RV junk all over, we wanted a pull through so we don't have to unhook which we got, but were put an half mile away if not more from the casino, we are in pretty good health, but too far to walk and come back after dark, when you seee barbed wire above the wall all arround the the park, we didn't feel safe to do so, we will never come back or refer this park.
Oct 08, 2021
Very relaxing. Thank you.
Oct 08, 2021
I was really spoiled with spacious sites at non KOA campgrounds prior to arriving here so being in a very narrow site was less than ideal. On the plus side, it was long enough for my motorhome and toad. In addition, we were close to the dog park. I only stay here when I'm traveling through Las Vegas and want to see some friends. The staff was very friendly and helpful.
Oct 02, 2021
One of the best RV park in Vegas! 5 star for you and thank you for giving us a military discount :). Beautiful nice and clean RV resort. They even put us in front of the pool and restroom better 🙂. Yhane and Charles We love it
- Yhane Sanders on Google
Oct 01, 2021
Great time, very clean
- andrew blanco on Google
Sep 29, 2021
Fast check in, Friendly staff, clean Site. Will return!
- Jumpmastergw on Google