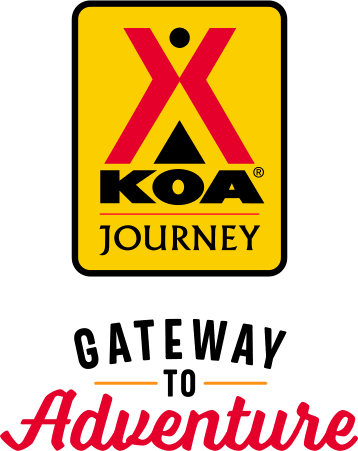 KOA Journey Campgrounds
KOA Journey campgrounds are the perfect oases after a day on the road. Whether it's along the way or a quick getaway, they've got you covered. Located near the highways and byways of North America with long Pull-thru RV Sites, they deliver convenience to the traveling camper. Pull in, ease back and take a load off.
KOA Journeys Feature:
Pull-through RV Sites with 50-amp service
Premium Tent Sites
Well lit after hours check-in service
Directions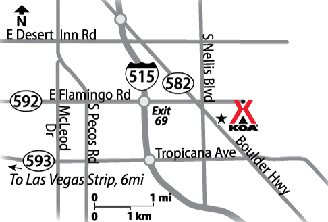 From Interstate 515: Exit 69 Turn East (away from the strip) onto Flamingo, Turn Right onto Boulder Highway South, Watch for left turn lane into campground just past (south) Sam's Town Hotel and Gambling Hall.
Located near many RV rental depots, including Apollo, Road Bear, El Monte, Best Time, Cruise America, Escape and JUCY, also close are several grocery stores and restaurants both dine in and take out, making Las Vegas KOA at Sam's Town the perfect place to start your RV Journey.
Get Google Directions
May 08, 2021
The staff at the front desk are very friendly and helpful, please give them 5 atta boys for the great job they did!
May 08, 2021
Clean and peaceful. Great staff and love the dog run.
May 08, 2021
We absolutely enjoyed e dry thing about stay! Thank you for all you guys do! Nice clean bathrooms, laundry facilities, and Kampstore. The staff was wonderful and the campground was prestine! Your hard work shines. Thanks again for a wonderful stay!
May 08, 2021
Super friendly staff, very helpful. I felt safe each night and the park was very clean and nice. There were many stores and restaurants within walking distance. The Sam's town casino next door added to the fun. We will be going back.
May 07, 2021
Friendly staff, clean & quiet stay in KOA. Sam's Town offers recreation appropriate for all ages such as bowling, movie theaters as well as gambling for adults
May 06, 2021
This is where we always stay on our trips to Las Vegas to see the kids. Had a great stay
May 06, 2021
The campsites are very narrow with no picnic table. Not conducive to sitting outside - but it is Las Vegas- so on whole, not much time spent at the campsite. The grounds could use an arborist. Other than that, clean & surprisingly quiet for being so close to Boulder Highway. The rates are reasonable with specials they have going from time to time. We will stay again.
May 06, 2021
Very nice place, clean. It's a place to park and have hook ups.
May 06, 2021
A place to park. Spot was not level and few trees but met our needs. We were just passing through.
May 05, 2021
We have stayed before. I don't remember the noise problem from the city police fire and ambulance. Let alone the air traffic you have. We are spoiled coming from a small town. We will stay again. Like its central location.
May 05, 2021
Friendly staff. Good-sized pull-through site. Good selection of cable channels.
May 05, 2021
Nice place, well kept up. Difficult to get out of. Too expensive.
May 05, 2021
Everything was good until my bike was stolen. It's my fault for not having it under lock and key.
May 05, 2021
Nice staff! Clean.
May 05, 2021
Attention at check in was less than expected. The customer was second to the personal conversations.
May 05, 2021
only one night but very pleasant. We would come back
May 04, 2021
Great location, easy check in, very clean, happy and polite staff, hope to come back. We travel in a coach.
May 04, 2021
We enjoyed ourselves, liked being way off of LV strip. Staff very nice and would stay at Sam's again.
May 04, 2021
Not very full. It did seem odd that there were 3 of us, clumped together at one end of a row when there were stretches of empty spaces. Could have spread us out more. When I got there I was put next to a 5th wheel, my water connection was underneath it's slide out which was inches from the pedestal. On the other side of me: no one for 6 or 8 spaces. Great staff, still one of my favorite KOAs.
May 04, 2021
Clean, quiet & convenient!!
May 04, 2021
Great location, clean restroom, friendly staff
May 03, 2021
Great place to stop
May 03, 2021
It was a pleasant campground, but our first impression was spoiled by an employee who, upon our arrival, approached our RV not wearing a mask. (We feel it should be a basic requirement for employees to wear masks.) Our feelings should have been obvious based on the fact we were wearing masks, but he got within a foot of my husband's face as he explained how to get to our spot in the campground.
May 02, 2021
Easy pull thrus Store nice Staff very helpful
May 02, 2021
Very clean... employees were professional and friendly
May 02, 2021
Great in-town KOA, fairly well laid out (although, we got a spot rather a long way from the dog walk--since they knew we had a pet and there were closer empty sites, I'm assuming it was an oversight. For two old boondockers like us, the traffic noise was a little distracting, but we had a great trouble-free stay!
May 02, 2021
Consistent, convenient, good value. Could live without the dog next door barking all the time.
May 02, 2021
Only there for one-night, but it was enjoyable. Very clean and well kept.
May 02, 2021
workers were very friendly and campsite was good, a little small but good
May 02, 2021
As always, we experienced good customer service and clean facilities. Thank you!
May 01, 2021
Very friendly staff. Clean & safe.
May 01, 2021
Spent the last two nights of a 22 day adventure here. A $17 Uber ride away from the strip & a $19 Uber from the airport so close to everything. It's a little "oasis" in the midst of a big city. Bathrooms & Laundry areas were spotless as were the grounds. Staff was friendly & very helpful. Definitely recommend it.
May 01, 2021
A 1 night stay. Convenient and clean. Polite and friendly staff
May 07, 2021
I stay here every time I come to Vegas. Service is excellent the staff is very friendly and helpful although I wish the buffet was open
- Allison Cook on Google
May 04, 2021
Safe
- Quian Bass on Google
May 04, 2021
We love our stays here. Clean. Easy. Casino next door with fast food options. This is our V3gas home.
- Janet McFall on Google