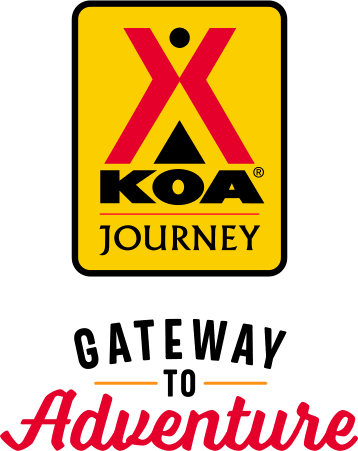 KOA Journey Campgrounds
KOA Journey campgrounds are the perfect oases after a day on the road. Whether it's along the way or a quick getaway, they've got you covered. Located near the highways and byways of North America with long Pull-thru RV Sites, they deliver convenience to the traveling camper. Pull in, ease back and take a load off.
KOA Journeys Feature:
Pull-through RV Sites with 50-amp service
Premium Tent Sites
Well lit after hours check-in service
Directions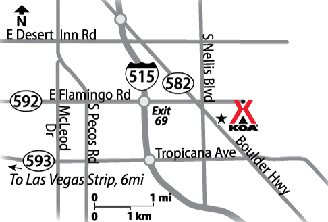 From Interstate 515: Exit 69 Turn East (away from the strip) onto Flamingo, Turn Right onto Boulder Highway South, Watch for left turn lane into campground just past (south) Sam's Town Hotel and Gambling Hall.
Located near many RV rental depots, including Apollo, Road Bear, El Monte, Best Time, Cruise America, Escape and JUCY, also close are several grocery stores and restaurants both dine in and take out, making Las Vegas KOA at Sam's Town the perfect place to start your RV Journey.
Get Google Directions
Aug 28, 2020
Like park left because of weather
Aug 27, 2020
Our stay was just overnight on our way home from a long vacation but it was a good experience. The park was clean and staff friendly.
Aug 27, 2020
Campground was clean and well maintained however the direct tv satellite was blocked by a tree and wifi coverage was virtually non-existent in our spot.
CAMPGROUND RESPONSE / COMMENTS:
We would have been happy to move you for the satellite issue if we had know you needed satellite access. Our WiFi provider is sending us antenna to eliminate the WiFi issue near the site you had. Sorry for the inconvenience.
Aug 26, 2020
We arrived a night early and was assigned a spot. When we arrived at the spot the neighbor had their vehicle parked in part of our area. I called and left 3 messages for the night staff. We drove around the park and located staff and explained the situation. The staff shrugged his shoulders and said "park on the street" and closed his window. After the first night the stay was better.
Aug 26, 2020
Very well maintained and clean campground
Aug 26, 2020
Excellent stay. Staff was friendly and accommodating. Facilities were clean and secure. On site RV wash services were very convenient and the vendor did a great job on our coach.
Aug 26, 2020
Very clean, friendly staff
Aug 26, 2020
Got in late. Attendant very nice and helpful. Nice clean facilities.
Aug 25, 2020
nice welcome, perfect place to explore Las Vegas
Aug 25, 2020
Great campground. Very clean and the people are friendly.
Aug 24, 2020
Will return just needs more shady spots
Aug 23, 2020
We enjoy stating at this KOA. The staff are always friendly and professional. We usually request a particular Pull Through and they have always accommodated our request. We also noticed that the grass, landscape, and restrooms/shower areas are much cleaner than they have been in previous stays.
Aug 22, 2020
Last minute decision to visit Las Vegas, were able to get me in, Justin was great, put us in another spot after asking.. Only stayed one night on way back home.
Aug 21, 2020
It was hot with no shade trees to help shield the sun.
Aug 21, 2020
Stayed one night, just passing through Vegas. WIFI was non existent.
Aug 21, 2020
Always have a great time but COVID 19 made it harder to do fun thing Like the shuttle Buffet Gamble As high risk None of this Maybe next year
Aug 20, 2020
Very friendly staff, clean facilities, easy to get in and out of spaces.
Aug 20, 2020
Very hot, campground is just a parking lot. Very close to Sam's town casino.
Aug 20, 2020
Staff was very accommodating!
Aug 20, 2020
Very helpful.
Aug 19, 2020
Super friendly and helpful staff. Beautiful and clean grounds. 10/10 would stay again!!
Aug 19, 2020
Nice clean laundry and restrooms/shower. The pool had some shade. The sites were gravel and we were lucky to have some shade (site 331). it was close to a lot of casinos if you so desire.
Aug 19, 2020
Never have any issues at the nellis park , all the staff and tenets are great
Aug 19, 2020
It would be nice to have a shuttle to the Casino and the store open before 8.
Aug 19, 2020
Stayed in a newer section of the park. Clean but nothing special. Sites are an odd design.
Aug 18, 2020
It is a very large place, 300+ pads for camping, we stayed a week and watched people come and go. The staff are friendly and courteous, the place was kept clean. Pool and hot tub was refreshing even in 110 degree weather..
Aug 17, 2020
The campground was great! Staff was friendly and knowledgeable. Bathrooms were clean. The only thing we noticed was that the pool area was a little dirty.
Aug 17, 2020
We love Vegas koa, except this time it was 115 degrees, ugly hot!
Aug 17, 2020
Very clean and nice. Location was great. Wish they had a little more trees for shade and a playground.
Aug 17, 2020
The staff was very friendly and the grounds were clean .
Aug 17, 2020
The location and amenities were great. We did have an issue at 3:15am where a neighboring Rv had a visitor for 20 minutes at 3:15 am revving up their vehicle and idling the entire time. Seems to me some possible illegal activity could have been occurring. This engine noise woke us up at a very early hour. Would be nice to have security driving thru after hours. This was not KOA's fault.
Aug 16, 2020
Very happy with the location. Only way to have been better would be to have a longer site so I wouldn't need to unhook
Jan 18, 2021
Awesome staff great place to stay. I enjoy my stay one of the best koa I've stayed at.
- Ismael Luna on Google
Jan 12, 2021
Great place to stay. Friendly staff, fast check-in.
- Gale Gourley on Google
Jan 01, 2021
Nice RV park, service is wonderful. Bathrooms and showers are clean (although a little chilly). Hot tub closed. Laundry room clean.
- Ed N. on Google