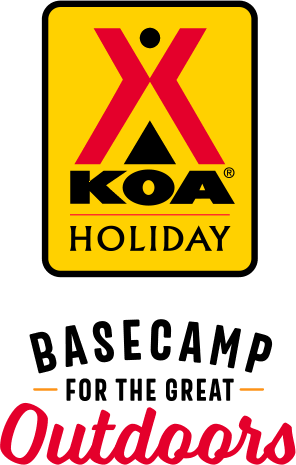 KOA Holiday Campgrounds
Whether you're exploring the local area or hanging out at the campground, KOA Holidays are an ideal place to relax and play. There's plenty to do, with amenities and services to make your stay memorable. Plus, you'll enjoy the outdoor experience with upgraded RV Sites with KOA Patio® and Deluxe Cabins with full baths for camping in comfort. Bring your family, bring your friends, or bring the whole group – there's plenty of ways to stay and explore.
KOA Holidays Feature:
RV Sites with a KOA Patio®
Deluxe Cabins with full baths
Premium Tent Sites
Group meeting facilities
Directions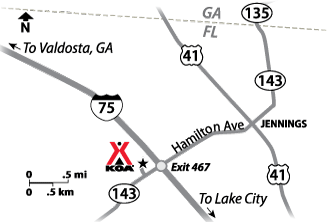 We are conveniently located at the First Exit in Florida off of I-75 (467) right on the Florida/Georgia Line. Look for our Campground located on the southbound side of the highway. You will see our billboard off the highway as well - if you have any questions about directions do not hesitate to call us!
Get Google Directions
Feb 08, 2021
I stayed here one night in a 25 ft class C motorhome. This is my third time here. Great park in a great location just off of I 75. We stay here on our way to and from Florida. Also serve great food delivered to your RV. The staff is friendly and very helpful.
Feb 08, 2021
Had a on night stop over on the way to south Florida... First time Rv'ers and First night in Rv...Great place, friendly and helpful customer service...We be back
Feb 08, 2021
Friendly staff, easy pull thru spots, great for an overnight! Always our stopover to or from Florida.
Feb 07, 2021
The staff is above and beyond the best at any KOA I have visited. From answering the phone and responding to greeting us upon arrival. They were awesome.
Feb 06, 2021
Very friendly and efficient staff welcomed me and got us situated. I felt bad arriving right at closing time, but the team was terrific. Nice little campground next to the interstate. Clean and with many sites right on a little pond.
Feb 06, 2021
Just overnight stay on way south,, the park is close to freeway easy to get in & out, came in after hrs& paper work was done & all ok
Feb 05, 2021
Easy check in and friendly people. No issues for one night. Easy access to interstate. Site was flat and asphalt.
Feb 05, 2021
Nice place but way too close to the expressway, especially for those in tents. We didn't sleep all night after a 16 hour drive.
Feb 04, 2021
We only stayed one night in our travel trailer heading south. The staff was very welcoming and one of the friendliest KOA we have been to! Perfect location right off I 75, camp ground very pretty. Sites are paved but narrow our 30 ft trailer fit with tow vehicle fit just fine so we didn't have to disconnect. We will definitely stay again!
Feb 04, 2021
It was wonderful. Right off of Interstate #75 and just into the State of Florida. Clean polite and the staff was wonderful. And check this out the deliver small pizzas and chicken wings to your RV if you want. : ) Highly recommended and for sure it is on my to return to list. --------Bob DAndrea NY
Feb 04, 2021
Had to disconnect my tow vehicle because the sewer hook was so to the rear of the site. Sites are very narrow. You are right in your neighbors doors when hooking up and disconnecting.
Feb 04, 2021
Very friendly and very helpful. I needed the rest with lots of traveling
Feb 03, 2021
The staff were very friendly and helpful. My dog and I loved the dog park. Everything was neat and clean. The campground was generally quiet except for the interstate which is to be expected.
Feb 03, 2021
Great place with exceptional staff. Friendly, polite and a joy to deal with.
Feb 03, 2021
Our site was very narrow and very uneven-we needed double stackers to be level. The person who guided us to our site was not wearing a mask-he said "I always lose it." Expected better from a KOA.
CAMPGROUND RESPONSE / COMMENTS:
Since the staff member was not in the vehicle with you and was outside and more then 6ft away masks are not mandated by the CDC. Also the staff member noticed that when you scolded them you were not wearing a mask either. We have corrected the staff member for not wearing a mask.
Feb 03, 2021
While the staff were professionally dressed and had nametags on-one inside staff member at check-in was not wearing a mask. The sites were so narrow that our picnic table was almost inside my neighbor's camper. This while there were many other empty spaces throughout the campground. In addition this campground while clean is extremely dated. Loud road noise!
CAMPGROUND RESPONSE / COMMENTS:
While we try to follow the CDC guidelines for Covid 19 sometime like most people we forget to put on a mask. As for the dated sites and the narrowness this park was built before slides and you probably know it is a very expensive task to widen and remove sites.
Feb 02, 2021
Staff was very helpful and friendly pull thru site was perfect for our overnight stay on a travel day.
Feb 02, 2021
Tbis was an overnight stay on our way south. Friendly staff!! Never have I been in an RV Park that delivers pizza and or wings right to your rig. They were both very good too!! We will be stopping again on our way back north.
Feb 02, 2021
Nice park. We always stay there on our way to and from South Florida.
Feb 02, 2021
Perfect...location and staff!
Feb 02, 2021
Just an overnight but the staff was great!! They were even willing to stay late to get us filled with propane! We will definitely stay there again.
Feb 02, 2021
Very easy on and off I 75, it is clean and organized, safe, we loved our overnight stay.
Feb 02, 2021
Only overnite but this was our 3rd year staying...super friendly staff
Feb 02, 2021
Excellent camping experience, great place to stop.
Feb 01, 2021
Our regular place to stay when we travel to my parents in Florida. People are friendly and willing to help if needed. Easy to get propane re-filled. The offer convenient Pizza and other foods delivered. Pool area and public showers well maintained and clean. Will probably spend multiple days at some point.
Jan 31, 2021
Nice campground. Convenient to I75. Great place to spend the night on the way to WDW.
Jan 30, 2021
Probably the best RV Park we've seen for north /south travel along the I-75 corridor in N. Florida. Outstanding service, excellent sites, high quality facilities! While close to the interstate road noise was minimal! Big rig and pet friendly. Beautiful well maintained grounds! Very easy access on and off I-75. Reasonably priced!
Jan 30, 2021
Only stayed over nite got in late left early
Jan 30, 2021
To be sure, it was one of cleanest and most beautiful KOA's I have stayed at. On the other hand, I did not like the way they did business. After I booked through the KOA website I recd a call about 30 minutes later from the park informing me they would also be charging an extra $150 cleaning deposit. The lady said I would get it back as long as met their requirements. Just a little strange.
Jan 29, 2021
Nice place, very clean and very friendly and helpful staff. Thank you
Jan 28, 2021
Great campground. Friendly people.5 star treatment
Jan 28, 2021
We stayed 1 night and it was a great on/off from I75
Jan 27, 2021
Very nice grounds and staff
Jan 27, 2021
Got there right after closing yet the park employee still lead us to the camp site. That was great help. This camp ground was beautiful..
Apr 12, 2021
Great place to stop and relax while traveling. Good wifi and cable. Nice area to take a walk around the water with some beautiful oaks.
- Tom Kent on Google
Apr 10, 2021
Didn't stay there but it looks like a great place to camp!
- Nan Messer on Google
Apr 09, 2021
Very nice KOA. Escorted to our site. Very friendly staff
- Benny King on Google