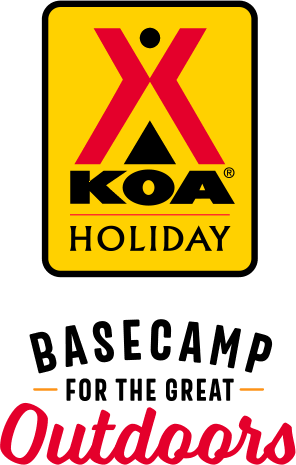 KOA Holiday Campgrounds
Whether you're exploring the local area or hanging out at the campground, KOA Holidays are an ideal place to relax and play. There's plenty to do, with amenities and services to make your stay memorable. Plus, you'll enjoy the outdoor experience with upgraded RV Sites with KOA Patio® and Deluxe Cabins with full baths for camping in comfort. Bring your family, bring your friends, or bring the whole group – there's plenty of ways to stay and explore.
KOA Holidays Feature:
RV Sites with a KOA Patio®
Deluxe Cabins with full baths
Premium Tent Sites
Group meeting facilities
Directions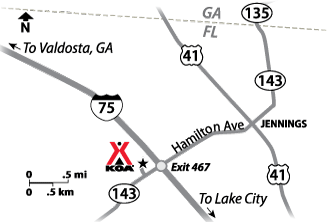 We are conveniently located at the First Exit in Florida off of I-75 (467) right on the Florida/Georgia Line. Look for our Campground located on the southbound side of the highway. You will see our billboard off the highway as well - if you have any questions about directions do not hesitate to call us!
Get Google Directions
Nov 23, 2021
Nice park, good distance to anything!
Nov 23, 2021
The staff at this KOA really cares. The facilities were clean, working, and the staff was warm hearted and welcoming. We had a mechanical issues with our RV, and the staff went the extra mile to assist with finding a mobile mechanic quickly and had us back on the road in a few hours. What a great experience!!!!
Nov 23, 2021
Very friendly and accommodating. Great place for a travel stay. I was only there for two nights to recover from a long trip. I highly recommend this campground.
Nov 22, 2021
Perfect off I75 campground. Arden and her team are gems! Check in was a breeze, our site was perfect even though we were close to the highway. Campgrounds pristine, laundry, restrooms and showers clean and sanitized. We asked for local places to eat and had to go north for 5 miles off the highway but it was worth it. We're considering staying a few days on our way back north.
Nov 22, 2021
I did t have an extension for my electric cord and they let me borrow one for the night. Amazing location
Nov 22, 2021
We where only there for one night so it's hard to judge the park but check in was good and very friendly
Nov 22, 2021
Spacious paved campsites. Facilities very clean!
Nov 22, 2021
2nd time there,will be back.
Nov 21, 2021
We love staying there. Very peaceful
Nov 21, 2021
Interstate traffic is loud. Would be classed as a a journey not a holiday
Nov 20, 2021
Very clean. Very convenient. Have stayed here a couple times on my trips.
Nov 19, 2021
Love it will be back
Nov 19, 2021
Great campground. Friendly staff, good amenities and super-clean washroom/showers.
Nov 19, 2021
Very nice campground and friendly knowledgeable staff
Nov 18, 2021
Just there one night. Staff helpful. All was well.
Nov 17, 2021
A perfect location on our way from the north to our lot in Florida. Just off interstate 75. The owners are very accommodating and friendly.
Nov 17, 2021
We have stayed there several times and each time was a great experience
Nov 16, 2021
We use this campground for overnight stays only, because of the convenience on and off the highway. Everyone is very friendly!! Thank you
Nov 16, 2021
It is a very nice park. Right next to I-75 but we never heard the traffic. The only thing I didn't care for was a large overhead light that lit up our trailer.
Nov 15, 2021
Every KOA should be as clean, spacious and friendly as the Jennings location. Have stayed a few times; always a pleasure!
Nov 13, 2021
This KOA is what it is. It is on I-75 and 50+ years old. It is a one night easy off easy on. Great WiFI! Pull through sites are just long enough for a 42' 5th wheel and crew cab with 8' bed either hooked up or backed back under the king pin with the tail gate down! We stayed there both directions to and from Naples. Road noise was worse on Wednesday than Sunday night as expected.
Nov 13, 2021
It's always a pleasure to stay at the Jennings KOA. We like the sites facing the lake - nice to watch the ducks and listen to the fountain. Restrooms are clean and staff friendly.
Nov 12, 2021
Great cabin-loved our stay- will stay again.
Nov 12, 2021
We really enjoyed our stay!!
Nov 12, 2021
Great overnight spot for us! Everyone was friendly and helpful!
Nov 11, 2021
Clean , staff is friendly, location( good- close to interstate and bad - close to interstate)
Nov 11, 2021
Reserved just in time as it filled up as we arrived. Super friendly staff ! Beautiful park. Will return every year as we pass thru to Ft Myers home
Nov 11, 2021
Very Happy No Issues!!
Nov 10, 2021
Hosts are as friendly and helpful as can be Easy off easy on from 75 Will stay again !!
Nov 09, 2021
Nice park, great and friendly staff , will return
Nov 08, 2021
Easy access. Staff is terrific.
Nov 07, 2021
very nice and clean water nice and hot well lite thanks tim
Nov 06, 2021
Beautiful park but very dated. Roads are too narrow for modern RV's as well as the sites. I don't recommend accepting any RV's over 35 feet, and even that is really pushing the limits.
Nov 05, 2021
great for an overnight stop to/from florida.
Nov 05, 2021
Easy on off of 75. Friendly staff. Very nice park. Will stay again.
Nov 05, 2021
Friendly and helpful staff. Beautiful park. Easy to access off I75.
Nov 05, 2021
Nice clean park, easy to navigate in and out. We have a big dog and there was plenty of grassy area to walk. Shower room was very clean. 45 mins or so north of Nashville and right off 24. It just right for heading north of Nashville to stay the night and away from traffic.
Nov 04, 2021
Always an easy stop on our journeys in and out of Florida. Neat and orderly campground and always welcoming
Nov 04, 2021
I recommend contacting the Department of Transportation about getting a sound barrier installed along the interstate, just too dang noisy all night long. oh and redo some of your rv sites, even though the site was paved still had to use leveling blocks. nice campground otherwise.
Nov 13, 2021
Very nice clean RV camp ground. Spacious sites. Several cabins available also.
- Douglas Sherman on Google
Nov 13, 2021
Good for overnight stay. Level spots. Easy access from I75.
- Beverly Santo on Google
Nov 05, 2021
Nice place to stop,it's been raining since we pulled in. Friendly staff.
- Mike Chad on Google