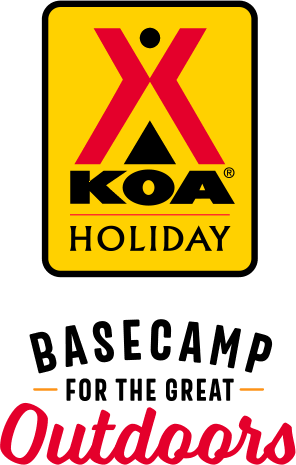 KOA Holiday Campgrounds
Whether you're exploring the local area or hanging out at the campground, KOA Holidays are an ideal place to relax and play. There's plenty to do, with amenities and services to make your stay memorable. Plus, you'll enjoy the outdoor experience with upgraded RV Sites with KOA Patio® and Deluxe Cabins with full baths for camping in comfort. Bring your family, bring your friends, or bring the whole group – there's plenty of ways to stay and explore.
KOA Holidays Feature:
RV Sites with a KOA Patio®
Deluxe Cabins with full baths
Premium Tent Sites
Group meeting facilities
Directions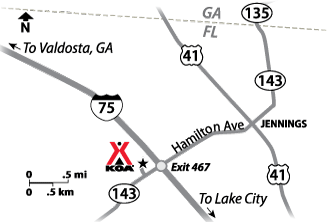 We are conveniently located at the First Exit in Florida off of I-75 (467) right on the Florida/Georgia Line. Look for our Campground located on the southbound side of the highway. You will see our billboard off the highway as well - if you have any questions about directions do not hesitate to call us!
Get Google Directions
May 10, 2021
This KOA was the cleanest, well kept KOA's we've stayed at. Staff friendly and sites well equipped
May 10, 2021
Clean area ask for shaded spaces
May 08, 2021
We stay there often, on our way out of Florida and back home from vacation. We always appreciate the staff. The facilities are great and clean. They keep improving the campground every time we stay there. They are more than a 4 but not quite a 5 yet. We will most definitely stay again.
May 07, 2021
We travel to Florida to visit family several times a year. We like the location and the service. However the price keeps going up and it's making us consider alternatives for our one to two night stays.
May 06, 2021
You are always in our stay going to and from Georgia
May 06, 2021
Older but well maintained campground. To be as close to the interstate as it was it was extremely quiet. Girl who took my reservation was extremely helpful and polite.
May 05, 2021
We found Jennifer in your office very pleasant. We would stay there again. Also, nice on and off the highway.
May 04, 2021
Very clean, great atmosphere and always friendly staff on each of our stays.
May 04, 2021
Clean ,quite and friendly workers. Well stay again.
May 04, 2021
It a good stop for overnight travelers. Park is well maintained, pool and bathhouses were very clean.
May 03, 2021
Super nice people. Very clean bathrooms. Great dog walk area. I spent a week there with a brand new camper. Place totally empties out during the day and not much nearby but perfect for my needs and for one-nighters.
May 03, 2021
We checked in on Friday April 30 around 5 pm. I took my garbage out around 6 pm and was horrified to see the dumpster exploding with garbage way over the top of the container. And there was almost as much garbage outside the dumpster as inside. Completely unsanitary and a great way to attract rodents. The park was half empty, so this didn't make sense. The store shelves were nearly empty.
May 02, 2021
Campsite that we stayed on too much sand dumpsters were overfilled no chicken or pizzas water was leaking waterIn the road not real happy
May 02, 2021
Goos KOA. Nice.place to stop.
May 02, 2021
Very nice campground, clean and spacious
May 02, 2021
Just an overnight stay. Interstate noise was the only downer,everything else was good
May 02, 2021
The office staff was wonderful. I had some difficulties in getting here and they were great about adjusting my reservation. The facilities are very clean both the grounds and the buildings. I would stay here again.
May 01, 2021
Very friendly staff, clean and easy accessibility
May 01, 2021
Very helpful staff. Pads need upgraded. No internet at all. Tried 5 different mobile devices.
Apr 30, 2021
Quiet and clean grounds. We did the after hours check in, which was very convenient for us. We didn't get to interact with any of the office staff in person, but the one I spoke with over the phone was very pleasant & helpful.
Apr 30, 2021
Uneven patio could fall off. Too close to highway.
Apr 30, 2021
Phone reservation was easy and office personnel was very kind. Placed us close to the dog walk which was considerate, but also closest to the freeway noise. The site was fairly level, picnic concrete was broken, and there wasn't enough room to have our truck and camper on the same pad. Overall the park was clean, with many empty spaces. Easy on and off freeway access.
Apr 29, 2021
Nice campground very well maintained. Overnight spots were a little close together. If we wanted to sit out we would be right on top of our neighbor. Neighbor had to walk around our picnic table to get to their side compartments.
Apr 29, 2021
The good: bathrooms were very clean. The not so good: electric breaker tripped twice during our one night stay and was very warm to the touch. Trash dumpster was overflowing with trash bags all over the surrounding ground as well. It looked like trash removal service had been missed for several weeks.
Apr 29, 2021
Nicely maintained
Apr 29, 2021
We stopped for an overnight stay while traveling, and would definitely stay again if we were in the area. Our dog loved the dog park, and the walk around the little lake was very nice.
Apr 28, 2021
We love Jennings KOA! My only wish would be a good place to eat that is not 10 miles away!
Apr 28, 2021
Clean level sites. We'll kept and some of the best bass fishing around in your lake
Apr 28, 2021
We stayed there in the 1970's abnd 1980's. Am pleased to say the experience in 2021 was equally good.
Apr 28, 2021
Clean facilities, professional staff. Thank you!
Apr 28, 2021
Perfect for I75 stayover.
Apr 28, 2021
Check-in was fast. Friendly staff. Very nice campground!
Apr 27, 2021
The staff was friendly and accommodating. The park and site were quiet and clean.
Apr 27, 2021
Stayed here before. Roomy park with plenty of places to walk our dog. Don't use facilities so I can't say. Sad old restaurant motel behind park office parking lot...just interesting to me.
Apr 27, 2021
2nd time there. Great place!
Apr 26, 2021
Excellent access to I75
Apr 26, 2021
Nothing close by for grocery shopping restaurants. Campground needs some road work and pads
Apr 25, 2021
very clean and the staff was very friendly
May 10, 2021
Nice, clean and quiet.
- Rod on Google
Apr 29, 2021
Close to Interstate, easy access.
- Dian Christensen on Google
Apr 29, 2021
Nice, clean, and quiet RV spot right off of I75. When making our reservation we realized we weren't going to get there until after office hours. I called ahead to check the process, and they let us know that they have a late check in office which was very convenient. They even provided a map that showed exactly how to get to our spot. If you have any questions, I would defiantely call ahead to check with them. They office staff are pleasant and helpful. We only spent 1 night since we were just passing through but we definately plan on staying again in the future.
- Ana G. on Google