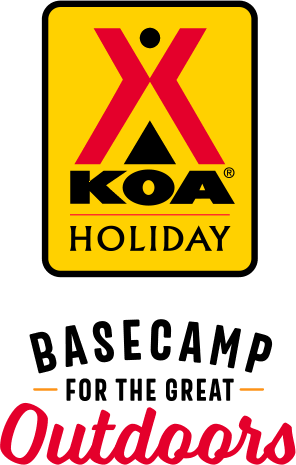 KOA Holiday Campgrounds
Whether you're exploring the local area or hanging out at the campground, KOA Holidays are an ideal place to relax and play. There's plenty to do, with amenities and services to make your stay memorable. Plus, you'll enjoy the outdoor experience with upgraded RV Sites with KOA Patio® and Deluxe Cabins with full baths for camping in comfort. Bring your family, bring your friends, or bring the whole group – there's plenty of ways to stay and explore.
KOA Holidays Feature:
RV Sites with a KOA Patio®
Deluxe Cabins with full baths
Premium Tent Sites
Group meeting facilities
Directions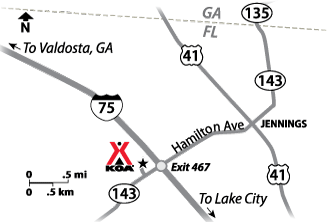 We are conveniently located at the First Exit in Florida off of I-75 (467) right on the Florida/Georgia Line. Look for our Campground located on the southbound side of the highway. You will see our billboard off the highway as well - if you have any questions about directions do not hesitate to call us!
Get Google Directions
Jul 27, 2021
Really nice pool and club house, would definitely stay again
Jul 27, 2021
We love this KOA! It's our go to stop on the way to and from Florida. They have easy pull through sites, great internet and a wonderful pool and playground. We will be back on our way through in August.
Jul 27, 2021
Terrible Bug infested Ants and flying nats Absolutely terrible Do not stay here
Jul 27, 2021
Expansive park like setting. Wonderful staff.
Jul 26, 2021
The cabin was clean and was convenient with supplies. The pool and facilities were great. The price was economical and we enjoyed having a kitchen and outside space.
Jul 26, 2021
very relaxing great place ,
Jul 26, 2021
We only stayed overnight and didn't use any facilities, but this is a really nice campground. Staff is friendly and helpful, sites are long and wide. Our site was covered by a canopy of trees, as are most, so there was no satellite access. The pool is large and clean and there is a large open area at the back of the property for games.
Jul 26, 2021
Great things about Jennings KOA, facilities extremely clean. If your a tent campers I would not stay here. The tent pads are right next to the interstate and of course when a trucker goes down gears your guaranteed to be woken, and the intersection lights make it like daylight in nighttime. I used ear plugs and something over my eyes still didn't work. I would suggest moving tents beds.
Jul 25, 2021
Awesome overnight wish we could have stayed longer!! We will be back. Thank you so very much
Jul 25, 2021
It was just one night, but it is a wonderful RV park. It was very big, clean and I would come again to stay longer.
Jul 25, 2021
Nice park and numerous amenities. Unfortunately the weather wasn't cooperative to enjoy.
Jul 25, 2021
Perfect location and great place right off interstate for lay over for WDW
Jul 24, 2021
Beautiful campground! Wish we could of stayed more than just one night. Definitely will stay there again if we are in that area.
Jul 24, 2021
We just needed a quick turnaround spot for one night on our way south ant this campground was perfect.
Jul 23, 2021
Very easy in and out for class A and tow vehicle!
Jul 23, 2021
Super nice staff.
Jul 22, 2021
Nice, clean, convenient (to Interstate) campground. As it is very rural, you need to make certain you have food as everything at campground closes early (why it is a 4 not 5 rating). Otherwise would give 5 stars.
Jul 22, 2021
Second time we stayed here….perfect location and wonderful staff. Would not hesitate to stay again.
Jul 21, 2021
The campground is nice and clean. Charging $10 extra per person over 2 gets expensive quickly when traveling with a family. I expect better prices for a family friendly place.
Jul 20, 2021
Beautiful site, wish I could have stayed longer.
Jul 20, 2021
Just a short overnight stay, but enjoyed this campground the last time we stayed at it and wanted to return.
Jul 20, 2021
our stay was just fine really hot weather
Jul 20, 2021
Quick and easy on and off the highway. Sites very close together, but fine for overnight stay.
Jul 19, 2021
We were only there for one night and arrived after business hours. We have a 29 ft travel trailer and a crew cab pickup truck. The pull through was very short for a tow behind, with the back of the camper where the hookups are being very far from the services. I think the on line reservation thought we were 29ft total. The site was also directly adjacent to 75 so a little loud.
Jul 18, 2021
We had reservations for an overnight stay. When we got there, our site was taken. Someone just randomly took our spot. Not a happy camper at that point. Called the emergency number and they took care of us. I didn't get the name of the gentleman that helped us, but thank you.
Jul 18, 2021
Just an over night stay . The staff were so kind , and helpful.
Jul 17, 2021
Very nice location. Great services.
Jul 17, 2021
Super easy, very clean, and beautifully manicured.
Jul 17, 2021
I stayed at Cabin #1 I found a dead roach and roach legs below the mattress of the top bunk. The Ac was turned off upon arrival so the temperature at the cabin was above 90 deg. Who does this? After 4 hours of leaving it on high it dropped to 80. I would appreciate a refund to stay again in any KOA. Could not talk to the staff because I left at 7 am Miserable experience!
Jul 16, 2021
Just an overnight stay, but very clean and safe. Beautiful grounds. Very nice folks who run it!
Jul 15, 2021
Love this campground. Good service.
Jul 15, 2021
Aftermath of a hurricane, no power still made a weary traveler feel welcome and relaxed
Jul 15, 2021
Enjoyed our stay. clean RV park, very clean bathroom and showers.
Jul 13, 2021
Very nice RV park. The pads are small and some of the asphalt has buckled. Other wise we fell very safe staying there
Jul 13, 2021
Even though it is close to the freeway it was one of the nicest KOA's I have been to. Very clean and friendly staff.
Jul 13, 2021
Very clean bathroom/shower facilities. Right off the highway and very convenient.
Jul 13, 2021
Perfect pool very clean laundry and shower will definitely be back A1 campground
Jul 13, 2021
Our stay was good. But the knats were alive and well to which kept us inside our RV.
Jul 12, 2021
Great park! Everything was clean and tidy, very nice areas for pets. The pool was great!!
Jul 12, 2021
Arrived after hours, all info was at gatehouse with clear directions. Easy off and on I 75. Grounds appeared nice.
Jul 11, 2021
Nice clean park, sites a little tight between units but lots of room in front of site
Jul 27, 2021
A great stopover when traveling to and from Florida. Conveniently right off I-75, easy to get in and out of, good internet service, nice pool. We've stayed several times, all 1-night stopovers. Not much in the area, so bring provisions. One time we'll have to hang out a few days.
- Chuck Ros on Google