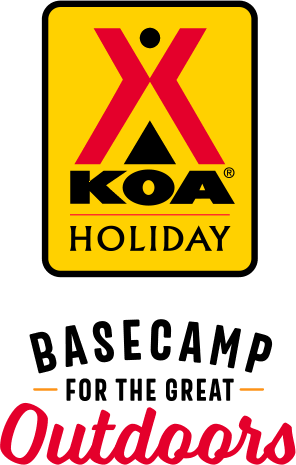 KOA Holiday Campgrounds
Whether you're exploring the local area or hanging out at the campground, KOA Holidays are an ideal place to relax and play. There's plenty to do, with amenities and services to make your stay memorable. Plus, you'll enjoy the outdoor experience with upgraded RV Sites with KOA Patio® and Deluxe Cabins with full baths for camping in comfort. Bring your family, bring your friends, or bring the whole group – there's plenty of ways to stay and explore.
KOA Holidays Feature:
RV Sites with a KOA Patio®
Deluxe Cabins with full baths
Premium Tent Sites
Group meeting facilities
Directions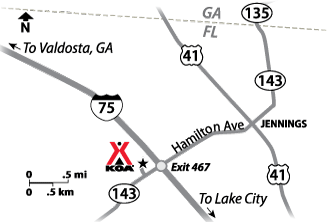 We are conveniently located at the First Exit in Florida off of I-75 (467) right on the Florida/Georgia Line. Look for our Campground located on the southbound side of the highway. You will see our billboard off the highway as well - if you have any questions about directions do not hesitate to call us!
Get Google Directions
Apr 06, 2021
Just overnight but easy in and out and access to Interstate 75.
Apr 05, 2021
Very nice campground with easy off and on I-75. We will stay there again.
Apr 05, 2021
Beautiful stop obverse spot. Nice level pull through lots. Clean facilities and nice playground for the kids and dog area for the fur babies. Very close to I75 which is convenient but leads to some traffic noise.
Apr 05, 2021
We stayed at the campground two years ago for the first time. Everything was fine, except for the shower stalls. Since then, either I've gotten smaller or the shower stalls have gotten bigger.
Apr 05, 2021
Only an overnight stop for us. Looks like a nice family campground
Apr 04, 2021
Great stay. Got a free upgrade and was much appreciated. We'll be back!
Apr 04, 2021
Stayed here twice a year traveling for almost 20 years. We had the unfortunate experience of a rude and abrupt lady checking us in. I think it is time to switch to Cecil Bay campground up the road and also save a little money.
Apr 04, 2021
Perfect stay for overnight travel on I-75 north or south. Clean, space enough for big rigs and easy in and out.
Apr 04, 2021
Staff was so friendly and helpful. Loved the accommodations and layout of the camp. Definitely would come back, this time for a longer stay!
Apr 04, 2021
Great property
Apr 03, 2021
Quiet and good WiFi. I worked for KOA years ago and this one is laid out really well. Good for long term and excellent for overnight.
Apr 03, 2021
Only there one night but all needs were met and staff were wonderful were there late for those of us arriving after 6pm on Good Friday
Apr 01, 2021
The Staff are very friendly and helpful and make you feel welcomed. Second time to stay here.
Apr 01, 2021
We liked this campground. Tried their pizza and wings and they were both super! Nice to have it delivered right to our site!
Apr 01, 2021
Cabin was great with all the amenities provided such as linen, towels, paper towels, dishes, coffee with coffee maker, soap and shampoo.
Apr 01, 2021
We had a wonderful experience from calling In to book all the way to checking out. staff was amazing and accomadating at this location.
Mar 31, 2021
loved the park it was very clean and quests were great
Mar 31, 2021
It was only one night but we'll worth the stop! It was recommended to us and we will recommend it to others!!
Mar 31, 2021
We stayed 2 days. Nothing special. This Koa is definitely a stop over for people traveling long distances.
Mar 31, 2021
Fine except that we had a a site reserved at Forsyth, Georgia. A really bad storm come up and we were warned by highway patrol not to travel north. So we contacted the Koa manager and explained to her what we were told and she said no problem, she would take care of it Then sent me an email informing me that she charged me for the site at 48.00. We will never stay at koa again.
Mar 31, 2021
Very clean. Staff was amazing
Mar 31, 2021
Staff was friendly
Mar 31, 2021
Just passing through but it was still a great stay.
Mar 31, 2021
Arrived very late and owner was there to guide us to our spot. They go the extra mile at Jennings KOA.
Mar 31, 2021
It's really a nice place will stay again
Mar 28, 2021
Loved the spot by the lake. Friendly staff
Mar 28, 2021
Staff was very friendly. Campground neat and clean with a large area for dog walking.
Mar 28, 2021
Very nice people working there-very accommodating. Sites too small and close together-couldn't walk between slideout and picnic table. Tried to use dog park but always had to pick up dog poop from everyone else-not worth using it. Clean laundry and restrooms and showers-but pricey. Nice paved roads to walk on or ride bikes. Nice stop over all in all but not much to do there-no games
Mar 28, 2021
Clean and comfortable and hospitable
Mar 27, 2021
Great location. Overall nice, well kept property with plenty of amenities. Only complaint is condition of roasts and site pads.
Mar 27, 2021
great place easy to access from i 75. all level sites. we travel in a 46 ft fifth wheel. staff really makes a difference. really accommodating and helpful.. love the pond with all the turles and ducks. so clean and pretty. will stay again.
Mar 27, 2021
Jennings KOA staff outstanding, ground very clean and maintained. If you get a chance say hello to Troy he's very helpful person.
Mar 27, 2021
It's a lovely park with roomy sites. Nice area to walk and many activities available. We would definitely stay there again.
Mar 26, 2021
Only one night. Very clean. Fishing lake was fun. Camp store was handy. Check in was easy. Park personnel were super friendly.
Mar 25, 2021
Only one night. Nice facilities and grounds. Overnighters are parked closest to the interstate so a little noisy.
Mar 25, 2021
Jennings KOA is an overnight stop for us when traveling to and from Florida each year. The sites are pull through and level making setting up a breeze. The staff is very helpful and always friendly.
Mar 25, 2021
Only stayed one night in this older KOA (1950's?).It appears to be undergoing some much-needed refurbishment. Good progress is being made as the grounds are being maintained and upgraded. The sites are fairly narrow, but pretty level. Power, water were good. Didn't check the wifi. Lakeside sites were nice, but there were hoards of mosquitos! I'd definitely stay here again.
Apr 12, 2021
Great place to stop and relax while traveling. Good wifi and cable. Nice area to take a walk around the water with some beautiful oaks.
- Tom Kent on Google
Apr 10, 2021
Didn't stay there but it looks like a great place to camp!
- Nan Messer on Google
Apr 09, 2021
Very nice KOA. Escorted to our site. Very friendly staff
- Benny King on Google