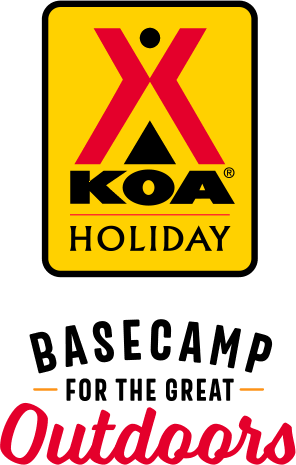 KOA Holiday Campgrounds
Whether you're exploring the local area or hanging out at the campground, KOA Holidays are an ideal place to relax and play. There's plenty to do, with amenities and services to make your stay memorable. Plus, you'll enjoy the outdoor experience with upgraded RV Sites with KOA Patio® and Deluxe Cabins with full baths for camping in comfort. Bring your family, bring your friends, or bring the whole group – there's plenty of ways to stay and explore.
KOA Holidays Feature:
RV Sites with a KOA Patio®
Deluxe Cabins with full baths
Premium Tent Sites
Group meeting facilities
Directions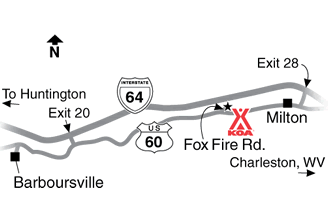 Westbound on I-64 take exit 28 for Milton. South one-half mile to state route 60. Turn right or west and travel 2.5 miles. The KOA sign is on the right then 500 feet turn sharp right onto Fox Fire Road. Proceed one-half mile to campground entrance.
Eastbound (Big Rigs) on I-64 take exit 20-B for Barboursville. South one block to state route 60. Turn left or east and travel 5 miles. Turn left onto Fox Fire Road. (Do not wait to turn at the big KOA sign, it is past the turn).  Proceed one-half mile to campground entrance.
Get Google Directions
Jul 23, 2021
Exceptionally clean. Lots of things to do for all ages. Employees were very nice.
Jul 23, 2021
Our most favorite place to stay in the whole world!!
Jul 22, 2021
We only stayed one night. Loved the lake. My husband and I went swimming g before dinner. It helped us unwind after the drive.
Jul 22, 2021
Everyone who works there are very pleasant, friendly, and helpful. The campground is very beautiful - it's like a park setting. It's our favorite campground.
Jul 22, 2021
This campground was awesome!! Very nice staff. They even take you to your spot and help.you park which was awesome since we were newer at this. We had such a great time in the lake and my dogs even had a good time
Jul 21, 2021
There for just an overnight. Clean and quite expansive facility which appears relatively new as landscape is not mature. Efficient and friendly staff. Large well spaced gravel sites with plenty of room in the pull through we were assigned. Full hook-ups all in nice condition. Seems to have activities for families and all the usual amenities. Did not see a pool on the grounds.
Jul 21, 2021
Very courteous and clean . A quiet park with great amenities for every age .
Jul 21, 2021
Unbelievably cramped campsites. Multiple street lights flooded our campsite, causing me to have to put up panels to block the lights at night. No privacy due to such tightly packed spaces. Tent campsites are located closest to the roaring I-64, which makes peaceful sleeping impossible. Owners are both strangely condescending to campers: I overheard a "You need to let me finish" said to one camper.
Jul 21, 2021
It was a nice place to stay at but the staff wasn't very friendly
Jul 21, 2021
The whole experience was simple and Anna was very helpful finding us a nice, level site for one night.
Jul 20, 2021
This is the most beautiful campground we have ever stayed at.
Jul 20, 2021
Sites are good but a little close.
Jul 20, 2021
Everything was ok no problems
Jul 20, 2021
loved the pond & the toys for the kids. Staff was extremely rude the whole trip. Asked to be close to the group we was with & was told there was no spot available when we got there there was 3 spots open next to them so we had to move are camper to a new spot at 8pm. sewer smell was extremely bad as well.
Jul 20, 2021
I really enjoyed the family sized bathroom for showering. The cicadas and highway were louder than anticipated. I was hoping for food being cooked and prepared at the site.
Jul 19, 2021
We just stopped for a quick overnight but a very nice campground. A fun pond with a beach area and floats for the kids to play on. Tree swing for jumping in the pond. Plenty of space to walk the dogs. I will say some of the sites were tight to get into. We had booked one of the patio sites and I'm glad we did. We had plenty of room.
Jul 19, 2021
Wonderful! Very nice place to relax and has everything you need!
Jul 19, 2021
Well maintained Clean rest room Great shower Efficient staff
Jul 19, 2021
Always a great stay!
Jul 19, 2021
Amazing experience, wonderful and super clean cabins! The shower rooms and washrooms too were very neat and clean. Had so much fun in the lake. Simply awesome experience!!
Jul 19, 2021
It was a pleasure staying at this KOA with clean manicured grounds with excellent accommodations. The store was nicely stocked with friendly knowledgeable staff and reasonably priced. Our camping spot was clean, lots of room with parking assistance. Overall the experience was relaxing and we enjoyed our weekend getaway a lot. We would definitely recommend and stay there again :-)
Jul 19, 2021
The electric wasn't working when arrived but maintenance got it back on. Water pressure was too high and blew out some of our lines. Very noisy from I-64.
Jul 18, 2021
I had most UNLEVEL site ever. I slept on a tilt. � The bathrooms were clean the basketball net needs replacing ASAP
Jul 17, 2021
I was very disappointed in the property. My spot was nothing more than a mud hole. There was no gravel or any type of patio to get away from the dirt and mud. No cable available in parts of the grounds. The shower house was outdated and not very clean. The grounds was very weedy and unkept. The staff was nice and certainly went out the way to help.
Jul 17, 2021
Great stay, great owners and staff. Very well kept grounds.
Jul 16, 2021
I would give it a 4 star but that wasn't an. Friendly staff and very nice office and ponds. Great for kids and adults can enjoy the view from comfortable chairs. Sites good. Downside is traffic noise.
Jul 16, 2021
Excellent campground
Jul 16, 2021
Nice, well maintained campground. Staff attentive and pleasant. Patio sites nicely furnished. Very small sign at entrance, large sign past entrance. Missed entrance, Signage misleading, Hassle to have to find a turnaround and go back. Sites close together. Nice family amenities we don't use. Only stayed one night
Jul 16, 2021
Very clean! All the kid amenities seemed clean and organized. Sites were a little tight. But the staff was helpful and friendly. Great camp store.
Jul 16, 2021
Staff was nice. Property was clean.
Jul 16, 2021
I wish we had more time here
Jul 15, 2021
Chance was a great help with BBQ leg that was broken on site 15th
Jul 15, 2021
Check in was super easy, we were even escorted to our cabin. Despite being a full campground, it was very quiet. Families looked like they were having lots of fun swimming and fishing. We were only there for one night so we did not partake. The cabin was clean and loved the added amenity of a quilt or blanket on each bed. We had a wonderful view of the pond from our front porch. Would stay again.
Jul 14, 2021
Awesome. Loved our spot.
Jul 19, 2021
Wonderful experience, stayed at the cabins which were beautiful as well as super clean. The shower rooms and washrooms were also super neat. Their lake is awesome we had a wonderful time swimming and playing on the inflatables. The management is also very polite and helpful. You can spend a good amount of time by just chilling on the lake, riding the banana bikes or just staying inside the cabin! Will be visiting them again!!
- Jaspreet Singh on Google
Jul 17, 2021
Place has a lot to do. Great place to stay and friendly service. Internet was good, better than others that I have used at other places. Place was kept clean.
- Michelle Phillips on Google
Jul 11, 2021
Very friendly and welcoming staff! Nice sized sites too!
- Nick Nakatsuka on Google