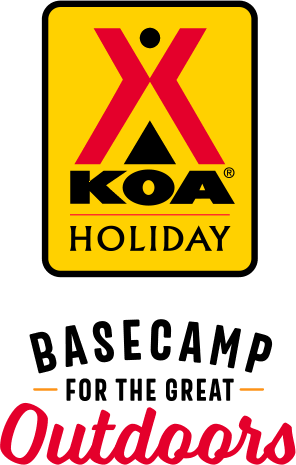 KOA Holiday Campgrounds
Whether you're exploring the local area or hanging out at the campground, KOA Holidays are an ideal place to relax and play. There's plenty to do, with amenities and services to make your stay memorable. Plus, you'll enjoy the outdoor experience with upgraded RV Sites with KOA Patio® and Deluxe Cabins with full baths for camping in comfort. Bring your family, bring your friends, or bring the whole group – there's plenty of ways to stay and explore.
KOA Holidays Feature:
RV Sites with a KOA Patio®
Deluxe Cabins with full baths
Premium Tent Sites
Group meeting facilities
Directions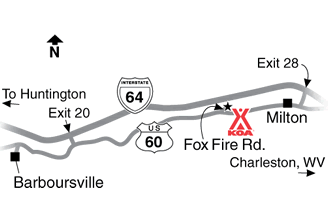 Westbound on I-64 take exit 28 for Milton. South one-half mile to state route 60. Turn right or west and travel 2.5 miles. The KOA sign is on the right then 500 feet turn sharp right onto Fox Fire Road. Proceed one-half mile to campground entrance.
Eastbound (Big Rigs) on I-64 take exit 20-B for Barboursville. South one block to state route 60. Turn left or east and travel 5 miles. Turn left onto Fox Fire Road. (Do not wait to turn at the big KOA sign, it is past the turn).  Proceed one-half mile to campground entrance.
Get Google Directions
Feb 19, 2021
Owners were very helpful to this first time motorhome driver mom with autistic son. We could never have endured Monday nights storm without their help. Thanks! Unfortunately arrived just after campground lost all power so it was cold night without plugging in and cooking or use of a real bathroom! Left ASAP the next morning to very slippery cold conditions and no electricity anywhere.safe now!
Feb 04, 2021
Staff was super friendly and we enjoyed our stay. Very nice environment.
Feb 02, 2021
It was so amazing and very nice and clean! I will definitely be coming back soon! The people at the office were so nice and very helpful!! We got the wrong key and it was after hours and when we called they were all about helping us get new key!
Feb 02, 2021
I came in just for an overnight stay and it was easy in and out. It's a nice campground and the campground owners were really nice.
Feb 01, 2021
Staff was extremely helpful and willing to go the extra mile!
Jan 24, 2021
There is nothing to change about this koa!
Jan 23, 2021
Pulled in the spot was very muddy but we're finally able to get set up. Wish that the premium sites with concrete pad would have been open
Jan 20, 2021
As usual, everyone is very friendly and helpful. It's a great campground to call home when we're on the road.
Jan 06, 2021
This particular KOA has electrical issues that need to be updated. Not sure if was related to all sites or our particular site. If you have an RV greater that 38 feet and are traveling from Charleston, WV, there is an almost impossible right turn heading into the campground if you follow the directions on the KOA website.
Jan 06, 2021
Friendly, clean and pretty park.
Jan 04, 2021
This is a very Nice, Clean and friendly facility
Jan 03, 2021
My only complaint were the tight spots that got very muddy everytime it rains. People at the park we extremely nice and welcoming.
Jan 03, 2021
We chose this campground as a stopping point on our way home during a longer trip and stayed for two nights. It was cold and rainy both nights and our full day so we mainly stayed in our camper. The staff were very helpful and courteous during our check in, even showing us to our site and helping line up the camper to put the pedestal between our slides.
Jan 02, 2021
A great staff helped us fill our propane tank, checked us in, and guided us to our site!
Dec 31, 2020
Great stay and accommodations. Very friendly staff. Only problem, KD1 parking area was muddy from rain, melting snow and runoff from paved roadway. Perhaps mulch or gravel could resolve this.
Dec 30, 2020
Looked clean, we just stayed overnight.
Dec 14, 2020
Huntington / Fox Fire KOA was the MOST expensive of all the KOAs I stayed at during my cross country trip...nearly double of one other place. Not only expensive, the parking pad did not even have gravel...and it rained the night I stayed so, needless to say, I walked in mud as soon as I stepped out of my RV. WiFi is VERY weak so the connection was not acceptable. Not happy with this KOA.
Dec 12, 2020
Always good experience from making a reservation, to greeting upon arrival and throughout our stay.
Dec 07, 2020
Very nice deluxe cabin
Dec 04, 2020
We had just purchased a new fifth wheel and forget to get a sewer kit, the office was very helpful in getting us a new kit. Wonderful location and very clean and COVID compliant with wearing face masks
Dec 02, 2020
Friendly staff. Clean campground. We would recommend this campground to anyone. We have stayed here many time and have never been disappointed.
Dec 01, 2020
I was only there long enough to sleep but staff at check-in were very friendly and the family restroom/shower was very comfortable and clean.
Nov 30, 2020
We had one of the back-in premier sites, with patio and fire pit and table and chairs, and it was spacious and pleasant. The staff were friendly and helpful. Restrooms and showers were very clean.
Nov 30, 2020
Space 88 had an awful sewer smell both nights we stayed. Could not stay outside and enjoy a fire, I did ask the attendant about it after the first night and he advised it was because of the sewer pond off in the distance being pumped, but thought it wouldn't happen again, it did the second night. It could have been the cold air. That said we will go back and try again on other side of park.
Nov 30, 2020
Very enjoyable... clean restrooms....quiet....clean all over. Hard workers on site !
Nov 29, 2020
Simply marvelous! The hosts and staff are SO friendly and helpful. We couldn't have asked for a better stay! Can't wait to return!
Nov 29, 2020
Very comfortable, clean bathrooms, nice dog park, nice Sites !
Nov 29, 2020
Overnighted on a long trip. Staff were nice and KOA was very easy and convenient.
Nov 28, 2020
Two nights. Very clean restrooms and friendly staff.
Nov 28, 2020
The campground was very nice. It is convenient to restaurants, shopping, and has nice amenities.
Nov 24, 2020
Love this koa.. friendly staff and great sites
Nov 24, 2020
We only stayed overnight but liked the sites: nice outdoor seating and grills. Pet walking area was nice too.
Nov 23, 2020
Always enjoyable, clean campground, easy access, friendly staff and good fishing!
Nov 23, 2020
What an adorable little campground! The owners were so nice and escorted us to our site on their golf cart. The grounds were kept up so well and decorated for the fall season. The playground and pond areas were so nice. The restrooms were in a cute little cottage building and even though we didn't use them I'm sure they were clean. Everything was so well maintained. We will definitely be back!
Dec 04, 2020
Just stayed for a quick overnight. First site had trouble with the electric but they addressed it quickly and escorted us to a new site.
- Mary Tom on Google
Nov 14, 2020
Very very nice cabins. One of the best. Staff is awesome and the place is super clean. Patti who answered the phone is the absolute best. Highly recommend this campground!
- Jo Smo on Google
Nov 09, 2020
Friendly, clean, easy to find. We had a pleasant stay here in October.
- Paul Kenyon on Google