Huntington / Fox Fire KOA Holiday Recreation
Summer Time Themed Weekends
We will have themed weekend activities every weekend in the summer season (Memorial Day through Labor Day). we will be having a theme for the weekend in which the Saturday activity or game, movie and kid's kraft will correspond with this theme. Some weekends the staff will even dress up to go along with the theme and increase the fun times!!!! This photo shows an example of our Fairy Tales Weekend activities.
Malcomb Springs Mining Co.
Our new Gem Mining attraction will give each kamper the opportunity to feel like a prospector. Select from different size bags loaded with different types of gems or fossils. Once you have your bag of dirt, take it to the flowing stream of water. You'll sift through the dirt to find the prizes! Super fun, and highly addictive, it's great for the whole family! Not only will this be fun, but you might learn something about geology and have a keepsake gem to keep or give away.
Basketball
We have a basketball hoop mounted to the barn. We also have basketballs that you can borrow. Make some new friends in the park by starting a game!
Fishing (Catch & Release)
We have three stocked ponds for you and all your fishing plans. Our kiddy pond is overstocked with bluegill by the kabins. The swim lake and fishing pond are stocked with small and large mouth bass, bluegill, catfish, and carp. All fishing is on a catch and release only basis, so that way everyone can enjoy the fun!
Swim Lake
The swim lake is right by the kampstore and office. To call the swim lake the iconic image of our kampground would be an understatement. With its cool blue color and crisp temperature, everyone enjoys swimming in it! There is a roped off section for kiddos and then the deep end for older kids and adults. There's a platform that you can swim out to and jump off of, or just sunbathe. You gotta come check it out! It's the best!
Sand Beach
The sand beach adjoins the swim lake. Kids enjoy building sand castles and adults enjoy taking a nap in our lounge chairs. You gotta admit, we're a lot closer than the ocean! Get the feeling of sand between your toes right here in good-ole West Virginia.
Sun Bathing Platform
Situated right in the middle of the swim lake, the platform is great to jump off of or just take a nap on. You just gotta see it to believe it!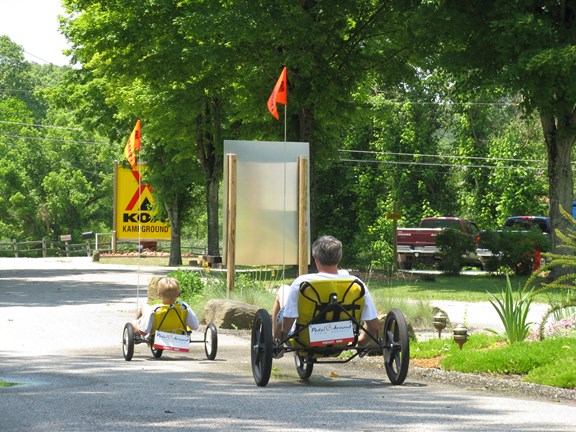 Banana Bike Rentals
We have banana bikes for rent for all ages! Grandparents and parents alike can ride with the kiddos! They're fun, low impact, and fast.....just don't become a banana split! Gotta watch out for those kampers!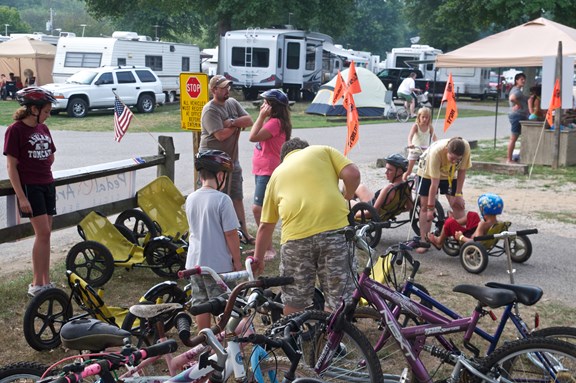 Bicycle Riding
All of our streets are paved, so it's excellent for bicycle riding. Bring your own bikes, or rent some of the banana bikes. Don't forget the helmets!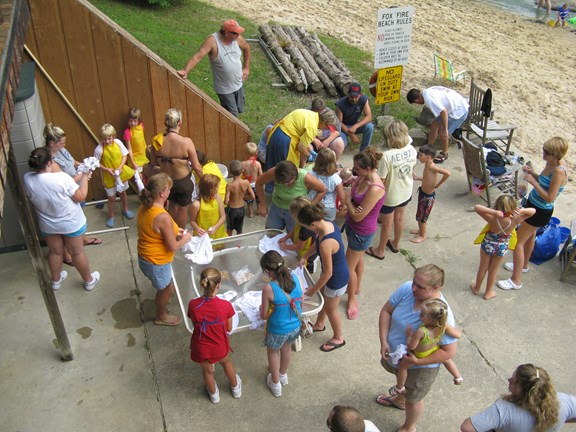 Kids Krafts
Every Saturday through the summer season (Memorial Day through Labor Day weekend) and some special occasions, Mrs. Sheila does krafts with the kiddos! Always fun for everyone, last year we had a line of parents wanting to do a kraft!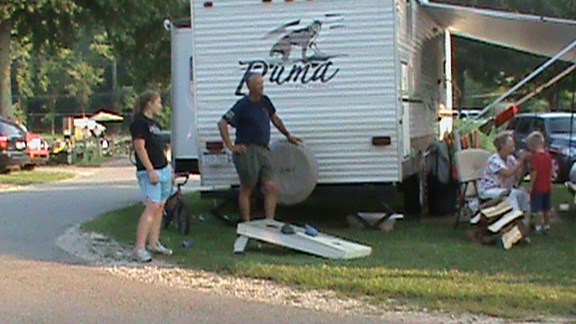 Bean Bag Toss
A kountry past-time favorite, also known as "cornhole" here in West Virginia! Bean bag toss is a simple game that anyone can play. Just toss the bean bag towards the opposing board, and if you can make it slide through the hole, you get a point! We have the bean bags in the office that you can borrow. Start a bean bag toss tournament with your family!
Playground
Our playground with sand base features a tube slide, monkey swinging bars, two swings, a glider, and baby swing. Situated in underneath a giant tree, parents have a great spot to sit in the shade while the kiddos burn some energy.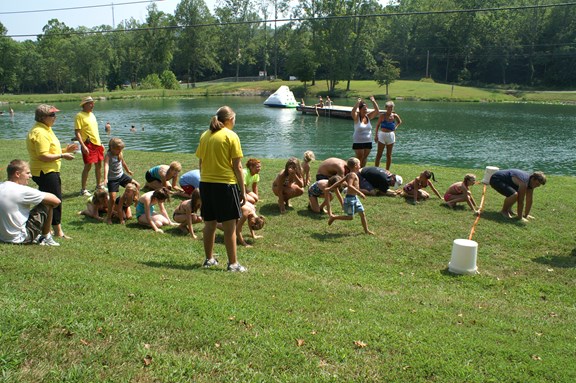 Planned Activities
Keep a watch out for our planned activities! The Andrews family always has something new up their sleeve. We've had everything from family Olympics, live bands, and even special guest appearances from movie stars! We have holiday weekend fun like no other kampground you've stayed at!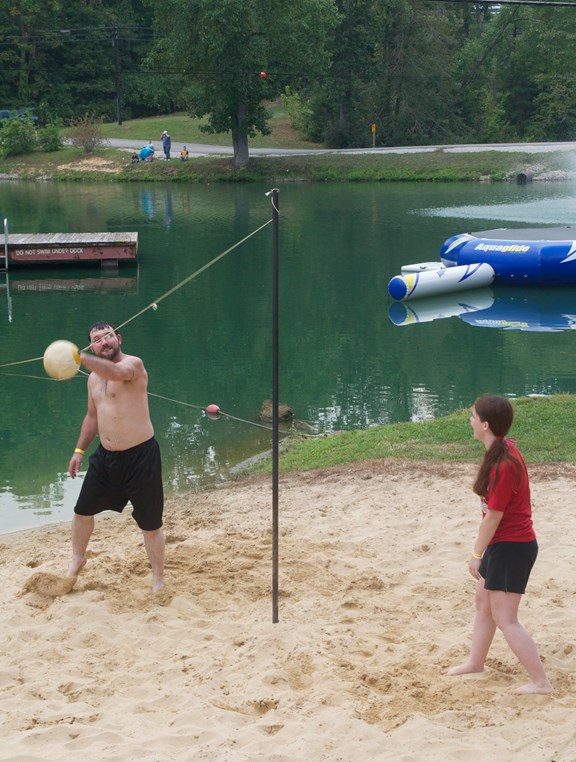 Tether Ball
The tether ball is surrounded by sand and is located right by the water. When's the last time you played a game of tether ball with your kid or family member? Start a family tether ball tournament!
photo by Kuyler McComas
Movie Night (in season)
On Saturday nights in the summer, Memorial Day through Labor Day, we watch our favorite movies on the big screen in front of the office. Bring your favorite chair and blanket. The kountry store is open before the movie so you can get some ice cream and snacks!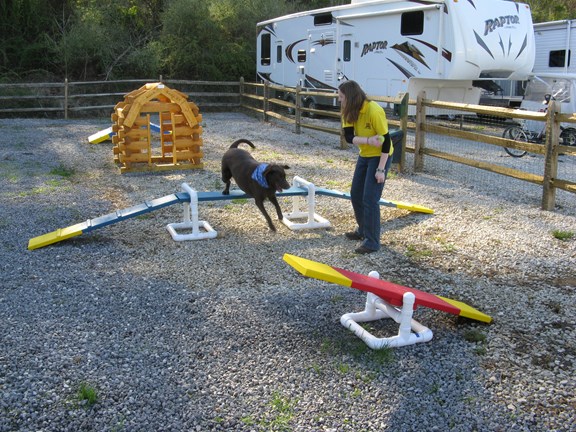 Kamp K9 Doggie Park
Our K9 friends are kampers too! They get tired of traveling all day just like us humans. So come on in, get settled on your site, and take Fido for a free run at the Kamp K9. It's all fenced in! There are some agility and obstacle items in the park, and it's even complete with benches for the humans.
Hay Rides
We now have hay rides in October on Saturdays! Get the family together and enjoy the ride around the campground! Wave at your neighbors and enjoy the smell of the fresh hay!!