Directions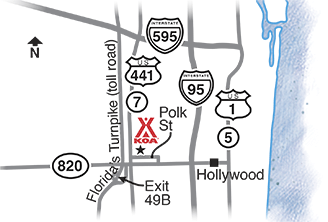 From Florida Turnpike: Take exit 49 for FL-820/Hollywood Blvd. Turn right onto FL-820 E/ Hollywood Blvd. Turn Left onto FL-SR 7 N (441) Take first right onto Polk Street. Hollywood, FL KOA will be on the left.
From I-95: Take Exit 20 for FL-820-Hollywood Blvd (From Southbound Turn Right) (From Northbound Turn Left) and continue straight on FL-820/Hollywood Blvd . Turn Right onto FL-SR 7 N (441) Take first right onto Polk Street, Hollywood, FL KOA will be on left.
Get Google Directions
Sep 13, 2021
tv screen broken ,no pool and street super tiny barely our pick up fit there ,my son found medicines left at our cabin means they don't check anything behing guest and very close to main streeet traffic super loud.Not coming back .Same day we arrived ,same night we left property.
Aug 24, 2021
Very relaxing! Close to the beach and great food! Campground was very well maintained and no one bothered us. We will be back. :-)
Aug 23, 2021
The RV park is not desirable. It lacks amenities such as a pool. They have 4 washer and two were out of order. The neighborhood that the KOA is at, is not the best. The streets are noisy with drag racers and lots of sirens to follow. If you are considering staying here for vacation, you may want to rethink it.
Aug 20, 2021
Great location. The only thing missing is a pool.
Aug 17, 2021
Service should be improved...
Aug 10, 2021
I like KOA's but this one is like being in a parking lot. Gravel pads, no trees and very tight spaces. It rained for about two hours one day and flooded the lot. After two more days there were still a lot of water standing.
Aug 10, 2021
The girls that work at the Koa we're extremely helpful My travel trailer was tight in the sight they assigned me were I couldn't open the slide and not only did she help me try to park the trailer she figured that it wasn't going to fit and reassigned me another spot which was perfect thanks you
Aug 06, 2021
An older KOA but everything worked. Water and sewer had been updated. Very friendly and helpful staff.
Jul 27, 2021
The bathrooms were terrible parking was terrible Took forty minutes to checkin The sites were small and not kept up This should not be a KOA Disappointed
Jul 26, 2021
The staff was friendly and the site was good. The showers wasn't bad at all either
Jul 26, 2021
Hollywood KOA was amazing. The staff there was super nice and helpful. Always was a phone call away if we needed anything. The campground was very well maintain and there was also a dog park so that was a plus. I will definitely be coming back. I want to give a special thanks to Karen and Krista. For welcoming us to your campground and making us feel like family �
Jul 26, 2021
Horrible facility I couldn't believe it was a KOA. It's basically just a rocky lot. They park RVs right in top of each other. There are druggies and homeless people everywhere with no security. Didn't feel safe and at most the lot should have cost us $30 dollars not $70. Never again and I've lost faith in KOA.
Jul 26, 2021
the spots were rediculously small.
Jul 24, 2021
Staff was friendly; came back from their lunch hour to check us in. Downside, park is very old. Office is not staffed except after 3pm for check-in. No store, no wifi unless you pay extra, no cable. Site was barely long enough to hold our RV & toad. No park info on handout, except park map. No signage to exit, so had to unhook anyway after turning wrong way to exit.
Jul 21, 2021
miserable, internet not working,
Jul 21, 2021
No WIFI during our stay.... :-(
Jul 21, 2021
Little crowded. Just for overnight. Ok. Lots of ferell cats in the area being fed by someone in campground.
Jul 20, 2021
Again another great stay at the Hollywood Koa. Your staff and guest are super neighborly and it makes me feel like I'm at home even though it's over a thousand miles to my bed. I can not wait to come back down and again for work. I have no reason to find somewhere to stay I already know where I'm staying anytime I have work in Southern Florida. Hollywood Koa!!
Jul 19, 2021
Our space was cozy with upgraded patio set, a plant, table for 4 & a privacy hedge. Loved the location! Close to beaches, bike trails and shopping. Easy self check-in out of hours. Staff was very organized and friendly.
Jul 16, 2021
Restrooms need remodel. A little pricy for the amenities offered
Jul 13, 2021
I wish I had read the reviews before I booked this. If it had not been so late after a day of driving we would have left and found a hotel. It is a parking lot in a bad neighborhood. Extremely loud traffic all night, endless police activity. Homeless camps across the street and the KOA is not fenced. The bathrooms are terrible and there was no way we were going to use those showers. Very poor.
Jul 09, 2021
Young women in the evening was helpful. Dates! Are too Small for big rigs office close at 5 never received the internet we paid for lady in the office in the morning said not her problem nothing she can do . No pool. Transients living on the street with dogs in trucks using KOA restrooms and showers. Shady place definitely do not recommend. No.pool either
Jul 08, 2021
The RV site and facilities were well maintained with a friendly helpful staff. Every part of our stay went well.
CAMPGROUND RESPONSE / COMMENTS:
Come back soon!
Jul 05, 2021
First thing I would like to say is Karen is the best employee I seen. She is working all hours of the day helping out your camp guest. She made my stay enjoyable and she's the reason I will always come back. Second I had a great time staying at your camp ground nice location from everything I wanted to do in Southern Florida, cant wait to come back and visit soon
CAMPGROUND RESPONSE / COMMENTS:
come back soon! We are happy to know we were able to accomodate you.
Jul 05, 2021
I was a little shocked when we pulled in and it seemed like we were just staying in a parking lot in the middle of town. That being said, it had everything we needed, was clean and well kept, the staff was great. I just didn't like the location. However, I did love the patio furniture.
CAMPGROUND RESPONSE / COMMENTS:
Thank you for your feedback. Our setup is very different to most locations, we are more like a city camping and connection to other destinations in the south Florida area. Hope to welcome you again in the future!
Jul 03, 2021
Great location for an overnight stay. Easy off the Florida Turnpike. Our pull thru with patio was very nice. Hard Rock casino is less then 5 miles away. East Lyft ride for good food & drinks.
Jul 01, 2021
Transient people walking thru the site all day and night. No locks on bathroom doors Did not feel safe to allow my kids outside on the property
CAMPGROUND RESPONSE / COMMENTS:
Thank You for your feedback. We try to encourage all guests to use the walkways when going around we'll make sure we implement other techniques and to avoid this from happening. As for the bathroom doors, it is due to CDC guidelines,to limit the number of guests touching the keypad to enter.
Jun 28, 2021
Not like any other KOA's I have stayed at, but ok.
Jun 24, 2021
The park not to great but people that work there are owsome there's lots of mango trees around the neighborhood that they don't pick up their fruit they have a table of free mangos through the neighborhood love it
CAMPGROUND RESPONSE / COMMENTS:
Thank you for your review. We are working on expanding and improving each day. Your feedback means so much!
Jun 23, 2021
The staff was amazing! Karen goes above and beyond for everyone at the camp at anytime they need it! Her and Krista are such a great team and deserve a raise for all the hard work they do! I believe my stay would not have been as enjoyable without the incredible hospitality of the staff. Will recommend this particular spot to all my friends and family who are traveling in south Florida!
Jun 21, 2021
Great stay again.. was clean and quiet.
Jun 19, 2021
We were told to check in between nine and 11 because we were a late arrival no one was there we tried calling later on in the afternoon no one was still there bathrooms were disgusting I don't recommend it
Jun 19, 2021
The cabin had everything I needed. And was very comfortable.
Jun 18, 2021
We love it very much. Seem to feel like you was at home. Very good job in cleaning. Hope to be back next year.
Jun 17, 2021
We had a front spot by the bathroom and we had a good person welcome us, its a simple place, perfect for a night. Not really a place I would stay for days.
Jun 15, 2021
This was the worst KOA we have ever stayed at. On the app the pictures look wonderful, when you get there it is in a bad neighborhood, no where for pets to exercise or go to bathroom unless you walk out of park, a lot of permanent people staying there, lots are very tight where our 30 foot barely fit, was booked for 3 days, only stayed overnight and left, needs alot of TLC and needs a landscaper.
Jun 10, 2021
I think it might be a homeless shelter. If you like random people walking through your site and people arguing all night it's a great place to stay. Bathrooms doors locks are broken so anyone can go in. The pet area is about 4' X 4'. I think we would have been better off sleeping in the Walmart parking lot.
Jun 09, 2021
Communicating with someone via phone is impossible. You can't leave a message because the voice mail box is full, or you can leave a message but no one returns your call. I emailed them several times and it would take 2-3 days for them to respond. This is the first KOA site I will never visit again. I will be returning in a month, but will not book this KOA site every again. I give them 0 stars.
Jun 07, 2021
We reserved a pull-thru site, but weren't given one when we arrived. Bathrooms were small, not very clean, and not reliably stocked with paper towels or toilet paper. The campground seemed more like it was geared toward long term stays, with some trailers even looking like small dormitories for 8-10 people.
Jun 07, 2021
It was rough and loud, we had power issues and our water pressure issues. The spots are very small. We reserved a pull through site but were given a back in site. The people next to us blocked us in with their vehicle.
Jun 06, 2021
Very clean facilities and nice lot set up. Grounds were immaculate. That being said, neighborhood and proximity to the ocean were a downside. Price was right and staff were excellent.
Jun 01, 2021
No shade, no pool, no room. Extremely limited. Just be aware it's not a typical KOA.
Jun 01, 2021
Awesome park, friendly staff