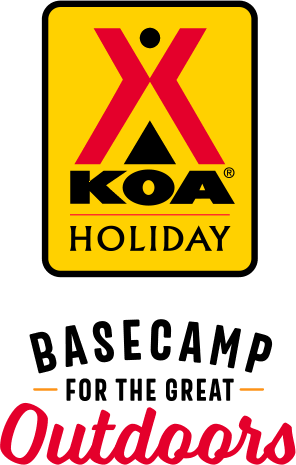 KOA Holiday Campgrounds
Whether you're exploring the local area or hanging out at the campground, KOA Holidays are an ideal place to relax and play. There's plenty to do, with amenities and services to make your stay memorable. Plus, you'll enjoy the outdoor experience with upgraded RV Sites with KOA Patio® and Deluxe Cabins with full baths for camping in comfort. Bring your family, bring your friends, or bring the whole group – there's plenty of ways to stay and explore.
KOA Holidays Feature:
RV Sites with a KOA Patio®
Deluxe Cabins with full baths
Premium Tent Sites
Group meeting facilities
Directions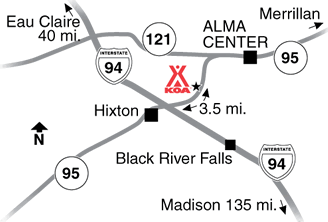 From I-94, take Exit 105. At foot of the exit you will be on Hwy 95. Turn left, go 3.7 miles, our KOA is on the left after a curve in the road.
Do not use GPS!
Get Google Directions
Jul 22, 2021
Very clean cabin! The entire campground was very nice. Owners John & Debbie take a lot of pride in their campground.
Jul 22, 2021
Great people and very nice facility! We had a trailer issue and the staff and everyone there were very helpful and supportive during our stay. Highly recommend this location as the people were great and the facilities were top notch!
Jul 21, 2021
Nice pull thru sites. Quiet , not too fat from highway but just enough to kot hear the noise
Jul 21, 2021
Folks if you are looking for a quiet peaceful stay this is the place they have great activities. The pool is very nice. And it has lots of trees for shade this is are go to koa.
Jul 20, 2021
Wonderful campground. Meticulously maintained and cleaned. So very private and quiet. Friendly and helpful staff. Great pool. Absolutely beautiful scenery.
Jul 20, 2021
Just stayed one night but clean quiet and friendly staff. Beautiful campground
Jul 19, 2021
We get the cove area for a group and rent the cabins, perfect for our lg family. Just wish there were more full service cabins available. Great place to go with many activities
Jul 19, 2021
We have stayed here twice now. It's not only beautiful in the summer, but also in the fall. The entire staff make sure you are taken care of, keep the place squeaky clean, and greet you with a smile and wave. Our favorite KOA !
Jul 19, 2021
Nice location and very well maintained. The KOA team was excellent.
Jul 19, 2021
WE had a good time, as always.
Jul 19, 2021
Very friendly staff and fun activities planned for the kids. Clean facilities. Will return!
Jul 17, 2021
We loved our stay at the Hixton KOA. The campground is well maintained and the facilities are very clean. The cabin that we stayed in was very clean and comfortable. The owners and staff are the BEST! Couldn't ask for better. Will definitely be going back.
Jul 17, 2021
Very nice campgrounds one of my favorite been coming here for close to 30 years will be back again
Jul 17, 2021
The bathrooms were clean, as was the campsite. However, the person who took us to the campsite had us park where we would have had to back down the steep slippery grassy hill around other campers to exit. (We reversed it for safety when he left.) The campsite wasn't an actual campsite, it was a slippery grassy knoll with no discernable path down the steep grassy incline to the bathrooms.
Jul 17, 2021
Wonderful time, as always! Totally our go to place. John and Debbie Bierbach are phenomenal camp hosts. It just doesn't get any better than KOA Hixton Wisconsin!!
Jul 17, 2021
Loved our stay! The owners were very helpful finding a site for us at the last minute! They were kind and helpful and the grounds are impeccable! Can't wait to go back!
Jul 16, 2021
Campground was clean and very friendly and helpful workers. Very quiet. Not a lot of things to do in the immediate area.
Jul 16, 2021
Nice secluded campground and great camp site. Out in the country away from all noise and people
Jul 15, 2021
The owner and staff are great and the campground is beautiful
Jul 14, 2021
Very nice place. Friendly staff.
Jul 14, 2021
Beautiful campground with very clean showers ! Highly recommend.
Jul 14, 2021
They were all friendly and helpful
Jul 14, 2021
Amazing campground amazing staff the owners are some of the friendliest people we have ever met. Whether you're just passing through or looking for a place to take the family, you can't beat the hixton/ Alma center KOA
Jul 14, 2021
John and his staff are amazing! My RV broke down at his campground and they did everything imaginable to help.
Jul 13, 2021
We had a blast just hanging out with our friends camping. The kids had plenty to do with the pool, gaga ball, jumping pillow and riding bikes on the trails. It is very clean and the people working there are friendly and helpful.
Jul 13, 2021
Pleased with Beautiful clean and attractive. Campground! Pleasant staff as always at KOA
Jul 13, 2021
You need to invest in pvc threaded pipe adapters @ $2 ea for your sewer connections. It would make it easier then having to haul in bricks to keep the hoses in and avoid accidents, only $140 for 70 sites, you could probably get a contractor price. Other then that a great park.
Jul 12, 2021
The site #2 was a little tight and not much room to sit outside or make a campfire that wasn't too close to the camper. It was nicely located close to the dog park which was awesome for our pup. The grounds were well maintained, the people very friendly, the general atmosphere was quiet. We would go again but stay in one of the sites up on the hill.
Jul 12, 2021
It was our annual family camp and the grounds and facilities were awesome. Staff was very helpful and friendly.
Jul 12, 2021
Clean, well run campground.
Jul 12, 2021
Kept very clean. Activities for all. Staff very nice and helpful. Sites a great size, not all dirt and plenty of shade. Would like to see availability of water in dog park, which was very nice. Perhaps more shade.
Jul 12, 2021
Unfortunately, I was in a large Buddy pull thru site sharing with a Class A Winnebago whose AC was extremely loud and ran nearly all day long ~ very annoying and frustrating as it was adjacent to my picnic table. Had I not already set up I would have requested a different site. This was no fault of the park management but something I will be aware big next time I park in a Buddy Site.
Jul 12, 2021
This KOA had everything we wanted and booking, checking iin and check out was a breeze. The management was exceptional!
Jul 12, 2021
Great people great site. Would of stayed longer if we had the time. One concern- the retaining wall is six inches beyon where it should be.
Jul 12, 2021
Amazing as always. My daughter and I have visited every year for the last 3 years.
Jul 11, 2021
I was camping -- it was great to have a dry night in a camper cabin!!! I will use KOA again. Great camp ground.
Jul 11, 2021
The staff was outstanding, helpful and friendly. The facilities are very nice. It is an excellent stop if you are interested in antiques!
Jul 09, 2021
Nice site. Easy in and out. Would come again.
Jul 17, 2021
John and his staff are amazing! My rv broke down in this Campground and they went way above and beyond to help us get back on the road!
- Casey Squibb on Google
Jul 16, 2021
Such kind staff, clean cabins, nice grounds and ample shade. Hubby and I had a great time here. Our new, favorite KOA.
- Amanda Penrose on Google
Jul 14, 2021
Amazing staff, very clean. Can't wait to come back.
- Billi Morgan on Google