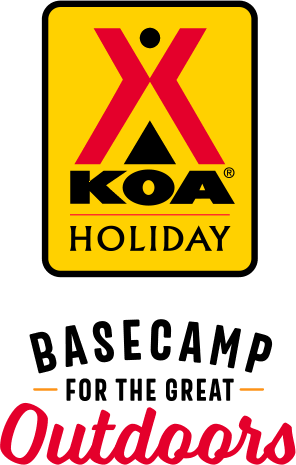 KOA Holiday Campgrounds
Whether you're exploring the local area or hanging out at the campground, KOA Holidays are an ideal place to relax and play. There's plenty to do, with amenities and services to make your stay memorable. Plus, you'll enjoy the outdoor experience with upgraded RV Sites with KOA Patio® and Deluxe Cabins with full baths for camping in comfort. Bring your family, bring your friends, or bring the whole group – there's plenty of ways to stay and explore.
KOA Holidays Feature:
RV Sites with a KOA Patio®
Deluxe Cabins with full baths
Premium Tent Sites
Group meeting facilities
Directions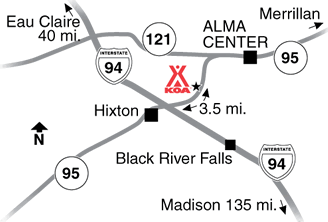 From I-94, take Exit 105. At foot of the exit you will be on Hwy 95. Turn left, go 3.7 miles, our KOA is on the left after a curve in the road.
Do not use GPS!
Get Google Directions
Dec 24, 2020
always friendly and very helpful people. have stayed here over the years to visit family in the area and will keep coming back.
Nov 23, 2020

Weekend hunting trip. The cabin was accommodating and manager was friendly and helpful.
Oct 22, 2020
Very quiet, clean campground. Owners and staff are very friendly and helpful.
Oct 21, 2020
Our experience with KOA Hixton/ Alma Center was a 10 out of 5! John, owner, answered all of my phone calls and questions timely; Debbie, owner, was inviting and informative about all of the programming and annual events; Tyler, staff, was kind and clearly loved his job. The cabin, bathrooms and grounds were so clean and beautiful. This was our first cabin/camper rental and we will be back!
Oct 19, 2020
Always great time. Clean well kept. People are friendly and helpful
Oct 19, 2020
Very pleasant and everyone was friendly. Our son loved the bounce pad!
Oct 19, 2020
One improvement that I would like to see; as long as I prepaid for my sight why not just post paperwork right outside so there would not have to be human contact. Safer for both of us.
Oct 18, 2020
We stayed her for MEA weekend and we had a wonderful time. The employees were very helpful and attentive. We would love to go back in the summer to see all it has to offer.
Oct 17, 2020
Very nice campsite/campground with convenient access. Pleasant and helpful staff.
Oct 15, 2020
John is a pleasure to deal with. Friendly service and immaculately clean campground and facilities. This is a great place to camp and easy travels to great hiking locations. Our campsite of choice!
Oct 15, 2020
Beautiful grounds. Great service for TV connection issues. Thanks!
Oct 14, 2020
clean, nice landscaping, quiet. did not use any of facility but it all looked well cared for.
Oct 14, 2020
Very relaxing and beautiful campground in the fall.
Oct 14, 2020
They helped with every need in a timely manner and went the extra with local information.
Oct 13, 2020
Very nice setting. Quiet camping in a wooded setting.
Oct 13, 2020
Very nice. Clean. Friendly staff.
Oct 13, 2020
Wow! Halloween weekend at your campground was amazing! The grounds, the staff, the events! Thank you all so much for a wonderful fun filled weekend. Great job John and Debbie. It's very clear that you love what you do and take great pride in your work. We will be back!
Oct 13, 2020
Clean bathrooms excellent campground
Oct 13, 2020
camp ground was very nice and clean. staff was very nice and helpful when i had questions or needed anything. kids loved it so much we ended up staying an extra night.
Oct 12, 2020
Stayed in a camping cabin. It was great. I was there 4 nights.
Oct 12, 2020
Hixton KOA is so nice! John and the team is super friendly and make you feel welcome!! Very clean campground and one of our favorites!!
Oct 12, 2020
Had a great time. Staff really friendly and sites exceptional.
Oct 12, 2020
We had a wonderful weekend here. The campground is beautiful and well maintained. The hiking trail was a nice bonus, and so was the jumping pillow. So much fun! I'll definitely be back some day.
Oct 12, 2020

John and his staff were super helpful and made our stay easy and enjoyable. 10/10 - we will be back!
Oct 11, 2020
Friendly Staff. Peaceful campground.
Oct 11, 2020
Our site was at the entrance, site 10. There was a lot of vehicle and foot traffic, but it was also near the restrooms. The bathrooms and showers were extremely clean which was a plus after staying at a few state parks!
Oct 09, 2020
Owners are friendly and helpful. They escorted us to our discs. Facilities are clean and attractive; bathrooms are clean and showers are warm. Laundry facilities are very good. Nice amount of trees.
Oct 08, 2020
We have stayed before and just like last time it was awesome the owners are the best. It is one of if not the best Koa we have stayed at.
Oct 07, 2020
Just an overnight stop while traveling East from Duluth. We were grateful to find a site on a weekend night. The park was very nice. Clean, friendly. Good area to walk the puppies.
Oct 06, 2020
This is our favorite campground. The grounds, the trails, the views are amazing. It was Halloween Weekend and was so much fun. All the campers there were having such a good time, the little kids with the pumpkin decorating, trick or treating, and then the best of all the Haunted Trail. The owners and the camp workers are amazing, very friendly and helpful.
Oct 06, 2020
Met our son and family for one last camping trip, This was half way point for both of us . Very well taken care and clean of property with nice layout. It was a Halloween themed weekend so that made it fun also. The owner's and staff were awesome. My grandson loved the play area and bounce pad, but was amazed by the guy that popped out of the Blow up pumpkin trailer. We will be back again.
Oct 05, 2020
Halloween weekend was awesome. Great for the grandkids!
Oct 04, 2020
Great time! Halloween weekend. John, Debbie, and staff went over and above as usual with decorations and fun events for all ages. The haunted trail was stupendous. Perfect fall weather and gorgeous colors were the backdrop for the weekend. We cannot say enough good about KOA Hixton. Totally our "go to" campground always!!!!
Oct 03, 2020

Great fall weekend getaway! Super-clean,well stocked kabin! Loved every minute.
Oct 03, 2020
Very nice campground been going there for about 30 years great owners with a great staff always willing to help out in a pinch can't say enough
Oct 01, 2020
Neat,clean,well maintained. Nice clean bathrooms,laundry. Friendly, welcoming hosts and employees. Pretty grounds, trails. Appreciated attention to covid measures. Simple precautions reduce risks greatly. Best to call, make sure your site will have room for tow and camper. Great hosts.
Oct 01, 2020
enjoyable experience
Nov 15, 2020
Doesn't get any better!
- willie69 Rose on Google
Oct 28, 2020
Very nice campground. Our son enjoyed the bounce pad and park. Staff was very friendly, and they have a game room. It was perfect for a slightly chilly last camping trip.
- Tiffani on Google
Oct 20, 2020
Very peaceful! Staff is very friendly.
- Diane Mier on Google