Directions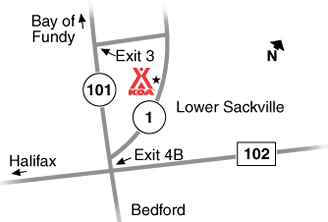 Exit 4B off 102: West 10 minutes on Hwy 101, Exit 3 to Sackville Drive, right 2 km.
Get Google Directions
Sep 04, 2020
it was crowded, not terribly scenic and the service was less than friendly. What a HUGE contrast to the beautiful and friendly KOA near Charlottetown!
Aug 30, 2020
This review has been removed by KOA due to profanity.
Aug 19, 2020
Liked the lot we had. Shaded. Staff were super friendly and helpful. Quiet at night
Aug 18, 2020
It was a wonderful campground for kids. My only complaint would be the unpaved/non grassed sites as it creates quite a mess while tenting especially with young children, and can make sleeping on the ground a little more uncomfortable. This will not keep us from coming back again, and we hope to visit again next year!
Aug 03, 2020
We only got to stay one night, but it was awesome. We accidentally arrived 2 hours early and were able to have our campsite early. The only thing question I have is if there are covid precautions in the pool and in the office, why is the playground a free for all with no restrictions. I will definitely be back again and again. Awesome place for families with kids. I loved it! Staff is very friend
Aug 03, 2020
We had a fantastic time! Staff were very nice, campground was clean and lots to do for kids and adults!!
Jul 11, 2020
The staff makes the difference. They can't do enough for you
Jul 18, 2019
Friendly staff, excellent WI-FI, nice setting by a lake
Sep 04, 2018
Awesome campground for the kids. I only live minutes away so it made camping enjoyable for my pregnant wife who just drove home on the evenings but still got to enjoy the great environment there st koa
Aug 21, 2018
I was impressed how clean the camping (including toilets and showers) was. Thank you et keep up the good work!