Directions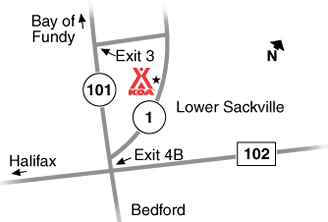 Exit 4B off 102: West 10 minutes on Hwy 101, Exit 3 to Sackville Drive, right 2 km.
Get Google Directions
Jul 26, 2021
Bathrooms were not that clean. A few permanent sites that appeared to house staff were pretty rough and dirty looking. Kids enjoyed the bike rentals, pancake house and ice cream hut
Jul 26, 2021
Check in was efficient. Site was clean. The location of this KOA was great for day trips in the surrounding area. There are a lot of families with kids here - be careful driving in the park.
Jul 26, 2021
Our stay was pretty good however, the lots are very small.
Jul 26, 2021
They are always welcoming, happy and friendly. A great place for families and youbg at heart.
Jul 26, 2021
We had an electrical issue on the last day and come to find out it was the post we were hooked too. I didnt fins the bathrooms to be as clean as they usually are.
Jul 26, 2021
Great staff. Nice playground and washroom facilities. Firewood was green and sites are small and cramped together.
Jul 26, 2021
Terrain de camping malpropre et très mal organisé. Le site s'est beaucoup détérioré entre notre première visite en 2013 et cette année. Les espaces sont trop restreints (notre rallonge donnait juste sur la table de pique-nique des voisins. On avait l'impression d'être empilés comme des sardines. Très mauvaise impression quand on est en vacances.
Jul 25, 2021
Had a blast with my newborn and fiancée. The owner and his family are super friendly and accommodating to everyone. We were able to buy wood for our camp fire when the office was closed. Will be back forsure
Jul 24, 2021
Very good but our camper unit was moved from the original site we booked and there was a strong septic odor outside. It lacked some items like 3 instead of 4 chairs until the third day of our stay, no toilet paper, light bulb in fridge and inside windows were filthy. All we took care of. The grounds were well maintained. We heard multiple complaints that the store closed too early (wood/change).
Jul 24, 2021
We booked 2 sites months before our arrival, so there was plenty of time to schedule site maintenance. However our site was very unkempt when we arrived. The foot tall grass and weeds were cut. But only after we complained to the Office staff. The overflowing garbage bins were unsightly and probably attracted animals/pests. This location is not up to KOA standards we have enjoyed in the past.
Jul 24, 2021
Fabulous owner who answered any questions we had. Clean facilities. We will be back.
Jul 23, 2021
Campground is a little busy on the weekends so expect that. Lot size was small and tight. Very family oriented so expect lots of children. Noise from the highway is tolerable. Laundry facilities are poor, hopefully upgrades in the future are planned. Stayed a week, good location to explore the Halifax area. Staff could be a little more personable to there clients.
Jul 23, 2021
It was our first time and we had a blasts! Kids enjoyed it. Staff were nice, friendly and helpful! Will comeback definitely.
Jul 21, 2021
List of issues: drunk driving on the property apparently a regular occurrence, constant smell of weed from multiple sites, seems to be a weekend party central with campers wandering drunk all evening causing trouble, drunk campers peeing on others sites, multiple sites being used for scrap metal and garbage dumps, ZERO security or monitoring of entry/exit, hands down the worst koa experience yet
Jul 21, 2021
We had a great time; however, because it was during the week the pancake house and ice cream shop were closed and there were no movies. We were not told in advance the propane BBQ's were replaced with charcoal at the rustic cottages and our cottage was wired for a smoke detector but there was not one installed.
Jul 21, 2021
Always a great stay Joe and his crew look after things it the best place in HRM to camp.
Jul 20, 2021
I rented an RV and I was very happy with it. It was large enough for my family. The service was great and my kids loved the bikes.
Jul 20, 2021
This was our first stay at KOA. On Saturday, there was a birthday party directly across from us that began escalating out of control with lots of swearing by late afternoon. By 10 pm, the place evolved into a full-scale fight, directly in front of us. RCMP cars arrived. It was an event that as I sat with my family, with kids in bed, I was embarrassed and likely won't return. Staff were great !!!
Jul 19, 2021
Had my grandson with me and he really enjoyed himself and thats all that really matters, it was peaceful until the weekend. I would reacommend to anyone who has kids to stay for the weekend.
Jul 19, 2021
Had a great week. The 3 way sites are tiny, but the park is clean and quiet.
Jul 19, 2021
Joe and his team are the best. They never stop doing things to improve the grounds . We go and stay for a week at times and just for the weekends to get away to a happy place by far the best campground. Great job!
Jul 19, 2021
It was amazing, my daughter had so much fun. We will differently be going back .
Jul 19, 2021
Lovely campground, bathrooms clean, staff friendly. My only complaint is the smoking on campsites. Would love to see a designated smoking spot to decrease the exporsure to my small children.
Jul 19, 2021
The campground is very nice and there is lots for children to do. We did find it very busy with a lot of traffic in and out of the campground which was a little unnerving when there are children on bicycles, banana bikes, scooters, etc. Staff presence is minimal. I personally enjoy seeing more staff to help monitor campers and visitors. We had to call the night security to make a noise complaint
Jul 19, 2021
This location is close to the city and just right for our needs. The park is expanding nice and is always full. There are enough activities for the kids and adults. I would recommend you book in advance to ensure availability.
Jul 19, 2021
People next to us rented a cabin we're up all night drinking and loud music so first night sucked but the second night wasn't that bad staff was helpful and the place was nice .
Jul 19, 2021
Was a great family atmosphere lots for the kids to do
Jul 19, 2021
Simple things like air in the tires of the bikes when asked if you had an air pump the person said no but another lady said yes but had to pump them up myself on 3 carts , asked for dog poop bags and said there was none then found some on the main check in building , camp site wasn't ready and very rocky and muddy , needs gravel , staff not helpful , overall needs upgrades and attention .
Jul 19, 2021
Our stay was wonderful. This is a great place for kids and the view from the site was incredible. Special shout-out to Cole, an employee at KOA, who helped make our stay magical. We will definitely be back!
Jul 18, 2021
It's was awesome. The staff was incredible and the facilities were clean and well maintained. We will be back next year.
Jul 18, 2021
Great service. Friendly staff.
Jul 18, 2021
Sites were clean and level. Campground was very nice. Pool, washroom and showers were very clean. They had bikes to use as well as canoes. Staff was very friendly and helpful. Nice and close to town but still very secluded.
Jul 18, 2021
I took my grandkids for 4 days and they love loved it there!
Jul 17, 2021
Not at all what we expected from a KOA. Drive through sites are literally on top of one another. If you had a campfire you ran the risk of damaging the campers next to you. Some of the areas in the park were deplorable. Old car wrecks on site��� Would never entertain staying here again… best word to sum it up is "dump".
Jul 16, 2021
Had a great time other than my granddaughter getting injured on the bounce pillow in a freak accident, Joe , Christine were great as always and Shannon j a fantastic job getting our cabin ready vacation at the koa is never a bad experience
Jul 16, 2021
Superb service! So kid friendly. Staff was amazing, they had my cabin cleaned early because we went from a tent site one night to a cabin the next. Such charm and very clean. Thank you
Jul 15, 2021
I take my family every year and koa is the beat joe is great and always around to check on things. no complaints
Jul 15, 2021
We loved our stay! The cabin was more than expected! The kids loved the bouncy pillow, pool and the bikes! We'll be back �
Jul 13, 2021
A little disappointed rented 3 kayaks and asked that water be emptied, and employee stated it wasn't his job so we did it ourselves. COVID rules not enforced, pool numbers not verified and registering for a time slot meant nothing. Good sized lots