Directions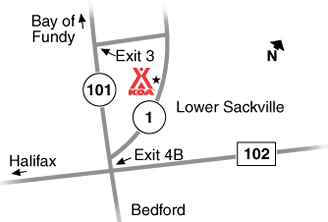 Exit 4B off 102: West 10 minutes on Hwy 101, Exit 3 to Sackville Drive, right 2 km.
Get Google Directions
Nov 13, 2020
Joe and his team did a great job.
Nov 04, 2020
Very nice campground. Clean and inviting.
Nov 02, 2020
Always friendly and eager to please every time we arrive on site and on the phone for booking.
Nov 01, 2020
We stayed for about 10 weeks. The campground has many amenities and the hosts are very friendly. They also maintain a well stocked store on site. Our site was very small but we saw that many others were a very good size. We had been offered a nicer site but it was very unlevel and we didn't have enough material with us to make it work. Power was solid but water pressure was very weak. Great wifi
Nov 01, 2020
I tell everyone who will listen how much I enjoy my trips to the KOA. From the comfy cabins to watching my kids and now my grandkids ride the banana bikes. The kids all love the playground and especially the big pillow. And ending each night with a campfire and a marshmallow roast. Who could ask for more?
Nov 01, 2020
We had a fantastic weekend. As it was late in the season, the campground wasn't nearly full so we had lots of privacy. It was so peaceful! As always the grounds were well kept and clean. Can't wait to come back next camping season.
Nov 01, 2020
Always pleased with this KOA
Oct 22, 2020
Joe is a great guy! Site is amazing
Oct 22, 2020
Awesome service !!!
Oct 21, 2020
Camp owner and staff are friendly and take pride on helping out their customers
Oct 21, 2020
Another enjoyable weekend camping with friends. This was our 4th trip here this year.
Oct 21, 2020
Sites very close together not very scenic . They were very clean and staff was friendly
Oct 20, 2020
Wonderful, owners very accommodating. Had an awesome time at the KOA, never disappoints.
Oct 20, 2020
Always an excellent place to camp. This was the third stay this year and it was great. The staff are always friendly and helpful. The park is very clean and always well kept. Even when the park is full it is still very quiet with just the sound of children playing. It is only a 30 minute drive from our home but it still feels very remote and nature filled. Love this KOA.
Oct 20, 2020
We stayed the evenings of Oct 16/17, 2020 to celebrate my daughter's 10th birthday... the second year we've come for this purpose and my daughter is VERY adamant that we make/keep it a tradition going forward. :) We love the little cabins and the playground and the trikes and the campfires and the arcade. A wonderfully unplugged experience - highly recommend.
Oct 20, 2020
Very clean and organized. Friendly staff (the one person we interacted with).
Oct 20, 2020
Joe the front desk operations person was very helpful, professional and easy to get along with.
Oct 17, 2020
Our stay was great
Oct 16, 2020
We are always treated with respect and always enjoy our stay. Thank you. See you next spring.
Oct 16, 2020
As we had freaky sub-zero temperatures at night, waterlines were freezing, and a circuit breaker was tripped at our site (our fault). The owner came in 40 minutes before opening to make sure that all had free flowing water, and reset our breaker...Great service.
Oct 16, 2020
Friendly and welcoming manager. Felt very safe on my own. ca
Oct 16, 2020
We always have a wonderful time at his locations. One o out family favorites!@
Oct 16, 2020
Super fun & family friendly!
Oct 16, 2020
had a fantastic time. deep fried turkey with all the extras
Oct 16, 2020
Front desk was very helpful and friendly. Clean restrooms. Enjoyed our stay
Oct 16, 2020
We spent Thanksgiving with some of our close friends and we do this tradition every year! We always have an amazing time at KOA, the owner is wonderful and always there when needed, he goes above and beyond! The kids have a blast playing at the park and enjoying nature! Always a great time at KOA!
Oct 16, 2020
Always a joy to stay at this KOA. They are very friendly and helpful.
Oct 12, 2020
They were able to accommodate our motorhome. There are some wooded lots and some open areas good for.large motorhomes. Staff were friendly!
Oct 10, 2020
We love KOA West. It is the perfect place to camp when you have kids. Our daughter loves the playground, the bikes and the pool.
Oct 09, 2020
We love the campground and the owner Joe makes us feel very welcome.
Oct 07, 2020
This was our first stay at a KOA - Its very close to our house which was great We just went last weekend so it was off season not all the ammenities we open (pool,pancake house, ice cream) which is understandable but that didnt stop us from having a great time. Our daughter loved it we will 100% be back. Highly recommend :) Also the Owner was very friendly and really seemed to enjoy himself
Oct 04, 2020
Just pulled in for one night on my way through, campground was clean and quiet, all services functioned as expected and staff were both helpful and friendly.
Oct 03, 2020
Great place to stay if you have kids. Very friendly neighbors when we were there. We will be back next summer
Oct 03, 2020
We love it there. Great campground and great management. We definitely will be back.
Sep 29, 2020
We have been staying at KOA all summer and love it there. Super fun for the kids and I love that we can have a wooded lot for some privacy. During this visit, there was music playing late into the night (til at least 3:15 one night and at least 5:00 the second night). Thankfully it didn't wake my kids but it was very disrespectful to other campers. I know this is not common though.
Sep 29, 2020
It was excellent. Bathrooms by the playground were not overly clean and didn't have soap in all of them. Otherwise it is still one of our favorite places to camp!
Sep 28, 2020
Had a great stay as usual! Friendly staff and a lovely family campground. the kids love coming here.
Sep 27, 2020
Great stay. Campground is always kept clean.