Directions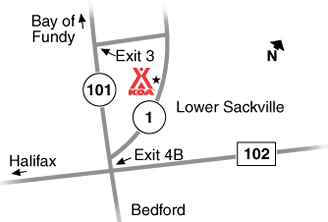 Exit 4B off 102: West 10 minutes on Hwy 101, Exit 3 to Sackville Drive, right 2 km.
Get Google Directions
Oct 19, 2021
As always evert hinges was fine no issues
Oct 19, 2021
Joe the owner of this KOA always does what ever he can to make your stay a great experience. The campground and the entire facilities are always clean . It is very well ran and I would recommend to stay there
Oct 19, 2021
Our visit to the KOA was in October 2021... the location was great for touring around Halifax and surrounding area. The facilities were clean and our cabin that we booked was solid! Hosts were very friendly! There was a lot of "stuff" around... not sure if the park was in transition from seasonal park to campground Regardless. It was great!
Oct 19, 2021
Wonderful campgrounds!
Oct 19, 2021
great spot for kids! Nice staff and awesome service. Firewood for sale is really good as well and all washroom facilities were clean.
Oct 18, 2021
Great and friendly. Clean facilities.
Oct 18, 2021
We came in later in the day and left early so weren't there long. We used the laundry facilities which were good and our spot was nice. There is alot of junk around the office and surrounding area which could / should be stored elsewhere so guests don't need to look at it. It was October so most things in the campground were closed due to the season. Good location, we would stay here again.
Oct 16, 2021
Very kind staff very clean excellent accommodation
Oct 14, 2021
Wonderful facility and hoping to return soon!
Oct 13, 2021
The staff was very accommodating and ensured we had all necessities for the long weekend. Very nice rental 40 foot trailer in an excellent location. Thank you!
Oct 13, 2021
We had a great time! Everyone was extremely kind and friendly, bathrooms were exceptionally clean and the cabin we stayed in had a space heater that perfectly regulated the room. I can't wait to go back!
Oct 12, 2021
Awesome campground and staff
Oct 12, 2021
Always great
Oct 12, 2021
We had an absolute amazing camping weekend, can't wait to go back in 2022!
Oct 12, 2021
Staff were very helpful, bathrooms/showers very clean. Great place for families.
Oct 09, 2021
Very nice location..close to amenities..our site was very large and close to bathrooms and the playground as requested for our child..this was our first time at this campground and we will definitely be back another time..
Oct 09, 2021
The staff was very family friendly. Nice clean laundry room, the only facility we used, but definitely worth recommending.
Oct 09, 2021
This review has been removed by KOA due to profanity.
Oct 08, 2021
Very friendly staff. Close to Halifax but sites are very small and laundry facilities too far from most sites.
Oct 07, 2021
Always a good time staying here. Grounds are always neat, washrooms/showers are kept immaculate! Can be a little noisy on the weekends with the kids racing around, but hey - kids will be kids. The best part about their location is being handy to the Halifax/Dartmouth area. The only downside is the internet (or lack of...). You need to hang out at the front office for a signal. We'll be bac
Oct 07, 2021
This was the worst KOA we've ever stayed at! Swampy, dumpy! Premium sites are gravel, 2 feet between the slides of your neighbour, garbage cans open with junk everywhere, kids riding bikes thru our site. Arrived at our site with someone already in it. Would never recommend this place to anyone.
Oct 06, 2021
The staff was extremely friendly and approachable.
Oct 05, 2021
We stayed late in the camping season, so not much to do for adults except sitting out around a fire. KOA is more focused on entertaining kids with a games room, bike rentals and the bounce area. It would be nice if there was adult entertainment offered too, like bingo, karaoke or a poker walk. Pool was closed !
Oct 05, 2021
On the positive side, the campground is family friendly, lots of activities to keep kids busy. The site was clean and level. Unfortunately, due to the closeness of the campground to a busy road, it was very noisy at night when trying to sleep. There is also a stream/bog that ran behind our site (F section) that had garbage and dirty diapers and smelled terribly of sewer.
Oct 05, 2021
Great location
Oct 05, 2021
Clean clean clean
Oct 05, 2021
man at counter very nice. delivered our wood was very friendly.
Oct 03, 2021
The [people were very friendly and considerate, but the campground like a sewage pond , and also the neighbours got up very early and broke camp- they were very noisy which awoke us.
Oct 03, 2021
This KOA is in need of some TLC. Driving in is very bumpy with some pot holes (needs more gravel). Lots of muddy spots along the sites (gravel required). The entrance looks like a "dump", e.g. garbage, old vehicles, piles of rocks, wood, etc. Washrooms were clean however never was able to get hot water while showering until the last minute.
Oct 02, 2021
We where there one night lots for kids to do sites where nice lots of trees to contend with
Oct 02, 2021
Nice spot, close to downtown and lots of nearby restaurants and shoppi g.
Oct 02, 2021
Nice locatet on a river but a lot of noise from the higheays. When the rain falls many "lakes" on the campground. The boss is a very friendly guy.
Oct 01, 2021
Park is well maintained, friendly reception.
Sep 29, 2021
We stayed 5 days at this family oriented park. It certainly has pretty water scenes in it, a large good looking pool and fun kids centre. Some nice cabins. Feels crowded driving in and can be quite noisy. If you have kids, great place to stay.
Sep 29, 2021
I really like the setup of this park. The staff is great, lots for kids to do and very clean and they are upgrading facilities. An excellent stop over for a night or a week or longer. It's very treed in in parts, has a nice place for canoes and kayaks. We woke up to ducks sitting by our picnic table and asked them to join us.
Sep 28, 2021
Great campground for kids!! Friendly staff had a great time . Definitely recommend !