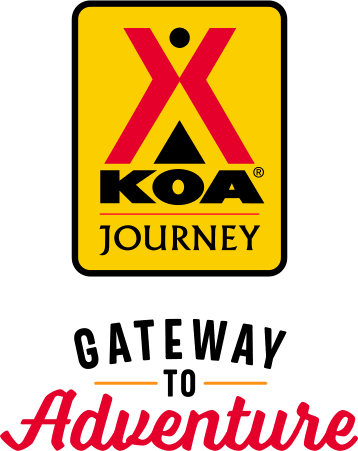 KOA Journey Campgrounds
KOA Journey campgrounds are the perfect oases after a day on the road. Whether it's along the way or a quick getaway, they've got you covered. Located near the highways and byways of North America with long Pull-thru RV Sites, they deliver convenience to the traveling camper. Pull in, ease back and take a load off.
KOA Journeys Feature:
Pull-through RV Sites with 50-amp service
Premium Tent Sites
Well lit after hours check-in service
Directions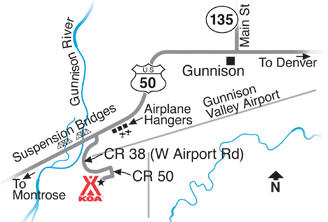 From Main Street / Highway 135 in Gunnison: Go 1.5 miles west on Hwy 50, take a left onto CR38 after airplane hangars, south to campground.  GPS: N38.529312, W106.946559
Get Google Directions
Oct 26, 2020
The office people and the owner r so friendly and helpful!! They go above and beyond to help out!
Oct 22, 2020
Beautiful place, friendly people who go above and beyond to meet your needs!
Oct 21, 2020
Mattress in kabin 5 needs to be replaced! It torn and worn out.
Oct 20, 2020
We joined KOA so we could save 10% off our 13 day stay. When we went to pay they would only give us our membership fee refund because they could only do 1 discount. If I had known that I would have joined again prior to our arrival . Really was an unfair advertisement. The campground had goats who chased us, and 1 ran at me and rammed me and I got a 3 inch long bruise. I am 70 years old.
Oct 19, 2020
Nice place. Enjoyed our stay. Will look forward to staying next summer and fall.
Oct 16, 2020
One night stay on way to Colorado. Our trailer had water issues so we had to use the outdoor sink for dishes... faucet handle was loose and water not very hot . But the shower was very clean and nice with good hot water.
Oct 15, 2020
Awesome Kampground! Loved the donkeys and goats. Also appreciated the grass throughout. Bathrooms very clean. And a very helpful staff.
Oct 14, 2020
Bathrooms and facilities were cleaner than most campgrounds I have been to. They do a great job of keeping everything stocked up.
Oct 14, 2020
We make this KOA our first outing each year and also our last outing! The 2 seasons are quite different and we truly enjoy the fall. The campground is laid back, quiet and of course our highlight is all of the animals, Jennie, Herbie, Grandpa, Joan, Fritz, Norman and many more. Dave is the best host!
Oct 13, 2020
A little dusty until roads were watered. Nice sites aaay from road noise.
Oct 13, 2020
We enjoyed our stay at the Gunnison KOA. However, the management needs to do some maintenance, the men's bathroom did not have any toilet paper, there were tree limbs all over the campground especially bad in the dog park. With a good cleaning this would be a fantastic place. Staff was friendly!
Oct 12, 2020
Beautiful Campground, quiet, well kept, friendly and knowledgeable staff. The bathrooms were clean and had very nice showers. Would highly recommend to stay here, also close to town. We had a great time, will definitely stay here again.
Oct 12, 2020
Love this place with all the farm animals. Sorry about all your broken trees from that storm.
Oct 11, 2020
Really enjoyed our stay here, the park was very well kept, we had a spacious grassy site, which was nice, no dust. Went in October & the fall colors were beautiful at park. Very nice off leash dog park. We will definitely stay here again in future.
Oct 07, 2020
Very kind and helpful staff. Beautiful views roomy spots. The farm animals were fun to watch. Tallest bovine I have ever seen!
Oct 06, 2020
Always a pleasure to stay at this KOA. Fun people that run it
Oct 06, 2020
Clean, comfortable. Have stayed here in the past and will do so again.
Oct 06, 2020
I had called prior to booking thr night to specifically ask about a heater in the small A frame cabin. I was assured each had an electric heater. When I arrived late in the evening, the cabin had no heater. I went to Walmart and bought an electric blanket. I was refunded the cost of the stay the next morning to help cover the cost of my blanket and inconvenience. They were very cordial.
Oct 05, 2020
Had a very nice pull spot. Good staff
Oct 05, 2020
This review has been removed by the moderator for inappropriate or incorrect content.
Oct 05, 2020
Nice KOA with plenty of space between sites. Mostly grass which makes for a cleaner campground. Staff very helpful and friendly. Large bark park which our two dogs enjoyed. Due to the space between sites, the grass and trees the campground had a natural, park feeling which was much appreciated. We also enjoyed the barnyard animals!
Oct 05, 2020
Enjoyed our stay. The extra large backin spot was very nice for our two dogs to just chill and take it in. The donkeys, goats and pigs made it interesting. Bathrooms were nice and clean.
Oct 05, 2020
Friendly and helpful staff. Very well maintained campsite. Clean bathrooms. The best KOA we have visited.
Oct 05, 2020
I loved the goats and donkeys on the property. They were very entertaining. And the large trees make it very inviting and pleasant. Grounds were very clean and staff was incredibly friendly. I would recommend this place to anyone!
Oct 05, 2020
Should post store/check in desk hours. Not provided on outside of door nor on line. I wrote an email question while I was camped there and they called my home to answer the question. Should have responded to the email address. I didn't get the response until two days later when I returned home.
Oct 04, 2020
Love staying here. It is a good center point for every where we want to go
Oct 04, 2020
Excellent KOA and we very much enjoyed our stay. Will be back. Highly recommend.
Oct 04, 2020
The goats that were roaming around at our campsite were a nuisance. We couldn't grill or have food outside. Everything else was fine.
Oct 04, 2020
Wonderful fall experience. Everything needed is a short walk away - charming staff, animals! (petting zoo feel) quiet, no problems, very good Covid awareness and precautions.
Oct 03, 2020
Stayed there two years ago also. The place has deteriorated. The grounds have not been kept up. There was a fishing pond that is now half filled in with construction debris. Half of the cabins look dilapidated and abandoned. There were tree branches down all over our site.
Oct 03, 2020
My only issue was that the bed pads are really worn out. I've stayed at a dozen different KOA's over the last few months and these pads did not provide the same sleeping experience as every other place. My body was actually sore after a night on them and i could feel the wood straight through the pad. I doubled up the pads On the second night and that was A bit better.
Oct 03, 2020
Thank you for the past-minute reservation. Nice clean and quiet park.
Oct 01, 2020
It was okay. The sites were not as pretty as other KOAs we have visited & the sewer connection was a very long was from where the trailer pulled into the spot.
Oct 01, 2020
Very personable, helpful young man at check in afternoon 9/26. Gentleman working desk 9/28 was quite rude. Was out playing with burros, showing off to kids and mom while guests were waiting for him inside and. He walked in taking personal call on cell phone and continued call while at least 2 people waited (I was one of them, and left as he would not end call about meeting a friend at 3 pm).
Oct 01, 2020
Great park to explore Crested Butte, Kebler and Ohio Pass
Sep 30, 2020
Great! Needed maintenance however
Sep 29, 2020
Good wifi. Good location.
Sep 29, 2020
were given ample notice that the water would be turned off due to the weather.