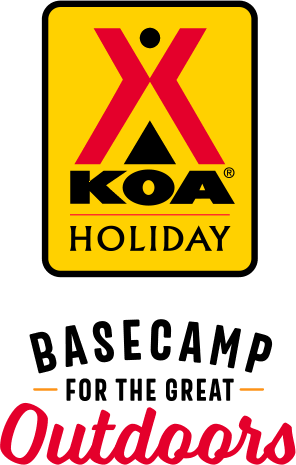 KOA Holiday Campgrounds
Whether you're exploring the local area or hanging out at the campground, KOA Holidays are an ideal place to relax and play. There's plenty to do, with amenities and services to make your stay memorable. Plus, you'll enjoy the outdoor experience with upgraded RV Sites with KOA Patio® and Deluxe Cabins with full baths for camping in comfort. Bring your family, bring your friends, or bring the whole group – there's plenty of ways to stay and explore.
KOA Holidays Feature:
RV Sites with a KOA Patio®
Deluxe Cabins with full baths
Premium Tent Sites
Group meeting facilities
Directions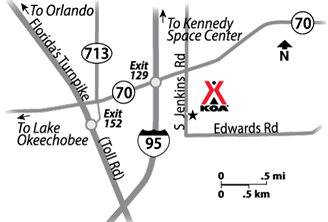 Interstate 95 - Take exit 129, head east on Route 70 for 1/4 mile. Take a right onto S Jenkins Rd, park is ahead 1/4 mile on the left.
Florida Turnpike - Use exit 152, then head east on Route 70 for 1/2 mile. Take a right onto S Jenkins Rd, park is ahead 1/4 mile on the left.
Get Google Directions
Nov 24, 2021
Check in was easy and the staff seemed friendly but the sites were a little tight from what we are used to staying in.
Nov 24, 2021
Easy access, very clean, friendly employees. Will definitely stay again if future travels bring us this way.
Nov 23, 2021
Very clean park and spacious spaces. Excellent water pressure and clean power. Employees are very friendly and accommodating.
Nov 22, 2021
Very friendly and competent staff, nice big sites not on top of the site next doors sewer. Beautiful pool area. Hopefully our next stay won't be so rainey and windy.
Nov 22, 2021
Beautiful new campground, excellent sites easy in and out. Only issue I had was with road noise, ie. Trucks, loud mufflers etc at night. Other than that I might stay in the back if we ever return. We tee the for one night on our way to the Keys.
Nov 21, 2021
Enjoyed my month stay in a very nice and clean campground, staff was very friendly
Nov 20, 2021
Great and very attentive staff. Nice location from Interstate and Toll Road.
Nov 19, 2021
Great place to lay over, new, clean! Layer over twice here on way through Florida. Good location off 95.
Nov 19, 2021
Enjoyed our stay here. People were great. Sites large and level. Lots of things that clearly someone paid extra attention to detail.
Nov 18, 2021
Really nice new place. It has two semi busy streets bordering it, however it's really convenient to the interstate, so thats the price for that
Nov 18, 2021
Office or staff need to be available longer than 5 PM We don't want to use an emergency number for minor problems. Cable did not work properly
Nov 17, 2021
The hosts were very friendly and the campground is kept in excellent condition. The pool area is beautiful with lots of seating and the laundry room is conveniently located near the office. There are 2 dog parks located near the lake.
Nov 16, 2021
A brand new park, everything was pristine. Cable, WIFI all hookups were perfect. Diana in the office was very professional and helpful. When all the new trees grow in full, this will be one of the best parks in Florida! We were in a 27" "C" and faced the lake.
Nov 16, 2021
New construction is beautiful, amenities are fantastic, distance between sites very nice. We walk often to the main area and there are no "walk ways" for pedestrians to cross through the campsites vs traverse the perimeter and prefer not to walk though an empty site (or have pedestrians walk through our site as the case may be).
Nov 15, 2021
New campground, super staff, sites are nicely spaced. Great experience, will return and recommend.
Nov 15, 2021
Very nice and helpful staff. Awesome pool. Will be visiting again soon.
Nov 15, 2021
A wonderful layout and very friendly and courteous staff and we have already booked again!
Nov 15, 2021
The people were nice and friendly. The park is new and very well manicured with a very nice pool area set up for families. The Wi-Fi was also very good which is a plus. We have made reservations to stay here again on our next time through the area in February.
Nov 15, 2021
Super clean, level sites, staff was extremely friendly. Easy in and out from I95. Staying there again next week.
Nov 15, 2021
Campground was clean and well maintained, and staff was friendly and helpful. Sites were all nice sized with plenty of room for our RV and truck, and full hook-ups made the stay enjoyable.
Nov 13, 2021
Very nice and clean campground. The spots were very large. We would stay again.
Nov 13, 2021
This KOA is just lovely. The people who work here are wonderful and the campground is clean, well maintained and the new pool is beautiful. We will absolutely be back!
Nov 10, 2021
A very clean campground. The staff was very friendly and helpful. We enjoyed our stay and would like to return at some point.
Nov 09, 2021
I stayed at this campground about 2 weeks prior and it was great; however, this time I was placed at the front of the campground and it was awful. Extremely noisy, close to the road and apparently a gravel pit that hauls 24/7. There were other sites available further from the road and the gravel pit, but I was not placed in one of them.
Nov 09, 2021
Place was immaculate, extremely well maintained and the hosts the very best!
Nov 09, 2021
Very easy on off from I-95, you do get a bit of road noise. Very large pool and very clean laundry area. Great staff.
Nov 08, 2021
Nice, new park. Friendly staff and convenient location. Will stay again if passing through.
Nov 08, 2021
Super friendly Staff. Easy check in and escorted to our Site. Explained all the amenities available. Definitely will return to this KOA.
Nov 06, 2021
Great new KOA just off Interstate! Great for easy layover or visiting the area. Wonderful staff!
Nov 04, 2021
It should be mandatory that all KOA Kampgrounds have recycling bins at their campgrounds. Had to bag mine, put them on my M/C and take them to a transfer station. Isn't camping suppose to be about "back to nature" and preserving it. Well that would be a good start.
Nov 04, 2021
Very nice park!! Sites are big and very well maintain. GW
Nov 03, 2021
Easy to find, clean and well kept. BTW we were unaware of this location and we contacted the other location first and were referred to this location. The site was nice, clean, etc. Did not however care for the crushed gravel site, it's very difficult to keep it out of the RV. We enjoyed our stay and would definitely consider a return visit.
Nov 02, 2021
Very nice campground with extremely friendly staff. However if you're seeking outdoors with peace and quiet the two major roadways around the camp is loud with semi trucks and dump trucks running constantly except Sundays.
Nov 02, 2021
We will definitely be back. We only scheduled an one night stop on our way to SOFL and we were pleasantly surprised. The staff is the best ever. The property is brand new and super clean. The best KOA we have been to so far!
Nov 02, 2021
We can't say enough about how wonderful our stay was!! The staff is AMAZING, the park is well maintained, modern and beautiful. The staff put on a fantastic Halloween party for the kids!! Thank you all so much!
Nov 01, 2021
You have the absolute best staff I could ever ask for we had a wonderful stay. You have a very beautiful park as well.
Nov 01, 2021
Very nice, new and clean! Easy in and out park! Beware of a bit of traffic noise from the nearby streets, but quiets down a lot at night.
Nov 01, 2021
Came to visit friends at Gort Pierce State Park. Your park was very nice and relaxing, the amenities was great and a very clean park. It was one of the nicest parks I've stayed at. I will be back ��