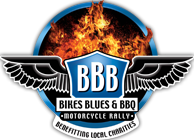 Bikes, Blues & BBQ
The first Bikes, Blues & BBQ rally was held in the year 2000 with just over 300 riders. Today, Bikes, Blues & BBQ is the largest motorcycle rally in the United States benefiting local charities. Attendance in 2012 was over 400,000. The ride from the campground to Fayetteville makes the trip worthwhile.
Bikes, Blues & BBQ is a non-profit 501(c)(3) organization and has donated over $800,000 to local charities since 2000 and is the recipient of the Arkansas State Tourism 2008 Henry Award for Special Achievement. The Henry Award honors individuals and organizations that have made important contributions to the state's tourism industry in the preceding year.
Sites go quick, make reservations today!