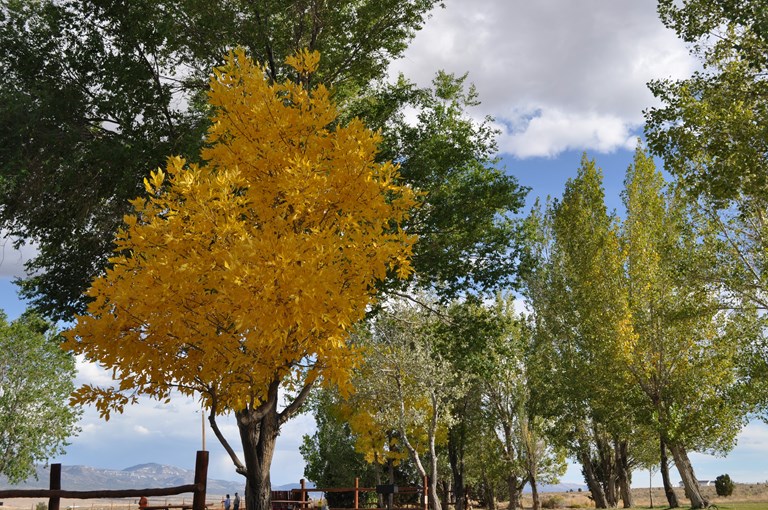 General Campground Information
Summer Store Hours
During the summer season, (May thru September) we are open 7 days a week, from 7:30 AM to 9:00 PM.
Kamping Kabin and Lodges & Tipi's Damage Deposit
A damage deposit ($25 for Kamping Kabin and $50 for Deluxe Lodge, Lodge & Tipi's) will be collected upon arrival. If no damages are incurred, the damage deposit will be refunded after unit inspection is completed. For questions on this policy, please call the office number at 775-289-3413.
Campfires
We have stationary fire pits placed at most of our sites. Please request a site that has a fire pit and we will be very glad to assist! All fires must be contained in a fire pit. We have firewood for sale at the office, or you can bring your own! Fire marshal may prohibit fires in times of fire danger, dry climate, or on windy days. Fire pits are not to be placed on the grass.
Kamping Kitchen
A large, covered and well-lit outdoor kitchen, complete with a 4 burner cook top, dual basin sink with hot and cold water, and plenty of counter room for food prep and serving. Located next to one-room cabins and tenting areas. The kitchen is closed during the cold seasons when the temperature drops to freezing and below.
TV Channels
For an excellent TV viewing experience, please use your digital antenna or request a site that is user-friendly for your satellite dish.
Meet Your Hosts
We always have a good time at our KOA, right along with our guests!
New owners Nick and Tasha Lopez are in the unique situation of carrying on the traditions of the past, as they create a kampground for the future.
The Ely, NV KOA was owned and operated at an award-winning level for years before Nick and Tasha stepped in. "We are proud of the legacy left behind by the previous owner. We strive to continue on in that legacy," says Nick. "Since family is our priority, we do our best to keep our campground fun and safe for kids, almost like a step back in time."
Nick and Tasha believe that happy workers make happy guests, so they emphasize strong customer service to help make every camping experience a memorable one.
"We like to help our campers get settled and meet their every need, helping them feel right at home at our KOA! We work to create a place of tranquility, where road-weary guests can feel rejuvenated. Our goal is to have our guests leave feeling like family, with a strong desire to quickly return to our KOA – and our incredibly soft grass!" says Tasha.

Like their campers, the Lopez family enjoys photography, family time, camping, hiking, fishing, sticky s'mores, traveling, boating, "And anything outdoors with the people we love!" says Tasha. "We enjoy meeting so many people, from different walks of life. We always have a good time at our KOA, right along with our guests!"