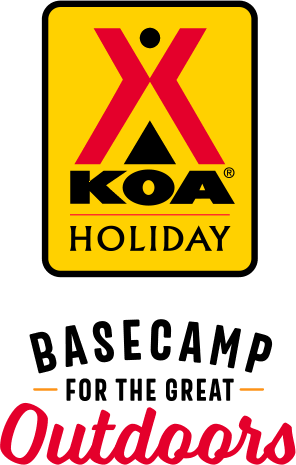 KOA Holiday Campgrounds
Whether you're exploring the local area or hanging out at the campground, KOA Holidays are an ideal place to relax and play. There's plenty to do, with amenities and services to make your stay memorable. Plus, you'll enjoy the outdoor experience with upgraded RV Sites with KOA Patio® and Deluxe Cabins with full baths for camping in comfort. Bring your family, bring your friends, or bring the whole group – there's plenty of ways to stay and explore.
KOA Holidays Feature:
RV Sites with a KOA Patio®
Deluxe Cabins with full baths
Premium Tent Sites
Group meeting facilities
Directions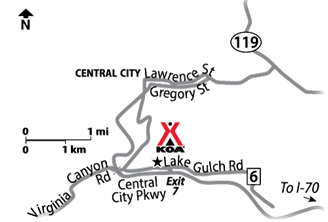 From Denver: Take I-70 West to Exit 243 (Hidden Valley/Central City exit). At the end of the exit ramp, turn right and merge onto the Central City Parkway go 7 miles. Follow the yellow KOA signs. Exit right and turn left on RD 6 / Lake Gulch Road, campground is on the Right.
Traveling East on I-70: Just past Idaho Springs, take exit 243. Turn left go 7 miles north on Central City Parkway. Follow the yellow KOA signs. Exit right and turn left on RD 6 / Lake Gulch Road, campground is on the Right.

From the Boulder/Golden/Blackhawk Area: Take Hwy 93 to US 6 West and follow US 6 which turns into Hwy 119. Turn left at Black Hawk Street (fourth traffic light in Black Hawk). Proceed up to Central City. Turn left onto Spring Street. Follow the blue camper signs. At the second stop sign turn left to stay on Spring Street. Stay straight to go onto Roworth Street. Turn left onto Hooper Street which becomes Virginia Canyon Road. Turn left on RD 6 / Lake Gulch Road, campground is on the left.
GPS: Don't let GPS take you on dirt roads. N39.791605. W105.510759
Get Google Directions
Jun 10, 2021
We had to get our RV towed into the campground. The staff was so nice about making sure we had a site the tow truck could drop off rv safely. Some of the nicest staff we have come across during our travels!
Jun 10, 2021
I was looking for a nice quiet place to stay while I visited family. KOA Denver/Central City was perfect! Beautiful scenery in the mountains, the EXTREMELY clean Kamp, friendly KOA employees, and a peaceful.
Jun 10, 2021
Relaxing and friendly. Tough on old pup feet as all rocks and no grassy area. Not much within walking distance of the campground but nice sites! Very clean. Not happy about being charged separate for too and bottom of kids pjs at gift shop. Even brand website said it was only $23.99. �
Jun 10, 2021
Very nice Park with concrete pads, nice showers and bath rooms. At $80 a night you can almost stay at a hotel.
Jun 09, 2021
We were in site 4 "on the wall" with an amazing view of Center City and the mountains. Very quiet, nice concrete pads with table & chairs and fire pit.
Jun 09, 2021
Grounds were well maintained, staff was friendly and helpful, great mountain views.
Jun 09, 2021
Great view from upper area sites. Well located for visits to areas like Red Rocks Amphitheater
Jun 09, 2021
One person made our stay extra special. Herb! He spent time with me over the phone answering all my questions. He arranged for myself and another couple I recommended to stay right next me. Upon check in, Herb ensured we were completely satisfied. I enjoyed our conversations each day. Other staff members were just as friendly. Other amenities such as checkers added value to our stay.
Jun 09, 2021
Everyone was so friendly and helpful. Loved the pizza and delivery service. Clean, very nice bathrooms and showers.
Jun 09, 2021
This park had some amazing views and beautiful sunsets. It was also wonderful that they made fresh homemade pizza on site. Yum!
Jun 09, 2021
Beautiful view at the top. Like all need better dust control by surface treating ring roads, but we'll managed and maintained. All sites are concrete pads with nice outdoor furniture.
Jun 09, 2021
Staff extremely helpful! Owner engaged.
Jun 09, 2021
Great location! Very accommodating staff.
Jun 09, 2021
This was the best KOA we have been to. The staff was extremely friendly, very informative and had everything on site you might need or want in the store. The sites were beautiful concrete pad, table with umbrella and a double bench with fire pit and a gas grill. Also the pizza and breakfast was appreciated after a long journey to get there. Wish all KOA's would offer the same.
Jun 08, 2021
such a great KOA, wasnt missing anything and the service was exceptional! We will be back!
Jun 08, 2021
We spent four nights at this five star KOA and loved it! It is organised, very well kept and all staff friendly and helpful. What a beautiful location in the mountains. Not one bad word. Spent time shopping in nearby Central City and other close mountain towns. Not to be missed if you are traveling in Colorado.
Jun 08, 2021
NICE STAFF,PLEASANT,VERY QUIET
Jun 08, 2021
Great location, welcoming and helpful staff, we enjoyed our stay. Shout out to Matt who helped out with a flat tire. We will definitely be back. See you next year!
Jun 08, 2021
The friendliest staff! They are very attentive and incredibly kind. The grounds were well maintained, and they had updated facilities. We had a minor issue while staying and the owners rapidly addressed it.
Jun 07, 2021
We had a blast. Really enjoyed the hot tub.
Jun 07, 2021
I have a problem with the campground requiring an 11 AM Checkout time. This is ridiculously early. Every other campground in Colorado has a 12:00 PM Checkout time. Also, why is the campground permitting RV's to check in before the stated check in time? I woke up Sunday morning to the roar of an Diesel Motorhome driving through the campground to their assigned camp spot.
Jun 07, 2021
Employees are very attentive and polite. Grounds are very clean. Only issue we had was the purchase of 3 bundles of green firewood. Would not stay lit without assistance. Brought home to dry out for next year.
Jun 07, 2021
Views from our site on the upper level were awesome. Sites were level, well maintained. Concrete pad and patio. Nice fire pit and and ample chairs. The staff was awesome and very helpful. I definitely would come back and have already recommended to friend. Take it easy on your brakes when you leave. Steep, long and curvy good road but awesome drive up and down to park
Jun 07, 2021
Great stay. Amazing hospitality.
Jun 07, 2021
Nice amenities and people. Very accommodating, nice cabins, chairs, tables etc
Jun 07, 2021
Staff was amazing, everyone was super friendly and helpful! Our spot was beautiful! We'll definitely be back!!!!
Jun 06, 2021
Beautiful setting. Nice friendly staff. Great pancake breakfast!!
Jun 06, 2021
Fabulous site - waking up to a beautiful view each day - the staff were lovely and friendly - nothing was too much trouble - good stocked store on site - laundry worked great - pancake breakfast was fabulous - previous reports of the road may put some people off but the truth is - yes it is steep and windy to get up but its 2 lanes each way so stay on the inside lane and you will get there.
Jun 06, 2021
What a great campsite and great owners! Wish we could have stayed longer.
Jun 06, 2021
We have been staying at KOAs on our RV road trip. This KOA was very nice. Staff was friendly, checkin was fast and easy. Sites have easy hookup and good water pressure, wifi is actually good. The site pads are awesome with concrete, patio, table & chairs. This KOA is a solid 5!
Jun 06, 2021
Nicest KOA I've stayed at !
Jun 06, 2021
Amazing view from our site against the rock wall. Amazing employees, super helpful! And super clean! Thank you central city KOA!
Jun 06, 2021
Everyone was so friendly and helpful and the sunset views are amazing!
Jun 05, 2021
The nicest site we have ever stayed. Pizza was wonderful. From the escort to our site, to the delivered firewood. Nothing . Nothing could have been better.
Jun 05, 2021
Very nice koa, location is great. Park is very clean and staff is friendly.
Jun 05, 2021
Exelant place
Jun 04, 2021
Great location. Great sites
Jun 04, 2021
This is our favorite KOA to date! Such friendly staff, great playground for our kids, fun outdoor games, beautiful views, and a yummy pancake breakfast. :)
Jun 03, 2021
Amazing place to camp. Wish I could stay longer. You can tell the owners care and are improving the place with new sites and other improvements. Very nice camp store and pool.
Jun 03, 2021
What a park!! Great sites,not your normal koa spacing. The pizzia and wings where great, plus delivered to site. For me the part in the info sheet about altitude sickness was very important. At 8900 ft it was hard for me to breath. Again great park
Jun 03, 2021
The customer service at the campground was amazing! Everyone was super nice and helpful. We found the store perfect for some last minute items we needed, and our son LOVED the morning pancakes! We will definitely come back.
Jun 03, 2021
Very nice campground and the staff is definitely customer focused! Great job!
Jun 03, 2021
Very nice park. Owner and crew super nice
Jun 11, 2021
The staff is super friendly and helpful. We stay in a deluxe kabin and really appreciate the spaciousness of the rooms, especially having our own bathroom and kitchenette. So close to everything- food, activities, shopping, hiking and casinos.
- Heather Brown on Google
Jun 11, 2021
Great staff, amenities, and services. Close to many attractions. Beautiful views.
- Helen Doherty on Google
Jun 05, 2021
Excellent campground. Very clean and well maintained. Staff members are very kind and accommodating. Beautiful views. Fun activities such as corn hole, Gaga ball and connect 4. Spacious lots and a great stay. Highly recommend.
- brooken526 on Trip Advisor