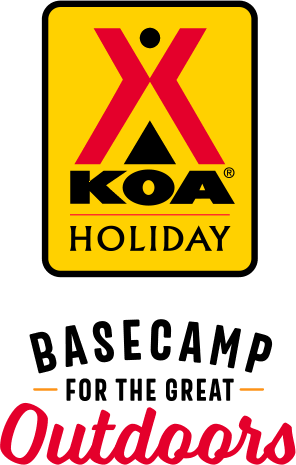 KOA Holiday Campgrounds
Whether you're exploring the local area or hanging out at the campground, KOA Holidays are an ideal place to relax and play. There's plenty to do, with amenities and services to make your stay memorable. Plus, you'll enjoy the outdoor experience with upgraded RV Sites with KOA Patio® and Deluxe Cabins with full baths for camping in comfort. Bring your family, bring your friends, or bring the whole group – there's plenty of ways to stay and explore.
KOA Holidays Feature:
RV Sites with a KOA Patio®
Deluxe Cabins with full baths
Premium Tent Sites
Group meeting facilities
Directions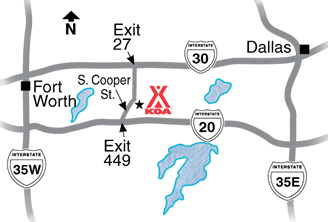 Located midway between Dallas and Forth Worth.
From Dallas: On I-20, take Exit 449 (Cooper St). From Fort Worth: On I-20, take 449B (Cooper St). Go north on S. Cooper for 1.8 miles. The campground will be on the right.
From I-30: DO NOT FOLLOW GPS DIRECTIONS =14.16pxTake Exit 27 (Cooper St), proceed south on Cooper for 3.6 miles; Turn left onto W. Pioneer Pkwy (397'); Take first right onto Matlock Road. proceed 1.2 miles; Turn right onto W. Mayfield for .8 miles; Turn right onto S. Cooper St. 0.6 miles
The KOA entrance is just past the light at California on the right and is across the street from the PepBoys store.
Get Google Directions
Jan 21, 2021
Very pleasant stay, facilities were well kept and clean and inviting.
Jan 20, 2021
Very clean campground. We had a wonderful stay. Loved the Sat. night campfire & s'mores and the Sunday pancake breakfast. All staff was very accommodating. Will definitely camp there again.
Jan 19, 2021
Nice park, the staff were great and very helpful. The location was close to multiple restaurants, grocery stores and shopping centers.
Jan 18, 2021
Could not have been any better. Everyone from the office staff to the folks working the campsites did a magnificent job. We spent nine days at this site. As near perfect as it could be.
Jan 16, 2021
We were here for a month. This is our 4th visit and we will be back again. This is the cleanest and friendliest KOA we have ever been to. Lots of amenities. A littl bit of country charm in the middle of the For Worth/Dallas metroplex. We love it.
Jan 16, 2021
We've been here since August. We will leave in February to begin touring the USA. This is a long term plan, but will always return in November to be with family and friends during the holiday season. There is such a feeling of community here. The employees are so friendly and accommodating. We will stay at there KOA parks wherever available.
Jan 16, 2021
I've enjoyed the camping experience provided by the KOA. The campgrounds are excellent with nice amenities such as the shower/bath building and pool. The staff are friendly and efficient in keeping the campsites clean and well maintained. I will definitely recommend the Dallas/Arlington KOA.
Jan 15, 2021
We like this place and the people are wonderful. Sites are gravel and well maintained.
Jan 15, 2021
It is nice, but the rate is a bit high when the pool is closed in my opinion. Also there was tree trimming going on right behind our site.
Jan 15, 2021
Very convenient safe and quiet
Jan 15, 2021
Only stayed two days, but loved it. Very quiet, nice part to walk the dogs. Will come again on our way south. Jim
Jan 15, 2021
Urban camping. The staff were very kind and responsive. One problem though, when you go camping you would like a fire ring. Apparently we weren't paying enough to get the fire ring so we had to go to the communal fire ring Where we met some interesting characters.
Jan 13, 2021
Tight quarters especially entrance/exit gate
Jan 12, 2021
Very nice, the showers were nice and clean
Jan 10, 2021
Campground was nice and quiet, well maintained and clean. Close to food, downtown and Plano. The driveway to enter and exit is really tight and not well marked. Swing wide to get in. Will stay again if we are in the area.
Jan 10, 2021
Clean campground but Expensive for no fire pits at each site
Jan 09, 2021
The wifi needs to be improved it will not stay contacted making it impossible to use. Koa is close to much to do.
Jan 07, 2021
The staff is the best! Super helpful with anything you need. Plus love that your camping right downtown Arlington.
Jan 06, 2021
Had a Deluxe Patio site. It was very large by comparison to other KOA "deluxe" sites. Good patio, furniture, bbq, and fire pit. Clean grounds. Friendly, professional staff. Well maintained. There was a significant amount of road noise, but wasn't all that bad. All-in-all, it was a great stay and I would definitely recommend this KOA and I would stay there again.
Jan 06, 2021
Diane is AWESOME!!! Excellent service and a gentlemen that found my dog wandering around the pool Everything is super clean the bathrooms are immaculate �love this place ���
Jan 05, 2021
the staff was friendly and helpful.
Jan 04, 2021
Great RV park, clean, friendly would definitely stay again!
Jan 03, 2021
They were very kind and accommodating .
Jan 03, 2021
We came for the playoff ncaa football rose bowl close to stadium very clean reasonable and very nice staff
Jan 03, 2021
Clean, well maintained, fantastic staff (ALL). Every staff personnel was more than willing to assist with anything.
Jan 03, 2021
This is our "go to" place to camp when we're in Dallas! Clean and friendly close to everything!
Jan 02, 2021
Very beautiful campground and friendly staff.
Jan 01, 2021
Wonderful campground! The grounds are well maintained, the bathrooms were the best of any KOA I've been to, they have great activities (including smore's and pancake breakfast!) and it's in a great location! I especially liked that they used text messages to notify you of check in info and campground activities. Keep up the good work!
Dec 30, 2020
We rented a travel trailer for the first time and came to stay at this KOA. It was easy to pull in and get set up. The staff were very friendly and even helped us out when we weren't sure about everything that needed to happen with the travel trailer. Great place, nice and clean amenities.
Dec 29, 2020
Site was clean but located in the middle of not so nice neighborhood. Tattoo Parlor next door played loud music and partied all night. Booked 2 nights but after the first nights of loud music, yelling. And gun shots, I elected to take my family to a safer campgrounds. We asked for a refund on our second night but they refused.
Dec 29, 2020
Well maintained and nice sites. Friendly and helpful staff. Will stay there again. Entry and exit gate a little tight for a Class A so go slow.
Dec 29, 2020
The staff at this facility is awesome, everybody we encountered here was very friendly and all of them went out of the way to be helpful. The campsite is clean and well organized. I recommend this facility highly.
Dec 28, 2020
Great place. Friendly staff
Dec 28, 2020
Staff was extremely helpful. This was our first stay at a KOA location and we were suitably impressed. Great facilities, spotless restrooms and showers! This one set the benchmark pretty high for others sites to compare. Thanks again! -mc-
Dec 28, 2020
This KOA was very accommodating for a late arrival. Left full instructions and map, security coded entrance gate and very clean. Easily accessible off of the interstate. Only stayed overnight but sites were spacious enough for our 39ft 5th wheel and full hookups were perfectly located. Would return when in the area.
Jan 08, 2021
We JUST returned from a 5 day vacation there! We rented a Kamping Cabin. Let me tell you, it was one of our BEST vacations ever! Ted, Diana, Shelly, Troy? Tonette And everybody I've forgotten, made our stay unbelievable! I cannot believe that this exists near Arlington! It's like going to an oasis of calm, and rest! They catered to our every need, even bringing our firewood TO US! We needed this break from living in downtown Dallas, and they delivered. We arrived a day early, and stayed a day late! If you need a break, please rent a cabin!
- Ken Reckard on Google
Dec 27, 2020
Amazing campground! Beautifully maintained grounds, AWESOME bathrooms and wonderful activities. Great spot when passing thru Dallas!
- Alicia McGinnis on Google
Dec 22, 2020
Great location to everything in the city. We were 10 minutes from the AT&T stadium and Texas Live. We were one block from Enterprise rental car. We got a premium campsite with the patio. Unfortunately these sites were right in the very front where everyone is going in and out. It is a gated KOA that is closed at night. Staff was very friendly and helpful. Wifi worked great with no issues. We even streamed our TV at night. Restrooms and shower facilities are nice. There is only one bathroom and shower facility on site. It has several showers and bathrooms inside but this is a big campground and a hike to the bathroom depending on where your campsite is located. There was a nice pool but we didn't use it while we were there. I definitely would stay here again.
- blondie21dj on Trip Advisor