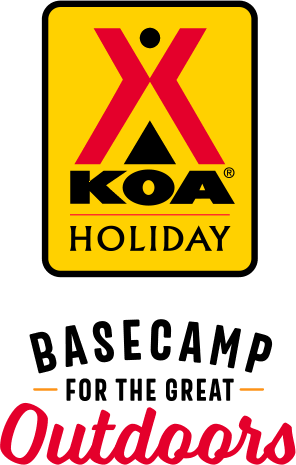 KOA Holiday Campgrounds
Whether you're exploring the local area or hanging out at the campground, KOA Holidays are an ideal place to relax and play. There's plenty to do, with amenities and services to make your stay memorable. Plus, you'll enjoy the outdoor experience with upgraded RV Sites with KOA Patio® and Deluxe Cabins with full baths for camping in comfort. Bring your family, bring your friends, or bring the whole group – there's plenty of ways to stay and explore.
KOA Holidays Feature:
RV Sites with a KOA Patio®
Deluxe Cabins with full baths
Premium Tent Sites
Group meeting facilities
Directions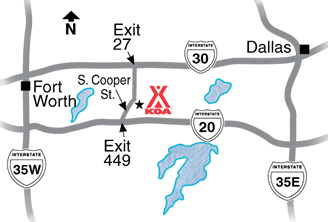 Located midway between Dallas and Forth Worth.
From Dallas: On I-20, take Exit 449 (Cooper St). From Fort Worth: On I-20, take 449B (Cooper St). Go north on S. Cooper for 1.8 miles. The campground will be on the right.
From I-30: DO NOT FOLLOW GPS DIRECTIONS =14.16pxTake Exit 27 (Cooper St), proceed south on Cooper for 3.6 miles; Turn left onto W. Pioneer Pkwy (397'); Take first right onto Matlock Road. proceed 1.2 miles; Turn right onto W. Mayfield for .8 miles; Turn right onto S. Cooper St. 0.6 miles
The KOA entrance is just past the light at California on the right and is across the street from the PepBoys store.
Get Google Directions
Jul 23, 2021
Great location, off of road so did not hear the traffic, very clean, nice layout. Friendly people. Good directions.
Jul 23, 2021
We stayed in a cabin and was very clean and comfortable! The staff was very friendly.
Jul 23, 2021
1st time staying in a cabin, it was perfect for our needs. We have stayed in our RV here before and it is our favorite when in Arlington.
Jul 22, 2021
We love to stay at this KOA. We stay here every time we're in town. All the staff are super nice and professional and the property is very clean. They have everything you need and close to shops and restaurants. Highly recommend this place!
Jul 22, 2021
Too many rules. Management sucks. It was living in a Nazi prison camp
Jul 22, 2021
Very nice campground love that you can have pets in deluxe cabins. Definitely stay again. Sincerely, Cindy Sword
Jul 22, 2021
Very clean, great dog park. Great location. Friendly office. Love KOA's.
Jul 21, 2021
Sites and grounds were well maintained. Office staff were very friendly and helpful. We will definitely stay at this KOA again.
Jul 21, 2021
We really enjoyed our 8 sleeper cabin. The A/C worked great downstairs; it gets a little warm in the loft. It was clean, comfortable, and plenty of amenities. The pool, bathrooms, laundry room were all clean. The little playground and rec areas were nice. There are a lot of shade trees. Our big group enjoyed a cookout under the covered patio by the pool. The staff were all super friendly.
Jul 21, 2021
it's a nice place to stay I had a good experience first time is the reason I came back although after clearly asking for a spot literally across from the bathroom specifically because I own a pop up and has no restroom so for me that I get up twice a night to use the restroom it is imperative for it to be very close. I was very disappointed to find out it wasn't the spot I wanted/needed.
Jul 21, 2021
Very nice site but only one thing…. The wonderful shade tree was on the back side of our trailer!The nice patio, table, chairs, swing & benches were on the front side of the trailer in the blazing sun! We could not enjoy sitting on our patio until the sun went down. We had planned a mini family reunion with our Dallas & Denver family members & had to eat on the sewer side of the trailer!
Jul 21, 2021
Clean, quiet, quick and easy.
Jul 20, 2021
The manager checked us in and was very informative about the area and the camp ground. Very clean, quiet and site was clean and level. My only concern was the entrance which was difficult to get in. I would recommend this camp ground to my friends,
Jul 20, 2021
Great location for Dallas & Fort Worth. Clean, well kept. Nice pool, lots of kids, couldn't swim. But, they were having fun. Nice dog area. Would be nice to have agility things for dogs, tube, ladder, etc. Nice back in site with some shade. Lots of restaurants & stores close by.
Jul 20, 2021
TJ and Bryce we're very helpful this last trip. I appreciate this property very much. Thank you for taking such good care of my family when we're there.
Jul 19, 2021
Very convenient to where we needed to visit, we've stayed here twice now. Just wish there was more shade on our particular site.
Jul 19, 2021
The campground was clean. The staff was incredibly kind.
Jul 19, 2021
We didn't get to stay. Our RV broke down on the way there and we called to cancel because we had to tow our RV to the shop in Louisiana and then get a hotel room. We were not offered a refund of any sort. It was unforeseen circumstances on why we had to cancel short notice due to no fault of our own and then we had to pay extra for hotels instead. They were not understanding at all.
Jul 17, 2021
Very nice campground, it's about 3 miles off Hwy 20 nice and clean lots of space .
Jul 17, 2021
Eveyone was very nice an accommodating!! Very very nice people., Sincerely Cindy Y Sword
Jul 16, 2021
Our fifth visit and we still love it. This KOA is clean, friendly, good showers, and activities. The only down side is influx of new campers that do not read park rules and don't follow them. KOA mgt is doing a great time trying to help new campers obey. Please don't blame the KOA. We love this location and already have. Resv. To return.
Jul 16, 2021
Nice park. Clean and well kept. Park is gated for security and close to the interstate.
Jul 16, 2021
Our first time at KOA, we were pleasantly surprised & impressed with the park. Enjoyed the quietness, nice clean site & just loved the pool. We plan to return & ck out other KOA's in the future!
Jul 14, 2021
Very clean & inviting!!
Jul 14, 2021
Well maintained park, but tight for large rigs. Tree issue in assigned space, but staff resolved quickly!
Jul 13, 2021
Loved our site! Swing, fire pit, charcoal grill, table/chairs! Need more washers to go with all those dryers for a campground it's size. Friendly staff very helpful with directions to different places.
Jul 13, 2021
Wish we stayed here longer!! We almost changed our trip itinerary just so we could have more time! Such a fantastic campground!! The pancake breakfast was the icing on the cake! Can't wait to return on our next trip to Texas!
Jul 13, 2021
Loved the texting that kept us informed! Great amenities. This is our second stay.
Jul 13, 2021
We had a Deluxe cabin, the cabin was clean and very comfortable. The staff is stellar, always willing to help and always smiling.The grounds are amazingly clean, we did not use the pool but looked very inviting. The store is well stocked with incidentals, ice ect. I had a couple of visitors from the local area and were so impressed that they vowed to schedule a stay at one of the cabins.
Jul 12, 2021
Very pleased with the rv park. It was very clean. The sites have plenty of shade. It is close to shopping centers, restaurants, Cowboys stadium,Rangers stadium. I will be staying here again.
Jul 12, 2021
Had a great stay, felt safe and everything was mostly good. A few small complaints would just be that there is hardly any shelf/storage space in the cabin. We had to keep suitcase on the ground so it just felt like all of our clothes got dirty. We didn't mind much, but seems like an easy fix! Also wish there would be a way to get air flow into the room w/no a/c. we bought a fan. Thanks 4 pancakes!
Jul 12, 2021
Stayed just one night en route to the coast. We really like the staff and all the amenities and found everything to be top notch. Loved the pool and clean bathrooms as well as a great dog park. All the trees and shading makes you think you're not even in the middle of a city. Loved it. Will be back again.
Jul 12, 2021
It was just an overnight stay. I can tell you that the entire campground was clean. Upon arrival I was early and he had an employee go and make sure it was ready, the reception entering the office area was awesome. Great professional staff. And I will camp there again when passing through. God Bless
Jul 11, 2021
It was awesome
Jul 11, 2021
Little tough turning in off street - great campsite! Great campground-
Jul 11, 2021
It was bad. Our cable didnt work. The store closes at 5? The pool was gross and dirty with clumps of hair and food and people washing out bags in the pool and no staff around anywhere!
Jul 09, 2021
Bathrooms are updated, but were not cleaned frequent enough. Used the laundry room as well and two dryers were broken and it appeared as if it hadn't been cleaned in days. Worms in the trees made it hard to sit outside comfortably.
Jul 09, 2021
Laundry room was filthy. Two dryers were broke, only one was marked broken. Not sure why this was rated a holiday KOA. Front desk staff wasn't very friendly or very knowledgeable.
Jul 09, 2021
Convenient to everything, shaded sites, and big pool. Will stay again if in the area...
Jul 08, 2021
Everything was nice and pleasant as always and the staff were so nice. Nice and quiet even on the Fourth Of July Weekend. Help was always around if you needed them. Friendly campers all throughout the grounds. Nice and clean. Easy access to everything! Will definitely be back and will tell others!
Jul 18, 2021
Muy maravilloso lugar y a desir vdd si vuelvo m cai????
- Juan Diego Vazquez on Google
Jul 17, 2021
Friendliness and cleanest place ever. Great pool.
- Debbie Gregg on Google
Jul 16, 2021
We stayed at this KOA while visiting family in Arlington. Although we did not make use of any of the amenities, we found the campground quiet, very clean and nicely wooded. A large pet area made our Bernese Mountain Dog happy. Access is easy off a large street, although the exit driveway could use some work to keep big rigs from dragging. Maybe a few restaurants around that were walking distance, but we had a Toad and drove everywhere. Walking in this area is a major undertaking. Things are very spread out. This was a great place to stay. We'll be back again on the next visit.
- WB_Kelso on Trip Advisor