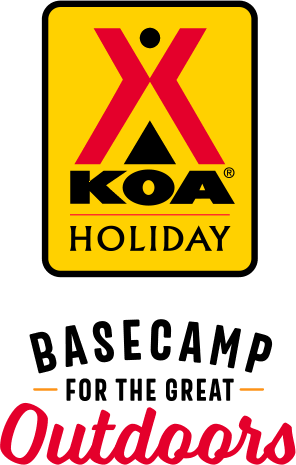 KOA Holiday Campgrounds
Whether you're exploring the local area or hanging out at the campground, KOA Holidays are an ideal place to relax and play. There's plenty to do, with amenities and services to make your stay memorable. Plus, you'll enjoy the outdoor experience with upgraded RV Sites with KOA Patio® and Deluxe Cabins with full baths for camping in comfort. Bring your family, bring your friends, or bring the whole group – there's plenty of ways to stay and explore.
KOA Holidays Feature:
RV Sites with a KOA Patio®
Deluxe Cabins with full baths
Premium Tent Sites
Group meeting facilities
Directions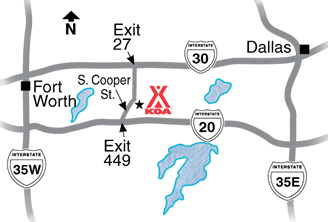 Located midway between Dallas and Forth Worth.
From Dallas: On I-20, take Exit 449 (Cooper St). From Fort Worth: On I-20, take 449B (Cooper St). Go north on S. Cooper for 1.8 miles. The campground will be on the right.
From I-30: DO NOT FOLLOW GPS DIRECTIONS =14.16pxTake Exit 27 (Cooper St), proceed south on Cooper for 3.6 miles; Turn left onto W. Pioneer Pkwy (397'); Take first right onto Matlock Road. proceed 1.2 miles; Turn right onto W. Mayfield for .8 miles; Turn right onto S. Cooper St. 0.6 miles
The KOA entrance is just past the light at California on the right and is across the street from the PepBoys store.
Get Google Directions
Feb 15, 2021
Amazing campground with kind, generous people. We had a tent site booked during an historic winter storm and they called and upgraded us to a cabin for free, which was such a blessing. Super clean restrooms, great snow removal, text alert system, good WiFi, kind and helpful staff. 100% will stay again.
Feb 14, 2021
Had to check out a day early due to bad weather. When asked about a partial refund were told no. Will find a different campground for our visits to Fort Worth from now on. And we do come up to Fort Worth alot.
Feb 11, 2021
Nice clean park and sites, good access in and out of the sites,( entrance from the street could be wider ). Many thanks to the maintenance worker who found the part at the entrance and let late arrivals know about it. It turned out to be the nut and lock to the leaf spring on my trailer and I was able to put it back together and continue home thus adverting a break down or possible accident. Thanx
Feb 11, 2021
Very nice stay. Clean and quiet.
Feb 10, 2021
Had a great time! Clean campsite, lots of amenities and the staff is very friendly and accommodating.
Feb 10, 2021
This is a very nice park and everyone is really friendly! Clean and comfortable.
Feb 09, 2021
Very nice campground. Excellent staff
Feb 08, 2021
The campground is very clean and neat. There are people cleaning and keeping up the grounds all the time. We did have some issues with our long term stay but Diane in the office worked very hard to work things out. I can't say the same for the rest of the office staff. They were rude and acted like our stay was a big inconvenience. But Diane was amazing and worked it all out for us. Great place
Feb 08, 2021
Nice peaceful clean campground - office staff and grounds crew very accommodating and friendly -- good job !
Feb 08, 2021
Very nice! Tent site has everything you need. Very comfortable.
Feb 07, 2021
was just there overnight, but the campground is clean and well maintained. Late check-in was a breeze and the staff was great to deal with the next morning.
Feb 06, 2021
We were in a pinch when we were getting our floors done in the house. We called the day of and we're able to get a space to stay for 4 days. This location is very clean, the owners take great care of the grounds and they are super friendly. The restrooms, showers and laundry rooms are well kept and super clean. Overall a great location in the middle of a city with a country feel.
Feb 04, 2021
Beautiful KOA in a great location. Our site was very nice with a table, chairs, glider, firepit, grill, etc. Unfortunately, we were only there for one night and it poured rain the whole time, so we were unable to enjoy the amenities. The bathhouse was large and very clean. The office staff & check in guy were very friendly & helpful.
Feb 01, 2021
Sweet people nice clean place very quite cater to your preference very convenient location
Jan 31, 2021
We LOVE this campground! It's clean, peaceful, extremely friendly, willing to go the last mile to help a guest. We misplaced the pin that secures our tow dolly. The grounds people came to the office, picked us up, took us back to our campsite, retraced our steps back to the office and found the pin!
Jan 29, 2021
This park is a great gem in the middle of a city. It's tucked away so you don't feel like you're on a busy road. It's very clean with great amenities. The staff is also fantastic.
Jan 29, 2021
Pull thru site was more than enough space for our 30' travel trailer. Super nice staff especially the maintenance staff. They also pick up your trash 8-11 AM. It would have been great to have a change machine in the laundry room. The dog park also needs new grass or gravel as there are a lot of sand spurs that get caught in their fur which are very difficult to remove.
Jan 27, 2021
This was a quick overnight stop for us. We arrived late, and check-in was still very easy. The sites are well-marked, so it was easy to to find ours, even in the dark. The staff was helpful and friendly.
Jan 26, 2021
We stayed for five nights and enjoyed our stay. Unfortunately it rained most of the time so we didn't get to enjoy much of the outdoors. They have a great little store to buy about anything you need and also lots of cute little gift ideas. It's located right between Fort Worth and Dallas so great location.
Jan 26, 2021
Beautiful camp ground
Jan 25, 2021
My family and I stayed there from April of 2020 until January of 2021. We were there because my husband was working in Irving, Tx. At the end of the job they kept changing his end date and the KOA were so gracious enough to help us out and work it where we didn't have to move. Also everything was kept very clean and nice. We really enjoyed our stay and would stay again!
Jan 25, 2021
Very nice place. Super friendly staff. We will be back
Jan 21, 2021
Very pleasant stay, facilities were well kept and clean and inviting.
Jan 20, 2021
Very clean campground. We had a wonderful stay. Loved the Sat. night campfire & s'mores and the Sunday pancake breakfast. All staff was very accommodating. Will definitely camp there again.
Jan 20, 2021
This review has been removed by KOA due to profanity.
Jan 19, 2021
Nice park, the staff were great and very helpful. The location was close to multiple restaurants, grocery stores and shopping centers.
Jan 18, 2021
Could not have been any better. Everyone from the office staff to the folks working the campsites did a magnificent job. We spent nine days at this site. As near perfect as it could be.
Jan 16, 2021
We were here for a month. This is our 4th visit and we will be back again. This is the cleanest and friendliest KOA we have ever been to. Lots of amenities. A littl bit of country charm in the middle of the For Worth/Dallas metroplex. We love it.
Jan 16, 2021
We've been here since August. We will leave in February to begin touring the USA. This is a long term plan, but will always return in November to be with family and friends during the holiday season. There is such a feeling of community here. The employees are so friendly and accommodating. We will stay at there KOA parks wherever available.
Jan 16, 2021
I've enjoyed the camping experience provided by the KOA. The campgrounds are excellent with nice amenities such as the shower/bath building and pool. The staff are friendly and efficient in keeping the campsites clean and well maintained. I will definitely recommend the Dallas/Arlington KOA.
Jan 15, 2021
We like this place and the people are wonderful. Sites are gravel and well maintained.
Jan 15, 2021
It is nice, but the rate is a bit high when the pool is closed in my opinion. Also there was tree trimming going on right behind our site.
Jan 15, 2021
Very convenient safe and quiet
Jan 15, 2021
Only stayed two days, but loved it. Very quiet, nice part to walk the dogs. Will come again on our way south. Jim
Jan 15, 2021
Urban camping. The staff were very kind and responsive. One problem though, when you go camping you would like a fire ring. Apparently we weren't paying enough to get the fire ring so we had to go to the communal fire ring Where we met some interesting characters.
Jan 13, 2021
Tight quarters especially entrance/exit gate
Feb 25, 2021
Great experience
- Jeremiah Morris on Google
Feb 21, 2021
Had a cabin here in late May 2019.
- Gary Walters on Google
Feb 20, 2021
The KOA is absolutely beautiful! It is well maintained and all the staff is working hard and are passionate about their work! They are incredible welcoming and friendly! It really is an oasis within a larger city! Our children have made so many friends already! There are two large dog parks, a community fire with cowboy chuck every weekend and a delicious breakfast every Sunday! The staff is so sweet they even give the dogs some treats when they drive by in their golf carts ! They are incredible! I also want to give all the staff a big shout out as they worked so hard during this winter storm! We are incredible proud of them and highly recommend them!
- Angelina Fuchs on Google