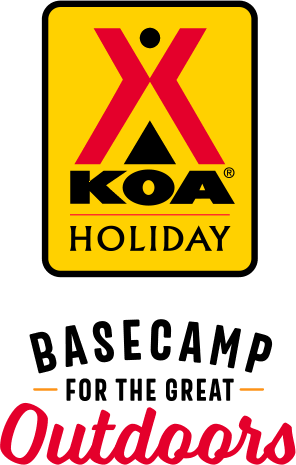 KOA Holiday Campgrounds
Whether you're exploring the local area or hanging out at the campground, KOA Holidays are an ideal place to relax and play. There's plenty to do, with amenities and services to make your stay memorable. Plus, you'll enjoy the outdoor experience with upgraded RV Sites with KOA Patio® and Deluxe Cabins with full baths for camping in comfort. Bring your family, bring your friends, or bring the whole group – there's plenty of ways to stay and explore.
KOA Holidays Feature:
RV Sites with a KOA Patio®
Deluxe Cabins with full baths
Premium Tent Sites
Group meeting facilities
Directions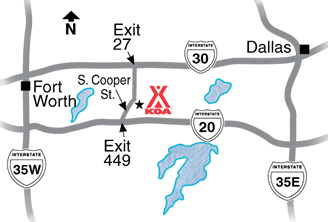 Located midway between Dallas and Forth Worth.
From Dallas: On I-20, take Exit 449 (Cooper St). From Fort Worth: On I-20, take 449B (Cooper St). Go north on S. Cooper for 1.8 miles. The campground will be on the right.
From I-30: DO NOT FOLLOW GPS DIRECTIONS =14.16pxTake Exit 27 (Cooper St), proceed south on Cooper for 3.6 miles; Turn left onto W. Pioneer Pkwy (397'); Take first right onto Matlock Road. proceed 1.2 miles; Turn right onto W. Mayfield for .8 miles; Turn right onto S. Cooper St. 0.6 miles
The KOA entrance is just past the light at California on the right and is across the street from the PepBoys store.
Get Google Directions
May 04, 2021
The park is nice but would only recommend for short stays. We were there a month in one of the least nice site types. I requested an upgrade to one of the better site types but those are not allowed at any kind of monthly rate, would have to pay the nightly rate, which is incredibly expensive for 30 nights.
May 04, 2021
Very pleased with our stay. Overall nice & clean. Camped in the Tent area. I would have loved to see more trees covering the surrounding view around the tent area. At night it's not as noticeable with it being dark, however, you can see the gas station through the fence. Still was a great stay, cute playground. Would recommend the stay to anyone.
May 04, 2021
Very nice campground. Well maintained and quiet. Friendly staff. You would never know you are in the city camping.
May 03, 2021
Rained the entire time so we were upset that there was very little stone & no concrete pad at our sight...a muddy mess ! Also, the water hook-up was difficult to turn on & off. site 413
May 03, 2021
Very family oriented!
May 03, 2021
Friendly staff, very helpful too. Everything was clean. Great experience. Thanks
May 03, 2021
Very nice relaxing area to camp. Shower and restrooms clean Staff very friendly
May 03, 2021
The site was kind of muddy and sloped to the front need more gravel.
May 03, 2021
Clean facilities, friendly staff, everything you need.
May 02, 2021
It was a good stay a little muddy because of rain but a nice park and w we would stay here again.
May 01, 2021
Great place Personnel very helpful and understanding. A little muddy around our site at the door but understandable with all the rain we had LOL
May 01, 2021
Nice, quiet campground with a friendly staff, clean restrooms, showers and laundry room.
May 01, 2021
Very attractive KOA. Staff is pleasant and helpful. Needed some newly grown branches trimmed back to keep them off our slides and the response was "of course and right away".
Apr 30, 2021
Although it's close to a main road it was very quiet and peaceful. Very nice campground. Would stay here again Had some very nice looking cabins
Apr 28, 2021
A hidden gem! Gorgeous spacious park, and we truly enjoyed the patio space and swing provided. Surprisingly quiet, considering the proximity to a busy road, but this KOA is just hidden back behind the businesses enough to make it feel rural.
Apr 28, 2021
Really loud venue near the park that played loud music until 11pm. Really annoying. Would not stay here again due to the traffic while going in and out of the park and the noise.
Apr 28, 2021
We have lived in Arlington almost all our life. This KOA is by fall the best RV Park we have EVER stayed at. It's clean, spacious, well kept, the staff is absolutely wonderful. They go beyond helping your stay be all you want it to be. They deserve more than a 5 star. Thank you for making our stay so enjoyable
Apr 28, 2021
We have stayed at your location several times. One thing I noticed workers checking sites after they have been vacated. It's a convenient place for us to see family.
Apr 28, 2021
Beautiful park with friendly, helpful staff
Apr 27, 2021
Very clean and spacious. Was concerned about the urban environment but it was fine
Apr 26, 2021
This was our second stay here and we absolutely love it. We have 3 children and we love how kids friendly this campground is. They have so much y to do and we love that they host s'mores around the campfire and make pancakes the following morning. We will definitely be returning and telling all of our friends
Apr 26, 2021
Came to Arlington for my granddaughter's cheer competition. The Arlington KOA is great and quieter than I expected. Helpful staff, had s'mores one night and pancakes the next morning. Well kept property with clean bathrooms.
Apr 26, 2021
Very enjoyable and the staff there are great people. We had a very fun weekend.
Apr 25, 2021
People next to us were making noise after 11 p.m. we couldn't sleep. No one from the KOA did anything.
Apr 25, 2021
Loud street sounds/ high traffic
Apr 25, 2021
Not our best stay. I asked for a deluxe Site, told none were available. We were put on one of the crowded lots by the pool across from the dog park, very loud, not enough room to put out my awning, etc. not what we've come to expect when we come through Dallas. Going forward if a deluxe site is not available for our stay we will stay somewhere else. By the way, there were several deluxe unused.
Apr 24, 2021
We stayed 3 nights while I had business meetings nearby. The park is beautiful and well kept - an oasis in the city. If I'm ever back in that area, we'll definitely stay at the Dallas/Arlington KOA.
Apr 23, 2021
Staff was helpful and friendly. Only drawback was the noise from the apartments behind and the street racing on Cooper, but that's beyond your control.,Overall a nice park.
Apr 23, 2021
very quiet and clean.
Apr 21, 2021
We stayed at this KOA for 4 months as I am a travel nurse. It was only a 5 minute drive to the hospital. The maintenance staff were constantly cleaning. This facility managed to keep the electricity on & the water flowing during the February deep freeze. However, the sites in the long term rows are too close together and the WIFI is miserable. Rarely had a signal during the last month.
Apr 19, 2021
We came from California, so I did not know what to expect. I was super surprised that the campground was in such a busy area. I was even more surprised that once we entered, you we not aware of the busy area you were in! The cabin was perfect! Hope to come back again some time!
Apr 19, 2021
Very nice location, our stay was brief on this trip but will plan to return for a longer stay.
Apr 19, 2021
Great place!!!!
Apr 19, 2021
Could use more dumpster locations.
Apr 19, 2021
Passing through Dallas and stopped to visit our daughter. Location was great and facility was wonderful.
Apr 17, 2021
Very nice park, and very well maintained. We will be back Ron
Apr 17, 2021
Staff were super friendly. The grounds were nice and clean
Apr 17, 2021
Very friendly staff; only there for one evening but will definitely return and hopefully for a longer stay.
Apr 16, 2021
Quick overnight , late check in was smooth. Park was clean
Apr 25, 2021
We absolutely loved this campsite. The staff was friendly and helpful, the cabin was cute and clean. The activities were a load of fun. Even the dog had a good time. Will definitely go again!
- Jeanne McDonald on Google
Apr 19, 2021
We arrived late and it was raining and only were their about 12 hours but I've been to many KOAs and this one was nicely laid out and I would definitely like to make a trip back for a longer stay.
- Zachery McGavitt on Google
Apr 18, 2021
Great pace lovely people clean sites full hook ups long term stay s'mores on Saturday night breakfast Sunday morning. Hidden gem in Arlington
- Aaron Gonzalez on Google