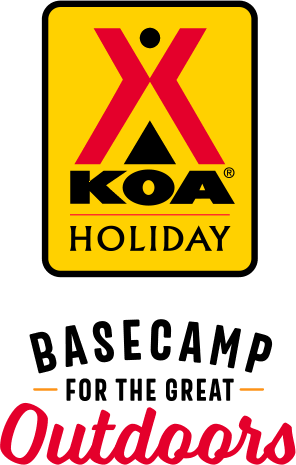 KOA Holiday Campgrounds
Whether you're exploring the local area or hanging out at the campground, KOA Holidays are an ideal place to relax and play. There's plenty to do, with amenities and services to make your stay memorable. Plus, you'll enjoy the outdoor experience with upgraded RV Sites with KOA Patio® and Deluxe Cabins with full baths for camping in comfort. Bring your family, bring your friends, or bring the whole group – there's plenty of ways to stay and explore.
KOA Holidays Feature:
RV Sites with a KOA Patio®
Deluxe Cabins with full baths
Premium Tent Sites
Group meeting facilities
Directions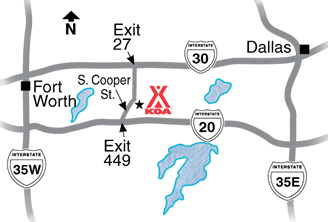 Located midway between Dallas and Forth Worth.
From Dallas: On I-20, take Exit 449 (Cooper St). From Fort Worth: On I-20, take 449B (Cooper St). Go north on S. Cooper for 1.8 miles. The campground will be on the right.
From I-30: DO NOT FOLLOW GPS DIRECTIONS =14.16pxTake Exit 27 (Cooper St), proceed south on Cooper for 3.6 miles; Turn left onto W. Pioneer Pkwy (397'); Take first right onto Matlock Road. proceed 1.2 miles; Turn right onto W. Mayfield for .8 miles; Turn right onto S. Cooper St. 0.6 miles
The KOA entrance is just past the light at California on the right and is across the street from the PepBoys store.
Get Google Directions
Sep 17, 2021
The staff were awesome, very clean campground
Sep 16, 2021
Staff was very courteous and helpful Park was maintained clean enjoyed our stay I would recommend it to anybody great place to stay for a day or week or even longer
Sep 15, 2021
Great kamp whith an excellent staff.
Sep 15, 2021
We rented a 4 person cabin. Very clean and space was adequate for 4 adults. Queen bed was very comfy. Small hairdryer mounted in the bathroom and shampoo / soap dispensers mounted in the shower. Make sure to check the hot water is "turned on". Keurig machine with kcups but no mugs or dishes in our cabin. A/C was great. Door code didn't work, staff was quick to fix! Short stay and will stay again!
Sep 14, 2021
Very helpful and nice people great place to stay
Sep 14, 2021
It was like a resort!!!
Sep 14, 2021
Nice park, the one staff person I interacted with was fine. We had some bad luck with our tow vehicle and had to have it towed back to the camp. We asked the driver to drop it out front so as not to block any driveway or create any undue noise. Someone on staff came out and admonished us regardless. It took less than 5 min.
Sep 13, 2021
Everything was good. It's a little pricey.
Sep 13, 2021
My favorite part was that the restrooms were air conditioned! Most campgrounds aren't like that. I didn't realize when I booked it, it's like in the city. Getting in and out of the parking lot was difficult as it was a one way street but the campground itself was well maintained
Sep 13, 2021
I would like to see the flower boxes either filled with rocks or something beside bare and dead plants. The little doggie park had a lot of poop in it….employees should clean it more. They advertised pancakes on Sunday, must be seasonal so they need a sign stating months or dates they do the breakfast. The game pieces need to be put back in the box every night…..pool was a little dirty. Nic
Sep 12, 2021
It was good. Employees were great. Your entrance driveway is TERRIBLE as well as the directions off the I-30.
Sep 11, 2021
Enjoyable, safe and secure.
Sep 11, 2021
Staff members very friendly and willing to help I had a situation with the water faucet and immediately they were able to fix the problem
Sep 11, 2021
Nice, not a good location
Sep 11, 2021
Nice park and clean facilities!
Sep 10, 2021
Nice quiet park in the city.
Sep 09, 2021
Entering this KOA is a bit busy as it is on a very busy city street and depending on how you approach the entryway you may have to make a tight U Turn. Campsites are good and the bathhouse is very good. WiFi ok..
Sep 08, 2021
We loved the stay at this KOA. The pool was well kept and clean. There were plenty of activities for the kids to do.
Sep 07, 2021
Lots of amenities!! Crew works very to keep the place clean. Great little get away place.
Sep 07, 2021
great place very nice and clean keep it up thanks
Sep 07, 2021
Excellent stay, clean campground. Wish the entrance was easier to get into from the street.
Sep 07, 2021
Nice park! Bathrooms are clean and large. Great pool and nice grounds. Easy to get in and out.
Sep 06, 2021
Wonderful campground. We enjoyed our stay. The sites are large, level, grass for the dog's along with a fenced dog park, great WiFi and cable, nice laundry room, etc. Everything we needed for a relaxing stay. There was a beautiful pool but we didn't partake. The location was perfect for touring the area and groceries. We would definitely recommend this KOA.
Sep 06, 2021
Friendly staff willing to help you out.
Sep 05, 2021
I'll give it five stars as I have stayed here in the past and will stay here again in the future if I am passing through this way. My only complaint with the park is that it has really poor WiFi. In this day and age, where more people are using the internet, good WIFi is a must and should be a perk that you are proud to offer. If other, much smaller campgrounds can offer this, so can you!
Sep 05, 2021
Little confusion at first, but a very well maintained facility
Sep 04, 2021
Very accommodating on circumstances that we're out of our control while we stayed there. The laundry room needs cleaning, otherwise great place to stay. Thank you!
Sep 04, 2021
Great campsite. Need more signs to warn the campground is coming on very busy road.
Sep 04, 2021
The cabin I stayed in was filthy
Sep 03, 2021
Very relaxing in a clean, quiet environment. Love staying at KOAs. We stayed in a site with a patio and swing. It was the most relaxing day of our trip. Highly recommend.
Sep 02, 2021
It was great! A very clean and peaceful place to camp!
Sep 02, 2021
More trees for shade concrete pads would be nicer than gravel and dust
Aug 31, 2021
Nice, very clean, and access to all facility was easy, staff very helpful and friendly
Aug 31, 2021
You all have a very nice and clean park, also some amazing staff. We very much enjoyed our stay. My only complaint is that there was a lot of vehicles going way too fast in the park in the mornings and the evenings. Very dangerous for kids and people walking through the park.
Aug 30, 2021
A breath of fresh air, compared to the last 2 KOA's in Michigan. Thank you.
Aug 30, 2021
Clean and nice campground. Very friendly staff
Sep 15, 2021
First time KOAer. I'm good!
- Trumpeter Val on Google
Sep 14, 2021
We enjoyed our stay immensely. The campground was super clean and dog runs were wonderful. Such a wonderful hidden gem. All of the Staff are friendly and helpful
- Carol Zunker on Google
Sep 11, 2021
Very nice place. Clean, quiet, nice layout, and grounds are very well kept. Nice staff. Tucked away from the main road. Will stay again.
- Jeremy White on Google