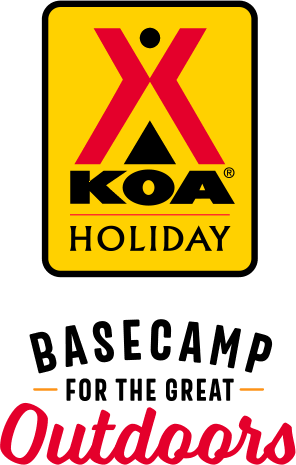 KOA Holiday Campgrounds
Whether you're exploring the local area or hanging out at the campground, KOA Holidays are an ideal place to relax and play. There's plenty to do, with amenities and services to make your stay memorable. Plus, you'll enjoy the outdoor experience with upgraded RV Sites with KOA Patio® and Deluxe Cabins with full baths for camping in comfort. Bring your family, bring your friends, or bring the whole group – there's plenty of ways to stay and explore.
KOA Holidays Feature:
RV Sites with a KOA Patio®
Deluxe Cabins with full baths
Premium Tent Sites
Group meeting facilities
Directions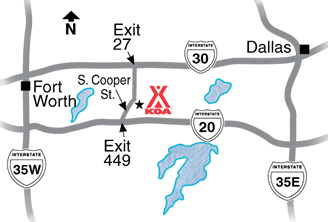 Located midway between Dallas and Forth Worth.
From Dallas: On I-20, take Exit 449 (Cooper St). From Fort Worth: On I-20, take 449B (Cooper St). Go north on S. Cooper for 1.8 miles. The campground will be on the right.
From I-30: DO NOT FOLLOW GPS DIRECTIONS =14.16pxTake Exit 27 (Cooper St), proceed south on Cooper for 3.6 miles; Turn left onto W. Pioneer Pkwy (397'); Take first right onto Matlock Road. proceed 1.2 miles; Turn right onto W. Mayfield for .8 miles; Turn right onto S. Cooper St. 0.6 miles
The KOA entrance is just past the light at California on the right and is across the street from the PepBoys store.
Get Google Directions
Jan 03, 2021
Hosts are wicked friendly. Camp was spotless. The mattress in the cabin had 3 pieces of duct tape covering tears. However, the cabin was clean and everything was good to go. Would stay again if I was in the area.
Dec 28, 2020
The accessibility of the rest rooms rank as the best in any campground I have seen in more than 60 years of camping!
Dec 21, 2020
Stay was great. Only exception was the slight smell in the cabin but I think that's just camping cabin smells. Staff was wonderful and helpful when we needed them.
Dec 15, 2020
The staff was friendly. We appreciated the text communication and contactless check in. We rented a deluxe cabin and felt it was way overpriced for off season. The location is fine and safe. The main reason we wouldn't return is the price. We would opt for a hotel, which would be cheaper.
Dec 15, 2020
Enjoyed my cabin
Dec 13, 2020
Cabins are very comfy ,cozy & clean.
Dec 08, 2020
Cabin was great!! Clean and quiet camp site, with very friendly staff.
Dec 05, 2020
Super clean cabin, very comfortable, clean camp, no noise at night, we LOVED it!
Dec 03, 2020
We rented a deluxe cabin. The cabin was fine, but incredibly over priced for off-season. There weren't any fitted sheets for the bunk beds, which was an oversite I'm sure. Also, it was cumbersome not to have a sink in the unit (other than the bathroom - which is gross to use for cooking). The KOA was very congested to get to and felt like it was in the city (noisy).
Nov 30, 2020
We stayed in a cabin over the Thanksgiving weekend and had a blast! Late night check in was really easy and secure. The staff was more than friendly! There is a large and a small dog park right next to the cabin, which was very convenient. We'll definitely be staying here again!
Nov 23, 2020
One of the cleanest facilies I have stayed, great place
Nov 03, 2020
Had an amazing time. The staff was awesome and incredibly friendly. The cabin was super clean. It was a really pleasant surprise to see that it had been cleaned as if their own family was going to be using it. You can really feel that everyone there really cares about the job that they're doing and the experience they're providing. We can't wait to come back!
Nov 02, 2020
Friendly staff, clean facilities. Recommended.
Oct 27, 2020
I was surprised at how nice the cabin was. Not sure what I was expecting but it surpassed it. Would definitely recommend and stay again. It was a little pricey but overall great place to stay.
Oct 27, 2020
Absolutely a great getaway for a weekend stay
Oct 26, 2020
The staff was amazing and even called me immediately to tell me I accidentally left an item behind. The campground was busy but so clean and everyone was friendly. The laundry room had some machines out of use but I was able to get my wash done. We would definitely stay here again, we loved our cabin.
Oct 16, 2020
The staff is amazing in the facility is well-kept. Tammy and Ted at the front desk are truly professional. AJ and Chuck are two of my favorite people at this property as a very helpful and kind to my family. All the room services that are provided in the climate this is off the chart compared even the Hilton I stay at. Can't say enough of how impressed I am that's why I come back every month.
Oct 12, 2020
Our group had several cabins that allowed us to be safe while providing a great outdoor safe distancing social event - All the cabins were spotless and well maintained - we are already planning our next stay
Oct 12, 2020
Clean neat courteous kind comfortable
Oct 12, 2020
First time visit to the DFW/Arlington. Ted and Tammy were very professional taking in all of my questions. After Hours, we entered the cabin and were welcomed by an overwhelming STRONG SEPTIC SMELL. We slept with windows slightly open. Also reported a hole right above the shower that made us very uncomfortable. The staff was aware of the hole and odor to prior maintenance reports. $400 mistake
Oct 11, 2020
The mattresses in the cabin were like sleeping in the floor. I might have slept an hour. When I checked my bill there was a $20 per dog charge. For what. We cleaned up after them in the dog area. Other than that, they stayed sleeping in the cabin. It's a fairly nice KOA, but I've been to better. Very crowded together. Beautiful pool though.
Oct 08, 2020
We loved the cabins. KL3. They were very clean they let us bring our 2 small dogs very nice folkes. Very comfortable beds. We appreciated they let us bring our small dogs. The other KOA'S we have crates for our dogs. Thank you very much.,Cindy Sword
Oct 04, 2020
I stayed in a little one room cabin and it was perfect. Everything was clean and I had everything I needed. Bathrooms were right next door and they were always kept perfectly clean. The pool was perfectly clean. The employees were kind and polite. I would definitely stay here again.
Sep 27, 2020
Perfect location.
Sep 19, 2020
Again the facilities are awesome and my 3-year-old enjoys every part of this place. We've been lucky to have many kids his age around the pool and at the events. Chuck is amazing personality at the cookout he does and we've come to plan our trips to see him the rest of the office staff and ground crew are nothing but assets to the property. I'll be coming here for the next 6 months planned vacatio
Sep 16, 2020
When we arrived we werent sure where to go and we asked the man who worked there and he wasnt very friendly, then they gave us the wrong keys and we had literally unloaded everything and then have to move all of it again. They put a cabin next to a dog park/poop area and of course bright and early we hear dogs barking right next to us. The pool was a little merky like it needed some more chemicals
Sep 10, 2020
Very nice, quiet and clean. Staff was wonderful.
Sep 08, 2020
Very nice cabin and they keep it clean. Showers and bathrooms are kept clean and very nice. Very much will come back
Aug 29, 2020
I stayed in cabin 1. There should be an outdoor sink for the cabins to share.
Aug 24, 2020
The Pool was close���� Everything else was ok
Aug 21, 2020
Another incredible stay at your location. Most of my family came for a few days as my son I shared a couple weeks there. It's safe. It's covid-19. We come out feeling so refreshed after our stay. Highly recommend this location and your friendly staff.
Aug 13, 2020
Amazingly accommodating. Fair prices in the stairs which is impressive these days— incredibly dedicated helpful ad friendly people. I can now name them all as top notch...
Aug 08, 2020
Incredible stay Beautiful night with chuck and the kids for s'mores at the camp fire. Wow!
Jul 26, 2020
Very nice and clean cabins and the site was beautiful! What a wonderful campsite!! Loved my time there!!
Jul 13, 2020
Staff was very sweet, neighbor were very nice. deluxe cabin was very nice. Everything was amazing the pool campfire place for s'mores. We will definitely be back. Only thing the website says a giant checkers board but we didn't see one. Other than that I had a nice getaway with my friends thank you KOA!
Jul 09, 2020
Very nice staff!! Very clean cabin, bed was very comfortable! Would highly recommend this koa
Jul 07, 2020
Omggggggg I don't wanna come back to home!! I'm so in love with the place and staff! My cabin was the best!
Jul 07, 2020
The cabin was beautiful and clean. The only negative would be that the loft upstairs was extremely hot and we could not sleep there due to the heat.
Jan 08, 2021
We JUST returned from a 5 day vacation there! We rented a Kamping Cabin. Let me tell you, it was one of our BEST vacations ever! Ted, Diana, Shelly, Troy? Tonette And everybody I've forgotten, made our stay unbelievable! I cannot believe that this exists near Arlington! It's like going to an oasis of calm, and rest! They catered to our every need, even bringing our firewood TO US! We needed this break from living in downtown Dallas, and they delivered. We arrived a day early, and stayed a day late! If you need a break, please rent a cabin!
- Ken Reckard on Google
Dec 27, 2020
Amazing campground! Beautifully maintained grounds, AWESOME bathrooms and wonderful activities. Great spot when passing thru Dallas!
- Alicia McGinnis on Google
Dec 22, 2020
Great location to everything in the city. We were 10 minutes from the AT&T stadium and Texas Live. We were one block from Enterprise rental car. We got a premium campsite with the patio. Unfortunately these sites were right in the very front where everyone is going in and out. It is a gated KOA that is closed at night. Staff was very friendly and helpful. Wifi worked great with no issues. We even streamed our TV at night. Restrooms and shower facilities are nice. There is only one bathroom and shower facility on site. It has several showers and bathrooms inside but this is a big campground and a hike to the bathroom depending on where your campsite is located. There was a nice pool but we didn't use it while we were there. I definitely would stay here again.
- blondie21dj on Trip Advisor