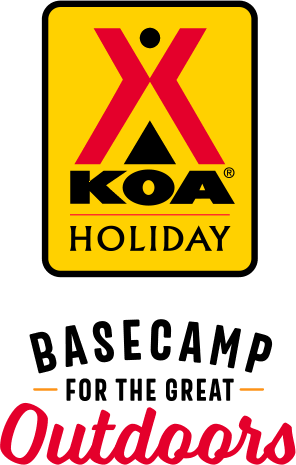 KOA Holiday Campgrounds
Whether you're exploring the local area or hanging out at the campground, KOA Holidays are an ideal place to relax and play. There's plenty to do, with amenities and services to make your stay memorable. Plus, you'll enjoy the outdoor experience with upgraded RV Sites with KOA Patio® and Deluxe Cabins with full baths for camping in comfort. Bring your family, bring your friends, or bring the whole group – there's plenty of ways to stay and explore.
KOA Holidays Feature:
RV Sites with a KOA Patio®
Deluxe Cabins with full baths
Premium Tent Sites
Group meeting facilities
Directions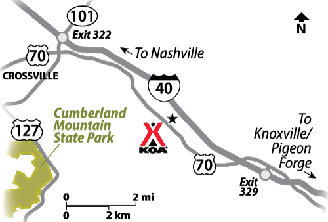 From Nashville - I-40 Exit 322: Turn right at the stop light, then turn left at the stop sign onto Highway 70 E.  The KOA will be 4 miles down on your left.
From Knoxville - I-40 Exit 329: Turn right at the first stop sign, then turn left at the second stop sign onto Highway 70 E.  The KOA will be 3.5 miles down on your right. 
The KOA is located between both I-40 exits and entrances on Highway 70 E. with no need to backtrack either direction as Highway 70 E runs parallel with I-40. 
GPS with Latitude/Longitude access: Lat. 35.926352, -84.926021
Get Google Directions
Jan 29, 2023
Exceptionally nice park. Beautiful grounds and great people
Jan 27, 2023
Clean and we'll set up. Easy to get into the site. Very friendly and accommodating staff! Our new camp ground to stop at when traveling through the area!
Jan 27, 2023
We enjoyed our visit and the cabin was excellent. Very clean . We used the cabin instead of a hotel for our visit with friends. We will use next time we visit.
Jan 26, 2023
Absolutely the Best Koa we've stayed at! Bathrooms always spotless. The sites are spacious. The owners are truly exceptional people! Thank you for our stay.
Jan 23, 2023
Everything was wonderful! We will continue to visit the Crossville KOA. It's a family favorite.
Jan 18, 2023
We had mechanical difficulties with our RV and they couldn't have been more helpful. Provided a ladder and tools and moral support! The place is beautiful and the accommodations are among the best we've ever experienced.
Jan 17, 2023
We had a nice stay, cabin was very nice ��
Jan 16, 2023
Very pleased with the customer service and condition of the property. We asked for a cover for our water hydrant to prevent it from freezing because of the upcoming overnight temps. In less than 5 minutes a cover was installed. The grounds were well kept, cleaned and seemingly recently updated. My wife and I were very pleased with our stay and will definitely return whenever we are in the area.
Jan 13, 2023
Very clean and service friendly
Jan 12, 2023
This is a great KOA. There was someone to help us find our spot, even though we arrived after the office hours. And the store was so nice. Really tops.
Jan 11, 2023
A perfect "home away from home".
Jan 11, 2023
I only stayed 1 night but was very impressed by the friendly staff, well kept grounds, easy in and out drive isles, very quiet. I would definitely stay here again! Thank you.
Dec 29, 2022
My second stay at a cabin this year and we definitely felt welcome and enjoyed everything, if I had to ask for anything it would be better cable , 1/2 the channels wouldn't come in
Dec 27, 2022
Cabin was immaculate in every way. Service was super!!!
Dec 23, 2022
The staff was very friendly and greeted us at the KOA. The site was well maintained and clean. This was my second visit to stay overnight. I plan on returning in the future during my travels.
Dec 22, 2022
We arrived and left this campground in the dark. However it was a very cute and nicely decorated campground. It was quiet and clean.
Dec 21, 2022
This was the closest to being home we could possibly get. The comfort, and quality of the cabin and surroundings were beyond our expectations. The store had many tantalizing clothing and food items. The pizza is delicious.
Dec 21, 2022
Great experience! Hope to return when it's warmer.
Dec 20, 2022
We have stayed in the cabins many times, and every visit has been great. Clean and comfortable cabins, friendly and helpful staff, and lovely views and places to walk the dog.
Dec 17, 2022
Very nice park. Everyone friendly and helpful. Will always stay there when in the area.
Dec 16, 2022
The cabin was very very clean. The folks was awesome. And great customer service.
Dec 14, 2022
Thank you for a restful overnight stay on our long journey home. Until we see you again, Wishing you health and happiness.
Dec 13, 2022
Clean, pretty area, and friendly
Dec 11, 2022
Beautiful, friendly and clean. Great dog park!
Dec 10, 2022
Very spread out - not crowded. Level with easy hookups. Easy in and out. Large clean bathrooms.
Dec 10, 2022
The beautiful location is made even better by such a wonderful staff. They are accommodating and helpful. We plan to stay there again soon.
Dec 09, 2022
The staff was friendly and informative. They were very good about notifying us about a water main leak and pending water shut off. We would absolutely return if in the area.
Dec 07, 2022
The couple running the campground are delightful!!!! The grounds are so well-kept… Very efficient… And the holiday decorations were outstanding. A great experience!
Dec 07, 2022
I stayed 5 nights in one of their deluxe Cabins. This KOA has a beautiful rural setting & facility. My cabin overlooked one of their ponds & Cumberland Mountains to the east from a nice deck - which felt private. It was a very comfortable. The General Store looked new & was well outfitted with all essentials plus upgrades of pizza, custom coffees, firewood & LPG. Happy, friendly Staff too!
Dec 05, 2022
Always a great stay!
Dec 05, 2022
This review has been removed by the moderator for inappropriate or incorrect content.
Dec 03, 2022
Beautiful campground & nice facilities
Dec 03, 2022
Service & friendliness are TOP NOTCH. They definitely go above and beyond to make you feel at home.
Dec 03, 2022
Staff always friendly and accommodating. Campground very clean and love the concrete pads. The view in the morning is beautiful. Love to shop in the store for t shirts and sweatshirts. Will stay again
Dec 02, 2022
We stayed for the month of November 2022, the sites were very nice and accommodated our 42ft fifth wheel and truck, they are level. Dog park was nice, the only downside is with a big dog, not a lot of room to run, but very nice. The staff and everyone working there were exceptionally nice and took care of all our needs. If ever in the area again would not hesitate to stay again.
Dec 02, 2022
We had a great stay. (It was our second time at this KOA) We were there for 10 days. The staff are very friendly. The laundry room was clean and all machines were working. It's located near Crossville, but not too close. It's quiet and has a nice view. There is a lot of open area to walk. We plan to make this a regular stop on our travels.
Nov 30, 2022
Just a quick stop on our way to Gatlinburg. The room was so spacious- would be great for a longer stay. Only maybe downside was bathroom a little far from cabin. But the staff was great the campground well maintained and I saw they had a lot of activities. Would for sure return,,
Jan 24, 2023
We just stayed 2 nights, easy in and out, staff was wonderful.
- Ralph Yost on Google
Jan 15, 2023
We stayed in a very nice cute totally equipped cabin with everything you need, the laundry room had new machines and the camp site was spotless, The new owners are a very hard working family you can't get any better than this. They have very delicious hot espresso drinks they also make and deliver to your cabin pizza 🍕 and wings. Very tasty and convenient.
- Daniel Slagel on Google
Jan 02, 2023
Stayed in October. They were super friendly and helpful. Checked me in after hours & gave me a KOA directory with maps (needed a map!). It was nice, quiet & warm, clean bathrooms/showers. Will definately use again when in the area.
- Ann Broswell on Google