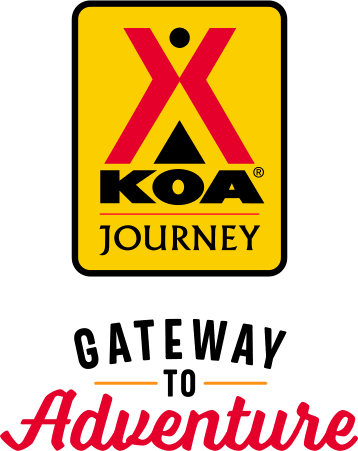 KOA Journey Campgrounds
KOA Journey campgrounds are the perfect oases after a day on the road. Whether it's along the way or a quick getaway, they've got you covered. Located near the highways and byways of North America with long Pull-thru RV Sites, they deliver convenience to the traveling camper. Pull in, ease back and take a load off.
KOA Journeys Feature:
Pull-through RV Sites with 50-amp service
Premium Tent Sites
Well lit after hours check-in service
Directions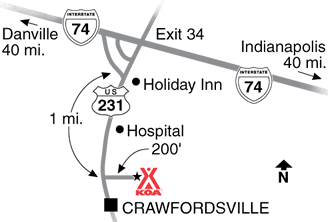 From East or West: Take Exit 34. Go down the ramp, turn right (South) onto US 231. KOA is 1 mile on the left.
Get Google Directions
Oct 23, 2021
The front of office was so nice and welcoming, the office was messy with boxes and counters full of stuff, the water was not hot in showers���, nice ppl and we probably would stay again
Oct 23, 2021
Nice small town. Friendly staff. Campground roads need work. Nice large dog run. Close to towns with restaurants gas stations. Clean bathrooms and showers but smelled like the sewer was bad.
Oct 22, 2021
Great place. Would like a little more room on the roads. Very close to bushes getting out of my site. Great dog park.
Oct 20, 2021
Staff very nice and accommodating. Parked next to office and had great wi-fi.
Oct 19, 2021
Sites where we were we at was kinda of tight to get in and out of unless you could pull front sites to main access road. Trees could use a trim.
Oct 19, 2021
We arrived late and it was easy to pick up our check-in map and found our site- no problem. Just stayed 1 night.
Oct 19, 2021
Nice place- friendly staff-sites are fair size. Bathrooms and shower areas are clean. Pool was empty. I loved that they had 13 chairs for the fallen soldiers who helped people out of Afghanistan.
Oct 18, 2021
Excellent stay. Weather was not great, team worked hard dealing with heavy rain and some muddy sites . All worked out well. Thanks to Jamie and her team.
Oct 18, 2021
Nice campground, a little noisy from the main road through the trees but kept up nicely!!
Oct 18, 2021
Our site was muddy, having very little gravel on its surface on a very rainy night. Was unable to access the internet despite being connected. Too late to ask why as the office was closed. It was quiet, treed, and they had space for our van with electric/water even though last minute. The site was sufficiently level, though not perfect, so didn't need to use blocks in the rain! Friendly staff.
Oct 18, 2021
Attention KOA Business Development Consultants! This KOA needs your professional support. Needed repairs: broken picnic tables, gravel needed for camping sites, drainage problems, fencing between neighboring business, outdated playground equipment, trees/bushes need pruned, camp store needs deep-cleaning and decluttering (smell of urine when you walk in).
CAMPGROUND RESPONSE / COMMENTS:
1. we have 60 picnic tables 10 are being replaced. nothing broken is on used sites 2. gravel was supposed to be done this year but had delays from our contract guy who handles that. fencing between neighbor businesses? theres a hospital next door? pruning is ongoing thru the summer. tons of trees.
Oct 16, 2021
Very muddy, dog park mud and weeds, restrooms clean but smelled like rotten eggs.
Oct 14, 2021
Very intimate
Oct 14, 2021
Sites small. Hard to get a big rig towing in and out. Might want to limit size. Unfortunately due to a large amount of rain was very muddy. The park was trying to put down stone, but was a little late
Oct 13, 2021
Stay here every year. We had to take our friend's spot because the people before us had not left yet and or friend was not arriving until later in the day. Wish there was more grass or more rock around the spaces. It had rained the day we arrived and there was lots of mud. Had to reserve the same space next year hope it isn't as muddy. However it's in a good location the the people are friendly.
Oct 13, 2021
Not enough gravel in parking spaces was walking in mud to get in and out of camper
Oct 12, 2021
Loved our stay and everyone is so helpful and friendly We recommend this place to stay and especially lots of fun things to enjoy all around town
Oct 12, 2021
I have stayed in a KOA in this bad a shape. The entry way is very deceiving. The interior roads, while narrow would be okay if not for branches hanging over into them rubbing the side of the rig. The site I was in was on a terrace so to speak. It rained the night before we left and was walking around in 2" of mud, hooking up since the rain washed the dirt down off the berm and not the first time
Oct 12, 2021
The campground itself was fine. There were nice plantings with mulch. The bathrooms were fine. My site was the problem. It was muddy, little to no gravel, and very NOT level. The site was very overpriced! It was not worth $50. The night before I was in Ohio Amish Country and paid $29 per night.
Oct 12, 2021
Check in staff was very friendly & showers were clean. Our only complaint was that our site was very muddy. I know there had been rain in the previous days, but there was other sites open. We were already hooked up so we didn't ask to change but our site was right where a swale runs through the property for drainage so you would think they wouldn't use that site when they received rain.
Oct 11, 2021
Washers in the laundry room were not reliable. Dryers were fine. Our site was extremely muddy after the heavy rain. Also, there was confusion on sites for the couple who took our site just minutes before we arrived. The note on the door said Site 23-25 for them and ours was #25.
Oct 11, 2021
very muddy area for Rv, not allowed to place any mats outside door to keep mud out.. per sign on office door
CAMPGROUND RESPONSE / COMMENTS:
But you did put a mat out....so not sure why you mentioned that. Mats kill our grass, but we discussed in office and I told you that yes because we have had rain for the past 7 days that yes you could put a mat out.
Oct 10, 2021
One of the worst KOAs we've ever stayed at. The whole campground was muddy and dirty. We were afraid our RV would get stuck from how muddy it was. The grass so overgrown, and just terrible overall. I wouldn't stay here again if I could avoid it
Oct 10, 2021
Very friendly staff member who checked me in when I did not have a reservation. I only gave three stars because my spot was mostly mud and that night's rain made it worse. Also the entrance road is narrow with a blind curve. On the way out I was edged off the road by 2 huge class A s who thought they owned the road and were driving way too fast!!
Oct 09, 2021
It was ok. Spaces were pretty cramped and there were quite a few rundown campers that had been in one spot for a long time. Bathrooms were clean.
Oct 08, 2021
too many trees for satellite, no cable, and no good local channels. Office is a total mess and might scare you off if you're not too tired to go on.
Oct 08, 2021
Highly recommend this KOA. Staff was very pleasant and arranged a nicer space than we had originally booked at no extra cost to us as someone had canceled:)
Oct 08, 2021
no customer service; property not cared for
CAMPGROUND RESPONSE / COMMENTS:
no customer service? not sure what you mean. You arrived at 4:30pm on Saturday it was raining all day, you never returned back to office, and left Sunday morning?
Oct 07, 2021
A Little hard for large 5th wheel to navigate the roads in the campground. (low hanging branches and shrubs in the way.)
Oct 06, 2021
Friendly and helpful owners. Site slightly muddy but had been raining. Possible more gravel could help?!
Oct 05, 2021
Only overnight, but we enjoyed it.
Oct 05, 2021
Very friendly staff, quick check in. Unfortunately a huge storm followed us in, so we only had time to walk the dog! Because if covid, we used our own bathroom. The dog park was great and the large green space to let her run on a long lead was very helpful after a full day of driving. Would definitely stay again.
Oct 04, 2021
Great place to stay. Nice and clean. Nice shady trees and great places to take the dogs for a walk. They also had a memorial set up for the 13 victims in Afghanistan. I thought that was first class. Definitely will go by there the next time through.
Oct 04, 2021
Lots of road noise and very small sites
Oct 04, 2021
Campground staff were friendly. Site were not flat and required some leveling of camper. It was a little unnerving of what appeared to be long term campers who came out of their campers once during our two day stay. Just kind of creepy.
Oct 04, 2021
Very nice campground. Jaime in the office was super nice! I would definitely stay here again.
Oct 04, 2021
We returned to Crawfordsville KOA after many years. It was nice to see all the trees have grow to maturity & providing good shade. The management could use a little help, but hey it's COVID out there.
Oct 04, 2021
Everything was as expected with a nice little shop and friendly greeting.
Oct 14, 2021
Tons of space to walk the dogs!
- Glenn Coco on Google
Oct 12, 2021
The employees were very friendly and helpful. The restrooms were always very clean. The garden surrounding the store/office was really neat.
- Smilinbluheart on Google
Sep 26, 2021
Awesome owner!!! Love this place!!! Go check it out!!!
- Ashleigh McKinney on Google