Alert
If you need to make a reservation, please do so online or call or text our cell at 765-230-0965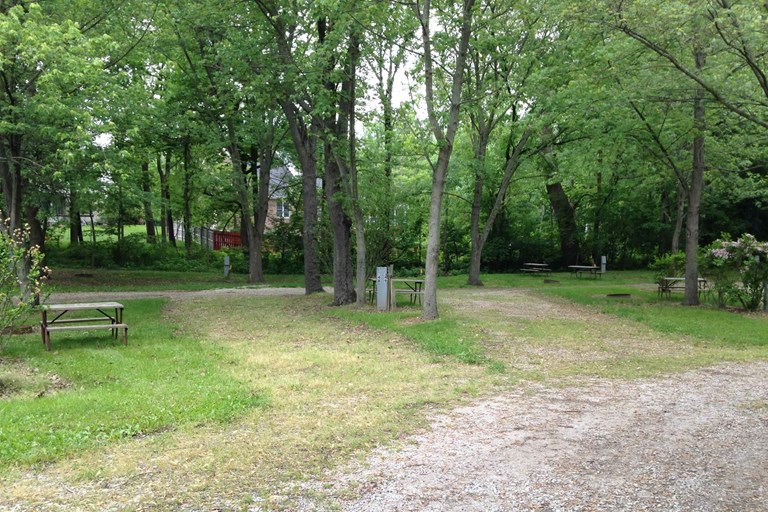 Crawfordsville KOA Reviews
Directions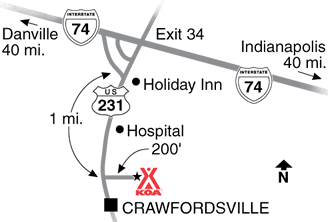 From East or West: Take Exit 34. Go down the ramp, turn right (South) onto US 231. KOA is 1 mile on the left.
Get Google Directions
Sep 15, 2020
If was a great time . I've never been to a campsite with electrical full water and sewer hookup at your own very site. It made it so much easier to enjoy without having to worry that we are going to run out of water or get in line to dump later. The staff were very friendly as well.
Sep 15, 2020
Great place for a weekend of quiet relaxation.
Sep 15, 2020
everybody was very nice and helpful i liked that everything was included, full hook ups. but for the price the spots were a little small.
CAMPGROUND RESPONSE / COMMENTS:
If you guys come back, ask for a site on the end. the sites are much larger and much bigger yards!!! :)
Sep 14, 2020
Great customer service. Very clean and nice. Loved our large pull thru.
Sep 14, 2020
We booked a back-in site specifically because these sites were more private (quiet). I noted when I booked we would be there around 9:00pm. We arrived @ 8:00 pm and was told our booking site was not available and that they would give us the last site available which was a pull thru with 3 roads around our site. Was told it was "an upgrade". Will NOT stay there again. I expect what is book
CAMPGROUND RESPONSE / COMMENTS:
Wish you would have mentioned all of this to us upon arrival or once you arrived at your site. All of our back in sites were open, they are just no grass and all dirt for the back in sites. Did not think you'd like that since I had a nice grassy site open, but I definitely would have given you that option if you had asked!!!!!
Sep 12, 2020
repeat stop for me and always a pleasure
Sep 11, 2020
Office personal were friendly and nice The dumpster was unkept and trash on the ground
Sep 10, 2020
Nice and quiet, rural setting with cornfield view. We were going to drop garbage on the way out, but dumpsters were surrounded with garbage on the ground, bugs- YUCK! We carried our garbage out. Better maintanance required.
Sep 09, 2020
We were in a motorhome. Owners were friendly but mostly accessible only by cell phone rather than on-site. Sites seemed a bit unlevel.
Sep 09, 2020
The sites were right on top of each other. The playground had one swing up too high for my granddaughter to get into and very few things She could do. No slide. We had to go into town & find a community park w/a playground. The trash was overflowing & the smell of septic was overwhelming. We are KOA members,have been to several in IN & other states. This one ranks at the very bottom. Wont be back
Sep 09, 2020
We had a blast.. Jamie went above and beyond to make our stay a great experience.. the park was very clean. We will definitely put it back on our return visit.
Sep 09, 2020
Love the mature trees providing lots of shade at the sites. Older campground but well maintained grounds. Great area for our dogs to run. Bathrooms could definitely use an upgrade. Musty, sewer smell in bathrooms but physically clean. Great location..close to area attractions.
Sep 09, 2020
Hosts were very accommodating and friendly. The campgrounds were very clean and kept up. Would definitely stay again!
Sep 09, 2020
Very peculiar , interesting and nice back woods affect , adventurousum
Sep 08, 2020
The wife and I really like to stay here. It's peaceful, and shady as there are a lot of trees. They deliver firewood, and ice to your campsite, and pick up your garbage. last stay the owner got us cab so that we could go to the Crawfordsville Farmers Market, and had breakfast at a cute little restaurant called "The Table" Thank you, Mike & Linda
Sep 08, 2020
It was the best! Jamie and romeo are so magical! i spend as much time talking to them as possible when i visit!
Sep 08, 2020
The campground was clean, the play area was nice for the kids and the pool was nice. The bathrooms were amazingly clean, good job in these special times.
Sep 08, 2020
It was our first time taking our new camper out. From the moment we arrived and checked in, everyone was so nice. We did not remember how to set up anything, but fellow campers came over and helped. It was a wonderful experience. We will be back.
Sep 08, 2020
Super clean! Very friendly! Will definitely be back!
Sep 08, 2020
We had a great stay at Crawfordsville. We will returning.
Sep 06, 2020
Although we could only leave a message on the phone as we approached, we were able to text to know there was a place for us for the night. Checkin was a breeze & the park is beautiful. There were a lot of dogs & children so we were a bit concerned about the night noise level but the 10pm quiet time was enforced & we got a good nights sleep.
Sep 05, 2020
Needs to be updated. Couldn't wait to leave.
CAMPGROUND RESPONSE / COMMENTS:
Thanks for letting us know, we will be sure to note your name/reservation in our system.
Sep 04, 2020
Close to a cute little town, worked hard to have flowers all around camp ground. Helped with camper problems so we could get it fixed!
Sep 03, 2020
Good for a one night stay. Owners were very friendly. Site was a little tight for a 39 foot motor home. Overall stay was good.
Sep 02, 2020
Very clean and friendly staff. The campground is very nice. The campers were friendly.
Aug 31, 2020
Nice place. Everyone, especially Cowboy, were very helpful
Aug 31, 2020
Love the road leading to the campground. Really nice staff and well kept. Let me set my tent right across from Cabin we had rented too. Made it much easier to be next to my other family members.
Aug 31, 2020
We had a nice stay. I do wish some of the seasonal sites were a bit more kept up but it wasn't a big issue for us.
Aug 28, 2020
This was a very nice quiet campground. The workers were super nice and helpful. Sites were gravel but pretty level. We had a very nice relaxing stay.
Aug 26, 2020
Very nice campground. On site staff very friendly and helpful. The mature trees are a nice amenity.
Aug 26, 2020
asked for a satellite friendly site and was directed to a nearby pull thru site. Satellite reception was only available if you turned around and pulled into the site backwards. Internet was almost nonexistent even though we were parked very close to the office. If you want technology, stay somewhere else..
CAMPGROUND RESPONSE / COMMENTS:
That site, only had issues based on where your satellite was located on your RV. I rent that site out non-stop throughout the summer, and everyone has gotten satellite on that site pulling in the right way!!! As for the wi-fi, I wish you had let me know while you were here, the booster needed a rese

Crawfordsville KOA
Open All Year
1600 Lafayette Road
Crawfordsville, IN 47933
Check-In/Check-Out Times
All Sites
Check-in: 1:00 pm, Check-out: 1:00 pm
Get Google Directions

© 2020 Kampgrounds of America, Inc.