Directions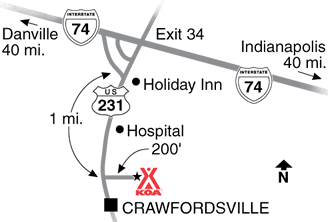 From East or West: Take Exit 34. Go down the ramp, turn right (South) onto US 231. KOA is 1 mile on the left.
Get Google Directions
May 04, 2021
Awesome. Clean, neat beautiful. Very nice accommodating folks. Loved it.
May 03, 2021
Had a nice stay, folks were very helpful and friendly.
May 03, 2021
Very nice and quiet. It has a peaceful and family ran atmosphere. We return at least once a year if not twice. Thanks Jamie
May 02, 2021
Very friendly and accommodating of late arrival and early departure. Thanks
May 01, 2021
Great park! Enjoyed our stay
Apr 30, 2021
Bare bones campsite. Overflowing trash dumpster didn't look it had been emptied in weeks. Needed more than average efforts to get RV level
CAMPGROUND RESPONSE / COMMENTS:
Actually our dumpster gets emptied twice a week. Mondays and Fridays, you were here on Tuesday the 27th, the driver was sick on MOnday so missed our Monday pickup but was here Wednesday morning to empty dumpster.
Apr 28, 2021
Nice space between sites and very close to Crawfordsville and 30 minutes from Purdue. Very clean and well kept campground. Would visit this place again.
Apr 27, 2021
Jamie is always a great host. We enjoy the mature trees, flowers, and other natural elements of the park.
Apr 26, 2021
The campground was very quiet, and everyone was very friendly. Check-in process was simple, and we had a great weekend!
Apr 26, 2021
Was a decent campground for a quick stay on the way home. Decent space between sites. Quiet enough at night at the owners/workers were nice. Bathrooms had a funky onion smell and showers weren't that great, weird stall spaces and ergo mats over the drains were painful on the feet.
Apr 26, 2021
Just love the homey feel. Excellent staff very helpful
Apr 25, 2021
This little treasure is heavily wooded and has a family feel. Staff is wonderful. Had a problem w/electric and maintenance man was at my site in 5". Great little oasis!
Apr 24, 2021
Convenient over night stay. Friendly staff. One issue we had was lack of wi-fi at our campsite. All of our devices connected at the main check in building but not at our campsite. Phone was new in November of 2020 and iPad was new in February of 2021 so I don't think it was our devices.
Apr 24, 2021
One night. Very accommodating.
Apr 23, 2021
We were traveling to Minnesota and had to make a stay at the last minute. The park is very nice and clean. The bathrooms were the cleanest we have seen. Unfortunately we were only staying one night. But will try to stop when we go back to visit our daughter in September
Apr 20, 2021
Very quiet, large beautiful trees. Occupants were mostly in very old shabby RVs, which gave the place a run down vibe. Dump station was so sloped, we had to use jacks to tilt the rig to dump it.
Apr 19, 2021
Well maintained. Clean. Very helpful staff. Didn't like the loud motorized grass cutting from dinner hour 'til 730.pm. wasn't given info on local attractions & wifi on check in, but staff next day really helpful made up for it.
Apr 19, 2021
We needed a stop overnight and it was easy to get to. Nice campground.
Apr 19, 2021
Friendly place. Overall, nice campground and I would definitely stay again. I paid for a full hook-up site and the sewer hook up drained incredibly slowly and took about 45 minutes to complete the process (I only stayed over one night) because the sewer drain kept filling up to the top and I had to wait until it went down to empty more of the black/gray tank. Thanks!
CAMPGROUND RESPONSE / COMMENTS:
Thank You for letting us know about the sewer! We just replaced that pipe because we had tree roots going thru it (that is the love hate relationship will all of our trees haha), but replaced it a few weeks ago. So we will need to figure out what is going on! Loved meeting your Dobie, Tina!! :)
Apr 18, 2021
Wonderful folks operating the facility. We were new to RVing and they were there to help us learn the ropes. I also had an accident that put me in the hospital for several weeks. Jen and Cowboy stepped up and did everything they possibly could to assist my wife who was basically on her own. Absolutely the best!!!
Apr 14, 2021
My kids and I had a wonderful time exploring the area, hiking the state park near by, and enjoyed the old wooden bridges in the area. The camp grounds were very clean and everyone was very polite and respectful of each other making our stay even more enjoyable. We didn't want to leave and very likely will return in the near future.
Apr 09, 2021
When I stayed the campground was mostly empty other than the full timers. My site was unlevel but I was immediately offered helped with some boards to level up making my setup easy. Quiet and nice campground. Exiting some sites could be tricky as the roads are narrow with a lot of vegetation. I camped here with a 36' bumper pull toy hauler. I would stay here again.
Apr 05, 2021
everyone there was very helpful.
Apr 05, 2021
There was not any staff available and we told them we needed 50 amp, they put us in 30 amp site. We didn't notice until we were all leveled up, so we had to move. They were responsive by text though.
Apr 04, 2021
We spent the night at the Crawfordsville KOA on our way to and then returning from the Smokies. Easy and friendly booking/check-in for both nights. Pull thru sites had a nice lay out for easy in and out, and reasonably priced. Location was convenient to the interstate. WiFi speeds from site#44 a very respectable 65 and 5 mbps for download and upload speeds respectively. We can ask for nothing more
Apr 04, 2021
I appreciated that the owners contacted us ahead of time to say that they didn't have water on yet in the park. It made it possible for us to plan ahead before getting to Crawfordsville KOA. It's good to know this campsite is open year round for winter travels to the South.
Apr 01, 2021
very disappointed, open year round and yet the office is closed, the water is not turned on and on my FULL HOOKUP site I would need a 36 foot sewer hose to reach drain.
CAMPGROUND RESPONSE / COMMENTS:
Our website CLEARLY STATES our off SEASON is LIMITED Facilities (no water) with a Closed Office.
Mar 31, 2021
Very nice owner. Accommodating and kind.
Mar 26, 2021
We had a blast. We'll definitely be back.
Mar 26, 2021
It was a mess on the grounds. When we called there was a message that we didn't need to make reservations that this time of year there were lots of spaces. when we got there,there was no spaces with water and lots of residents there. The mens bathroom only one working stool and one shower was plugged up. From Montana we've traveled to Key West and back and this was the worsst place we stayed.
CAMPGROUND RESPONSE / COMMENTS:
You camped with us was during OUR OFF SEASON we are closed and only leave 10 sites open in the off season months. They are not residents they are monthly people working in area or retired and have family in area. Our off season months office is also closed it states on website LIMITED FACILITIES
Mar 25, 2021
Unresponsive management ignored my text. This was our 2nd stay, hoped things had improved. If this is KOA, I won't pay for membership to have this type of facility. Rundown. Owners supposedly live on site. Didn't see or meet them either visit. Give this a pass and find another place to stay.
CAMPGROUND RESPONSE / COMMENTS:
You camped with us during OUR OFF SEASON we are closed and only leave 10 sites open in the off season months. Both times you stayed with us was during our off season months
Mar 23, 2021
We love staying here. Hosts are friendly and accommodating. They are what make the stay! Thanks again for the great time!
Mar 22, 2021
Quality was as expected of KOA. Convenient, clean and safe stay for kids and I to explore area. Only suggestion would be to lay down gravel path leading along side kabin from parking space at Kabin 1 so as to not track mud/dirt into cabin. Owners contacted us before stay and offered to have kabin heated prior to our arrival and it was much appreciated!!!
Mar 01, 2021
Hosts were very helpful and easy to work with.
Dec 22, 2020
Full dig poop bags left under our picnic table!?
CAMPGROUND RESPONSE / COMMENTS:
Sorry December is our off season, and we are only in the office 2 days a week so don't check sites daily like we do in the summer months.
Dec 13, 2020
We stayed one night. They reached out to us via a text message to make sure they gave us the right site. Upon arriving our site assignment was ready. We needed some propane and "Cowboy" was there within a few minutes to take care of us. The facilities were nice and very clean.
Dec 05, 2020
Pleased to have a comfortable safe place to stop for a couple of days in the off season.
May 04, 2021
Only cause you stay there. Hahah
- merrissa washam on Google
Feb 28, 2021
We had an incredible time staying in this KOA, Jamie and Cowboy were extremely helpful and welcoming. We will be coming back!
- Brennan A on Google
Apr 02, 2021
Bathroom's are we'll kept, Nice playground for people to enjoy, Though the road was a little ruff, and the fire rings were a little rusted away, and sank into the ground, it's a decent campground to stay at
- N P on Google