Directions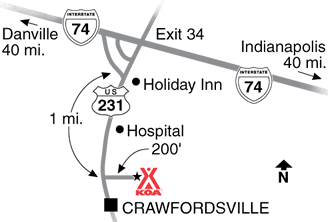 From East or West: Take Exit 34. Go down the ramp, turn right (South) onto US 231. KOA is 1 mile on the left.
Get Google Directions
Dec 22, 2020
Full dig poop bags left under our picnic table!?
CAMPGROUND RESPONSE / COMMENTS:
Sorry December is our off season, and we are only in the office 2 days a week so don't check sites daily like we do in the summer months.
Dec 13, 2020
We stayed one night. They reached out to us via a text message to make sure they gave us the right site. Upon arriving our site assignment was ready. We needed some propane and "Cowboy" was there within a few minutes to take care of us. The facilities were nice and very clean.
Dec 05, 2020
Pleased to have a comfortable safe place to stop for a couple of days in the off season.
Nov 30, 2020
Really lovely place, my reservation information and a map were waiting for me outside when I arrived. Yes, it is close to the road but that can't be helped. Plus I was tent-camping, so road noise likely wouldn't be an issue for RV campers. Very convenient to town if you need to make a stop. Bathrooms were spotless with a sanitizing station just outside the door. Would definitely stay here agai
Nov 28, 2020
enjoyed our stay
Nov 26, 2020
Excellent and very clean bathrooms. Nice customer service. Easy in out
Nov 23, 2020
The Crawfordsville KOA is our favorite one in Indiana - we always love coming and staying here! The owners are great people and super responsive and helpful. We will definitely be back in the spring.
Nov 16, 2020
We have a longer RV. Appears most of the longer sites and full service are used by full time campers. One would suggestion would be to trim a bit just to make it easier getting in and out. We had to do a bit of maneuvering as to not scrape. Other than that it is an easy campground to find and is easy on/off the interstate if you are passing through. There was no highway noise which was great.
Nov 10, 2020
We had a wonderful time. The campground was very well taken care of. We absolutely loved the nearby Turkey Run park. What a gem.
Nov 10, 2020
Super clean facilities! The caretakers truly care about this place and the people who visit! Superb �
Nov 10, 2020
I asked for a end site you said was reserved but yet 2 other campers got the site yet we were there from fri-mon they could have stayed on other sites the person with longest stay maybe could've got end site.
CAMPGROUND RESPONSE / COMMENTS:
We assign end sites by who asked for them at the earliest date. The end sites were requested a month ago, you reserved on a Thursday the 5th for arrival on Friday the 6th, It is not about who reserved the longest stay, but who reserved first.
Nov 09, 2020
One of the best KOA's in the state.
Nov 09, 2020
Great campground! Very pleasant stay. Cowboy was so helpful
Nov 06, 2020
Average KOA, gravel sites. Lots of old beat up permanent trailers. Good for an overnight stop
Nov 05, 2020
I stayed twice and enjoyed. Close to I-80 and is a nice place.
Nov 03, 2020
Nice quiet campground. Employees are very friendly.
Nov 02, 2020
Campsite was very tight to get out of with a longer rig. No lights around the park to see where you are going. No real internet signal.
Oct 30, 2020
Great place when you need to crash. Looks like a lot of full timers who don't care for there rigs stay for extended time...
Oct 29, 2020
A pleasant and uneventful stay.
Oct 28, 2020
1 night stay.
Oct 27, 2020
Spot was very level, clean kept campground and very quiet. Everyone was super friendly and very helpful answering questions. We will definitely be staying there again next year for the Ironman GNCC. Can't wait to come back!
CAMPGROUND RESPONSE / COMMENTS:
Look forward to having you come back, book early and I can get you in an end site where you have a larger yard and not campers on one side of you! (your door side)
Oct 27, 2020
Was not happy with location, no amenities available even for the season. Right off the highway. Left on Sunday evening even though we paid til Monday. Cabin was beautiful and nicely heated. WILL NOT BE RETURNING OR RECOMMENDING THIS LOCATION.
CAMPGROUND RESPONSE / COMMENTS:
You were here the end of October, so yes we do not have the pool open, outdoor movies are done for the season, the game room has been closed since Covid, I know you were very unhappy that we asked you wear to masks inside the office.
Oct 26, 2020
Convenient location to town. Easy in and out. Brother's pizza delivery a bonus!
Oct 25, 2020
It was good until the last night when a bunch of new folks came and were loud until three in the morning. So we left a day early. Pricing was high for wood at $35.00 for five bundles. We enjoyed our stay up until the loud folks came.
Oct 24, 2020
As usual, KOA campsites are kind of tightly packed next to each other. It was mid October, so campground was less than half full. Kind of close to major state highway, but since cool night, didn't bother me with windows closed. Very shady and woodsy, and campground host was very helpful and pleasant. I would stay here again off season.
Oct 21, 2020
Great location for us to cut down the drive to Indianapolis.
Oct 21, 2020
Very pricey! Can understand when cover bridge festival on! But it was cancelled month ago... stated in 5 different states this yearning a KOA, and this one cost the most.., with little to offer! Was ok !
Oct 21, 2020
Very pleasant experience
Oct 20, 2020
reallly appreciate youhelping us to check in late. it would be good if you let people know you don't answer the phone but do answer texts
Oct 20, 2020
The cabin was warm when we arrived and cozy and enough space for the four of us. Booking was easy and we had good communication lines in case we needed anything.
Oct 19, 2020
Extremely helpful and pleasent service. Picked up, filled, and dropped off my propane bottles!
Oct 19, 2020
I LOVE this campground.....Jamie and Cowboy bend over backwards to make our stay Fantastic !!
Oct 19, 2020
The campground was very nice and had lots of trees although for us a bit on the small side and the spots were a bit tight together as we have a 33 foot motor home,the whole staff was very friendly and very accommodating!
Oct 19, 2020
Staff very helpful and pleasant.
Oct 19, 2020
Staff was super friendly. Bathrooms / showers were clean and well maintained.
Oct 18, 2020
Stayed 5 nights, the staff was friendly and helpful, the campground was clean and convenient. Dogs barked and airhorn blasted repeatedly. On the 4th day, I went in to buy ice and firewood and the worker was still in PJ's. After we left, 30 miles away, we realized we were missing something and called to confirm, left voicemail. We are still waiting for that call.
Oct 18, 2020
Empty garbage can by basketball. Was overflow of dog poop bags.
Oct 25, 2020
A great place with amazing staff!
- Heather Headley on Google
Oct 05, 2020
Very nice hosts. Clean grounds/restooms/showers. Good food minutes away. Will definitely stay again when coming to Badlands ORV park.
- Jim Goodman on Google
Nov 11, 2020
Host went above and beyond when we arrived. Much appreciated!
- Stephen Gass on Google