Alert
If you need to make a reservation, please do so online or call or text our cell at 765-230-0965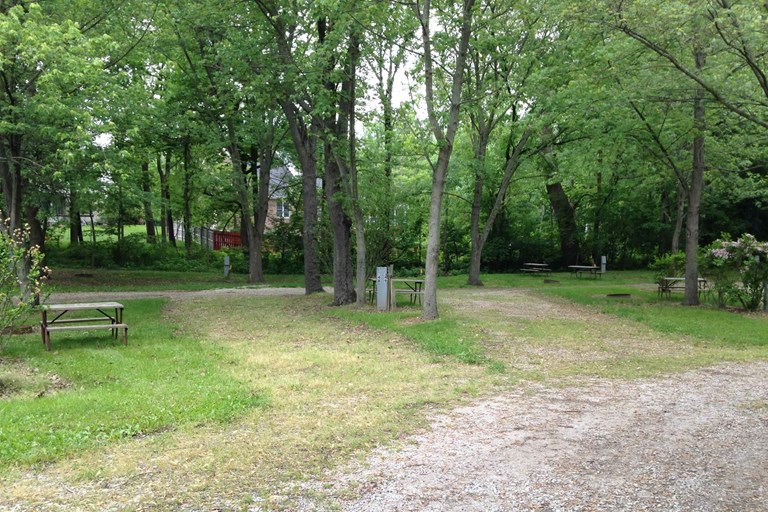 Crawfordsville KOA Reviews
Directions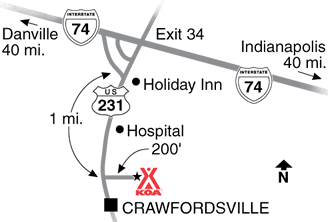 From East or West: Take Exit 34. Go down the ramp, turn right (South) onto US 231. KOA is 1 mile on the left.
Get Google Directions
Jul 07, 2020
everyone was very nice and friendly
Jul 07, 2020
Had a wonderful time. Campground was clean and quiet, even on the 4th of July. The gravel on the sites could use a good grading to level them out, but overall experience was great. Would definitely come back.
Jul 07, 2020
Everything was perfect and we felt very safe with the COVID protocols that were in place!
Jul 07, 2020
Extremely clean. Rules enforced. Loved the movie night option. Location is awesome. Owners were not easy to get in touch with. Did not return emails, voicemails, or texts. First time camper there and their lack of communication made it a bit confusing. Overall, they keep a great camp ground going though. They must work very hard! Right next door to a good hike at Sugar Creek. We enjoyed our stay.
Jul 07, 2020
desde un principio puse en las notas que eramos 7 personas dos carros y un perro me dieron el valor $140 y resulte pagando lo de dos espacios el doble,ahora sabra como me siento gracias pero eso no megusto el resto estuvo bien
Jul 06, 2020
Great holiday weekend. Campground was decorated for the holiday and safety measures were put in place. Restrooms were spotless, pool area was clean. Family movie was fun for all. Great stay!
Jul 06, 2020
Nice people working there, clean bathrooms.
Jul 06, 2020
Polite and easy check in. Nice pull through lot.
Jul 06, 2020
Such friendly staff! Very clear signage for new policies due to Covid19. Lovely shaded sites made a hot weekend feel cooler.
Jul 06, 2020
Loved the shaded sites, in 90+ weather! Pool was a little cloudy, but other than that, we loved our stay.
Jul 06, 2020
Good place to stay
Jul 06, 2020
This was our first time at a KOA. We recently bought a travel trailer and this was the "maiden voyage" so we stuck close to home. We had a wonderful time! We will be back!
Jul 05, 2020
The office staff never opened at any consistent time and that was the only access to the laundry. The campground is ok for an overnight stay but not for any length of time.
CAMPGROUND RESPONSE / COMMENTS:
I remember you doing laundry, I told you when you checked in, I opened at 10am on weekdays. I opened at 10:02am we are eastern time incase that helps you out.
Jul 04, 2020
Rolled in about 10:30pm grabbed our site paperwork stayed overnight then got back on the road in the morning
Jul 01, 2020
Love this koa and the owner and staff!! Would come back here again! Friendly ..clean..and quiet!
Jul 01, 2020
The fact that the office was still open at 8pm meant a lot to us because we are first time campers. The lots were clean and well maintained and easy to pull through.
Jul 01, 2020
Friendly staff. Enjoyed my stay. Got a long pull thru so I did not have to disconnect my vehicle. They had a front and back sewer hook up. The pool was well liked..
Jun 30, 2020
Nice campground. Facilities were clean and attractive. Obviously the owners cared about the facilities and the maintenance of them. Camp site was level and other campers were friendly.
Jun 30, 2020
The grounds and amenities are in dire need of updating, and just in general maintenance. The electric/water/dump station worked, but we won't stay there again.
Jun 29, 2020
Jamie and Cowboy are always very welcoming and accommodating.
Jun 29, 2020
As always great experience. Thanks Jamie Kevin Cowboy
Jun 29, 2020
Great customer service, clean, and well managed.
Jun 29, 2020
Dirtiest bath house of any KOA we have stayed at.
Jun 28, 2020
This campground has a huge dog area, easy pull through sits, stocked store, quiet atmosphere , everyone is super friendly, staff is awesome and very helpful. Upon arrival, staff let us choose between 3 different sites, staff suggested we take site 10, it was on the back row at the very end, large site with awesome front yard. We'll definitely return.
Jun 28, 2020
Campground , pool, showers and bathrooms are kept very clean. Kept everything sanitized. Can't wait to return.
Jun 26, 2020
We loved the place. Very quiet for a campground. The cabin was perfect and the people there are amazing. We just loved it all.
Jun 25, 2020
Will be back again. Covid restrictions make things more difficult, for sure.
Jun 25, 2020
Nice Quiet Camp Ground to stay and the Staff is Very accommodating.
Jun 25, 2020
Great service! Felt safe!
Jun 25, 2020
It was a place to stop & rest due to our travel plans. Not having a specific site to pull up . Grounds are not very well kept. Neighbors dogs were barking all night.
CAMPGROUND RESPONSE / COMMENTS:
Not having a specific site to pull up? I like to give my guests multiple sites to pick from, which was exactly what I did on your site map. I circled 3 or 4 sites for you to pick from. I want YOU to like and pick the site you WANT.
Jun 24, 2020
Very clean facility which include bathrooms, showers, and pool. The staff was extremely helpful. I highly recommend this KOA. It is also very pet friendly, plus they have a couple stations for animal waste bags and disposal. I will stay here again!
Jun 22, 2020
This was our very first stay in our 5th wheel. Friendly staff and offered us a choice of several sites that would accommodate our 39 feet. Almost all sites shaded. The store has slim pickings but a decent DVD library. OTA TV signals weak and even with the rooftop antenna extended and aimed, could only get ABC. AT&T cell signal fluctuated between 1 & 2 bars. WiFi signal strong as we were close
Jun 22, 2020
Our neighbors were tent campers and had pitched their tent on our side of the site and because of this we had issues letting our dogs out to go to the bathroom but other than that we had a great stay
Jun 22, 2020
Peaceful and quiet. Campers have good space between them.
Jun 21, 2020
People were excellent. The sites need some serious regrading and gravel work. The sites in our area (39) were very uneven front to back, as well as side to side. Makes set up kind of challenging. This koa just need some TLC. Stay was good though, as we were close to Turkey Run State Park and the covered bridges in Parke County.
Jun 20, 2020
There was no sewer smell in women's restroom as earlier reported. A nice, basic KOA with lots of plants.
Jun 19, 2020
One night. Friendly
Jun 19, 2020
Small but nice, little pool, nice clean showers, lots of shade. No extras but really nice
Jun 18, 2020
Very accommodating owner. Nicely landscaped grounds. All pull-throughs.
Jul 07, 2020
Very clean bathrooms
- tony carlson on Google
Jul 05, 2020
Good place to stay.
- hobby guy on Google
Jun 27, 2020
Jamie Nelson is the owner, and she is the most caring, thoughtful, loving, kind and generous person. She will do everything she can to make sure your stay is the best one! She goes above and beyond for her customers and that is why they come back year after year! 💜
- Brittany McCloud on Google

Crawfordsville KOA
Open All Year
1600 Lafayette Road
Crawfordsville, IN 47933
Check-In/Check-Out Times
All Sites
Check-in: 1:00 pm, Check-out: 1:00 pm
Get Google Directions

© 2020 Kampgrounds of America, Inc.