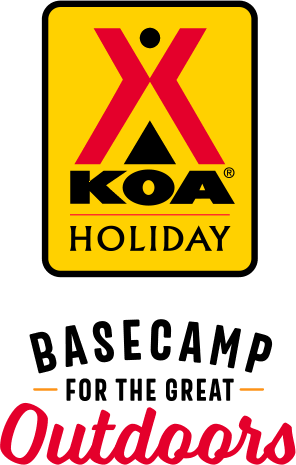 KOA Holiday Campgrounds
Whether you're exploring the local area or hanging out at the campground, KOA Holidays are an ideal place to relax and play. There's plenty to do, with amenities and services to make your stay memorable. Plus, you'll enjoy the outdoor experience with upgraded RV Sites with KOA Patio® and Deluxe Cabins with full baths for camping in comfort. Bring your family, bring your friends, or bring the whole group – there's plenty of ways to stay and explore.
KOA Holidays Feature:
RV Sites with a KOA Patio®
Deluxe Cabins with full baths
Premium Tent Sites
Group meeting facilities
Directions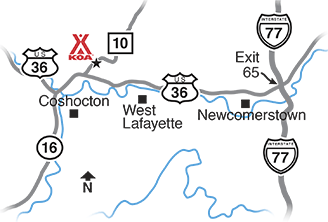 From I-77: Exit 65 at Newcomerstown. Head west 16 mi on US 36 E. Turn right onto County Road 10.  KOA is 1 mile on right.
From the W (Columbus):Take US 36E.  Go 1 mi past Walmart in Coshocton, turn left on County Road 10, 1 mi on right.
From the NW (Millersburg): Take 83 S toward Coshocton. At T-intersection turn left onto US 36 E. Drive 2.3 mi and turn left on County Road 10.  KOA is 1 mi on right.
GPS: N40.31042, W81.822649
Get Google Directions
Dec 07, 2020
Owners provide exceptional service.
Dec 03, 2020
Clean park and facility. Friendly staff. Thanks
Nov 29, 2020
Had a great trip. Nice and quiet !
Nov 29, 2020
Had a great time.Thank you
Nov 15, 2020
Heated restroom was always clean. The office was fast to respond to a problem we had.
Nov 11, 2020
Clean, neat and easy to deal with.
Nov 11, 2020
Only one night and that is only how I would stay there.
Nov 11, 2020
Love the recommendation for the nature trail to see the giant sycamore tree.
Nov 10, 2020
The whole entire staff were amazing , friendly and accommodating
Nov 10, 2020
Always have an amazing experience at this KOA. They truly care about their guests.
Nov 10, 2020
The campground was very nice and well maintained. Even though we were in a pull through, the roads were wide enough to allow back in parking at a lot of the sites. The location is convenient to "Amish" country, about 30 min. TV reception is limited. Cable hookups would be nice. We will stay here again in the future
Nov 10, 2020
Top notch KOA! They are so nice & everything is also clean. They are always doing something to make the facility even better!
Nov 08, 2020
If you have cable tell us. The TV antenna does not pick up any channels and it looks like you do have cable
Nov 05, 2020
We had a great time..Very clean , lots for the kids to do, staff is very helpful!!! Booked next year's stay and bringing a group of friends. Thank you �
Nov 03, 2020
We had a great stay at the campsite. The only thing was the ground was muddy due to the rain and we were not allowed to put down a mat so we were tracking in mud to the camper. My suggestion would be to add more camper pads, bring gravel in to set up on. I'm sure there is a cost factor but in the long run I think that would be better. However, we did have a nice time.
Nov 03, 2020
We enjoyed our stay. This was our second time camping at the KOA and we plan to return in the spring.
Nov 03, 2020
Only stayed one night and attended the corn maze. It was fun even for our 12 & 14 year old boys. We enjoyed the food truck and the beer garden as well. Very clean campground.
Nov 02, 2020
Everyone was super friendly and helpful.
Nov 02, 2020
Great place ..the improvement out of this world. Only thing I can think of is to make visitors aware that a quiet time will be enforced..nothing worae than being next to the loud partyers
Nov 02, 2020
One thing I did not enjoy was our site being so close to the maintenance shed. We had men working on stuff literally 3 ft from our fire ring the first morning which made it impossible to enjoy a quiet morning coffee by the fire. We also had other guests constantly cutting through our site and it wasn't very private. However the activities and corn maze made it bearable
Nov 02, 2020
We enjoyed it so much that we reserved for next year already!!!
Nov 02, 2020
This campground is amazing. So clean and welcoming. Pool area is clean and shelter bathrooms/showers very clean. Smaller campground which we love. Very quaint and friendly. It is our "new campground" to stay during our camping trips!
Oct 31, 2020
Every one was super nice and helpful. Rate was just a little bit high, but you get what you pay for.Great place to stay. Will be back
Oct 28, 2020
Best campground in our area! We. Love staying with here! Staff is always so friendly.
Oct 27, 2020
This was our first time staying here, I can honestly it won't be our last. The staff was extremely friendly. The grounds is well kept. The amenities they offer, there's plenty for every age. Already making plans to stay next year! �
Oct 26, 2020
We have stayed here several times and enjoy this campground very much - small and quiet, clean and well kept, friendly and helpful staff, level sites, full hookups available, and nice activities. The ONLY issue we had was that the WiFi was VERY weak and would quickly kick off and then would not reconnect. We will be back!
Oct 26, 2020
We love this campground!
Oct 26, 2020
We LOVE Coshocton KOA!!! Can't wait until next year!!
Oct 26, 2020
Always a great time , staff does a incredible job
Oct 26, 2020
we absolutely love this koa, everything is so nice and clean. Also all the staff is amazing!!
Oct 26, 2020
Great KOA and always making upgrades!
Oct 26, 2020
We love Coshocton KOA, it is very family oriented with lots of things for kids to do! One thing I'd suggest is that they not have long term campers. Or at least try and move them as far away from weekend campers as possible. Unfortunately for us, we ended up next to an unsavory camper that was long term. Their dog barked 24/7. 5 stars because we have been camping there for years and love it
Oct 26, 2020
Loved the campground!
Oct 26, 2020
Nice quiet campground with friendly staff. The only negative is there is no tv reception and weak wifi signal.
Oct 26, 2020
Great place to stay , very friendly , VERY CLEAN , just all around a great spot will be back again !
Oct 26, 2020
With the wet weather not having cable and only two poorly received digital channels was an issue
Oct 25, 2020
Staff was professional and very friendly.
Oct 25, 2020
Beautiful campground, wonderful staff and owners! Thank you and we will be back!
Oct 24, 2020
We had a beautiful cabin in a beautiful spot. It's a smaller campground with anything you would want or need. Mr Hamilton and his young helper were very friendly and helpful. We really enjoyed our getaway in the beautiful fall woods
Apr 18, 2021
Great little campground: the staff was helpful and welcoming. Very clean: we will definitely be back!
- Dan Miller on Google
Apr 07, 2021
It is a great place. It always has some sort of activity going on and the you can run around in the corn maze.
- JT the Awsome kid And Kennedy the Cute Cat on Google
Jan 12, 2021
Great place and owner.
- Betty Strauss on Google