Coshocton KOA Current Status of Amenities & Activities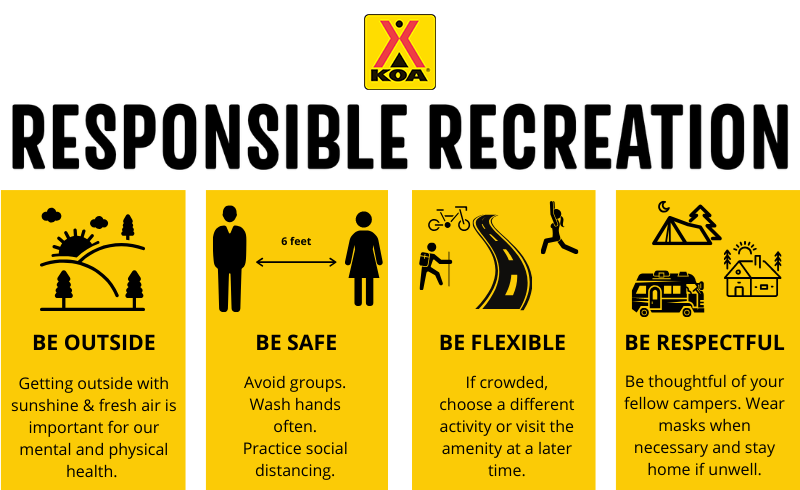 Welcome to Coshocton KOA!
We're so glad to see you here and that we're back to camping! We have updated our rules to ensure that we all stay safe and continue to happily camp during the time of COVID-19.
Social Distancing
We have done our best to make clear rules on the number of people who are allowed in each facility on the property. We ask that in addition to following these guidelines that you maintain 6ft separation between other campers not staying on your same campsite. Please do not gather in groups.
For us to remain open and for camping to continue, it is absolutely required that our staff and our guests practice social distancing. We reserve the right to enforce this and appreciate your cooperation.
Visitors
At this time only registered overnight campers are allowed in the park. No visitors are permitted to enter the park.
Registered Campers on Your Site
Campers on each site must be from the same household with a maximum of 7 people per site.
CLOSED AMENITIES & ACTIVITIES
The following amenities & activities are currently closed following theResponsible RestartOhio Operating Requirements for campgrounds:
Playground
Jump Pad
Rest rooms in the activity pavilion
Gaga Ball Pit
Activity Pavilion
Shelters 1 & 2
Wagon Ride
Movie Night
OPEN AMENITIES & ACTIVITIES
The following amenities are open. We encourage you to enjoy the wide-open space we have to offer.
Swimming Pool – Please practice social distancing and maintain at least six feet or more between individuals in all areas of the pool and deck whenever possible. No gathering in groups of different households. Your cooperation in maintaining distancing will allow us to keep the rules to a minimum.
Camp Store– We are open to safely serve you. Many of our items are available to purchase online and pickup at the store or have delivered to your site.

Our store is limited to 3 customers at one time.
We encourage you to wear a mask, but this is not required.
Visit coshoctonkoastore.square.site for online shopping.
You can also call 740-502-9245 to place orders or arrange delivery or pickup.
Payments made while you are registered may be charged to site. Your credit card will be charged automatically upon checkout.
Bath House – The main bathhouse and rest rooms in the activity pavilion by the pool are open. We ask that if at all possible, you use the facilities in your self-contained RV. If you must use the bathhouse, please limited the number of people to 2 at a time.
Laundry Room – The laundry room is open as an essential service. Please limit the number of people in the room to 1 at a time.
Woodland Area – Our campground is on 30 acres, most of which is just natural. Please explore the trees, wildlife and flowers. The creek is also a great place to look for critters.
Barrel Train – We're still doing barrel train rides! Check your schedule of activities for the times. We'll pick-up eager riders at their own campsites to avoid congregating and will sanitize the cars between rides to keep things safe.
Curbside Check-in
When arriving at the campground we will do our best to meet you outside. We can complete the check in process without the need for coming in the store. If you would like curbside check-in and we are not outside, we may be with another customer. Please call 740-502-9245 and we will be with you as soon as we can.
After Hours Check-in
If you are checking in and the store is closed. Please stop at the store, your map will be on the door. If you need assistance after hours you may call us at 740-502-9245.
Activities
Getting out and doing things is what keeps us happy! While we've had to change our original schedule, we still will be providing some socially distanced things to do. Check your email, Facebook, or call the camp store at 740-502-9245 to see what is on for this weekend!
Stay in Touch
With regulations changing so rapidly we want to be able to communicate quickly with you about any changes we have. Here are some ways we can stay in touch.
Email
Facebook – facebook.com/coshoctonkoa
KOA App – Find Coshocton KOA and subscribe for notifications.
Need Groceries?
McKenna's Farm Market is 6 miles and offers fruit, veggies, meat, cheese, beer, and wine. https://www.facebook.com/McKennasFarmMarket/
Walmart is 2 miles away and offers pickup.
Aldi is 4 miles away and offers delivery through Instacart.
Most of all enjoy your camping experience safely and let's stop the spread of COVID-19.
Updated 05/27/2020