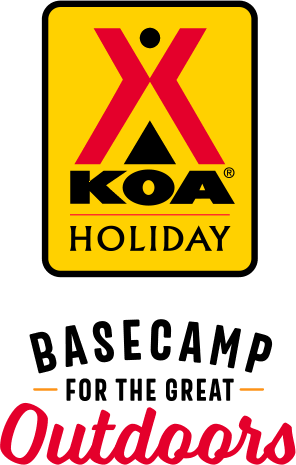 KOA Holiday Campgrounds
Whether you're exploring the local area or hanging out at the campground, KOA Holidays are an ideal place to relax and play. There's plenty to do, with amenities and services to make your stay memorable. Plus, you'll enjoy the outdoor experience with upgraded RV Sites with KOA Patio® and Deluxe Cabins with full baths for camping in comfort. Bring your family, bring your friends, or bring the whole group – there's plenty of ways to stay and explore.
KOA Holidays Feature:
RV Sites with a KOA Patio®
Deluxe Cabins with full baths
Premium Tent Sites
Group meeting facilities
Directions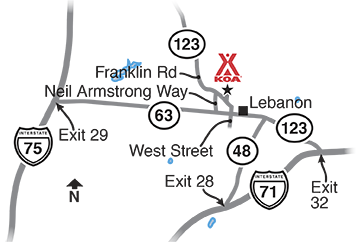 From I-75: Take exit 29. Go east on SR 63 for 6 miles. Turn left onto Neil Armstrong Way, continue 1/2 mile. Turn right onto Franklin Road, campground entrance is 1/2 mile on left.
From I-71: Take exit 32, go west on SR 123. Continue 4 1/2 miles. Turn right onto Neil Armstrong Way, continue for 1/2 mile. Turn right onto Franklin Road, campground entrance is 1/2 mile on left.
Get Google Directions
Jul 20, 2021
Fun and nice place
Jul 12, 2021
The facilities were fantastic at this KOA. I really liked the bathrooms/showers. The check-in staff was really helpful & friendly. I dont recommend this KOA to tent campers--the tent sites aren't really sites as much as they are just a big open field. You felt like you were part of every other campers trip too... not an ounce of privacy. A very late arriving group really disrupted us.
Jul 12, 2021
It was a nice to return again. The bathrooms were upgraded and a nice surprise thanks a lot
Jul 09, 2021
Great tent sites, flat and some shade, large sites, best bathrooms ever seen at a campground. Staff was so friendly and helpful! Clean pool, heated! Fun stuff for the kids to do also! Loved it
Jul 06, 2021
We had a wonderful time during our stay. The bathrooms were clean and our daughter had a ton of fun with the bounce pad, playground and pool!
Jul 05, 2021
Had the large tent site by the dumpsters. GREAT site -- nice and large and close to the facilities -- but the smell of the dumpsters was bad for most of the stay. The grounds were busy but remained clean. The facilities were super clean and there were enough so that there was never a wait. Plenty of fun things for kids to do. Mine enjoyed the bounce pad multiple times. Office staff was friendly.
Jun 29, 2021
All the staff were extremely friendly. A young man offered to move our cabin's grill to the shelter for our party. The bathrooms were always clean!! Loved the craft on Saturday. Thank you for keeping everything so nice!
Jun 27, 2021
The location allowed us to enjoy some activities in the Cincinnati area. The campground is very well maintained and offered our granddaughters a safe and clean environment for their first camping trip. They enjoyed the pool and the jumping area, especially. Restrooms are impeccably maintained and we will visit again for sure.
Jun 09, 2021
Finding level ground at tent site was a challenge. Otherwise great place to stay.
Jun 07, 2021
Everything was Nice and Kept Very Clean��
Jun 05, 2021
Best bathrooms/showers I have ever seen camping! Staff super friendly. Small but nice campground. Definitely would stay again.
Jun 03, 2021
These people were Karen's and kens, quite literally they all gave us dirty looks from the time we got there til the time they asked us to leave because we were being loud. . Was told to either park my car or leave and after I told them I had already paid they said they do not care. I felt very disrespected and wasn't even offered a refund for the remaining nights I had paid for .... do not stay
Jun 02, 2021
We lost power a lot, as in 5-6 times a night, and our neighbors were insanely loud, a lot of the women's bathroom stalls at the front were unflushed and clogged until cleaning. Otherwise, it was delightful. We love the people, it's nice and generally clean and well maintained. Staff is responsive and kind, always.
Jun 01, 2021
Tent sites are spacious, restrooms are updated and clean. We love the shop and amenities, great for kids of all ages. Unfortunately though the power kept tripping at the tent sites. It was extremely inconvenient especially given the cold weather we had. There were also several loud & obnoxious "neighbors" well after 11pm.
May 27, 2021
I stayed 2nights in tent by myself. Felt safe. Very clean restrooms! Even my visiting friends were impressed. Staff always around in carts if you need something just checking. I might try a cabin next time. They look adorable but I loved my tent! Thanks for a quality stay.
May 26, 2021
Very quite very clean very friendly we will be coming back
May 19, 2021
Enjoyed our stay. Very helplfull staff. Bathrooms and showers were very clean.
May 17, 2021
We enjoyed our stay, as in the past. We were disappointed to get over to the jump pad to find it gone. We had not received any information that it was not there. Obviously, that won't change our mind about returning. It just would have been nice to know ahead of time, as our children were looking so forward to it. Thank you for taking great care of the grounds and your campers!
May 10, 2021
Our site we stayed at spot #40 was a mud hole. I understand the rain but if that site always gets that muddy it shouldn't be rented out when it rains. We were literally sleeping when we would try to sit by the fire
Apr 12, 2021
lots of rain
Apr 08, 2021
The bathroom code on my sheet of paper and the bathroom code by my tent did not work.
Nov 09, 2020
Very clean and friendly
Nov 04, 2020
Little oasis tucked away in the middle of town. Quiet and clean during entire 2 week stay.
Oct 19, 2020
Bring my daughters and their friends every year around this time for Halloween. Have built a lot of memories over the past ten years.
Oct 12, 2020
The only reason I did it give this campground a 5 is the deep ruts on the sides of the driveway. When I pulled in to my camp site my left tire sunk deep down I was almost afraid it had done damage to my vehicle thankfully it did not. Bathrooms were nice. The darkness and the deep holes by the driveway are hazardous.
Oct 11, 2020
It was nice but our neighbors were super loud. Kept us up until almost 3 then I had to ask them to quiet down. Same with the other neighing the morning. Kids were screaming by 7:30 am. Someone should stay over night.
Sep 29, 2020
Perfect! James and Heather were great help!
Sep 28, 2020
So nice to have a wonderful place to relax for the weekend. Our group was very impressed with how clean the campsites were and even more impressed with the bathrooms! Great place to tent camp with a group!
Jul 18, 2021
Very nice camp ground
- Ann Baney on Google
Jul 16, 2021
Great place!! Very well kept grounds. Restrooms and showers were very clean!! Grandkids loved the pool and playground especially the bounce pads. We will be coming back!!
- Everett Rice on Google
Jul 14, 2021
Great campground, friendly people, great staff. We loved the fact there is so much to do with the kids at the campground and a very short drive to Kings Island. We will definatley come back!
- TRAVIS M on Google