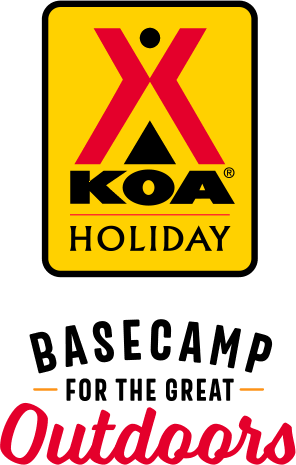 KOA Holiday Campgrounds
Whether you're exploring the local area or hanging out at the campground, KOA Holidays are an ideal place to relax and play. There's plenty to do, with amenities and services to make your stay memorable. Plus, you'll enjoy the outdoor experience with upgraded RV Sites with KOA Patio® and Deluxe Cabins with full baths for camping in comfort. Bring your family, bring your friends, or bring the whole group – there's plenty of ways to stay and explore.
KOA Holidays Feature:
RV Sites with a KOA Patio®
Deluxe Cabins with full baths
Premium Tent Sites
Group meeting facilities
Directions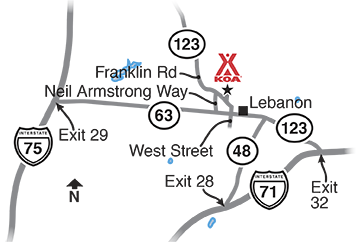 From I-75: Take exit 29. Go east on SR 63 for 6 miles. Turn left onto Neil Armstrong Way, continue 1/2 mile. Turn right onto Franklin Road, campground entrance is 1/2 mile on left.
From I-71: Take exit 32, go west on SR 123. Continue 4 1/2 miles. Turn right onto Neil Armstrong Way, continue for 1/2 mile. Turn right onto Franklin Road, campground entrance is 1/2 mile on left.
Get Google Directions
Sep 15, 2021
Lovely park and had a beautiful pull-through site. Entrance and exit road was a single lane. We were a 43' with a toad. A 5th wheel was attempting to leave at the same time we were arriving. I would recommend widening the road!
Sep 15, 2021
We stayed at KOA to visit friends in nearby Maineville. My sister-in-law stayed in an adjoining space. We really enjoyed the common space between us. We would stay again if we travel this way in the future.
Sep 15, 2021
Love the spacious camp sites. Grounds are tidy and well kept.
Sep 15, 2021
We stayed one night on our way headed home to FL. Very clean & nice staff!
Sep 15, 2021
The surrounding of this campground are lovely. My only suggestion is that the sites could be upgraded. The picnic table was broken and obviously wasn't painted in a long time. With a little work it would look much nicer. The staff was very kind.
Sep 14, 2021
Very friendly staff and the restrooms were very clean. Overall very good koa to stay at
Sep 14, 2021
Kids had a blast, the playground is fabulous with equipment we don't typically find (and very well taken care of), the two jumping pads I think are new for this year and awesome - kids can even split between small kids and big kids to keep everyone safe, gaga ball pit was a blast, bathroom were super clean, showers had great pressure, and our site was a great size.
Sep 14, 2021
Cleanest and newest bathrooms I've ever been in. Well landscaped, lots of trees and grass. Not just one concrete slab after another.
Sep 14, 2021
They always have a wonderful Pleasant time at your Campground. My parents came to our site on Saturday and we walked around the campground and they were extremely impressed. They stayed at many KOA and travel often and thought this was a wonderful place. They talked about the cleanliness and the sites being very nice.
Sep 14, 2021
We enjoyed out stay! Very nice facilities and friendly staff! My only suggestion would be to better mark the tent site numbers. We saw many people come in after hours and struggle to find their sites.
Sep 14, 2021
In general, we love this campground. Easy to get to and lots to do in the area. We had site 23 which is not a good site. With the road so close and the lack of gravel, we got lots of dust. You need to push the turn road back to the grass area and give more room on that site.
Sep 14, 2021
Nice place to stay! We only stayed overnight but, we liked the location and the staff was helpful when we arrived. Big rig friendly, we have a 42ft toy hauler and we were able to fit in just fine.
Sep 13, 2021
First time here and enjoyed it very much. Our 30 amp spot was a little tight/on top of other campers for our preference but we're booked in October for the 50/30 amp spots which are roomier. Granddaughter loved the jumping pad and we definitely enjoyed our stay.
Sep 13, 2021
Great place to camp. Campground was clean and the shower and laundry facilities were very nice and clean. Individual shower and toilet rooms was a nice surprise! Area is beautiful. Town of Lebanon was a nice surprise. Beautiful building, parks and shops!
Sep 13, 2021
After 4 years we just learned this weekend that a reservation, a call of confirmation, and use of a credit card is not enough to hold a site. There is something called "locking in". Never heard of it, and frankly do not believe it is a "thing". The site that was assigned was not comparable in terms of location - only in amenities. Miserable. Be like "Millionaire" and "Lock it in"!
Sep 13, 2021
It was nice and (Riley)our dog had lots of kids to play with.
Sep 13, 2021
We only stayed 2 nights but it was our first time at a KOA. We loved the pool, play amenities and the nice, always clean bathrooms. The people working were so nice and helpful. We would definitely recommend and stay again.
Sep 11, 2021
Wonderful place great staff
Sep 11, 2021
The updated individual shower rooms are amazing! Very well maintained campground.
Sep 10, 2021
Always kind and courteous staff. Clean facility and bathrooms.
Sep 09, 2021
nice facilities, pool could use some improvement as far as entry ie bigger stairs or sloped shallow entry.,, otherwise nice park and play areas
Sep 08, 2021
Love this place and the staff is wonderful! Highly recommended!!!!
Sep 08, 2021
Great sites with pad and full hook up. Staff was amazing. We will definitely be back.
Sep 08, 2021
Nice campground. It was quiet and friendly for the most part ,Saturday morning was awaken at 6:30by the neighbors 5 dogs, but overall a pleasant weekend
Sep 07, 2021
Great host. Very clean well maintained park.
Sep 07, 2021
Love the staff and activities. Always enjoy spending time at this campground
Sep 07, 2021
We had several camp sites and cabins for our Labor Day weekend gathering, and all went well. The folks that work the front desk are always so helpful and cordial, and that alone is a big reason we keep coming back. Also the cabins were very clean and our non camper members really enjoyed them.
Sep 07, 2021
Very happy with our stay. Bathhouses 10, cabins 10, all the employees were very friendly and helpful.
Sep 07, 2021
Great campground. I would recommend several trees that either need to come down completely and several trees that overhang RV's with big dead branches that need to be cut. Very dangerous! Other than that, it's great place!
Sep 07, 2021
We arrived a day late due to me being in the hospital. KOA called me to check on me to see if I was ok. That was very nice of them. Restrooms were so clean. Staff was very helpful and nice. I will definitely be back next year. Thank you.
Sep 07, 2021
Lebanon KOA is peaceful, quiet and clean. Shower/restroom facilities are remarkable and very well kept. We will be booking most of our local camping trips here. Kudos to the owners of this facility.
Sep 07, 2021
This was the nicest KOA we've stayed in. The grounds were immaculate, the cabins looked brand new, the setting was lovely, and the staff was personable and professional. Would highly recommend.
Sep 07, 2021
Very nice campground, nice bathrooms
Sep 07, 2021
Great place to stay and have fun with clean well kept cabins and grounds, and nice,friendly staff.
Sep 06, 2021
Facilities clean and in good shape. Nice landscaping around the main building. Pool seemed nice (didn't use it). Need to repair quite a few potholes in the entrance road.
Aug 21, 2021
Really nice campground. Super pretty and the best shower facilities I've ever seen in a campground
- Meghan Marcusse on Google
Aug 23, 2021
We averaged $56 / night for W/E50/S/C/I with our KOA discount ($62 without). We were led to our full sun, very level, pull through site by a nice gentleman in a golf cart. Other sites were nearby. The internet service was poor. All that Dayton has to offer including the fabulous National Museum of the Air Force and all of the Wright Brothers historical sites are less than 45 minutes away.
- Philip Petraglia on Google
Aug 19, 2021
Nice facility, grounds were maintained nicely. Appears to be a fairly popular place.
- Josh Firster on Google