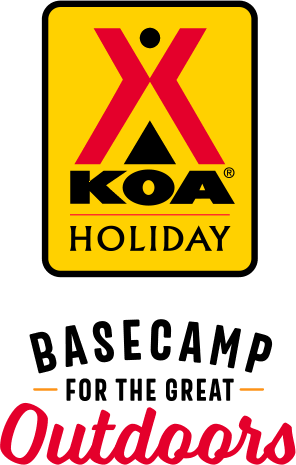 KOA Holiday Campgrounds
Whether you're exploring the local area or hanging out at the campground, KOA Holidays are an ideal place to relax and play. There's plenty to do, with amenities and services to make your stay memorable. Plus, you'll enjoy the outdoor experience with upgraded RV Sites with KOA Patio® and Deluxe Cabins with full baths for camping in comfort. Bring your family, bring your friends, or bring the whole group – there's plenty of ways to stay and explore.
KOA Holidays Feature:
RV Sites with a KOA Patio®
Deluxe Cabins with full baths
Premium Tent Sites
Group meeting facilities
Directions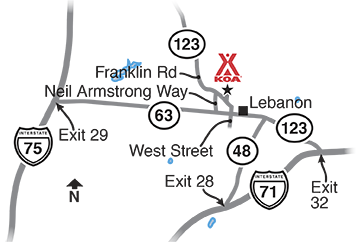 From I-75: Take exit 29. Go east on SR 63 for 6 miles. Turn left onto Neil Armstrong Way, continue 1/2 mile. Turn right onto Franklin Road, campground entrance is 1/2 mile on left.
From I-71: Take exit 32, go west on SR 123. Continue 4 1/2 miles. Turn right onto Neil Armstrong Way, continue for 1/2 mile. Turn right onto Franklin Road, campground entrance is 1/2 mile on left.
Get Google Directions
Jul 26, 2021
We rented a small cabin at this KOA and it was perfect. The bed was SO comfortable, probably the first time I've ever gotten a good night's sleep on vacation! Everything was clean and we'll thought out. The kids loved all the activities, pool and playground. The campground felt safe. We will definitely stay here again when out this way.
Jul 24, 2021
We stayed in a cabin that was modern and spotless. The kids loved the pool, the jump pad and the playground. The patio and firepit area was very nice. The entire park was beautifully landscaped, exceptionally well maintained and the staff were very helpful and friendly. Our 5-day stay was perfect and we will definitely be back!
Jul 22, 2021
Will come again...liked the area...used to bigger cabins but weather was good and the place very clean
Jul 20, 2021
Everyone was very friendly & helpful. Really appreciated the employee that took the time to braid our granddaughter's hair, because Grandmom couldn't do it. The camping cabins were beautiful, very clean & spacious! Definitely would stay here again. Would recommend this place to our friends & family!
Jul 19, 2021
Really nice, quiet, clean campground. We will definitely be back.
Jul 19, 2021
We enjoyed the cabin. Sleeping areas were comfortable and bathroom was spacious. Our only negatives-absolutely impossible to get WiFi, so if you need WiFi, which we did to check into an online class, this isn't the place for you. Also, we couldn't unpack our food and use the kitchen area because of the ants, so that was a big disappointment.
Jul 12, 2021
Besides the rain, the camp ground was super nice, very clean, very friendly, and very child friendly... had a great time. Cabin was exceptionally clean. The big bed a bit too soft.
Jul 11, 2021
Cabin was very clean & inviting. Enjoyed the fire pit, umbrella table, gas grill & seating area outside. Pool, playground, jump pad & Gaga ball area well kept & convenient. Staff present in golf carts & very helpful throughout the day. We enjoyed our stay & the kiddos had a great time. Felt safe, very relaxing.
Jul 10, 2021
Everyone was very friendly and helpful. The campgrounds are very clean and well maintained. Can't wait to visit again!
Jul 09, 2021
the cabin was clean and the people were very helpful and friendly. it was a little cramped with 5 people. in our case a bunk with a full bottom would have allowed us to not use the pull out couch. over all it was a very nice stay
Jul 08, 2021
I stay here every summer for a few days with each grandkid that comes and visits. Love this place!
Jul 06, 2021
Great, everyone was friendly and respectful. Lots to do in campground for kids. Bath houses are so nice and clean.
Jul 03, 2021
Took the grandkids had a really nice relaxing time. Campgrounds were very nice.
Jul 02, 2021
Wonderful stay, friendly staff and cabins were clean and roomy. Lots of kids activities on site and great location with plenty of things nearby.
Jul 01, 2021
We enjoyed our stay. Everyone seemed friendly and helpful. The campground was well taken care of and staff was attentive. Location is good for all things in Cincinnati area.
Jun 30, 2021
The cabin was so clean and the service was excellent!
Jun 29, 2021
We loved it and we will be back.
Jun 28, 2021
Campground clean and easily maneuverable. Bathrooms were OUTSTANDING! Staff went above and beyond, fun, kind and very attentive! Great stay all around.
Jun 25, 2021
The campground is smaller than I visualized but it was clean and cozy. Everyone was very helpful and I felt very at home and comfortable. The playground and jump pad were a huge hit with our group. The cabins were very neat and clean. Overall, campground is 5 stars!!
Jun 25, 2021
Very clean, very great customer service! Everyone is very helpful and kind. Look forward to returning sometime soon! Our kids loved it too!
Jun 24, 2021
Was comfortable made it feel like home we loved ed it
Jun 21, 2021
The weather was poor the first part of our stay but the last day cooperated and we had a great time! Cabin was very clean, most staff was friendly, the pool area was great, and my kids and their cousins enjoyed the jump pad and gaga ball pit. We all enjoyed the basketball court and the peaceful environment of the campground. The only negative was that that wood we bought there was wet.
Jun 19, 2021
The cabin was immaculate and the staff was very prompt when I ordered wood and very pleasant!
Jun 19, 2021
Very clean and maintained campground. We was in cabin 8, and it was very clean and beautiful! The staff was very generous and polite. Check in was very smooth, easy, and fast. My only complaint was the first night i had bought wood for an fire and i received wet wood that wouldnt burn, but our neighbors gave us a few peices so we could enjoy an fire!
Jun 17, 2021
My family and I had a great time and experience!! We loved the how managed the grounds were, the play areas and pool for the kids to enjoy and the all the staff were amazing and so friendly and helpful. I am looking forward to a stay here again next time we are in Ohio.
Jun 17, 2021
Our stay was the best ever. From the time I checked in to the time I checked out, it was wonderful. We stayed in cabin 5, which is a beautiful cabin. The jump pad was right across the road. I was able to sit on the wooden swing outside our cabin and watch the grandsons while they played. I big shout out to Sarah, Cindy, Britney, Michelle, Rob, Adam, John, and especially Patty. We will be back soo
Jun 17, 2021
Clean, friendly staff, camp grounds well maintained, bathrooms clean, and fellow campers friendly. Great atmosphere and great experience.
Jun 16, 2021
Everything was great
Jun 16, 2021
WE HAD 1 CAMPSITE AND 3 CABINS FOR A FAMILY GATHERING SINCE COVID -- IT WAS SAFE AND WONDERFUL FOR THE KIDS TO RUN AROUND BETWEEN LOCATIONS. THE STAFF WAS FRIENDLY AND VERY HELPFUL
Jun 15, 2021
We've stayed at several KOA cabins and this was by far the best!!! Extremely clean and updated! All of the facilities at this KOA were exceptionally clean! Staff were very friendly!
Jun 07, 2021
The campground is well maintained. The cabins are clean and there is plenty to keep the kids entertained! Thank you for a great stay!!
Jun 07, 2021
Had so much fun, love the children's activities. Facilities are so clean.
Jun 06, 2021
Stayed in one of the premium cabins - it was great !
Jun 03, 2021
We love the high level of customer service offered at this KOA. We had trouble connecting the TV. An employee came immediately and pointed out the error in our connection. The staff is so friendly and helpful in general. Thanks so much!
Jun 01, 2021
We stayed in a cabin over the busy Memorial day weekend. Our fridge was not working properly & the door to the cabin would stick at times. The owner & staff were quick to remediate the issues and gave us ice & firewood for our inconvenience. Great job to Jeremiah, Nicole, Brittany, Patty & Ron. Your professionalism & smiles made it a great stay. We look for to visiting again.
May 29, 2021
It was amazing we had a super great week looking forward to doing it again even considering buying a camper !
Jul 24, 2021
Clean, lots for kids to do, and very friendly staff. Nice place.
- Cherie Johnson on Google
Jul 24, 2021
We only stayed one night which is not nearly enough. Awesome shaded sites, lots to do for the kids. Highly recommend this location.
- Zachery McGavitt on Google
Jul 18, 2021
Very nice camp ground
- Ann Baney on Google