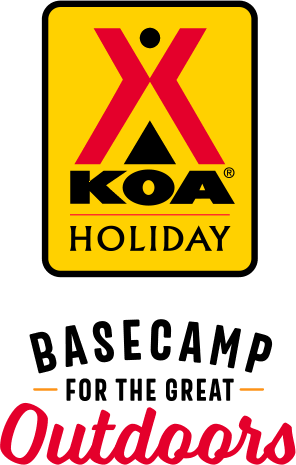 KOA Holiday Campgrounds
Whether you're exploring the local area or hanging out at the campground, KOA Holidays are an ideal place to relax and play. There's plenty to do, with amenities and services to make your stay memorable. Plus, you'll enjoy the outdoor experience with upgraded RV Sites with KOA Patio® and Deluxe Cabins with full baths for camping in comfort. Bring your family, bring your friends, or bring the whole group – there's plenty of ways to stay and explore.
KOA Holidays Feature:
RV Sites with a KOA Patio®
Deluxe Cabins with full baths
Premium Tent Sites
Group meeting facilities
Directions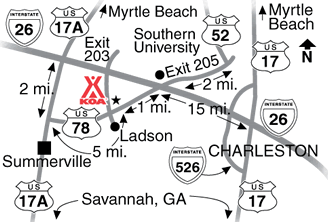 Located on US Hwy 78: 15 miles west of Charleston at Jct of I-26 & US 78 (Exit 205A). Then 1 mile west on Hwy 78. KOA is on the right.
Get Google Directions
Sep 21, 2021
Everything was clean and great except for the red ants. We were invaded and bitten by red ants every single night, which made the stay not very enjoyable. However the staff and grounds were wonderful. Everyone was very welcoming and kind. Just the anta ruined it. Please do something about the ants and roaches so that I may strongly recommend and consider staying again.
Sep 21, 2021
Very small sites and was not able to keep up our portable free standing dog fence so we found a better koa. Will never stay at this one ever again and have already told others not to stay there!
Sep 20, 2021
It was a short visit but everything went great and they were very friendly!
Sep 20, 2021
Uneventful, space was ok. Clean grounds, nice pool!
Sep 18, 2021
Camp ground is clean. Site was easy in and out. We were in the primo site so we had a grill chair and swing at our disposal. Park is dated. While the pool was operational we did not use it. We have stayed before in this campground so I knew it's location before booking. It makes a good travel overnight stop.
Sep 17, 2021
We had a deluxe site but it was not level at all. The amenities at the site (patio, swing, gas grill and table & chairs all great condition). Bath house was kept clean at all times.
Sep 17, 2021
Virginia. Run down. Site wasn't mowed. Our picnic table needed thrown away. Angled koa beam on office by the laundry is rotted away. Went to go swiming at 730pm, says it closes at 8, and they just put chemicals in and I couldn't swim. Overall campground is ok, just not the same levels as the rest we were at. We would stay there again.
Sep 16, 2021
The grass was to high, the campground needed alot of maintenance. To many to write, sorry. The dog walk was awful. Not friendly people running this koa, y'all I really like my past dealing with koa, sorry this wasn't one of them.
Sep 16, 2021
Great location, very tight sites for bigger rigs, too much dirt for us although the driving area for the sites are heavy gravel. If it rains, it will be messy muddy. The staff is very nice! 1 or 2 nights in good weather is great.
Sep 15, 2021
Staff was very friendly. We liked the price and convenient location to the Charleston area. On the other hand, there were a few things that could make it Rate better... The men's room never had soap. The park definitely needs some cosmetic attention. The tent site next to us had an old truck with 2 flats that has been there for a long time.
Sep 14, 2021
The park has very friendly staff. Great water pressure. The pool is a plus. The dog park is a good thing. Plenty of shaded spots. Stores and good restaurants nearby like the Honky Tonk Saloon for BBQ and country dancing, and for good seafood Gilligan's Seafood Restaurant. The grounds, however, need some serious TLC. As is common right now, it is difficult to find someone to do the work.
Sep 13, 2021
Clean restrooms, grounds well kept. Seamed to have a lot of pull throughs spaces
Sep 13, 2021
Nice quite place. Only thing I didn't like was grass was kind of high and I expected more of my site to be gravel instead of grass. Rained the first night and had standing water in the site due to it not being very level other than the pad the camper sat. Will get a concrete site next time. Over all not bad at all. Just a few small things I mentioned.
Sep 13, 2021
Very nice staff and pool was big and clean, theres the 2 stars. But. it's old looking, run down, not maintained, residential park. Close spaces, grass overgrown, could not put my chihauhau in pen to do business n pick up, they want you to walk dogs n poop was everywhere, no fire ring, not 1 light at night, no security, overpriced, no activities, will not be back, it's not up to KOA standards
Sep 11, 2021
Needs to mow the grass, do more upkeep on the premises, we were blocked in the entrance several times, needs traffic lanes more clearly marked, or more lanes for thru traffic.We expected more from KOA.. seemed run down that matched the trailer park next door... On a positive note, people were friendly, store was well stocked, bathroom and showers were clean and laundry was convenient...
Sep 09, 2021
Worst KOA. Husband had to pull weeds before he could hook up power. Site had dog poop in it. Needed alot of TLC. Most sites had long term families.
Sep 08, 2021
Always a great time! The staff is very knowledgeable and very considerate of campers! We love camping here and will be back!
Sep 08, 2021
The KOA staff was friendly. The campsite is small. We didn't like how close we were to our neighbors. This became an issue when the neighbors beside us were too loud singing karaoke after quiet hours. We called the KOA security and left a message but my husband had to ask the neighbors to quiet down. There weren't any real amenities except a pool and older dog park. It was okay but not great.
Sep 07, 2021
The groundskeeper needs to be fired!!! Potted plants everywhere, nothing makes sense! Flowerbeds are so overgrown with weeds you can't even hardly see them!! This campground has big potential to be a nice campground but not very well-kept at this time!! The pool is very nice though!
Sep 07, 2021
Fire rings were a little to close to campers not enough distance between neighbors. Very little cement area mostly sand and dirt around camper.
Sep 06, 2021
The camp ground was very well taken care of and bathrooms were very clean. If you need something in a pinch a gas station is right behind the store with a nice walking path to get there easily beside the pool area. Everyone who works there was friendly and were very helpful. It is a little noisy because of traffic, but nothing that a good pair of ear plugs will not take care of. Nice place.
Sep 04, 2021
Our site was extremely small. We couldn't even set up our chairs or have a campfire on our site. We did one night but only because no one was on the site next to us. Also, we put our trash out at the correct time and twice it was not picked up. The squirrels got into it and made a mess. We had to walk it to the dumpster.
Sep 03, 2021
Staff was friendly but the facilities need some TLC (weed-eating, shrubs cut back site 10 ex.).
Sep 01, 2021
Poor cable reception- need to work on system so that channels don't drop in middle of broadcast. Park needs cleanup - grass mowed and trimmed, bushes trimmed, cabins spruced up.
Aug 31, 2021
Not a place I will come back to, whole place is definitely not up to KOA standards. Some long term RV's in bad shape, trucks parked so road is not passable with RV, just a very poor RV park all around. Should not be a KOA.
Aug 30, 2021
Employees were friendly and helpful. A little better cleaning of sites and bathrooms would be nice. Remember the Airforce base is close by, so I had a daily air show!
Aug 29, 2021
Stayed one week. Staff friendly and helpful. Bathrooms looked old. Sites are not level and more gravel is needed. It rained all week and the uneven sites held the water. I was able to move to one of the few paved sites to get out of the water. Overall the camping area looks a little run down, The sewer pipe for my neighbor was in the bushes, the top part to my sewer pipe lifted out.
Aug 26, 2021
Very nice facility and friendly staff.
Aug 25, 2021
When we visit it was raining, the site was muddy with grass to our ankle. Apparently, they have a contract with a construction company, therefore all we had around us were workers, who get up at 6:00 am and do not care to engage in conversation. The trucks make large tire prints on the mud, which makes impossible to walk around and relax. The staff is friendly but dry.
Aug 24, 2021
Clean campground, very friendly staff.
Aug 24, 2021
Decent camp site, we did get a pull-thru site,l which made it easier for set up. The sites could be a bit wider, but it was nice being able to setup on asphalt instead of dirt. The campground is quiet. We have stayed at this location 2 times this year and have already made a few more reservations.
Aug 22, 2021
Real friendly staff, spacious site, recycling and plenty of doggie stations throughout the park.
Aug 22, 2021
Worst KOA campground we have ever stayed at!
Aug 22, 2021
Grass wasn't cut, campsite flooded, trash lying around, staff was friendly, in general not up to KOA standards, not a good value, small RV site foot print, felt unsafe to walk around? Our time in Charleston was fun though. It was hot and rained all week so that may have put a negative slant on our prospective? Cable TV didn't work but we didn't report it.
Aug 21, 2021
It was great! Clean, convenient, & the staff was friendly & accommodating. The only disappointment was that the pool was closed. Other than that it was a very nice park.
Aug 18, 2021
Had a great time. Site and campground all very clean. Friendly and accommodating staff. Would definitely stay here again.
Aug 17, 2021
Good stay with friendly staff. Entrance could be more appealing. At the entrance there is a mobile home park with people walking in and out during the day and night. Would feel a little better if this camp ground had a gate, but overall we had a good experience.
Aug 17, 2021
Would not recommend this place Unless you absolutely can not find anything else. Empty sites had trash still in fire pits, which was disrespectful from guest. Tall grassy areas, flooded sites, old beat up truck with a flat tire parked at an unused site. Trailer park shares same entrance with KOA, no gate, anyone can come and go as they want. Tall weeds and shrubs needed to be taken out. TLC NEEDED
Aug 15, 2021
This is a very clean campground. We have stayed there before, and plan to stay there again. It was going to be very heavy thunderstorms while we were there one day, and the campground sent around flyers to let all the campers know about the sever weather. I thought this was a very thoughtful thing for them to do.
Aug 15, 2021
Great Pull thru site,Friendly staff very neat and clean stop Thanks for the KOA Experience !!
Sep 18, 2021
Love this place. It's beautiful. They have nice level pads for your RV. They have a fenced in area for your dog to play. Lots of cable channels. The only drawback is slow internet. I would always come back here when staying in Ladson.
- Catherine Hrichak on Google
Sep 06, 2021
Clean bathrooms
- Wendell Bellazaire on Google
Sep 05, 2021
Very clean bathrooms. Staff is friendly and helpful. Easy to find off I -26.
- Michael Smith on Google