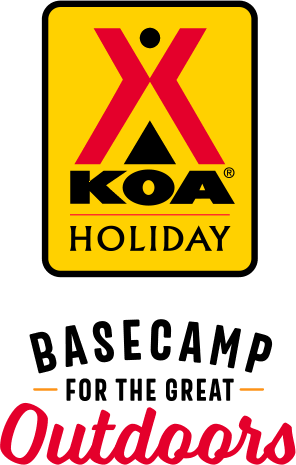 KOA Holiday Campgrounds
Whether you're exploring the local area or hanging out at the campground, KOA Holidays are an ideal place to relax and play. There's plenty to do, with amenities and services to make your stay memorable. Plus, you'll enjoy the outdoor experience with upgraded RV Sites with KOA Patio® and Deluxe Cabins with full baths for camping in comfort. Bring your family, bring your friends, or bring the whole group – there's plenty of ways to stay and explore.
KOA Holidays Feature:
RV Sites with a KOA Patio®
Deluxe Cabins with full baths
Premium Tent Sites
Group meeting facilities
Directions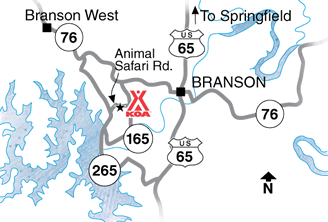 From Hwy 65: Exit at Hwy 76/Country Blvd. Go west 3.2 miles, turn south on Gretna Rd (at Titanic). Go through light at Green Mtn Rd 1/8 mile to Animal Safari Rd. Go west to KOA entrance. GPS: N36.628806, W93.285127
Get Google Directions
Jun 17, 2021
It was a very nice and well kept campground
Jun 17, 2021
Too many dogs allowed to roam around without a leash. WiFi marginal at best: Cable vision very poor: you can forget about using your satellite
Jun 16, 2021
It was great our spot was perfect !! We loved the pool. The hot tub was nice .The staff was friendly and we enjoyed our stay. We will stay again.
Jun 16, 2021
Very clean and quiet. Friendly staff.
Jun 15, 2021
Loved having the kids taking care of our dogs while we were out during the days!
Jun 15, 2021
Only issue was we were all three campers were not together as we requested
Jun 15, 2021
Nice park, great amenities, awesome breakfast option with 2 great breakfast hosts! Pool was great but needs attention. Steps to both ladders need tightened and are slippery as is pool bottom which indicates not enough chemical for all the sun screen being used. Install stairs with railing for older people (cheap on Amazon). Signage on slide for your liability suggested. We had an amazing trip!!!
Jun 15, 2021
We had a great time here. Yeah the sites were a little small but we weren't at our camper very much anyway. The staff was extremely friendly and helpful. Breakfast was great. The kids loved the pool and the ice cream selections. We will be back.
Jun 15, 2021
Everything was fine.
Jun 15, 2021
Staff was very accommodating and friendly. They offered booking services and went out of their way to make our stay enjoyable.
Jun 15, 2021
A lot of amenities available. However, the pool was small and always crowded so we did not get to go during our stay. Outdoor areas beside camper sites were very small and camping sites were very close together. We actually left a day early to move to a better campground in the area.
Jun 15, 2021
People were very nice and helpful.
Jun 15, 2021
The only criticism we have is their lack of good internet service -WiFi. Their response was they have a lot of guests online. Well the solution to that is a bigger server and faster high speed service. The KOA has about 185 slots plos canins. In this age of technology there is no excuse for bad WiFi. Just being cheap. Also lots of leveling is required for RVs due to spaces not being very level.
Jun 15, 2021
Great amenities sites are little small and hard to level
Jun 15, 2021
Nice KOA. The managers were constantly working to keep the park cleaned up and in good order. Convenient to all things Branson.
Jun 14, 2021
Nice campground with nice amenities. Camping spots are a little small and narrow however, especially for the bigger rigs. Overall, however, good campground and nice staff.
Jun 14, 2021
Did not realize the campground was so much hills Small campsites, barely could open the door and set at picnic table I have never had a premium site so small Never stay there sgain
Jun 14, 2021
The campsite was not as described on the web page was not wide enough for our camper and there was not a level spot to even sit outside. The staff was not helpful in resolving the issue. The picnic table sits at as 45 degree angle and was unusable. Very disappointed in the campground. There were others in the campground that also said that they did not get what they expected.
Jun 14, 2021
We felt like we were packed in like sardines, way to crowded and the spots are mostly gravel and had no fire pit so cooking outside is virtually impossible unless you're cooking for 1 or 2. We had electrical issues and no one there knew anything about it and were very unhappy. I will not stay at this campground anymore!
Jun 14, 2021
We had signed 031 and our only issue was the pad looks to have been repaired to where it was about 3 to 4 inches higher than the concrete picnic table area, a definite fall hazard as it adds almost an extra step getting in and out of your rv. I would recommend a safety look at to see if the concrete area could be covered with asphalt too to level with the pad or to at least make it a slope.
Jun 14, 2021
We had a great stay! The staff went above and beyond for us and we had the perfect spot for our family needs. We'll definitely be coming back.
Jun 13, 2021
Awesome site was assigned with our late arrival. It was shady and had a swing with the extra paved area. Only drawback would be we did not see any restrooms or showers on our side of the campground. Very friendly staff!
Jun 13, 2021
Great campground! Very nice staff. Pool area was very clean and plenty of chairs and shade. The only issue we had was with wifi, spotty and slow. Other than that great campground.
Jun 13, 2021
The staff very friendly, however we didn't ask for anything other than the Internet which was awful at best. They need Fiber to accommodate the campers and kids. Everyone today wants to stream things and kids are gamers which uses up all the bandwidth. For what they would pay to remedy this would pay back a hundred fold. Happy campers means return customers, and new guests.
Jun 13, 2021
As always very pleasant. Enjoyed the breakfast at the club house but would like to see scrambled eggs added. Good location to explore from
Jun 13, 2021
Campground is in a Awesome location to table rock and all Branson has to offer Breakfast from Thursday- Sunday is nice do to leave campground Staff friendly and welling to help with whatever you need
Jun 13, 2021
An overall great KOA! The sites were very small and cramped but some of the upgraded spots looked very cool; if we go again we'd book the awesome end site with a big wood deck! The pool was super fun with a water slide that my kids loved!
Jun 13, 2021
Very nice and very clean...very friendly staff
Jun 13, 2021
Dean at the front desk was great…I would have given 5 stars if I could have paid for my propane by the gallon as opposed by the tank.
Jun 12, 2021
Very nice campground. Eveythibg was clean and the staff was very friendly. The sites were on the smaller side, but we came to explore Branson and didn't need a large site.
Jun 12, 2021
Great facility. Well maintained. Clean restrooms. Only downside was small sites.
Jun 12, 2021
Super place to stay. Lots of things to keep the kids entertained and close to downtown!
Jun 12, 2021
In a 43' and our site was at least 1foot out of level front to back and 4 to 6 inches right to left. Had to deflate air bags completely and jack the nose of coach until tires were 8 inches of the ground. Blocked underneath them for stability leaving steps 18 inches to the first. Also it was not the lot I was told I be in.
Jun 12, 2021
Thank you so much for a wonderful stay. We can definitely tell you take pride in your property and guests. We will be coming to visit again for sure. Thanks for the fantastic memories with my kids. The Reilly's
Jun 12, 2021
Wonderful stay :)
Jun 11, 2021
The Branson KOA Holiday is a great place to camp! They have a pool and hot tub, along with a nice playground. The staff is very friendly and they take great care of of them campground. The pancake breakfast is a must!! This campground is also so close to all that downtown Branson! Be sure to check out the Branson craft mall that is right across the street!
Jun 11, 2021
Very nice place , friendly staff meet you when you pull in. Take you to you spot. Clean . Nice pool. Close to everything.
Jun 11, 2021
This was our second stay here at the Branson KOA and we already have reservations for our next stay at the end of the month. The breakfast is really good. The only problem we had was not able to get our camper level in the spot we were in.. But partly our fault for having only our plastic levelers with us and not our wood planks.. Looking forward to our next visit. :-)
Jun 16, 2021
Great staff and showers!
- Hot Dog Professor on Google
Jun 01, 2021
Nice level spot, secluded and quiet
- Russell Kiewel on Google
Jun 14, 2021
Great customer service for our late, non reserved visit. Tent spots are few, but we'll maintained. Ground is 100% gravel covered at tent placement site, hammer fur spikes is necessary. No in-ground fire pit, just a small standing permanent grill for charcoal; is unsteady so will have to see how easy it is to cook without falling off. Does have electric outlet and nice covered picnic table. Nice pool and bath house.
- Jamille Twedt on Google