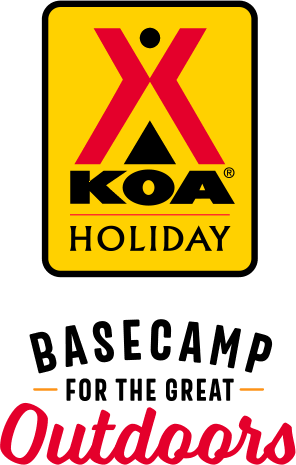 KOA Holiday Campgrounds
Whether you're exploring the local area or hanging out at the campground, KOA Holidays are an ideal place to relax and play. There's plenty to do, with amenities and services to make your stay memorable. Plus, you'll enjoy the outdoor experience with upgraded RV Sites with KOA Patio® and Deluxe Cabins with full baths for camping in comfort. Bring your family, bring your friends, or bring the whole group – there's plenty of ways to stay and explore.
KOA Holidays Feature:
RV Sites with a KOA Patio®
Deluxe Cabins with full baths
Premium Tent Sites
Group meeting facilities
Directions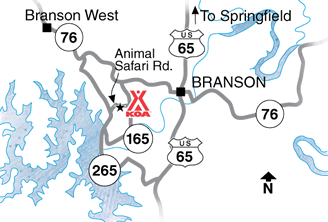 From Hwy 65: Exit at Hwy 76/Country Blvd. Go west 3.2 miles, turn south on Gretna Rd (at Titanic). Go through light at Green Mtn Rd 1/8 mile to Animal Safari Rd. Go west to KOA entrance. GPS: N36.628806, W93.285127
Get Google Directions
Sep 16, 2021
Nice campground, very clean, friendly staff, great breakfast, we had a Luxury Patio site very nice and shaded, level too. really liked the vintage RV's that were there the weekend we stayed. Close to the Branson attractions but not so close that it was noisy, nice place!
Sep 16, 2021
Mostly good. Is a clean park close to Branson activities. The cable system is analog and not digital. At times the stations are so grainy that you cant see the program. For the $95 I paid for a premium site, I expect the cable system to work. The owners need to get their cable company put there and fix it. We were there for 4 days, and in 4 days they did not refill the pet waste bags...
Sep 15, 2021
We were there for the Vintage Camper Rally. Every year they make sure we are all well taken care of. The Saturday night dinner and entertainment was amazing. Greg and Scott are always welcoming and friendly. We will definitely be back next year.
Sep 15, 2021
The mattress in the cabins is the worst I have ever experienced and I retired from staying in hotels all my life, They need replaced with a quality one ASAP. The cable TV is too unbelievable to even discuss. Other than those 2 issues, would be 5 stars.
Sep 15, 2021
Wi Fi offered in brochure but very very little available. same with all but one KOA we have stayed at for the last 5,000 miles traveling thru the central states. they all offer wi fi but so weak, why bother. what's up?? couldn't even ck our mail! we send pictures back from mars in seconds, but can't get a strong wi fi signal in our KOA campgrounds! Streaming is impossible. otherwise, nice
Sep 14, 2021
Went for the vintage camper rally. Everyone is extremely nice and helpful.
Sep 14, 2021
We had a great time. The staff was nice. The main bath was not cleaned all weekend.
Sep 14, 2021
We had a great time. breakfast was great and event with dinner was very nice. Employees were very helpful and we can't wait to come back next year!
Sep 14, 2021
Outstanding and excellent will recommend to all my friends. No complaints Thank you will be back every chance we get. Thanks
Sep 14, 2021
Staff was very friendly and professional. Park was clean, decorated for fall and well maintained.
Sep 14, 2021
We will always stay here when we come to Branson. It is close to all the attraction. We love KOA!
Sep 13, 2021
Once again we had a wonderful time at the vintage trailer rally sponsored by this KOA hosts. We love the breakfasts, Saturday dinner and the entertainment . The owners and employees are all so friendly. My only complaint was that I don't think the bathrooms were cleaned the whole 3 days we were there. I mentioned that the paper towels were out and they were replenished, but left on the counter.
Sep 13, 2021
Great location. Wonderful staff and well kept grounds.
Sep 13, 2021
Highly recommend KOA Branson. Very clean and I was very impressed that there was always a staff member touring the park. Very seldom do you see any team members after you check in.
Sep 13, 2021
Friendliest office staff at any KOA we have stayed at. Clean facilities, even the k9 Kamp! All paved roadways that are actually wide enough for campers. We loved it. This one offers breakfast, but we did not have a chance to enjoy it with all of our other plans.
Sep 13, 2021
campground was nice enough, hilly, road in the back was extremely noisy, they did a nice job with the rally, probably come back,
Sep 13, 2021
I love the KOA! The staff is so friendly and accommodating. Definitely have the best bathrooms. Favorite place to stay in Branson
Sep 13, 2021
We love the Branson KOA! The location is perfect. The staff always incredibly friendly! We can't wait to stay again!
Sep 13, 2021
Very clean. Friendly staff.
Sep 13, 2021
Showers were the cleanest I have ever seen. Could use more though. Breakfast was great and convenient. Great staff. Had a great time at the vintage camper rally. Entertainment was great.
Sep 13, 2021
Best time and a great staff. My favorite koa to stay at.
Sep 13, 2021
Campground is GREAT. Very clean, friendly staff, really nice camp sites.
Sep 12, 2021
NIce campground; clean and well organized. Excellent staff with friendly managers. Had an electrical issue with the pedestal ... called manager at 9:30 p.m. and he arrived shortly temporarily resolved the issue until he could return in daylight for a permanent fixed. He did just that and all was well by 10 a.m. the next morning, Very professional!
Sep 12, 2021
Somewhat difficult to get to from Highway 65 but once we arrived, we really liked the park. Very adequate number of showers and restrooms. Nice staff.
Sep 12, 2021
The staff and location were outstanding! We had such a great time that we will back again for thanksgiving. We are very glad we decided to book here. ThNk you for having such wonderful service!
Sep 12, 2021
Stayed 4 nights with our 4 kids and loved this place. Friendly and helpful staff, clean and attractive facilities, and a well cared for property. Great location for being in and around all Branson has to offer. We will definitely be back.
Sep 12, 2021
My Stay was Perfect until I accidentally ruined my Awnings on a tree… But here comes the perfect part… Three men from the KOA park came to the rescue!… They secured my damage awnings (Again my Fault) And allowed me to continue on with my trip… What a wonderful group of people that I met here at the Branson KOA Holiday!!! Tom G
Sep 11, 2021
Friendly staff. Grounds well maintained. Good location. Coin changer in laundry room would be helpful. Small number of showers, but in great condition.
Sep 11, 2021
Our stay was short, only 3 nights but good. Facilities were clean and in good condition. Staff was very friendly and helpful.
Sep 11, 2021
we enjoyed staying very nice camp ground and excellent staff
Sep 11, 2021
Very nice park. The best site 077 well worth the extra $$.
Sep 11, 2021
We enjoyed our stay. Close to entertainment but you feel like your in the woods. Would definitely stay here again ����
Sep 10, 2021
Clean place, good location
Sep 10, 2021
Our 1st RV site was so unlevel we had to ask to be moved. Our front tires were 4 inches off the ground, still unlevel and unsafe for a 32,000 lb vehicle. The 2nd site was also unlevel but not as bad. Our neighbor came in at the 2nd site, his slides were 3" from ours. Staff parked us backwards, utilities had to run under the coach. We were more then willing to pay for a larger site!!
Sep 10, 2021
it was a nice campsite, with the dog park and the play area. A little too crowded actual site. Our friend's site was on a slope, they could not get it leveled. We only stayed 2 nights. More positive than negative.
Sep 10, 2021
Great place, great people.
Sep 10, 2021
It was great easy to get to every thing
Sep 09, 2021
Stayed 3 nights. It was not what I expected. Advertised as having a deck and level pad (not!). The sewer connection was uphill making it hard to drain. Just not what I expected from the advertisement
Sep 09, 2021
Our stay was great as always. The staff is always so friendly. The location is great. I was a little surprised when I was charged for our dog. We have stayed here many times and never been charged-and it wasn't on our reservation. She is a small cairn terrier. I didn't notice when we registered I did leave a message and am waiting to hear if this is their new policy.
Sep 09, 2021
Really enjoyed our stay. Park was clean, well organized and quite. Staff was very supportive and assisted greatly when we had car trouble and needed extra space.
Sep 09, 2021
Deluxe cabin had a musty smell in it, very poor tv reception. Not what I expected for a $200+ a night cabin.
Sep 08, 2021
Very friendly, lots to do, huge park close to many attractions!
Sep 13, 2021
We stayed at the Branson KOA this weekend for the vintage camper rally and had a great time. Staff and other campers were friendly. Clean facilities and a nice pool! Thanks!
- Crystal Keen on Google
Aug 31, 2021
Good morning from the trailer park/ Branson KOA Holiday! Ever wanted to feel taller? Here the ceiling is barely 6' — you're practically a giant. But let's talk about the built in amenities. This place comes with your very own sauna! Granted it's a bit cramped, and you'll have to balance on the toilet seat to sit. When you're ready to rinse off just hop back into the shower — well, don't hop, the ceilings lower here so watch your head. Want to get close to nature? You've come to the right place! No screens on this porch to get between you and the wildlife! Just dust off your chair and take a gander at your view. Those are authentic Missouri weeds! Now you might be a bit nervous that you're out here alone in the wilderness — after all the wifi connection doesn't reach you and you haven't seen that much snow on a TV since 1972, but fear not! Just look to your left and there is your neighbor Ted, wave hello! He's enjoying his sauna too. If you wished you'd gone to Silver Dollar City for some rides - we got you! We don't attach your bed to the headboard like those woosies at hotels! No sir! Every time you turn or roll, your bed will slide too and fro. The excitement doesn't end there — those of you who enjoy the chill of spooky rides we got you covered - or uncovered … your vintage a/c unit that's now working at it's best, is aimed right at your tuchus. To be sure you don't miss out on this thrill, your quilt is 1/2 size too small for your bed. Optionally included: Lysol for the mold.
- N on Google
Jun 29, 2021
Loved our short stay here. Getting to it in a large rig was a bit challenging and not all lots super level but great peeps and all the KOA comforts
- Michael King on Google