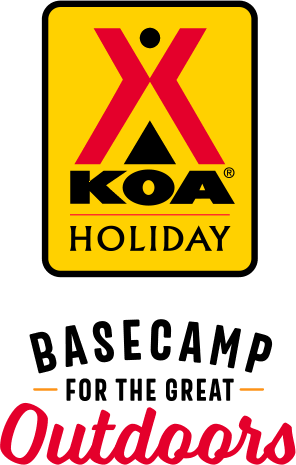 KOA Holiday Campgrounds
Whether you're exploring the local area or hanging out at the campground, KOA Holidays are an ideal place to relax and play. There's plenty to do, with amenities and services to make your stay memorable. Plus, you'll enjoy the outdoor experience with upgraded RV Sites with KOA Patio® and Deluxe Cabins with full baths for camping in comfort. Bring your family, bring your friends, or bring the whole group – there's plenty of ways to stay and explore.
KOA Holidays Feature:
RV Sites with a KOA Patio®
Deluxe Cabins with full baths
Premium Tent Sites
Group meeting facilities
Directions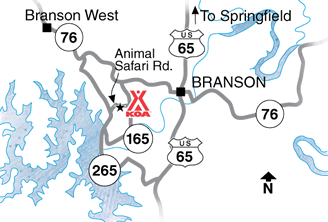 From Hwy 65: Exit at Hwy 76/Country Blvd. Go west 3.2 miles, turn south on Gretna Rd (at Titanic). Go through light at Green Mtn Rd 1/8 mile to Animal Safari Rd. Go west to KOA entrance. GPS: N36.628806, W93.285127
Get Google Directions
Dec 01, 2020
It was very thoughtful of you all to put us in a cabin at the end of the row. I loved looking out into the woods! I read about all the extra things you do for campers if it wasn't for this stupid COVID. We would love to come back during normal times. Thank you and God Bless you all.
Nov 30, 2020
Very clean. Hosts super attentive and friendly. All facilities very nice. Great location to all the activities of Branson. Park had some trees. We would return!!!
Nov 30, 2020
Very close to the strip! Very clean and tons of bathrooms. Everything was wonderful. Will stay her for future trips to Branson!
Nov 28, 2020
Enjoyed our stay. Will be back next year!
Nov 28, 2020
We had a great time. Staff was friendly. Great place for the pups to run around at the K9 park. The grounds were kept clean! Overall it was a great time!
Nov 28, 2020
Nice people very clean
Nov 24, 2020
We are frequent guest at the Branson KOA. We love this park and look forward to our visits.
Nov 24, 2020
Arrived late, heavy rain. Packet ready and waiting. Clean, accessible restrooms/ shower houses throughout park. Opportunity to visit with grounds keeper who was out and about early collecting trash and checking in on campers after storm the night before. Well run establishment.
Nov 23, 2020
We arrived late and the staff had everything ready for us. The site and bathrooms were very clean.
Nov 20, 2020
Clean park. Close to everything that you need to see and do. We enjoyed our stay there
Nov 18, 2020
Always a good stay, very clean and well kept. Good people
Nov 18, 2020
Nice and clean, my favorite place to stay in Branson
Nov 16, 2020
Very nice and clean, good level sights and very friendly staff. A great place to stay while in Branson!
Nov 16, 2020
Very, very cold showers, no heat in the bathrooms at all and the water kept turning cold while showering. I asked to be put close to rest rooms and dog park. Distance to bathrooms wasn't to bad, but dog park was almost on the opposite side of park. Navigating was difficult, got lost every time we left or returned. I will not return here. 8 KOAs in 14 days this was the worst.
Nov 16, 2020
VERY ENJOYABLE
Nov 16, 2020
GREAT TIME WITRH THE GRANDKIDS
Nov 16, 2020
Very nice park, friendly staff, great location!
Nov 14, 2020
The people were very accommodating and friendly. The park was extremely well maintained.
Nov 13, 2020
Very clean,close to everything to do in Branson,staff is very friendly and informative,love the atmosphere there
Nov 11, 2020
Very helpful and knowledgeable. Clean and comfy.
Nov 11, 2020
great stay, you were out of propane
Nov 11, 2020
Friendly staff... sites are small. I chose a "premium" site. 40ft. 5th wheel w/4slides, Ram daully; the "premium" site barely had room for my camper! No amenities other than a picknick table that took up what little space remained on the site. Was NOT worth the $$$!
Nov 10, 2020
We had a great time staying once again at your Branson KOA. This was our first trip to Branson in our new Momentum Toy hauler which is 39 feet long and the deluxe drive thru campsite worked great for us with ample space to park the truck.
Nov 10, 2020
It was a very nice KOA near a lot of attractions. The staff in the camp store were very helpful. A really large fire pit which we used and enjoyed. Would stay there if I go back to Branson.
Nov 09, 2020
Nice place ,very convenient nice people
Nov 09, 2020
They have the best staff.
Nov 08, 2020
Beautiful time to stay. Color change of trees was beautiful but sure kept the guys busy keeping up with the leaves. Friendly staff all around.
Nov 08, 2020
Wonderful people. Very nice campground!!!
Nov 08, 2020
The sites were so un level it was impossible to get my unit level. And because you were out of propane, we had some very cold nights,.
Nov 08, 2020
Awesome staff
Nov 06, 2020
The entire staff made my stay very enjoyable.
Nov 04, 2020
Very nice check in especially since we were early!!! Nice food for our catered dinners during the rally and friendly personnel. Park is very clean and organized well
Nov 04, 2020
Koa is very clean. Close to everything. We had late arrival and all information was out on clip board
Nov 03, 2020
Beautiful and clean campground with very friendly staff.
Nov 02, 2020
Great site, clean, friendly
Nov 02, 2020
We had an enjoyable stay in site 36. My only complaint is when it stormed an rained three different times a tree limb kept banging on top of our camper. Please trim the tree limbs up a little higher. We have a 42ft fifth wheel.
Nov 02, 2020
It was great
Nov 02, 2020
The people and staff always goes beyond to make sure your stay is the best anyone could ask for.
Nov 01, 2020
Spent a week at this KOA. Had a problem finding a site that was flat. (We do not have a leveling system on our 24 ' motorhome. Staff was very helpful in trying to provide a flat site. Ended up in a back-in, but the area around it was gravel. Learned that the Premium sites are flatter and will select one of those the next time we stay. Restroom/Shower areas have been updated and are very nice.
Nov 29, 2020
Great place!!! Very nice staff. Super clean. Lit up at night and welcoming!
- Gary Blodgett on Google
Nov 29, 2020
Wonderful friendly staff. Cabin was very nice, comfortable bed, and very cozy fireplace.
- Lisa Bourque on Google
Nov 03, 2020
excellent sites friendly staff, large meeting rooms
- Stephan Guy on Google