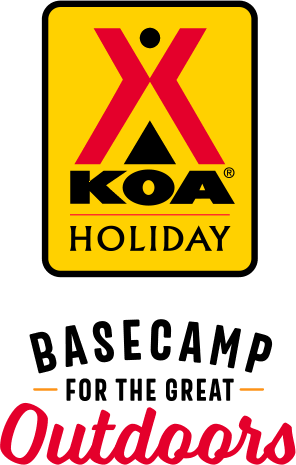 KOA Holiday Campgrounds
Whether you're exploring the local area or hanging out at the campground, KOA Holidays are an ideal place to relax and play. There's plenty to do, with amenities and services to make your stay memorable. Plus, you'll enjoy the outdoor experience with upgraded RV Sites with KOA Patio® and Deluxe Cabins with full baths for camping in comfort. Bring your family, bring your friends, or bring the whole group – there's plenty of ways to stay and explore.
KOA Holidays Feature:
RV Sites with a KOA Patio®
Deluxe Cabins with full baths
Premium Tent Sites
Group meeting facilities
Directions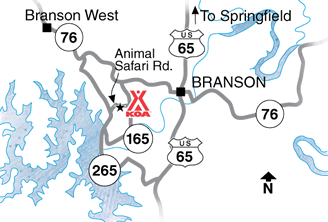 From Hwy 65: Exit at Hwy 76/Country Blvd. Go west 3.2 miles, turn south on Gretna Rd (at Titanic). Go through light at Green Mtn Rd 1/8 mile to Animal Safari Rd. Go west to KOA entrance. GPS: N36.628806, W93.285127
Get Google Directions
Jan 12, 2021
We stayed during off season winter in January. The staff was extremely helpful and friendly and the campground was well maintained with a nice patio area and level pull through campsites that made parking a breeze. There are nice mature trees and bushes that feel very cozy. I will be staying here every time I visit Branson.
Jan 05, 2021
The place was fantastic- clean, tons of amenities. The staff was GREAT. Jean and crew were very helpful and accommodating. As full timers, this is one of our favorite campgrounds. Highly recommend.
Jan 04, 2021
Only issue we had was having no Wifi. called and spoke to the front office several times with no resolution. we will definitely stay here many more times. very clean and quiet, close to everything bet far enough away to have that wonderful feeling we all know and love
Dec 28, 2020
Very nice campgrounds. Immaculate bathrooms. Only thing is couldn't figure out where campers where getting fire pits because I thought they wasn't allowed last year when I asked.
Dec 28, 2020
Awesome stay! Hostesses went out of their way to assist us when the water in our RV froze. We were near the main strip and in close proximity to nearly all attractions.
Dec 26, 2020
Always excellent care given to us while we are "home" at our KOA!
Dec 25, 2020
The campground was really clean. Staff were friendly and helpful. Close enough to the main drive for easy access to all the shows and attractions.
Dec 24, 2020
Great place, close to everything
Dec 20, 2020
We arrived around 8pm. The voice meesage said to get the form pick a spot and come register before 11 am. So, I was extremely surprised when a lady came to my door pushing 9pm and said I had to fill it out now. ��� I was half dressed getting ready for bed. I am not happy with this experience
Dec 15, 2020
Love staying here...so peaceful and very nice staff. Beautiful views and campground
Dec 13, 2020
Staff was pleasant and helpful
Dec 13, 2020
They were as nice as always we love to stay at Branson KOA. Even with the Virus they did a great job taking care of us.
Dec 10, 2020
Very nice KOA....clean.....in good shape.. The lady was very nice in the office.. Jeff was a great guy....helpful.. Convenient to everything.. Really enjoyed our time there.. Thank You, Missouri, for the beautiful weather for our "HONEYMOON"....
Dec 09, 2020
Great location, clean park, friendly and helpful staff!!
Dec 07, 2020
We really like coming to Branson KOA.The workers are real nice an very happy to help in anyway. It is in a great location. GoPro go back in the spring
Dec 02, 2020
had a pipe leak in our cabin. was given the option to move to another cabin. no heat except for a space heater. which worked,ok. granted, it was a holiday weekend so at least we were fortunate that another cabin with a bathroom was available. we love this koa and have stayed here in our camper numerous times. we are looking forward to coming back in the spring. it was decorated so cute as well.
Dec 02, 2020
Great visit, but the WIFI was not working good
Dec 01, 2020
It was very thoughtful of you all to put us in a cabin at the end of the row. I loved looking out into the woods! I read about all the extra things you do for campers if it wasn't for this stupid COVID. We would love to come back during normal times. Thank you and God Bless you all.
Nov 30, 2020
Very clean. Hosts super attentive and friendly. All facilities very nice. Great location to all the activities of Branson. Park had some trees. We would return!!!
Nov 30, 2020
Very close to the strip! Very clean and tons of bathrooms. Everything was wonderful. Will stay her for future trips to Branson!
Nov 28, 2020
Enjoyed our stay. Will be back next year!
Nov 28, 2020
We had a great time. Staff was friendly. Great place for the pups to run around at the K9 park. The grounds were kept clean! Overall it was a great time!
Nov 28, 2020
Nice people very clean
Nov 24, 2020
We are frequent guest at the Branson KOA. We love this park and look forward to our visits.
Nov 24, 2020
Arrived late, heavy rain. Packet ready and waiting. Clean, accessible restrooms/ shower houses throughout park. Opportunity to visit with grounds keeper who was out and about early collecting trash and checking in on campers after storm the night before. Well run establishment.
Nov 23, 2020
We arrived late and the staff had everything ready for us. The site and bathrooms were very clean.
Nov 20, 2020
Clean park. Close to everything that you need to see and do. We enjoyed our stay there
Nov 18, 2020
Always a good stay, very clean and well kept. Good people
Nov 18, 2020
Nice and clean, my favorite place to stay in Branson
Nov 16, 2020
Very nice and clean, good level sights and very friendly staff. A great place to stay while in Branson!
Nov 16, 2020
Very, very cold showers, no heat in the bathrooms at all and the water kept turning cold while showering. I asked to be put close to rest rooms and dog park. Distance to bathrooms wasn't to bad, but dog park was almost on the opposite side of park. Navigating was difficult, got lost every time we left or returned. I will not return here. 8 KOAs in 14 days this was the worst.
Nov 16, 2020
VERY ENJOYABLE
Nov 16, 2020
GREAT TIME WITRH THE GRANDKIDS
Nov 16, 2020
Very nice park, friendly staff, great location!
Dec 28, 2020
Very nice campgrounds, within 5 mins of hwy 76. The best bathrooms and showers.
- Jim Goodman on Google
Nov 29, 2020
Great place!!! Very nice staff. Super clean. Lit up at night and welcoming!
- Gary Blodgett on Google
Nov 29, 2020
Wonderful friendly staff. Cabin was very nice, comfortable bed, and very cozy fireplace.
- Lisa Bourque on Google