Local Area Attractions Near Branson KOA Holiday
Branson offers entertainment for all ages. Check out some of the local area attractions designed to have something for everyone!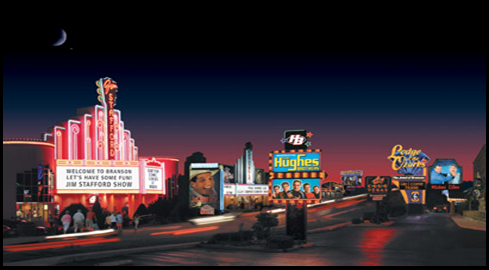 Show Capital of the World
Branson is "the Show Capital of the World" featuring over 100 shows a day at 45 theatres offering every array of music and entertainment. You can find Country, Motown, Rock 'n' Roll, and Broadway to name a few. Laugh your Yakov with numerous comedians, magicians, ventriloquists and more.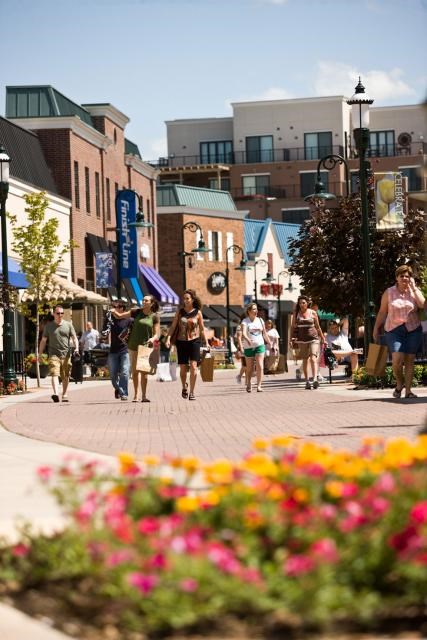 Branson Landing
Where the adventurous shop, dine, and play. Discover uncharted waterfront shopping, dining and entertainment adventures at Branson Landing, located on the waterfront of beautiful Lake Taneycomo in downtown Branson. Visit Branson Landing online, where you will have a whole new world to explore, with Belk Department Store, Bass Pro Shops and over 100 specialty stores and restaurants, PLUS... our magnificent $7.5 million water fountain spectacular, synchronized to light, sound, music and fire!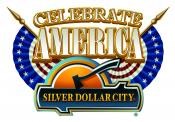 Silver Dollar City
Discover the adventures of a Branson vacation when you visit Silver Dollar City, where you step back in time to an 1880's craft village filled with the best crafts, thrill rides, family attractions and festivals. The park hosts bluegrass festivals, craft festivals, family festivals and a Christmas festival against the backdrop of the Ozark Mountains in scenic Branson, Missouri.
399 Silver Dollar City Railroad
Branson, MO 65616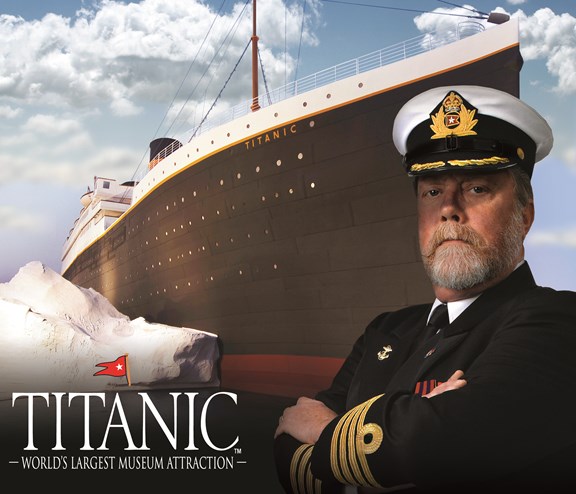 Titanic Museum
Expect to see the Titanic in a whole new light. Unlike traveling exhibits, Titanic Branson is a permanent two-story museum attraction shaped like the Titanic herself. This astounding, signature building was built half-scale to the original. Towering 100 feet above Country Highway 76, it holds 400 priceless artifacts in twenty galleries. The structure is anchored in water to create the illusion of the Titanic at sea, and the 90-minute, self-guided tour is designed to give guests the sensation of being an original passenger on Titanic's 1912 maiden voyage.
3235 W 76 Country Blvd
Branson, MO 65616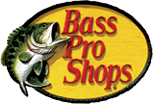 Bass Pro Shop
The Granddaddy of all sporting good stores has fun for the entire family. Fishing, fly fishing, footwear, golf, marine, camping, clothing, hunting, and gifts. Daily fish feeding shows while you're there. Also, check out the Wonders of Wildlife, a fish and wildlife museum. Just 30 minutes from the Branson KOA.
1935 S Campbell Ave
Springfield, MO 65807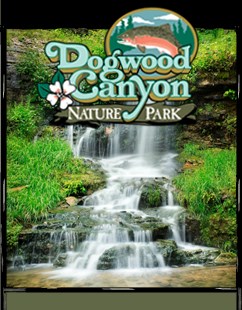 Dogwood Canyon Nature Park
Many opportunities await you within this amazing 10,000 acres slice of unspoiled Ozark paradise. Enjoy trout fishing, tram tour, horseback rides, private jeep tours and stay in their log cabins.
2038 Missouri 86
Lampe, MO 65681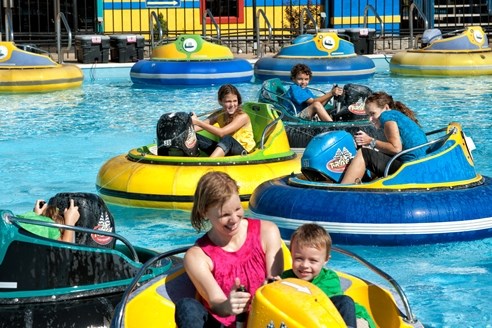 Kid Friendly
There are three major amusements parks, numerous mini-golf courses, go-cart tracks, and bumper boats to keep the kids entertained.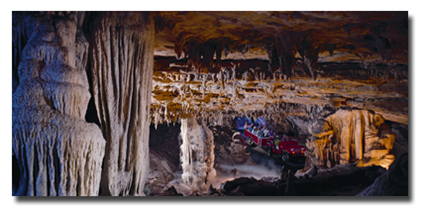 Fantastic Caverns
You'll see the beauty of the Cave close up, from the comfort of a jeep-drawn tram. No walking is required during the mile-long tour of Fantastic Caverns. So come on and Discover the timeless beauty of Fantastic Caverns.
4872 N Farm Road 125
Springfield, MO 65803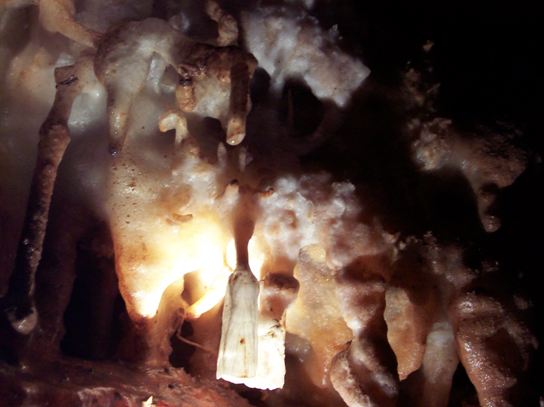 Cosmic Cavern
Come and enjoy the "warmest" cave in the Ozarks, with high humidity and always 62 degrees, it feels warmer. One of America's Top Ten must see Show Caves.
6386 Arkansas 21
Berryville, AR 72616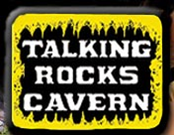 Talking Rocks Cavern
Come Discover the Experience and Make Memories for a Lifetime! The cavern is located just a few minutes from the KOA.
423 Fairy Cave Lane
Branson West, MO 65737
The Shepherd Of The Hills Outdoor Theatre
America's Most Performed Outdoor Drama! The Shepherd of the Hills is a wonderful reminder that good can conquer evil, and that heroes really do exist.
5586 Missouri 76
Branson, MO 65616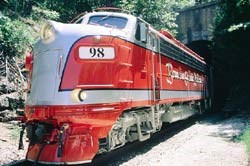 Branson Scenic Railway
Enjoy a 40-mile round trip excursion through the Ozark foothills. Relax and get away from it all. Listen to narrated stories about the history of the railroad, its communities and each piece of equipment in the consist.
206 E. Main Street
Branson, MO 65616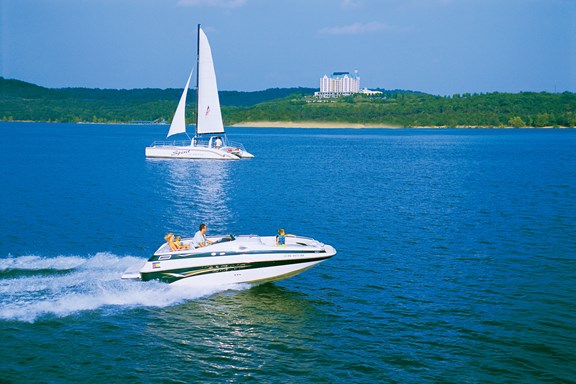 Table Rock Lake -- boating, fishing, parasailing
Rent our pontoon boat to explore the lake!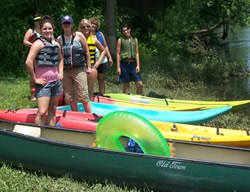 Kayak @ Table Rock Lake
Discover for yourself why kayak touring is one of the fastest growing sports in America. The boats are stable, fast and easy to maneuver. The Ozarks provides the right atmosphere to safely get beginners and seasoned paddlers alike on the water. Every paddle begins with a personalized mini-clinic from your guide to get you familiar with the boats and equipment. They also offer cycling and multi-day kayak camping.
Table Rock Lake & Pontoon Boat Rental
Love the water but hate to drag the boat? RENT OURS! We have a 24' pontoon boat for rent. Enjoy two world class lakes within a short drive from Branson KOA: Table Rock Lake for great boating, swimming or fishing and Lake Taneycomo for world class fishing. Ask about our rates for a 1/2 day, full day or all week.
318 Nautical Cr
Kimberling City, MO 65686

Dewey Short Visitors Center
Located 1 mile from the Branson KOA, the Dewey Short Visitors Center lets one learn about the beautiful Ozark countryside. While in the visitors center don't miss the film The La Riviere Blanche (the White River). The film also illustrates the building of Table Rock Dam, and is a wonderful prelude to the tour of the dam.
4500 Missouri 165
Branson, MO 65616

Wine Tour
Make it a day and visit all of Branson's wineries: Stone Hill, Mt. Pleasant and Lindwedel. All offer unique wines and juices, some native to Missouri.
Precious Moments Chapel Center
Visit the place where Precious Moments were created. Take a tour of creator Sam Butcher's historical Chapel.
4105 S. Chapel Rd
Carthage, MO 64836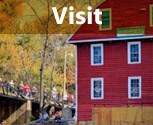 The War Eagle Fair
War Eagle Mill is the site of the Ozarks' #1 Arts and Craft Fair. Starting in mid-October, when the trees start to turn colors of fall, over 500 exhibitors will attract more than 100,000 visitors to the four-day fair.
11036 High Sky Inn Road
Hindsville, AR 72738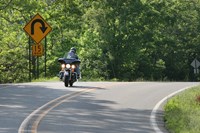 Motorcycle Tours
Bring your motorcycle and check out these great rides: Table Rock Lake Circle, Scenic Route to Eureka Springs, Peel Ferry Ride, Pig Trail & the Arkansas Scenic Byway, and Chadwick-Mark Twain National Forest Ride. Ask in the office for maps of these great rides and others.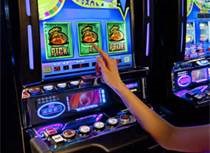 Casino Tours
Downstream Casino Resort: From the newest slot machines on the market to traditional table games, a stylish poker room and a fast-paced race book, Downstream Casino Resort's vast gaming floor offers something for everyone. How it works: You pay $20 before departure to Downstream Casino Resort. When you arrive you will receive $20 in play money from Downstream Casino Resort. So your total cost of transportation is $0...zero, zilch, nadda, nothing! What a deal!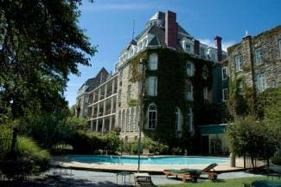 Eureka Springs
Throughout its long and colorful history, Eureka Springs has been described as a land of glamour, health, and scenic splendor. Take a walk back in time in this Victorian city, with activities for the entire family. Shopping, horse drawn carriage rides, the Eureka Springs Railroad, art, spa's, and weddings are just some of the things one can do while in Eureka Springs. Just 45 minutes from the Branson KOA.