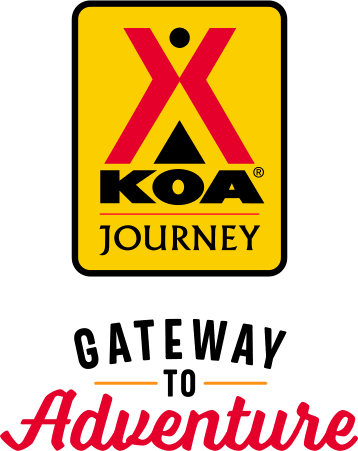 KOA Journey Campgrounds
KOA Journey campgrounds are the perfect oases after a day on the road. Whether it's along the way or a quick getaway, they've got you covered. Located near the highways and byways of North America with long Pull-thru RV Sites, they deliver convenience to the traveling camper. Pull in, ease back and take a load off.
KOA Journeys Feature:
Pull-through RV Sites with 50-amp service
Premium Tent Sites
Well lit after hours check-in service
Directions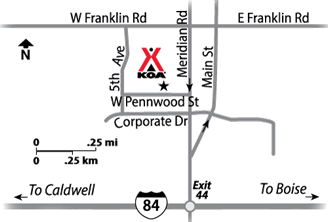 From I-84, take Exit #44. Turn North- this road is "Main Street". Travel about 4 blocks to "Franklin Road", Turn left (West), on Franklin Road, (stay in center lane) go 1 block to "Meridian Road" Turn Left (South), get in the right-hand lane. You will go 2 blocks to "Pennwood St". This street is just before "JOHN'S AUTO". Turn Right and we are on the right-hand side. Be safe!
GPS: N43.600735, W116.395835
Get Google Directions
Apr 06, 2021
Enjoyed meeting Squirrel very helpful
Apr 06, 2021
Terrible place! Do NOT bring children here. The staff was kind but the fact that it is jam packed with mostly permanent renters is a bad deal for trave. Someone siphoned our gas while we were sleeping, a drunk came right in to our site with our poor dog (just a pup but 100lbs) going insane. There was vomit all over the bathroom. One guy was vomiting behind his trailer. Never, ever will we be back!
Apr 06, 2021
Very nice staff. Sites very close together and most are long term guests.
Apr 04, 2021
Bathrooms very clean. Showers nice. Pleasent experience
Apr 03, 2021
Very good overall experience.
Apr 02, 2021
Staff was friendly, helpful and informative whenever we had questions We will be back in June 2021
Apr 02, 2021
Staff was dismissive at check-in and elusive about questions like when the pool was open, the bathroom codes, etc. Place was very clean and well cared for. Very cramped RV parking. Other campers kind and polite.
Apr 01, 2021
Super friendly and attentive staff. The park is impeccably clean!
Apr 01, 2021
Was given a site that I had requested. Close to family that lives there. The staff were friendly and very helpful. We enjoyed our stay except for the mean wind storm that visited early Mon morning.
Apr 01, 2021
Very nice place to stay. Very happy with our experience there.
Mar 31, 2021
Was totally impressed with this KOA, was meet by a great staff and they were extremely helpful and organized, would highly recommend this campground!
Mar 28, 2021
The staff was amazing, facilities were clean and they were very helpful when we had a problem with our trailer.
Mar 27, 2021
This email is not Delbert VanDenBerg's, but Jane VanDenBerg's. Please correct this. Thank you.
Mar 24, 2021
Very friendly staff. The park was always clean. Great location to shopping.
Mar 24, 2021
$52 to stay in an overcrowded lot surrounded by industrial businesses, highway and street noise isn't my kind of camping. The WiFi was broken, which for $52 you'd expect to work. The white supremacy flags waving from the neighboring RVs made me very glad I had my dog with me. I will never recommend this place to anyone out of fear for our very lives.
Mar 22, 2021
Too many "full timers".
Mar 22, 2021
Great host, level spot, could be a bit noisy late at night & the WiFi didn't work unless you were standing near the office.
Mar 21, 2021
The park is clean and well kept. Wi-Fi was advertised but when you get there, you are informed it is not for streaming just checking emails? We couldn't even get a signal. We were put next to a camper who left their dog chained to their camper step for hours on end therefore our dogs outside time was minimal. This wasn't fair to anyone...dogs or people.
Mar 20, 2021
Always friendly, always courteous, always well kept. Always.
Mar 19, 2021
Nice place to spend the night. Friendly staff. The only negative is there are a lot of long term residents that leave for work as early as 6:00 am in noisy pickups, cars and motorcycles.
Mar 16, 2021
We keep coming back because the employees are always friendly!
Mar 16, 2021
Wonderful new and clean bathrooms with private shower rooms. Best shower set up we've seen at a KOA in a long time. Friendly and helpful staff. Well kept camp sites. A little noise from the highway 93 which is close by- but not bad.
Mar 16, 2021
Just 1 night but koa is perfect for us
Mar 16, 2021
This was our first road trip camping in our new class B van. Since we are winterized, we wanted to be able to have electric and bathrooms. The bathrooms were extremely clean and park was very neat and tidy. Staff could have been a bit more friendly.
Mar 15, 2021
This is a great KOA. We love staying here whenever we head to Boise. The only complaint is the cars parked around the clubhouse area. There are covered/broken down cars in the "basketball court". It would be great of that area was clear for other activities. BTW - the pool seemed to be less chlorine heavy for our stay. That was a welcome surprise!
Mar 13, 2021
Met in person at 6 pm and guided to our back-in site. Restrooms handy and clean. WiFi password "nostreaming" didn't work on any device. Had to use Verizon JetPack instead.
Mar 12, 2021
We stayed in KOA during a family event and we're not there during the day. However we thought the facility was very clean and nice. The campsites with pull throughs were especially nice. The hospitality was great. We weren't able to use the laundry or other special services. Thank you for having such a pleasant campground and it made us enjoy our stay even more.
Mar 12, 2021
Quick but fun.
Mar 11, 2021
Very nice and helpful staff. Kudos to them! The pull thru RV space was fine. But the noise - ugh. Most of the spaces are rented by long termers - who of course - have to go to work. So the diesels started at 5.20 am, and car after car started and left running or coming and going. The men's bathroom was the main reason for the poor rating. Huge rusted out areas, rust and mold in most places.
Mar 11, 2021
Nice place friendly staff and very well taken care of.
Mar 10, 2021
Wonderful sites, friendly staff, great experience! Will definitely return
Mar 09, 2021
The park is very clean and appears to be well cared for, and the person that greeted us was great. My only negative comment is that the vast majority of people staying at the park appeared to be long term residents - with multiple vehicles and the clutter of living in a trailer. This is the 2nd KOA that this has been the case. There were noisy late night comings and goings, and loud vehicles.
Mar 08, 2021
Always a nice place to stay!
Mar 05, 2021
Worst KOA Internet...never worked with the password
Mar 01, 2021
Right off the freeway...friendly people. Quiet and clean.
Feb 28, 2021
A very nice, clean park with lots of nearby restaurants and stores. The staff on duty when we checked in were very friendly and helpful!
Feb 27, 2021
Very helpful staff who took us to our site. Clean warm bathrooms. Comfortable stay
Feb 22, 2021
Nice host. Located in a busy area of Meridian. Many full timers at this location.
Feb 18, 2021
Quiet, close to shopping and activities, site was clean and easy to hook up and leave when need be.