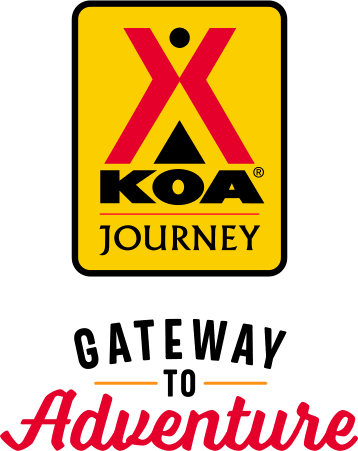 KOA Journey Campgrounds
KOA Journey campgrounds are the perfect oases after a day on the road. Whether it's along the way or a quick getaway, they've got you covered. Located near the highways and byways of North America with long Pull-thru RV Sites, they deliver convenience to the traveling camper. Pull in, ease back and take a load off.
KOA Journeys Feature:
Pull-through RV Sites with 50-amp service
Premium Tent Sites
Well lit after hours check-in service
Directions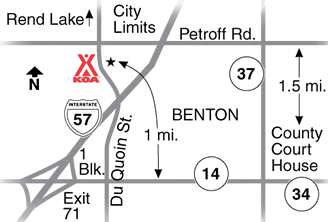 The preferred exit off HWY I-57 from the north is Exit 71.  Ignore GPS instructions to use exit 77. 
Northbound on Route 57: Exit 71 - at the top of the ramp bear to your right. Turn right onto West Main then proceed to Du Quoin Street. Turn left onto Du Quoin (at the Pizza Hut). Proceed down Du Quoin approximately one mile. The campground will be on your right.
Southbound on Route 57: Exit 71 - at the top of the ramp bear to your left. Turn left onto West Main then proceed to Du Quoin Street. Turn left onto Du Quoin (at the Pizza Hut). Proceed down Du Quoin approximately one mile. The campground will be on your right.
SR 37 Northbound: Enter into town circle. take road right onto 14 Eastbound, turn right at light by Pizza Hut onto Du Quoin St. The KOA will be on your right in about 1 mile.
SR 37 Southbound: From Exit 77 (Rend Lake), right turn at light onto Petroff Road. Left at stop sign. KOA will be on your left in 1/4 mile.
GPS: N38.012600, W88.929258
Get Google Directions
May 10, 2021
The park was a little deserted. Maybe because of the store was closed or the bad weather. Good Wi-Fi connection. We enjoyed the light show on the pond.
May 10, 2021
Did not use bathroom at all. It was rainy and across the bridge. Very noisy from being right off the highway. Owners are really nice.
May 10, 2021
was great getaway, will stay here again
May 08, 2021
nice pill through sites and campground by the "pond"
May 07, 2021
Clean, attractive, and a pleasant experience.
May 07, 2021
Pleasant and comfortable stay. Staff was very nice and helpful!
May 07, 2021
The guy that was a work camper that helped us was great and went out of his way to help after hours. The site we had was beautiful and very clean.
May 05, 2021
Very pleasant and helpful staff.
May 03, 2021
Clean and level site and great stop over location.
May 03, 2021
Very clean and friendly place thay go above and beyond to make sure that your stay is awesome we will definitely be back. Robert &samantha. Edwards
May 03, 2021
Very nice quiet sites could use a leveling
May 03, 2021
Great host dude. Was helpful as we were very late check in having had motorhome road issues
Apr 30, 2021
Great Place. Friendly staff. Lots of Interstate noise. Thanks
Apr 30, 2021
Great place to stay when you are traveling. it is off of the highway a little bit so you don't hear the vehicle going down the road.
Apr 29, 2021
Highway to close very noisy Campground very clean and big lot's
Apr 29, 2021
I stay there all the time when traveling to and from Florida.
Apr 29, 2021
Absolutely the most peaceful KOA we have ever stayed in. Had a patio site around the lake. Awesome fountain. Will stay again if ever back in the area. Kitchen delivers orders to your site. Great staff.
Apr 28, 2021
Clean campground and the people in the office were very friendly
Apr 27, 2021
Only there two nights it was very nice doing a lot of work around the pond. Enjoyed it very much
Apr 27, 2021
Overnight stay. Friendly staff. NICE park, very clean
Apr 26, 2021
Super friendly staff. Very clean. The only downside was that the sites were very close together.
Apr 25, 2021
Another wonderful stay. Chris couldn't have been nicer, made us feel very welcomed. Check in was very easy and the lady (don't remember her name unfortunately) was extremely friendly and answered my questions. Will be staying here again. Thank you Benton KOA�
Apr 25, 2021
Nice campground. It was peaceful, clean, and attractive. We loved Karen's kitchen with the convenience of free delivery to our site. The pulled pork, and chicken sandwiches were good. We plan on returning the next time we pass through the area.
Apr 25, 2021
It was great enjoy the park
Apr 24, 2021
Karen and Walter are wonderful hosts. We stayed on a deluxe patio site over looking the pond. It was beautiful and peaceful. We hope to return next fall.
Apr 22, 2021
Friendly staff. It was just a little to close to I-57 noise.
Apr 22, 2021
People were very nice the campground is very cute. Nice pond just very well kept. We were tired and they offered a menu of very good food they even deliver it to your camper .We had the pulled pork sandwich and we could have shared it it was very large and good. We will definitely stay here again
Apr 21, 2021
Great treat to be able to have good food delivered to our site, hosts do a good job with their food selections. Just park call and eat, relax
Apr 21, 2021
Nice stay, friendly staff!
Apr 20, 2021
Staff always nice and helpful. We requested a certain site and they are always great about allowing us to have the requested site.
Apr 19, 2021
Had a great visit! The staff was very helpful and on point, the site was clean and well kept. We will highly recommend anyone looking for a spot to stay to use this KOA for any upcoming stay.
Apr 19, 2021
Check in was a breeze, they took us to our sight which we appreciated. The staff was outstanding, very friendly and helpful. Glad I am a KOA member.
Apr 19, 2021
Great weekend getaway! We were backed up to the pond with a beautiful fountain. Wife and kids had a blast.
Apr 19, 2021
The staff was great and very helpful. We arrived after they typically are closed but they were still hard at work helping people get checked in and showing them to their spots.
Apr 19, 2021
Facilities were clean. Tent pad was ample. Staff was friendly and it was a good weekend.
Apr 19, 2021
It's the halfway point for us when we go east, so have stayed here a few times. Always friendly.
Apr 19, 2021
Helpful and polite staff. Clean throughout the camp ground.
Apr 18, 2021
Good stay except the cabin was very close to the road (maybe 20 ft separated by a wood fence) and a few ants. But otherwise, the host was friendly, clean cabin, and a good stay.
May 10, 2021
Aside from the noise from the nearby airport, this campground was spectacular. We arrived late but we were greeted warmly. The spot was roomy and everything was in working order. We will be back when we come through IL.
- Katlyn Coleman on Google
May 04, 2021
Very nice staff took us to site after hours, delivered firewood, informed us on food delivery we wanted to check out restaurant Karen's Kitchen but was closed, nice green area was nice to see coming from AZ
- Mark Flood on Google
Apr 25, 2021
Friendly little campground with great sites overlooking the pond. Enjoyed our stay and I'd definitely recommend this place!
- Steve Gascho on Google