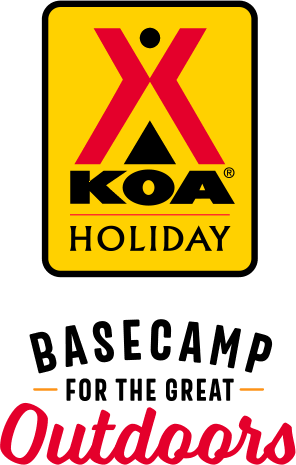 KOA Holiday Campgrounds
Whether you're exploring the local area or hanging out at the campground, KOA Holidays are an ideal place to relax and play. There's plenty to do, with amenities and services to make your stay memorable. Plus, you'll enjoy the outdoor experience with upgraded RV Sites with KOA Patio® and Deluxe Cabins with full baths for camping in comfort. Bring your family, bring your friends, or bring the whole group – there's plenty of ways to stay and explore.
KOA Holidays Feature:
RV Sites with a KOA Patio®
Deluxe Cabins with full baths
Premium Tent Sites
Group meeting facilities
May 10, 2021
As usual, everything was outstanding at the campground. The staff and facilities are great. Early season visit so not a lot of visitors, pool closed. Front desk staff was very accommodating to move our groups sites around so we were close to each other. A+++
May 09, 2021
We loved our stay! The employees our camping spot was all fabulous. We will definitely stay again!!
May 09, 2021
Wonderful campground!!
May 07, 2021
Our stay was peaceful. We forgot our crock pot and the kind fokes at the check-in desk letus borrow theirs. This is like our home away from home. It was nice seing the new building being constructed for the grocery store and Ace hardware. We were concerned about people not wearing face masks.
May 05, 2021
The staff was very helpful!!! They helped me with our reservation and found the perfect cabin for our family! I really appreciated the help!! Then they helped with our arrival as we were coming in right as the office closed, I thought that was very nice! Throughout our stay they ensured that we had everything we needed. We loved our stay and the personal touch by the staff made us feel welcomed!!
May 03, 2021
The service was great. Although they are in the midst of renovating the KOA, I could easily see how much more wonderful it will be. I had a deluxe cabin with 1/2 bath and may consider upgrading on my next visit. There are so many choices of campsites from tenting to tiny homes.
May 03, 2021
All the staff was so nice and funny. Our cabins power went out not too long after we showed up. We were moved to an even better cabin right away. Everyone was so great the entire time. Thank you!
May 03, 2021
The camp ground was very clean, facilities were in great working order. The staff was very friendly and helpful, overall a great place to stay.
May 03, 2021
Was pretty great overall, nice new bathhouse by the deluxe tent sites. Only complaint is it felt like I was staying in a construction zone with all the pallets of landscaping supplies around and the heavy machinery driving past the site during the day. But that's a temporary issue, I'm sure it will be beautiful once it's finished.
Apr 27, 2021
Helpful front office - answered our call after hours Freezing weather but nice site- would be awesome in summer- don't go in April!!!
Apr 26, 2021
Big KOA with lots of activities for the whole family. Everyone was very nice and helpful and the place was kept clean.
Apr 26, 2021
Staff was very helpful and awesome!!
Apr 26, 2021
We have had so much fun here. It's our new favorite place!!!
Apr 26, 2021
An amazing place for families! We stayed at a cabin it was clean and so cute. So many fun activities to keep our kids busy. We will definitely be back!
Apr 20, 2021
To say our stay was the best experience of our young adult lives would be an understatement! Between the incredible staff, amenities, location, and overall experience, I would give this resort an 11/10! Truly a magical and incredible time for singles, couples, families, and friends!
Apr 18, 2021
Even though my stay was a last minute reservation the cabin was great. I was only at the camp grounds after work but it was a very good atmosphere. I don't have any complaints. If I have to work out this way again I will most definitely be reserving another cabin here.
Apr 13, 2021
The staff was amazing. They helped us with what ever we needed. We will be back soon. Thank you for making our stay a great one.
Apr 13, 2021
Absolutely amazing! Will definitely be going back! They seriously set the bar high for all other KOA's!
Apr 13, 2021
Showers need some work
Apr 12, 2021
It was a wonderful experience
Apr 12, 2021
Need to book a hot tub site next time they looked awesome!
Apr 05, 2021
You guys were seriously the best! The gift shop was stocked with the BEST stuff we went 5 times! Everything was so clean and fun! Thank you so much for having us!!
Apr 05, 2021
We LOVE this place. Very friendly staff, the place is great, huge, lots of things to do, always clean! Totally recommend Bear Lake/ Marina KOA. :)
Apr 05, 2021
Very easy check-in process and the camp site and facilities were well-maintained.
Apr 05, 2021
It was actually really nice. The reason I gave a lower rating is that the price for a very simple tent sight is now so high that it is doubtful I will ever stay there again. I have camped there many times over the years and I always give it the best ratings. Now your cabins are more than motels and you are twice the amount for a regular camp site. Sorry to see you price yourselves out.
Oct 27, 2020
Staff was friendly and helpful. The grounds were very clean. The cabin we stayed in was very cozy.
Oct 27, 2020
We really enjoyed our stay. The kids loved the playground and mini golf. We all loved the hot tub! The staff was very friendly and accommodating. We can't wait to come back in the spring!
Oct 26, 2020
Once again we made amazing family memories at our favorite KOA! Loved coming out in the fall. Cold but didn't mind because we had the hot tub in our site. Staff was very friendly and accommodating. We will be back in the summer and fall next year.
Oct 21, 2020
great camp ground...
Oct 20, 2020
The sites were great and we'll kept, and the amenities were awesome! The bathrooms did run out of soap and paper towels, but that was the only issue.
Oct 20, 2020
Had a good time.
Oct 20, 2020
As always, our visit to this KOA did not disappoint. The facility is beautiful, tidy, and convenient. The staff is always friendly and helpful. We will definitely be back again!
Oct 19, 2020
Wonderful time. Clean facilities. Friendly. I especially liked having the personal guide take us to our camp site. Easy hookup. Will need to bring the grandkids next time. So many fun activities available. Best place to stay in town!!! Thank you. Maria
Oct 19, 2020
The staff was incredible! They were friendly and very helpful. It was clean and we had a great time!
Oct 19, 2020
We have been coming to this koa for years and loved it. They are doing so much expanding that it's now not the cozy place to relax anymore and now just going to be an over booked place packed in like sardines campground like all the rest. We will be staying at the koa journey up the road next time.
Oct 19, 2020
Very nice facilities. A lot more variety than other KOA's we've stayed at. Only problem, the bathrooms (while very nice and clean) did not have soap or paper towels the two nights we stayed.
Oct 18, 2020
This is a very nice KOA, we stayed in a fenced private tent spot in the back by the bathrooms and it was perfect, we were able to charge our electric vehicle and charge our devices at the same time. Highly recommend this KOA. Will be back again in the future.
May 11, 2021
This place was a total hit for the family. We all had a blast and the prices are good. We will be returning. Stayed in a cabin.
- Sasha Lemos on Google
May 06, 2021
Love it
- Buyanbadrakh Turbat on Google
Apr 21, 2021
Great stay at this KOA! We had originally booked an RV site, but at the last minute we couldn't get the RV to start. We gave them a call and luckily they had a cabin available. They got us switched over to a cabin lickety split and our vacation went full force ahead. Joanne was great at helping with everything we needed and they even left us some keebler cookies and marshmellows as a check in surprise. The kids LOVED renting the surrey bikes (6 seaters!), playing in the play ground, and jumping on the jump pad. Everything was clean and well run.
- Rebecca Yates on Google