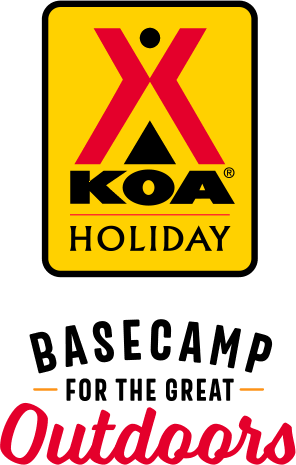 KOA Holiday Campgrounds
Whether you're exploring the local area or hanging out at the campground, KOA Holidays are an ideal place to relax and play. There's plenty to do, with amenities and services to make your stay memorable. Plus, you'll enjoy the outdoor experience with upgraded RV Sites with KOA Patio® and Deluxe Cabins with full baths for camping in comfort. Bring your family, bring your friends, or bring the whole group – there's plenty of ways to stay and explore.
KOA Holidays Feature:
RV Sites with a KOA Patio®
Deluxe Cabins with full baths
Premium Tent Sites
Group meeting facilities
Jul 27, 2021
We had a great stay. The park was nice with lots of activities. Our only complaint is regarding the hot water in bathroom. We stayed for 5 days and the hot water was not working the entire time. We were told that someone was coming to fix it on our last day. It would have been nice if a sign was posted that the hot water was not working. That way we could have used the other shower.
Jul 27, 2021
We had a large group and loved our stay! There were tons of amenities for the adults and the kids, always something to do!
Jul 27, 2021
Wonderful KOA with lots to do! Clean and well maintained. Kids loved the bike rentals and mini golf. Our only issue was the beautiful new bath house never seemed to have any hot water. We stayed on a weekday, can't imagine it's much better on a weekend.
Jul 27, 2021
We stayed in the deluxe cabin. It was very nice and the facilities are very clean and well maintained.
Jul 27, 2021
The RV we rented had minimum to no water pressure and the stove didn't even work. Felt like a horrific weekend instead of a vacation. Please consider refunding at least half of the price we paid. I have video if you need them.
Jul 27, 2021
It's always nice to visit Bear Lake and stay in KOA/Marina Side. We always look forward to visit every summer. The place is nice, confortable and familiar and the Koa crew are the best.
Jul 27, 2021
We have been making our mostly annual trip to Bear Lake for several decades and always choose to stay at this KOA. There are many thing that bring us back. The staff is always friendly and helpful. The campground well maintained and regularly updated/upgraded. We enjoy swimming in the pool, playing mini-golf, riding bikes (we rented ebikes this time and they were so much fun!). Highly recommend!
Jul 27, 2021
Always driven past but never stayed until now ....dang I should have stayed here sooner.... We will definitely be back!!! Also the ladies that work the front desk were so nice and just amazing with my autistic son who would not stop talking
Jul 26, 2021
The new cabins are great! There are no hooks to hang towels/clothes on in the bathroom. there are no hooks to hang coats anywhere, and no closet style rods to use with hangers....that is about the only improvement we could think of
Jul 26, 2021
The cabins were so cute and clean! The included amenities were what made the stay so great! My kids loved the trampoline/jump pad, pickle ball and mini golf and my husband loved the b-ball hoops and volleyball quart! The staff was super helpful and sweet! We will definitely be back and send others your way!
Jul 26, 2021
Typically when we check in we book our sites for next year.. This year we went to do the same thing and someone had already booked the sites a year and a month in advance. We've always known it to be a year in advance. So for the first time we will not be able to camp at the koa for that holiday. Also the kids at the playground were awful! My child got bit! Toys taken away. Fights! It was insane.
Jul 26, 2021
Always clean and well managed!
Jul 26, 2021
So fun! Can't wait to come back!
Jul 26, 2021
It was crowded but we all Fit it was as expected amenities are good close to the marina and close yo town
Jul 25, 2021
Our family reunion was a success thanks to the great facilities at KOA Bear Lake. We've already planned for next year. Mahalo from Hawaii!
Jul 25, 2021
We were able to upgrade our cabin and it made all the difference! Thank you!
Jul 25, 2021
This is the second year we've stayed here. We love the location, activities and coziness of the cabins. We'll be back!
Jul 25, 2021
Great stay clean bathrooms wonderful play area for grand kids.
Jul 24, 2021
We had a awesome week with family and friends. Very clean and friendly KOA. The best KOA we have stayed at so far. We are staying at another KOA as im writing this not the same experience as bear lake KOA.
Jul 24, 2021
We stayed in the same spot we did many many years ago and it was fun to bring back good memories.
Jul 23, 2021
It was great. Lovely campground and ameneties. Will be back.
Jul 22, 2021
Only complaint is the garbage trucks coming before 7:30am waking up several people in my group. I don't know if there's much you can do about that, but we weren't thrilled to be woken up by the really loud beeping and banging of the dumpsters right by our site. Wouldn't have been an issue if they came after 8am.
Jul 22, 2021
Expensive. Poorly cleaned restrooms. Wrist bands are the worst thing every. Why so intense about who is in your campground? You're not that special.
Jul 22, 2021
Loved the care taken to give us an enjoyable stay. Lots of fun activities and we loved the hot tub at the end of the day. It is a bit expensive but totally worth it ��� I have two favorite KOA parks, many of the KOAs are nice but a few are exceptional this one and the one in sault Ste. Marie Ontario Canada are the best we have stayed at.
Jul 22, 2021
staff was very friendly thanks for getting the water chair working for our daughter
Jul 22, 2021
THE nicest KOA I've ever stayed at. Wish we could have stayed longer!
Jul 22, 2021
Grandchildren loved staying there so we extended our stay.
Jul 22, 2021
The cabin was nice. Bathrooms clean. Staff was helpful and kind. Too many campsites on top of each other however. Quiet time not observed by other campers near by
Jul 20, 2021
We have only missed coming to Bear Lake KOA twice in the last 30 years! This year we were surprised to have a NEW cabin that was fantastic. You have great activities for the kids and a friendly staff. We LOVE the Bear Lake Garden City KOA!
Jul 20, 2021
This is a great place to stay. We have stayed here every summer for several years and have already reserved for next year. I rated a little less than perfect this year for two reasons. First it seemed like there were far too many little koa/Ace utility vehicles driving around going right through the tent sites kicking up dust and creating noise. They have also closed the ice cream shop.
Jul 20, 2021
Everything we experienced was great, however, the sewer drain pipes need to be cut level with the ground; the raised caps make it VERY difficult to dump tanks, as the fluid would get stuck in the dump hose, and be unable to go "uphill" and into the drain, even with our 'sidewinder' hose support brackets.
Jul 20, 2021
My family has come to Bear Lake for 4 years now and the Marina KOA NEVER disappoints! They have great activities for kids of all ages, clean lodging and bathrooms and I always feel safe when we are there. We already have our cabin booked for 2022!!
Jul 20, 2021
Outstanding experience! This KOA exceeded our prior KOA experience at different locations. Staff, amenities, cleanliness, and location were all outstanding. Thank you for helping to make our family's Bear Lake experience so wonderful.
Jul 20, 2021
So much fun! Love the new store.
Jul 31, 2021
This place has great, attentive, courteous staff that really goes out of their way to make sure everything is running smoothly. There are tons of things for kids to do and is almost convincing that camping is enjoyable. My only complaint was that I couldn't feel the ceiling fan, which meant the cabin felt like an oven... but I'm the one who runs hot.
- Stephen Melson on Google
Jul 30, 2021
We love going here.
- Steven Perry on Google
Jul 28, 2021
Fabulous camping! Clean sites. Kid friendly. Close to everything downtown - food, entertainment, shopping. Close to beaches and right next to a bike/walking path. Would definitely stay again, loved it!!
- Tiffani Wadley on Google