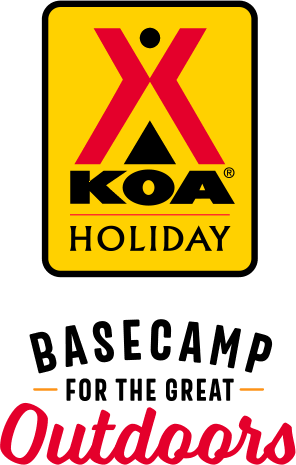 KOA Holiday Campgrounds
Whether you're exploring the local area or hanging out at the campground, KOA Holidays are an ideal place to relax and play. There's plenty to do, with amenities and services to make your stay memorable. Plus, you'll enjoy the outdoor experience with upgraded RV Sites with KOA Patio® and Deluxe Cabins with full baths for camping in comfort. Bring your family, bring your friends, or bring the whole group – there's plenty of ways to stay and explore.
KOA Holidays Feature:
RV Sites with a KOA Patio®
Deluxe Cabins with full baths
Premium Tent Sites
Group meeting facilities
Oct 27, 2020
Staff was friendly and helpful. The grounds were very clean. The cabin we stayed in was very cozy.
Oct 27, 2020
We really enjoyed our stay. The kids loved the playground and mini golf. We all loved the hot tub! The staff was very friendly and accommodating. We can't wait to come back in the spring!
Oct 26, 2020
Once again we made amazing family memories at our favorite KOA! Loved coming out in the fall. Cold but didn't mind because we had the hot tub in our site. Staff was very friendly and accommodating. We will be back in the summer and fall next year.
Oct 21, 2020
great camp ground...
Oct 20, 2020
The sites were great and we'll kept, and the amenities were awesome! The bathrooms did run out of soap and paper towels, but that was the only issue.
Oct 20, 2020
Had a good time.
Oct 20, 2020
As always, our visit to this KOA did not disappoint. The facility is beautiful, tidy, and convenient. The staff is always friendly and helpful. We will definitely be back again!
Oct 19, 2020
Wonderful time. Clean facilities. Friendly. I especially liked having the personal guide take us to our camp site. Easy hookup. Will need to bring the grandkids next time. So many fun activities available. Best place to stay in town!!! Thank you. Maria
Oct 19, 2020
The staff was incredible! They were friendly and very helpful. It was clean and we had a great time!
Oct 19, 2020
We have been coming to this koa for years and loved it. They are doing so much expanding that it's now not the cozy place to relax anymore and now just going to be an over booked place packed in like sardines campground like all the rest. We will be staying at the koa journey up the road next time.
Oct 19, 2020
Very nice facilities. A lot more variety than other KOA's we've stayed at. Only problem, the bathrooms (while very nice and clean) did not have soap or paper towels the two nights we stayed.
Oct 18, 2020
This is a very nice KOA, we stayed in a fenced private tent spot in the back by the bathrooms and it was perfect, we were able to charge our electric vehicle and charge our devices at the same time. Highly recommend this KOA. Will be back again in the future.
Oct 17, 2020
Stayed two nights. It was nice. The sites are kind of close together but the fire pits are really nice. I usually bring coals too because the fire pits at a lot of places are not very good for cooking but these ones worked well. The wifi (if your into using that) worked great and I was able to stream the UFC fight cared for Sandhagen vs. Moraes.
Oct 13, 2020
It was great. Perfect little weekend away. The private patio site was perfect for our little kids. We will def be back!
Oct 13, 2020
I really enjoyed my stay. The campground was in great shape, the bathrooms clean and functioning and the staff was very professional and helpful. Would definitely recommend this campground and I'll be going back again.
Oct 12, 2020
We always enjoy our stay and the staff friendliness. This time however our neighbors next to us did not respect quiet hours and were VERY loud outside until after midnight...we unable to get any staff to ask for assistance in the matter :(
Oct 10, 2020
It was centrally located, and a nice place to stay. Restrooms were clean and well maintained. Although the sites were close to each other, we had a end site and for the 3 days we were there the closest one next to us was 3 sites away.
Oct 09, 2020
We came in the fall so it wasn't too crowded. Nice facilities and very friendly staff
Oct 09, 2020
Staff was very helpful.
Oct 07, 2020
Beautiful KOA, fun place to stay and very well maintained.
Oct 07, 2020
We really enjoyed our stay here. Very helpful staff and a wide selection of activities on-site.
Oct 07, 2020
Great time of year to stay and see the fall colors in Logan Canyon. Dog loved the K9 Kamp.
Oct 07, 2020
Amenities were good but a little crowded when full
Oct 06, 2020
Great place.
Oct 06, 2020
Nice, but a little pricey compared to other KOA'S in are traveling around the country.
Oct 06, 2020
This campground is very clean, quiet, and has plenty of fun things for the kiddos. Bear Lake has numerous opportunities for the outdoor enthusiast. The fall foliage was starting to peak. The staff is very friendly and will accommodate your needs.
Oct 06, 2020
Very friendly staff, nice campground,level sites, nice, very clean laundry and shower facilities
Oct 05, 2020
A very easy relaxing stay
Oct 05, 2020
Nice place; lots of site options; expanding - newest bathrooms "beautiful ". Bike trail fantastic. Good laundry. Grocery store and hardware store right next door! Spent a week and had a great time.
Oct 05, 2020
Beautiful park! We'll definitely stay here in the future
Oct 05, 2020
Everyone was helpful and very friendly!!
Oct 03, 2020
Stayed in September of 2020, Park was motley empty. Employess were customer friendly and efficient.
Oct 01, 2020
Our daughter wished the pool had been open still but it is that time of year.
Sep 30, 2020
This was a great place to stay for us less experienced campers. The extra on-site activities were a sanity and boredom saver for our children, and worth paying more than a traditional campground! My only issues were the bathrooms not being fully stocked with soap, toilet paper and paper towels. I also didn't love the golf carts zooming by our site early every. single. morning.
Oct 13, 2020
We stayed at one of the RV supersites and it was great! we had our own hot tub, fire pit, grill, table and lounge chairs. the site is also fenced for privacy and you have room for a ten if needed. Great place to relax after a fun day at the lake.
- RaNell S on Trip Advisor
Sep 29, 2020
(Translated by Google) Very cool (Original) Muito legal
- Alcidina Pereira das Neves on Google
Jul 12, 2017
We have gone to the KOA near Bear Lake for many years now for the 4th of July. We love it there and we love the improvements that have been made. Just a tip....if your cabin does not have AC, bring fans. We bring two to stick in the windows all day for air flow and it gets nice and cold at night. During the day it's a little stuffy but you don't spend all that much time in your cabin anyway. Fun pool, fun activities, grocery store for convenience, very close to the lake... We love going to this KOA!
- Jenna B. on Google