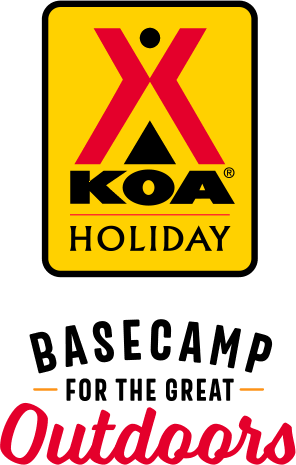 KOA Holiday Campgrounds
Whether you're exploring the local area or hanging out at the campground, KOA Holidays are an ideal place to relax and play. There's plenty to do, with amenities and services to make your stay memorable. Plus, you'll enjoy the outdoor experience with upgraded RV Sites with KOA Patio® and Deluxe Cabins with full baths for camping in comfort. Bring your family, bring your friends, or bring the whole group – there's plenty of ways to stay and explore.
KOA Holidays Feature:
RV Sites with a KOA Patio®
Deluxe Cabins with full baths
Premium Tent Sites
Group meeting facilities
Oct 19, 2021
Great campground!
Oct 18, 2021
Great KOA! Loved Joanne in the office and her communication texts. Well kept park and services.
Oct 18, 2021
Had a great time! Communication thru text made things so easy. The play area for kids is a gem!! And we loved the hot tub!
Oct 18, 2021
We always have a great time at this KOA! The staff are friendly and helpful! There was one issue our first night which management fixed promptly which was amazing! Our family of 5 stayed in a 6 person camping cabin. It worked for our needs but we'll likely upgrade to a nicer one with bathroom and kitchen next time!
Oct 15, 2021
Thank you for letting us upgrade to a hot tub spot just hours before arriving :) It was a nice anniversary treat!
Oct 13, 2021
Was late in the season- they were closing up units- but we still had all services in ours- heat on, hot tub working- clean cabin. Didn't shut anything down early. The text messages were nice- we knew we needed to bring our own wood. Coming again.
Oct 13, 2021
End of season Oct 9-11, no ice, no firewood, all the amenities were locked or wrapped up. No customer service. I'm sure it's great during the season, but we felt like they couldn't wait for us to leave so they could close. Sign out front said they were no vacancy, but we counted 6 campers in the entire park. If they didn't want to be open they should close instead of making reservations.
Oct 13, 2021
Had a great time, this KOA was a very nice place to stay.
Oct 11, 2021
The KOA was well built, very clean and had plenty of amenities.
Oct 11, 2021
Clean, friendly staff, great location. I would give it 20 stars if I could.
Oct 10, 2021
Great stay. Pleasant staff.
Oct 10, 2021
Great campsites and location is perfect for the surrounding activities.
Oct 09, 2021
We liked that the patio campsite was near the restroom/shower building & the dog fenced area. We plan on booking for March 2022.The only issue I had was a camper didn't have their dog on a leash and it ran up to our two dogs while we were walking them causing one of our dogs to lunge towards the other dog. I have a bad back,was in pain, & had difficulty sleeping. An employee witnessed this..
Oct 08, 2021
I loved the how well kept the KOA was, but every other time I went to the office there was no one there. There was a sign that said they were out cleaning one day, and never came back to the office until late that evening. Our hot tub only worked the first night we were there. Of course we went to get in after dark, and it was off and the next day it was still off.
Oct 05, 2021
Everyone was very nice and helpful. Showers were clean and hot.
Oct 04, 2021
Really nice except for the barking dogs in the evening. Need to police this better. Thanks.
Oct 04, 2021
We came for a quiet place to watch LDS General Conference. It was perfect. The staff was helpful. The restrooms were clean. We will come back.
Oct 04, 2021
From pulling in the campground to departing the next day, everything was beyond our expectations!! The staff were kind and helpful, the spot we stayed in was private and beautiful and comfortable. The bathrooms and showers were what you would find in a nice hotel, very private and clean. We will be returning to this KOA for sure. G and D
Oct 04, 2021
Nice quiet relaxing peaceful weekend. We love staying here and will return time and again.
Oct 04, 2021
We love this campground and try to come at least once a year. We also have our favorite cabin and will work around dates so that we can get it. Staff is always friendly and very helpful.
Oct 04, 2021
2nd time staying and will definitely be back again! Always a clean environment and friendly staff.
Oct 03, 2021
Nice park, well maintained. Enjoyed it
Oct 02, 2021
Very nice park!! Very clean facilities, friendly and helpful staff, nice large sites! Definitely would stay here again!!
Oct 02, 2021
Overall it was good. The staff was kind and tried to help us fix any issues we had promptly. I will come back for sure. The only thing that bothered me the whole stay was the sky lights in all the rooms of the cabin we were in because the sun light blaring in made it very hard to sleep at all. Even the moon light shined in. Maybe I'm the future they could get a curtain motorized by use of a button
Oct 02, 2021
Had a great time. Everyone was very helpful even though its off season and less staff.
Oct 02, 2021
great place to stay, just wish didn't have to make reservations more than a year in advance........
Oct 01, 2021
Everything was easy, clean and just great!
Oct 01, 2021
We enjoyed our stay. Everything was clean and quiet, close to everything in town. On the down side, we were in the 30 Amp area and all the sites face each other and are way to small.
Sep 30, 2021
JOEY AND HER TEAM WHERE SIMPLY AMAZING, SO MUCH SO THAT WE HAVE BOOKED 3 MORE TRIPS TO STAY WITH THEM. GROUNDS SUPER CLEAN AND STAFF EXTREMELY HELPFUL IN EVERY WAY. I WILL HIGHLY RECOMMEND AND WE LOOK FORWARD TO RETURNING NEXT MONTH. THE MORENO FAMILY
Sep 28, 2021
Great as always. Excellent job!!
Sep 28, 2021
Me and my grandson were there for the Bike The Bear bike ride put on by the Scouts BSA providing support at the North East corner of Bear Lake. It was good to be able to get a good nights rest Friday night. Thank you!!
Sep 28, 2021
This is a beautiful place to stay. Nice views of the lake and awesome amenities. Right in the heart of everything Bear Lake has to offer restaurants, shops and the marina are all less than a mile away. Joanne and her staff are true professionals and it shows. The place is spotless and everything is in good working order. This is the place to stay when you visit Bear Lake!
Sep 28, 2021
Beautiful and so clean.
Sep 28, 2021
Had a great time there, staff was wonderful to deal with and took care of us while we were there.
Sep 28, 2021
The best place we have stayed; we opted for a patio site and it felt like we were in a resort! The bathrooms are also amazing!
Sep 28, 2021
Nice place, well kept, friendly staff!
Sep 27, 2021
Awesome cabin and awesome staff
Sep 27, 2021
We enjoyed our stay and actually plan to stay again in the cabins. My only feedback is that you might want to include that the loft is only about 4 feet high and the pull out mattress was horrible. They are so worn out that you can feel the springs. The cabin was very nice and like I said we plan to stay again.
Oct 18, 2021
Great KOA! Loved Joanne in the office and her communication texts. Well kept park and services.
- Shawnee Cooper on Google
Oct 16, 2021
Excellent camping experience and can't wait to come back. Everything was so clean and fun.
- Melissa Boyce on Google
Sep 19, 2021
The little cabin we stayed in far exceeded our expectations! The fun activities for kids to do were awesome. It was also very dog friendly with a little dog park to run off leash. I definitely recommend this KOA!
- Rebekah Shrader on Google