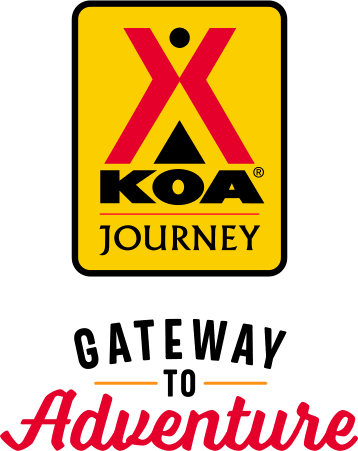 KOA Journey Campgrounds
KOA Journey campgrounds are the perfect oases after a day on the road. Whether it's along the way or a quick getaway, they've got you covered. Located near the highways and byways of North America with long Pull-thru RV Sites, they deliver convenience to the traveling camper. Pull in, ease back and take a load off.
KOA Journeys Feature:
Pull-through RV Sites with 50-amp service
Premium Tent Sites
Well lit after hours check-in service
Directions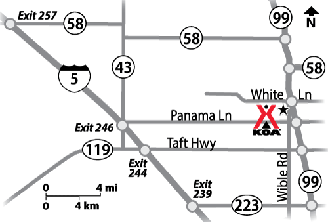 Head north on CA-58 to CA-99 N. Take exit 26A for CA-58 W Rosedale Hwy towards 24th St. Keep left at the fork and follow signs for Buttonwillow. Turn left onto CA-178 W/CA-58 W/Rosedale Hwy. Merge onto CA-99 S via the ramp to CA-58 E. Merge onto CA-99 S. Take exit 21 for White Lane and turn right onto White Lane. Turn left at the 1st cross street onto Wible Rd. Turn Right and arrive at 5025 Wible Rd, Bakersfield, CA 93313.
Get Google Directions
Mar 28, 2023
Just passing through for one night on our way home. Very nice, clean and well managed RV park!
Mar 28, 2023
We only spent the one night but everything was clean and we felt welcome. We didn't see any staff because we arrived after the office closed and left before they opened in the morning
Mar 28, 2023
very well maintained campground, close to everything
Mar 28, 2023
We have stayed here before it changed to a KOA; it was much better then. We now pay $25 more for less amenities. No cable and very poor WiFi. Also, no more delicious cookies and oranges given to you upon your arrival!!
Mar 28, 2023
Very nice park. Clean, nicely laid out. Having a full service restaurant on site is a plus plus! Staff was friendly and efficient.
Mar 28, 2023
Came in for 1 night. Everyone was very friendly and helpful. Did not get to use many amenities but saw it was clean and looked great.
Mar 27, 2023
We have done 2 motorhome rallies here and enjoyed them very much. Unfortunately we probably won't be able to do more rallies here because rates have risen dramatically under the KOA flag. Still waiting for March 2024 club rates and rules to make that determination. Beautiful park and great Crest Grill. We enjoy our time here.
Mar 27, 2023
Staff was very friendly and helpful. We were able to extend our stay for circumstances beyond our control. The laundry area and pool area were clean and well maintained. We were very disappointed with the landscaping company weed eating and cutting the grass, throwing stones and grass clippings on our rig and tow vehicle.
Mar 27, 2023
Perfect.... Everyone there was wonderfull!
Mar 27, 2023
Always clean
Mar 26, 2023
Disappointed, no WiFi, no TV channels and no pool. Pretty expensive for no amenities!!
Mar 26, 2023
It was an overnight stay. Customer service was excellent. Assistance to the slot was so helpful. It was very clean...
Mar 26, 2023
We had a great time in Bakersfield. The Cafe is wonderful.
Mar 26, 2023
We loved this campground. We ordered takeout and was thrilled to have it brought over to our RV! Great food! Our spot was really far from the dog park. Our doggies do not understand they cannot go just anywhere as they have 5 acres to roam. But we always pick up after them. The train was noisy during the night and it would have been nice to have been warned. Lesson learned. GREAT PLACE!
Mar 26, 2023
Great KOA. Good hook ups, level sites, nice facilities and great layout. Dog park is good as well. Staff also very nice. Only thing is need to change laundry facilities to pay by app as well as coins. Plus need to get a cash bank machine.
Mar 26, 2023
It was so nice to know the gates were locked at night. The restrooms were spotless. It was great having the restaurant right there. The whole park was beautiful.
Mar 25, 2023
Unfortunately had a health problem and cancelled my stay.
Mar 25, 2023
Restaurant is a 10+ and the staff are great.
Mar 24, 2023
The wi-fi was atrocious. About what we normally expected in the 1990's. I had to get on my iPhone hotspot several times a day.
Mar 24, 2023
Excellent best KOA we have stayed in for 5 yrs of RV travel
Mar 23, 2023
Nice campground. Clean, easy to get to and pull your rig into their spots. Great restaurant, Was very nice and easy to go right to restaurant on the grounds after long drive. Need more restaurants at other KOA 's
Mar 22, 2023
Awesome place! Very safe! Very clean! Helpful staff!
Mar 22, 2023
Great overnight stay for us , enjoy the Crest Restaurant
Mar 22, 2023
Stayed one night while passing through. Nice restaurant on premises. Park seemed well cared for. Would stay again if in the area.
Mar 21, 2023
Nice for an overnight stay.
Mar 21, 2023
Very convenient having a nice restaurant with a bar onsite. Loved the space we had as were close to everything
Mar 21, 2023
Very clean and friendly. Have a nice restaurant as well
Mar 20, 2023
While the park is lovely and the restaurant is terrific, the WIFI was non existent unfortunately. Which is the only thing stopping me from rating this park at the highest level.
Mar 20, 2023
The staff and grounds all deserve 5/5 stars--well kept grounds and very nice staff :) Our stay however was on a Saturday night with decent weather. We heard sirens and racing vehicles ALL night long :( While the KOA can't control the location, the noise is the only reason we are giving a 3.
Mar 20, 2023
Excellent park. Very clean and quiet.
Mar 20, 2023
Great property and restaurant.
Mar 20, 2023
When I called to make the reservation I said we expected to stay two days but it was possible we might stay one day. I was told I needed to let the office know by 11:00 AM if we only stayed one day. We decided to stay the two days. I got a call and was SCOLDED for not letting the office we were staying a second day. Not very friendly!!! We'll find better parks.
Mar 20, 2023
Nice sites great facilities.
Mar 19, 2023
Gave me a 51' site for my 42' 5th wheel when I reserved a longer spot. Was told by the desk person no other sites available. 4 big rig sites stayed empty on our 1 night stay. Very disappointed. Park half empty.
Mar 19, 2023
Love the pull through spaces and the heated pool
Mar 19, 2023
Clean, nice site, very helpful and friendly staff
Mar 19, 2023
Enjoyed great area a BBC d a great place to eat
Mar 19, 2023
Very friendly employees and cool rv park. The pools are heated and have a good size for swimming and relaxing. The park is very well maintained and very clean.
Mar 18, 2023
A convenient overnight stop on the way home from Death Valley. The park is clean, and well staffed. Our only issue was the busy road right outside the block wall. But we would gladly trade the good location for a noisy roadway!
Mar 18, 2023
Enjoy my stay, see you next time.
May 22, 2023
Other than the price it was about as nice as it gets for an RV park. Internet was so-so and the lots were pretty close together. Not a lot of nature around. But it is pretty much in the city. If you need the amenities and you're not afraid to pay a little it is a good park.
- Richard K on Google
May 19, 2023
Was there for a car show the place is super nice!!!!
- Eric Popejoy on Google
May 12, 2023
Stayed here twice in a month, and both stays were good. Space was level with a nice concrete patio and picknic table. Easy access and close to shopping. Clean bathroom and pool. Laundromat had too many non working machines.
- Jens Weber on Google