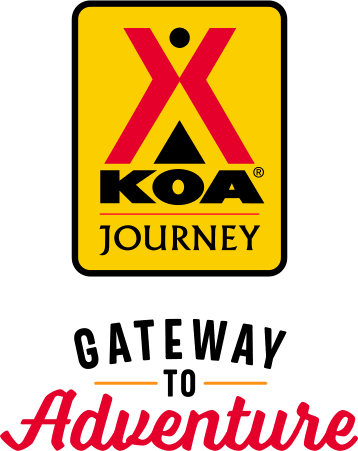 KOA Journey Campgrounds
KOA Journey campgrounds are the perfect oases after a day on the road. Whether it's along the way or a quick getaway, they've got you covered. Located near the highways and byways of North America with long Pull-thru RV Sites, they deliver convenience to the traveling camper. Pull in, ease back and take a load off.
KOA Journeys Feature:
Pull-through RV Sites with 50-amp service
Premium Tent Sites
Well lit after hours check-in service
Directions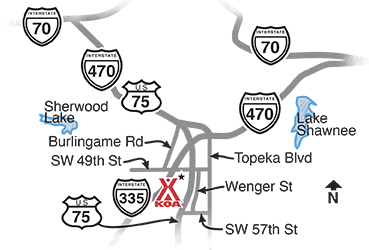 For new paved access road, follow directions from intersection of Highway 75 & SW 57th Street.
Northbound/Southbound: Hwy 75, Exit SW 57th Street, east 500 feet to Wenger Road. North on Wenger Road, 1.5 miles to SW 49th Street, west 800 feet. Entrance on left.
Eastbound/Westbound: Jct I-470 & Burlingame Road (Exit 5), south 1.5 miles to SW 49th Street, east 0.25 miles. Entrance on right. This section of SW 49th St is gravel. To access on pavement. continue South on Burlingame Rd. 1.5 miles to SW 57th St. East 0.5 miles to Wenger Rd. North on Wenger Rd, 1.5 miles to SW 49th St. West 800 feet to entrance on left.
Get Google Directions
Oct 04, 2020
Such a beautiful experience!! We had the best time and the people were so nice and comforting!! Not to mention, the most adorable views and amenities! We will definitely be back in the future.
Sep 29, 2020
The campground and one employee we met was nice, no complaints there, but the campground is located immediately next to a huge highway and it sucked trying to sleep next to it in a tent. We also had really bad neighbors that cut into our sleep several times throughout the night so bad that we hauled out at 5 o'clock in the morning. But it was nice to finally have a wood fire!
Sep 14, 2020
Great stay—parking spots closer to the tent sites would be helpful but the grassy area is great.
Sep 08, 2020
Beautiful and spacious campgrounds for tent campers right next to a pretty pond. Clean restrooms and shower. We have stayed here twice & plan to do so in the future!
Aug 12, 2020
The host checking us in was very nice and answered my questions about Kansas. Our kids loved fishing in the pond. The pool was also very nice and clean.
Aug 09, 2020
Short and sweet. What we saw were some nice campgrounds. The tent sites we were on were a little hard to distinguish, there weren't very many markers. But we saw the dog park and that was neat to see.
Jul 28, 2020
Great amenities but not much shade for tent sites. Great place for a family weekend!
Jul 15, 2020
Arrived late and had a special request. I saw the managers putting some things away and they were more than nice and helpful in assisting me. Was very grateful to have pleasant experience at the end of a long day. Campground was very clean and quiet.
Jul 14, 2020
1 No water at campsite 2 flood light shining at our tent all night 3 picnic table on a 20° slope. items were constantly rolling off the table 4 overpriced campsite
Jul 09, 2020
Very nice thanks Charlie and everyone else.
Jul 05, 2020
nature trail was interesting and facilities were clean!
Jun 29, 2020
Clean and comfortable campsite. Little expensive for nothing special.
Jun 15, 2020
The site we got was not we'll defined we moved sites but they need to make clear boundaries in the tent sites. At first they we reluctant to move us but they saw it are way eventually.
Jun 11, 2020
Stayed one night at this busy and relatively clean KOA. Camp site was nice. Facilities were well kept. My only complain was paying for wood and never receiving it.
Jun 05, 2020
Stayed overnight in our tent trailer. Loved the site!! Beautiful walking area! Very zen and peaceful.
May 25, 2020
Awesome, friendly, family-centered atmosphere with super-clean bathrooms and picturesque views for tent camping!
Apr 25, 2020
The bathroom was very clean! The owners were very accommodating and kind. The KOA is in a nice setting.
Oct 21, 2019
Very clean and well-kept. Bathrooms and shower very clean. Helpful owners. Beautiful grounds in tent area. Would definitely stay here again.
Oct 21, 2019
Best campground we have stayed at! Clean and nice people. Awesome game room and good grass for tents
Oct 09, 2019
Power kept tripping, could park next to tent site. WiFi sucked. Clean place though
Oct 08, 2019
I thought the owner of the park treated me and my wife very badly on the day we left. He was very hostile about the last day rent on the camping site. I will tell everyone I know how I was treated on that day.
Aug 21, 2019
Clean facility, friendly staff, enjoyed our stay.
Aug 15, 2019
I stay just for the night when traveling. Nice showers, roomy and good controls.
Jul 24, 2019
When we arrived at the KOA at Topeka, we noticed the very pleasant setting. The staff was friendly and helpful. Check-in was smooth and painless. The site where we placed our tent was clean, green grass and an overall very nice spot! However, this KOA is located very close to Highway 75. The night was not quiet but very noisy due to trucking traffic. Not the place for tents.
Jul 24, 2019
Made our tentsite reservation while driving to Kansas. Tina answered and was super helpful, took payment and completed the reservation for us. Quick and easy! The facilities were great when we arrived, and if I ever find myself driving through Kansas again I'd stay in a heartbeat.
Jul 22, 2019
Love the pool area and all the amenities. Wish there were more air conditioned areas to sit though. We were there during a really high temp time and there were no ac places to sit and relax.
Jul 21, 2019
It was a beautiful campground with nice trails but some common sense was lacking. You have to park a significant distance from the tent sites and haul in all your gear. They need to sale site 6 before 5 since 5 is full in the setting sun and six is shaded. Only one shower by tent sites and one shower on the other side of the campground. Not good for family tent camping.
Jul 06, 2019
Nice facility but some things were out of order. Clean. Noisy from the highway being so close. Store hours are not good. Closed during checkout time and lunch hour when needed. Friendly staff.
Jul 04, 2019
Nice character. Love the barn, the pond and the swans!
Jun 18, 2019
The hosts were lovely and the camp had everything we could want and more!
Jun 18, 2019
The camp grounds were well maintained. Pool was nice ponds was great well stocked with fish. Play ground was nice. I would have give a ten but the store has odd hours. Wish the store was open more. WiFi strength was okay but we were close to the store. Game room was okay and best part free popcorn. You are close to a high way and do hear the trucks at night but KOA can't help that.
Jun 12, 2019
Most tent sites do not have adjacent parking. They apparently don't want to use the two that do, because they aren't electric. I would have been find there, but they kindly sent me to a service drive so I had my car. Very large game barn, with living room. Beautiful site. Not a huge RV parking lot. I definitely recommend it, but you'll have to negotiate for a car-camping tent site.
Jun 04, 2019
We enjoyed our stay in Topeka KOA. It was a very lovely park like setting. The pool and the game room were very nice and our hosts were very friendly. I would definitely return if I lived in the area.
Jun 04, 2019
The staff was very helpful. Restroom and shower clean.
May 18, 2019
Easy to find, clean facilities, and helpful staff! Would definitely recommend.
May 13, 2019
I really enjoyed the campground as well as the amenities and the breakfast
Oct 16, 2018
we came in tired and so cold! We were made to feel welcome and in good hands. They handled a change we had to make seamlessly, had us settled and wood delivered in no time. Hot showers were close by and the kids had a great time in the game room. Kudos and many thanks!!
Oct 03, 2018
Everyone was very friendly and we really appreciated the dog park area. We made a reservation, but arrived very late. They had our information waiting for us and we were able to setup camp without bothering anyone. We were the only tent campers. The tent area is by the pond and was really nice.
Nov 18, 2020
Spent a care free night in Topeka thanks to Charlie and his crew at the KOA. After the previous 3 nights I spent deep in the wilderness, the change of pace at the friendly location was needed. A hot shower and a cozy spot for my tent was what I needed. If I had any complaint it would be the proximity to the highway which was loud through the night, but a pair of noise cancelling headphones soothed any burden. I had a great nights rest and was ready to hit the road first thing in the AM. Whenever I pass through Topeka I plan on returning to this KOA
- Garrett McNerney on Google
Oct 26, 2020
Great! Clean and friendly.
- Chris Locke on Google
Oct 15, 2020
Clean, lots of amenities, and super nice people.
- Charles Craig on Google