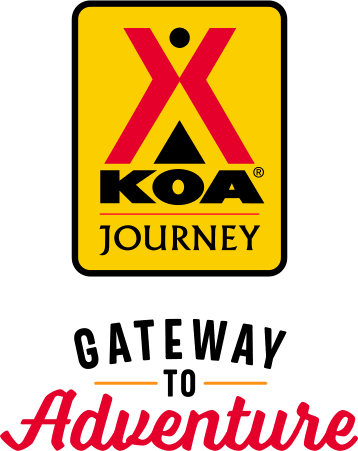 KOA Journey Campgrounds
KOA Journey campgrounds are the perfect oases after a day on the road. Whether it's along the way or a quick getaway, they've got you covered. Located near the highways and byways of North America with long Pull-thru RV Sites, they deliver convenience to the traveling camper. Pull in, ease back and take a load off.
KOA Journeys Feature:
Pull-through RV Sites with 50-amp service
Premium Tent Sites
Well lit after hours check-in service
Directions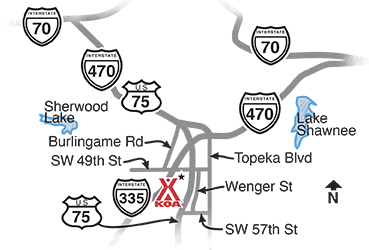 For new paved access road, follow directions from intersection of Highway 75 & SW 57th Street.
Northbound/Southbound: Hwy 75, Exit SW 57th Street, east 500 feet to Wenger Road. North on Wenger Road, 1.5 miles to SW 49th Street, west 800 feet. Entrance on left.
Eastbound/Westbound: Jct I-470 & Burlingame Road (Exit 5), south 1.5 miles to SW 49th Street, east 0.25 miles. Entrance on right. This section of SW 49th St is gravel. To access on pavement. continue South on Burlingame Rd. 1.5 miles to SW 57th St. East 0.5 miles to Wenger Rd. North on Wenger Rd, 1.5 miles to SW 49th St. West 800 feet to entrance on left.
Get Google Directions
Jun 19, 2021
Very clean! Staff was extremely friendly. Didn't have a fire pit in our spot, and they were more than happy to bring us one. Salt water pool was Divine!!! Would highly recommend this location. Next to hiway but at night noise was not a issue. Across highway from military airport, again afternoon and evening was not an issue!
Jun 18, 2021
My family and I were very tired after driving all day and accidentally went into the wrong cabin which cost more than the one we were supposed to stay in. The friendly staff had us stay where we were and didn't charge us for it. Very Friendly.
Jun 17, 2021
Exceptionally well run RV park. Excellent utilities, level site, easy in and out. Spend some time here as Topeka and the area have a lot to offer. The ponds are beautiful, nice pool ss well. We travel in a 45 ft motorhome, this was our second time here for a six day stay and we look forward to coming again.
Jun 17, 2021
Not a good location - noisy from interstate at edge of property and train plus gravel road to entrance. No assistance in arriving at site. Confusing marking on site so parked then had to move. Attendant said confusion occurred previously and made an adjustment in signage - after we had to move. It did have complete hookups - 50 amp, water, sewer and was just one night so gave two stars.
Jun 16, 2021
The kids enjoyed the pool and we're able to play while we were setting up our campsite. Nice and quiet. We stayed only one night on our way to Colorado.
Jun 16, 2021
The place was nice. My only problem was with the internet, which kicked off on my repeatedly, so I had to reconnect many times and redo work that was lost. It seems it is time to upgrade the WiFi service. Otherwise, all was good.
Jun 16, 2021
Great laundry room, everything worked and was super clean.
Jun 16, 2021
Beautiful park, clean, everyone was friendly and my wife was able to get me a spot at the last minute. Plenty of room to get in spot and spot had lots of room.
Jun 15, 2021
Kids loved the hayride, game room, fishing and pool!
Jun 14, 2021
Too much traffic noise; hospitality poor from office staff; showers were okay. Needs shower heads that are not like pressure washer nozzles. Sites were very close and there was no shade.
Jun 14, 2021
We have stayed here multiple times over the years and this campground has gotten better each time! We enjoyed the saltwater pool daily, playing the games in the barn and some fishing. The only thing that I wish is that some of the spots were a little bigger. The spot we had only had a small grassy area and next to a large fifth wheel with multiple slide outs on the side of our grass took up space.
Jun 14, 2021
Had a great time. So many things to do, we didn't have time to do it all. My kids didn't want to get out of the pool!
Jun 14, 2021
One of our best Campground experiences. Friendly helpful staff. Spacious flat pads and wonderful amenities including Fishing ponds and a pool.
Jun 14, 2021
Staff (owner?) was amazing! Very accommodating! Site was beautiful - scenic! I highly recommend the tent camping here - all grass, on the edge of a pond - so it seemed cooler than the RV sites. Restrooms, pool and rec room were clean and inviting! Highly recommend!!
Jun 13, 2021
Had the 50 amp breaker switch off about 3 times, notified the office and it was promptly replaced. No furthur issues. Great place to stay!!
Jun 13, 2021
It was pleasant as always. Had a great time seeking out frogs and tadpoles.. enjoyed the pool and the game room..
Jun 13, 2021
Just an overnight stay. Nice KOA. Don't use GPS takes you over bumpy dirt road
Jun 12, 2021
Uneventful. Just as we want it. People were friendly.
Jun 12, 2021
Clean, neat, well maintained. Overall beautiful! The showers actually had enough hooks to hang everything up! Great place, highly recommend it.
Jun 11, 2021
fantastic tent camping, thanks
Jun 11, 2021
Great place to stay All the staff was very helpful
Jun 10, 2021
The camp ground is well kept and the staff are friendly and very helpful. If I had a complaint it would be that site number 8 needs to be releveled. I ran out of boards before I was able to get the camper close enough to level to allow the self leveling to work properly. Thank you for a great time during my time in Topeka.
Jun 09, 2021
Weekend stay for son's baseball tournament. Location, convenience, Amenities,friendly staff, and neighbors. Would book again
Jun 09, 2021
Both roads leading into the park are a disaster. We came in the back way and had just washed our unit and car, but by the time we got to our very unleveled sight both were white from dust. The front entrance has an exceptionally bad rail crossing and if one doesn't notice the big whole, one could possible blow out a tire.
Jun 08, 2021
Good stop over, looks to be well kept. Campsites very close together. 30' travel trailer.
Jun 08, 2021
Nice place to stay!
Jun 07, 2021
Special thanks to Cathy for helping us by taking us and our sick dog to the vet
Jun 07, 2021
Had a nice stay any everything went well.
Jun 07, 2021
We loved all the fun things to do, from the fishing ponds, pool, playground, and game room. Thanks for a fun weekend.
Jun 07, 2021
Wish we could have stayed longer.
Jun 07, 2021
We had a beautiful spot right by the pond. The tent site was close to all the amenities and you were not too close to other tents.
Jun 06, 2021
Helpful owners and great staff, especially Tina. Super clean laundry room and a nice spot for a one night stay. Next time, we'll probably book a patio site. It seemed that many "guests" were relatively permanent residents. If you have good weather, take a walk around the lake and enjoy!
Jun 06, 2021
The unpaved road getting to the place is pretty ridiculous, but the campground is very goid.
Jun 06, 2021
Awesome place to rest and get off the road. Staff was excellent
Jun 06, 2021
Overnight stop, but it was awesome!
Jun 06, 2021
Didn't stay long at all because we just needed a place to stay between Wisconsin and Oklahoma. Impressed with the cleanliness of everything! Also - after having horrible customer service with the RV dealer, it was a breath of fresh air to have KOA call me back after I called. I didn't even leave a message - I had just planned on calling back later during business hours! Great work!!!
Jun 05, 2021
Always love staying here!
Jun 05, 2021
A very welcoming and friendly team presented a well kept and well run site. The facilities were excellent and we thoroughly enjoyed our stay. Excellent!
Jun 05, 2021
We have stayed in several KOAs over the years, both in RV sites and kabins. This one room Kanin was by far the best! Clean, bigger than most and close we to bathroom/showers and laundry. The campground is a smaller one and very well kept. We don't come thru this way often but when we do this is a must stay! Thanks for the best night sleep after 29 nights on the road.