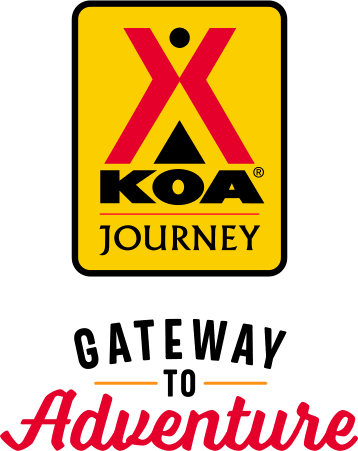 KOA Journey Campgrounds
KOA Journey campgrounds are the perfect oases after a day on the road. Whether it's along the way or a quick getaway, they've got you covered. Located near the highways and byways of North America with long Pull-thru RV Sites, they deliver convenience to the traveling camper. Pull in, ease back and take a load off.
KOA Journeys Feature:
Pull-through RV Sites with 50-amp service
Premium Tent Sites
Well lit after hours check-in service
Directions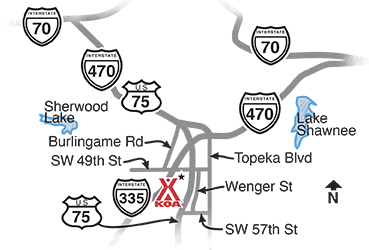 For new paved access road, follow directions from intersection of Highway 75 & SW 57th Street.
Northbound/Southbound: Hwy 75, Exit SW 57th Street, east 500 feet to Wenger Road. North on Wenger Road, 1.5 miles to SW 49th Street, west 800 feet. Entrance on left.
Eastbound/Westbound: Jct I-470 & Burlingame Road (Exit 5), south 1.5 miles to SW 49th Street, east 0.25 miles. Entrance on right. This section of SW 49th St is gravel. To access on pavement. continue South on Burlingame Rd. 1.5 miles to SW 57th St. East 0.5 miles to Wenger Rd. North on Wenger Rd, 1.5 miles to SW 49th St. West 800 feet to entrance on left.
Get Google Directions
Feb 12, 2021
We stayed in a cabin and it was very clean.
Feb 07, 2021
The management and staff were very helpful, professional, friendly, and made one feel right at home.
Feb 02, 2021
Very accommodating
Jan 23, 2021
We could not use WiFi. The error message said the KOA router needed to be reset. We used our own personal data network to contact the campground as office hours were closed. We have yet to receive any response. Very disappointing.
Jan 20, 2021
This is not what I expect of a KOA. Half the spots are permanent/long timers and many are very run down. I understand winter hours but only 3 hours is a joke, and it wasn't even open that time! Nobody around except for those times. Our spot was muddy gravel and very unlevel. The few of us were all put in adjoining spots even though lots of others were open. Suggest that KOA drops this franchise
Jan 11, 2021
Extremely helpful staff! Clean facilities and nice grounds. Easy to navigate and room for our 43ft toy hauler.
Jan 09, 2021
This KOA is well maintained, accommodating, and friendly. However, if you are traveling on I-70, you will travel about 45 minutes out of your way if you rely on Google navigation. Getting to the site from the west is not the problem. It is the eastern leg returning to I-70 that is a major pain. In addition, we were placed just a few yards from a noisy truck route. Couldn't have slept without earpl
Jan 07, 2021
The host was friendly and helpful. We were late arrivals and they were vary accommodating and helpful
Jan 03, 2021
Easy, quiet, completely as expected for a quick stop over. Thank you!!
Dec 29, 2020
We were only there for a quick night passing through, but would totally come back to stay for a longer period of time! Site was big and level for us to leave our tow vehicle attached. Park looked clean and well taken care of.
Dec 22, 2020
very helpful people, and plenty of room to move motorhome towing
Dec 17, 2020
Helpful friendly check in. Un level spot.
Dec 17, 2020
It was a nice campground and worked well for us to stop in and keep going the next morning.
Dec 07, 2020
Given COVID, we were able to pull right in, grab our registration information, and set up our site with no hassles. Thank you for making it so easy! Will be back in January!
Dec 06, 2020
Great job taking care of their campers. Our site was just a little short for our whole rig, we would have had to unhook, they came right out and ask if we wanted a longer one they had available. We have a truck with a side x side on the bed, pulling a 32' travel trailer with a 350 enduro bike on the back. This made us so happy. Drove back & checked on us a little bit later to see if all was wel
Dec 01, 2020
Out of all the sites we were put between two RVs I would have liked to be put in an open space. There were a lot of open spaces. Especially with Covid-19 going on. The rest of the stay was great and the owner was very nice.
Dec 01, 2020
Very friendly - clean park
Dec 01, 2020
Although we were only making a quick pit stop for some sleep it was a great place to stay.
Nov 30, 2020
Friendly staff and water spigot warmers are a nice touch. Our kids like the playground and amenities. The internet worked well.
Nov 30, 2020
Got in after dark and no lights in the campground at all. Hard a hard time setting up. Camper next to ys so close we almost touched slides. Gravel sites very uneven and no signage any where to help guide is to the campgrounds. Drives inside the grounds were horribly rough. Won't stay there again.very disappointed that Koa backs a place like it. We stayed in two other Koas in Texas that were great.
Nov 28, 2020
A very friendly campground. Facilities and grounds were well kept.
Nov 24, 2020
Positives: rather quiet; helpful staff at sign in Negatives: dusty; rather unattractive campground with minimal trees; not the easiest to find
Nov 23, 2020
This is our second stay at this KOA. The hosts are friendly and helpful. (We do wish they would have worn a mask when we checked in.) The park is quiet and very clean. Trash is easily accessed. They worked with us when we needed to extend our stay and also filled our propane tanks for us. We did not use other amenities due to the current health situation. We would stay here again!
Nov 20, 2020
Very good campground
Nov 19, 2020
Lovely little cabin. The checkin was easy and we felt very secure with the COVID-19 going on. The cabin was clean and had everything we needed to feel safe in these trying times.
Nov 19, 2020
Lovely little cabin. The checkin was easy and we felt very secure with the COVID-19 going on. The cabin was clean and had everything we needed to feel safe in these trying times.
Nov 19, 2020
Quick weekend stay on short notice. It was just OK. There were A LOT of long term guests with rigs in various states of disrepair. Just an overall trashy look. Grounds were decently kept. Playground was the only thing that looked in good shape. The photos do not match the condition of the campground. Also hope you like helicopters and jets taking off across the street all day and night.
Nov 15, 2020
We stayed in the deluxe cabin which has a full bathroom and TV. It was a chilly day so the heat was on, but during the night it ran out of propane and we were very cold as it got down to 19 that night. I called & told them about it and all he said was I'm sorry for your inconvenience. I should of asked for half of our money back but I didn't. Otherwise it's a very nice koa.
Nov 13, 2020
I liked this kampground because of its manageable size and its awesome playground. Our group made a lot of use of that! Everything was clean and nice. I appreciated that while our kabin did not have its own bathroom, it was located right next to the public bathrooms. It was very convenient. Checkin was amazingly simple. A great stay!
Nov 09, 2020
Cabin was dirty. For the prices you charge I could stay at a decent hotel. I have stayed with you twice, but never again. It is a small matter to clean such a tiny cabin - give me a break!
Nov 08, 2020
The KOA was very clean and the staff was helpful. Our dog liked the Kamp K9!
Nov 07, 2020
Nice facilities, friendly staff. Sadly, and beyond their control, they're located between two major highways. Convenient for those traveling either route, but lots of traffic noise.
Nov 06, 2020
We got in after the office was closed our reservation was in a box out front with a map, so it was easy to find our cabin. We were on the road for 9 hrs and were very grateful for the cabin and it's amenities. We left again before the office opened. I had been in contact with Charlie from the office and he was very pleasant and easy to work with. If we make that trip again, I would stay again.
Nov 01, 2020
Clean,friendly and staff is helpful
Oct 31, 2020
Clean cabins, restrooms, and grounds. Cute area. Wish we could have stayed longer.
Oct 31, 2020
The people ther were very friendly and helpfull!!!!!!!!!!!!!!!!!!!!!!!!!!!!!!!!!!!
Feb 19, 2021
Colder than a well diggers gizzard, but Charlie & Wife were very welcoming!
- MaryAnn Schmig on Google
Feb 04, 2021
Great park, very friendly staff!
- Edward Rice on Google
Dec 07, 2020
Real nice place. Nice nice people too
- Brenda Simon on Google