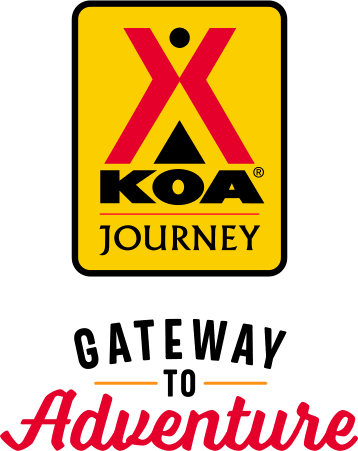 KOA Journey Campgrounds
KOA Journey campgrounds are the perfect oases after a day on the road. Whether it's along the way or a quick getaway, they've got you covered. Located near the highways and byways of North America with long Pull-thru RV Sites, they deliver convenience to the traveling camper. Pull in, ease back and take a load off.
KOA Journeys Feature:
Pull-through RV Sites with 50-amp service
Premium Tent Sites
Well lit after hours check-in service
Directions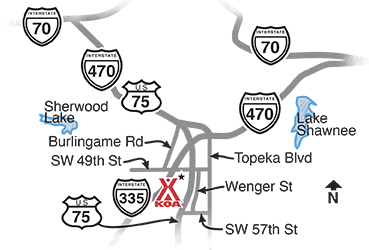 For new paved access road, follow directions from intersection of Highway 75 & SW 57th Street.
Northbound/Southbound: Hwy 75, Exit SW 57th Street, east 500 feet to Wenger Road. North on Wenger Road, 1.5 miles to SW 49th Street, west 800 feet. Entrance on left.
Eastbound/Westbound: Jct I-470 & Burlingame Road (Exit 5), south 1.5 miles to SW 49th Street, east 0.25 miles. Entrance on right. This section of SW 49th St is gravel. To access on pavement. continue South on Burlingame Rd. 1.5 miles to SW 57th St. East 0.5 miles to Wenger Rd. North on Wenger Rd, 1.5 miles to SW 49th St. West 800 feet to entrance on left.
Get Google Directions
Sep 16, 2021
We had a wonderful stay. This KOA was wonderfully clean and very well kept.
Sep 15, 2021
Chuck, and Tina went way and above taking care of us while we waited for a RV Repair. And we got to enjoy 2 more days at the KOA. Great place to stay.
Sep 15, 2021
Very friendly staff. Nice large roads for easy setup and departure. Everything worked well. Some long termers need a little cleanup but not a dealbreaker.
Sep 15, 2021
Nice quiet place to stay. Clean and functional with friendly staff!
Sep 14, 2021
Clean, friendly and wide access to make turns easily. Didn't feel like we were on top of each other and out in the country so space and peacefulness. We were in/out so couldn't take advantage of the pristine setting with a pond, bridge, etc.
Sep 14, 2021
Had a wonderful stay. Office was great.
Sep 13, 2021
Great place and very clean
Sep 13, 2021
We stayed here on our way to CO and we found it to be clean, easy to get in and out, and all around comfortable. We cancelled another campground and stayed here on our way back home.
Sep 13, 2021
Facilities were clean, staff friendly, tent sites were level and clean. Would definitely go back! The game room was fun too.
Sep 12, 2021
Nice clean park for an overnight stay. Staff was friendly. Lots were spacious and well marked. We enjoyed our stay!
Sep 12, 2021
Nice, clean little park with some Big Rig pull thru's! Very nice staff !!
Sep 12, 2021
Had a great one night stay. Enjoyed cooling off in the swimming pool. Site was level, amenities were good. Beautiful surroundings. Highly recommend.
Sep 12, 2021
Just an overnight while traveling back home. This Topeka KOA is tops! It reflects a lot of hard work and caring by the people in charge.
Sep 12, 2021
Nice place to stop and rest your weary bones. Staff was friendly, bathrooms were clean, and the grounds were beautiful.
Sep 12, 2021
Great location, nice size spaces, and it was very clean. We'll stay again
Sep 11, 2021
Only 1 shower for entire campground so unable to use before a long day of driving. Tent spot had no car access which wasn't expected. Booked a tent spot with electrical outlets but it was unusable due to plastic being jammed in the socket. Campground was however very clean and after hours check in was easy.
Sep 11, 2021
Very friendly helpful staff! Nice grounds and facilities. Wonderful salt water pool.
Sep 11, 2021
Nice place to stay, spaces are a bit tight, clean well Kept, nice grass areas. We got in late and stayed only one night and would stay again when passing through
Sep 11, 2021
This KOA was fantastic and had so much to offer. It was close to the highway for easy access but not loud. Spaces were spacious. Staff was very friendly and helpful. Best of all the it was extremely clean.
Sep 10, 2021
One of the best KOAs that we have been to. Loved all the grass, was very clean and beautiful!
Sep 10, 2021
Great park as I've come to expect from KOA's!
Sep 10, 2021
Wonderful stop for the night, beautiful grounds and pond, very nice gameroom, tv room, and even exercise room. Bath house was clean with good shower. Friendly and helpful hosts.
Sep 08, 2021
The owner and staff are excellent! We rented the private party room and it was perfect. Whatever you need they accommodate you. The game room is awesome. It has a wonderful play area for our grandchildren. This KOA is perfect for a fun relaxing experience! Thank you Charlie!
Sep 08, 2021
We always enjoy our time in Topeka. Friendly and helpful staff!
Sep 08, 2021
Good overnight stop
Sep 07, 2021
The "pavement' following a rain shower left our floors and carpets filthy. There needs to be a good solid surface on roads and campsites. I also got the feeling that many people were living full time in the campground.
Sep 04, 2021
Very nice park. I would stay there again! The staff was very friendly and helpful.
Sep 03, 2021
Our site was not level, making it very challenging to hookup when we were ready to leave, which resulted in us leaving almost an hour after check out time. We had no interaction with the office since we arrived after closing and the office was closed when we left the following day.
Sep 02, 2021
Nice quiet place but close to I 70. People were friendly.
Sep 01, 2021
Another great stay at a KOA!
Sep 01, 2021
Good one night campground. Clean.
Sep 01, 2021
Great place. My awning broke and they came abs helped me get it rolled back in and secured before I left. Great friendly bunch
Sep 01, 2021
The Kanin was very clean and comfortable and the camp staff were very helpful.
Sep 01, 2021
I do not understand a campground that has no sink in the shower room! It is impossible to shave or brush your teeth in these bathrooms as there is no place to set you stuff. Put the shower and the sinks in one room. Also one shower room is not enough
Aug 30, 2021
Given the only site without shade even no other tent site was reserved! The hayrides were not going. Had to overhear the AAA discount from other guest & then I asked about it & then discount applied. No coffee in the AM in office despite the limited hrs. of any assistance if one would need. Both checkin & checkout times the office is closed. Self checkin & out process is expected here I guess.
Aug 29, 2021
Campsites were clean, but some were back to back hookups and very close. Used the laundry this trip and the facility was neat and clean, although quite warm (it was a hot morning). There are two Speed Queen washers and 2 Speed Queen dryers which functioned as intended, but the wash cycles are very basic with no opportunity to add fabric softener to the rinse cycle.
Aug 28, 2021
And we stayed for four nights it was quiet and pleasant and close to town and the freeway
Aug 28, 2021
This is a small clean KOA with standard basic KOA amenities. The staff was very friendly. The only negative is the same negative with most JOURNEYS KOA. The mattress is thin and very uncomfortable. I'd suggest bringing something like a mattress topper with you if you are unfamiliar with the standard KOA mattress.
Aug 27, 2021
We had a terrific time, loved the cabin ,only thing was the DVD player didn't work for movies �
Aug 27, 2021
Nice location but office wasn't open when we arrived or anytime we went over to it.
Sep 13, 2021
Staff was friendly, facilities were clean. Tent sites were level and clean. Game room was fun. Would definitely stay here again.
- Makayla Johansen on Google
Sep 11, 2021
Very nice park. Bathroom was really clean. It's a Journey Park so just a stop over.
- scott hays-strom on Google
Aug 30, 2021
This is a good sized RV Park (70+/- spots) in proximity to a busy highway. We were warmly greeted and assigned our site. It was gravel, off gravel access roads and had modern hookups that were convenient and functioned properly. Most sites are pull through, and there appear to be many that are occupied by folks that live there. We were assigned a "buddy site" that was long enough so we had plenty of room even with someone next door. Plenty of OTA stations, we did not try the cable, and a big sky for satellite. Their included WiFi was better than average, almost always providing a signal that was useful, and the Verizon cell service was good. The barn/Rec hall had plenty of things to do, and the pool (looks to be a newer addition) was inviting. The park is close to the city and whatever shopping you may want.
- VillagerRick on Trip Advisor