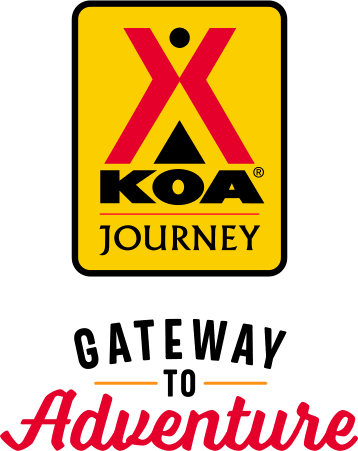 KOA Journey Campgrounds
KOA Journey campgrounds are the perfect oases after a day on the road. Whether it's along the way or a quick getaway, they've got you covered. Located near the highways and byways of North America with long Pull-thru RV Sites, they deliver convenience to the traveling camper. Pull in, ease back and take a load off.
KOA Journeys Feature:
Pull-through RV Sites with 50-amp service
Premium Tent Sites
Well lit after hours check-in service
Directions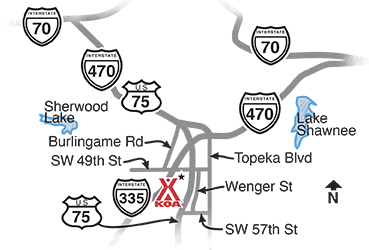 For new paved access road, follow directions from intersection of Highway 75 & SW 57th Street.
Northbound/Southbound: Hwy 75, Exit SW 57th Street, east 500 feet to Wenger Road. North on Wenger Road, 1.5 miles to SW 49th Street, west 800 feet. Entrance on left.
Eastbound/Westbound: Jct I-470 & Burlingame Road (Exit 5), south 1.5 miles to SW 49th Street, east 0.25 miles. Entrance on right. This section of SW 49th St is gravel. To access on pavement. continue South on Burlingame Rd. 1.5 miles to SW 57th St. East 0.5 miles to Wenger Rd. North on Wenger Rd, 1.5 miles to SW 49th St. West 800 feet to entrance on left.
Get Google Directions
Dec 01, 2020
Out of all the sites we were put between two RVs I would have liked to be put in an open space. There were a lot of open spaces. Especially with Covid-19 going on. The rest of the stay was great and the owner was very nice.
Dec 01, 2020
Very friendly - clean park
Dec 01, 2020
Although we were only making a quick pit stop for some sleep it was a great place to stay.
Nov 30, 2020
Friendly staff and water spigot warmers are a nice touch. Our kids like the playground and amenities. The internet worked well.
Nov 30, 2020
Got in after dark and no lights in the campground at all. Hard a hard time setting up. Camper next to ys so close we almost touched slides. Gravel sites very uneven and no signage any where to help guide is to the campgrounds. Drives inside the grounds were horribly rough. Won't stay there again.very disappointed that Koa backs a place like it. We stayed in two other Koas in Texas that were great.
Nov 28, 2020
A very friendly campground. Facilities and grounds were well kept.
Nov 24, 2020
Positives: rather quiet; helpful staff at sign in Negatives: dusty; rather unattractive campground with minimal trees; not the easiest to find
Nov 23, 2020
This is our second stay at this KOA. The hosts are friendly and helpful. (We do wish they would have worn a mask when we checked in.) The park is quiet and very clean. Trash is easily accessed. They worked with us when we needed to extend our stay and also filled our propane tanks for us. We did not use other amenities due to the current health situation. We would stay here again!
Nov 20, 2020
Very good campground
Nov 19, 2020
Quick weekend stay on short notice. It was just OK. There were A LOT of long term guests with rigs in various states of disrepair. Just an overall trashy look. Grounds were decently kept. Playground was the only thing that looked in good shape. The photos do not match the condition of the campground. Also hope you like helicopters and jets taking off across the street all day and night.
Nov 08, 2020
The KOA was very clean and the staff was helpful. Our dog liked the Kamp K9!
Nov 07, 2020
Nice facilities, friendly staff. Sadly, and beyond their control, they're located between two major highways. Convenient for those traveling either route, but lots of traffic noise.
Nov 01, 2020
Clean,friendly and staff is helpful
Oct 31, 2020
The people ther were very friendly and helpfull!!!!!!!!!!!!!!!!!!!!!!!!!!!!!!!!!!!
Oct 26, 2020
Easy to find and convenient. Tina was very helpful and friendly.
Oct 24, 2020
Had multiple Dr Appointments @ VAMC on Gage. This was easy to get back & forth. Very clean, very quiet! Exactly as advertised! Owner & staff are very accommodating & pleasant!
Oct 23, 2020
This is our 2nd visit. The office is closed from 10:30 - 3:30. We had attempted to call ahead (hoping to use points) and no answer. We made a reservation on the app 1 hour before arrival. We also reserved a spot "near the pool" because the "upper" parking area (middle of campground is full of full-time residents) is VERY close to the highway & very loud but we didn't get it. Won't
Oct 22, 2020
The adjacent road is very noisy 24 hours a day.
Oct 22, 2020
We stay here every year when we head south or head home. Easy to get to and many restaurants within 5 miles.
Oct 19, 2020
Held our October chapter rally here and the accommodations were excellent--no problems, no complaints!
Oct 18, 2020
It was a one night stay.
Oct 16, 2020
Average park with open areas and multiple ponds Didn't use any amenities but did have multiple places to entertain outside of the camping site Gravel roads but some have concrete and patio pads and furniture if you pay extra which we did Downside would be dust and exspressway noise It's right next to it but didn't really bother us Good overnight stay for long rigs as some sites about 90
Oct 15, 2020
People drive way to fast in this park. Not sure if it was someone staying there or a delivery person, but to fast. Also, some spaces do not offer firepits, I'd call and ask. The owner was very nice and moved us promptly to a space that had one. It's right next to a highway so you do hear traffic, but our camper is sounds proof. Slept like a log. Park very clean, very spacious, beautiful playground
Oct 13, 2020
A bit difficult to find. Definitely need a sign showing where to turn. Nice clean park and friendly folks.
Oct 12, 2020
Very nice spot. Clean, quiet, well-organized. Staff was courteous and helpful.
Oct 12, 2020
Our site wasn't level and we were sandwiched between two long term campers - neither optimal for us.
Oct 06, 2020
Great folks. Very accomodating.
Oct 04, 2020
Very friendly and helpful staff, only stayed 1 night but was a very quiet and well equipped park.
Oct 02, 2020
Loved it so much we stayed there 4 different times
Oct 02, 2020
It was okay. Good location. Nice staff. Clean rest rooms and great shower pressure. Most annoying was sites are not level. I'm 45 feet and on enough of a grade that I could not level the coach and had to have TWO extra steps to get in the front door. Also some of the campground roads were tore up.
Sep 30, 2020
Very nice staff & clean rv park. Only complaint is noise from the Interstate and a little tricky getting from the interstate into the park!
Nov 18, 2020
Spent a care free night in Topeka thanks to Charlie and his crew at the KOA. After the previous 3 nights I spent deep in the wilderness, the change of pace at the friendly location was needed. A hot shower and a cozy spot for my tent was what I needed. If I had any complaint it would be the proximity to the highway which was loud through the night, but a pair of noise cancelling headphones soothed any burden. I had a great nights rest and was ready to hit the road first thing in the AM. Whenever I pass through Topeka I plan on returning to this KOA
- Garrett McNerney on Google
Oct 26, 2020
Great! Clean and friendly.
- Chris Locke on Google
Oct 15, 2020
Clean, lots of amenities, and super nice people.
- Charles Craig on Google