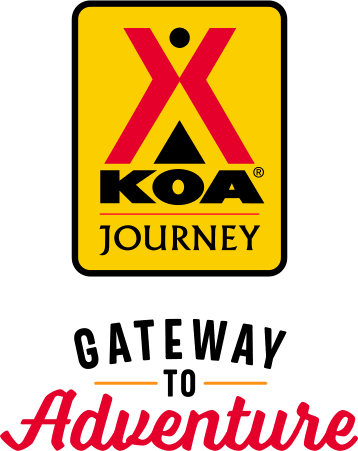 KOA Journey Campgrounds
KOA Journey campgrounds are the perfect oases after a day on the road. Whether it's along the way or a quick getaway, they've got you covered. Located near the highways and byways of North America with long Pull-thru RV Sites, they deliver convenience to the traveling camper. Pull in, ease back and take a load off.
KOA Journeys Feature:
Pull-through RV Sites with 50-amp service
Premium Tent Sites
Well lit after hours check-in service
Directions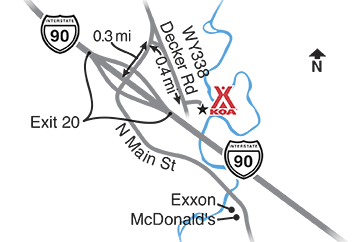 Take exit 20 head east toward Decker then take the first right at the no outlet sign. KOA is located 0.3 miles on the left side of the road. Please follow the above directions. Your GPS will not be correct unless you have updated it this year.
Get Google Directions
Jan 05, 2021
Nice campground, quiet. A bit tight of a fit in some areas.
Nov 23, 2020
It is a nice campground but Both of the owners or managers did not wear masks. I was okay with that when being shown to my campsite, but not when the bathroom was being unlocked and an unmasked person was inside ahead of me. My understanding is that Wyoming has a mask law now. It should be followed, particularly by people dealing with travellers.
CAMPGROUND RESPONSE / COMMENTS:
Our campground is closed for the season but since we've had nice weather we've let self contained campers come in. Our restrooms/showers are closed.. We made an exception and opened them for you to us in the morning. We register all our campers over the phone with no contact.
Nov 09, 2020
Uh, the owner came out and was VERY GRUMPY and RUDE to me. I had already been there an hour earlier and picked up the late night registration packet & scouted out our spot. Also, I had tried calling the # that was listed at the office 3 times to no avail. He was angry I didn't call (I did! 3 times!) and angry I didn't know where to go (it was very dark & they had all kinds of roads blocked off.
CAMPGROUND RESPONSE / COMMENTS:
Sorry for the confusion. We have the number posted on our door so we can escort guest to sites. Not sure what happened when you tried to call.
Nov 01, 2020
We just stayed overnight in Sheridan but would recommend this beautiful park to any camper.Although we stayed at the very end of the season, our host made our stay a good one . We will definately return.
CAMPGROUND RESPONSE / COMMENTS:
Thank you, glad you enjoyed your stay in Sheridan Wy.
Oct 31, 2020
We felt so happy to see that staff was masked and had hand sanitizer ready. We felt very safe. This is a nice campground and a good base camp for exploring the area. We would certainly stay there again. The staff was very friendly and helpful. Our site was very nice.
Oct 31, 2020
We didn't do much besides unhook my trailer and go sight seeing and visit the town. The campsite itself was very clean and the staff was very pleasant to deal with!
Oct 29, 2020
Campground hosts were so friendly and helpful. They quickly plowed out our snowy campsite and checked back with us to make sure we had no issues. The bathrooms were immaculate and toasty warm in sub zero temperatures. I highly recommend
Oct 29, 2020
Very facility with nice friendly hosts. We were accepted warmly in the off season!! J & W
Oct 24, 2020
Beautiful grounds. We walked along the creek even with the snow and it was wonderful. Very quiet environment. Wifi worked well.
Oct 23, 2020
We always love staying here at the KOA, in Sheridan. The Staff & Owners are very helpful & accommodating.
Oct 23, 2020
Very nice owners. Campground was on beautiful land with lots of open space and trees. Goose Creek was pretty. Loved exploring the campground! Clean bathrooms and showers.
Oct 22, 2020
It was about what we expected. It was too expensive given the time of year.
Oct 18, 2020
Easy access from 90. Close to town.
Oct 15, 2020
Enjoyed the cabin
Oct 14, 2020
Not the first time or the last to stay at this campground.
Oct 13, 2020
Our site was a w/e only site. The site was very tight for us as we are 40' with 5 slides. There was barely enough room to put out our slides. It worked for us as an overnight stop but would not have worked for us if we had been planning a longer stay. When walking around the park it appeared that the FHU sites were wider. If I had known that I would probably have requested FHU.
Oct 12, 2020
Nice park. Wide roads. Will come back. Did not use the restrooms or showers
Oct 12, 2020
Wonderful camphosts
Oct 11, 2020
One of the KOA's we really enjoyed. Clean, quiet, green, and huge spaces! We will come back!
Oct 11, 2020
We pulled in late, they had our info in night box with our site number and a drawn out map of where and how to get to our site. Thank you for that! Was quiet for the night and we left the next morning! Very easy in and out in our 35ft trailer. We will stay again
Oct 09, 2020
Most beautiful koa on our trip. Very nice amenities. Wish we could have stayed longer.
Oct 09, 2020
Very happy, owner nice and friendly
Oct 09, 2020
Our hats are off to Ms Elizebeth who checked us in. A real professional sweetheart. Needed a short extension the last day and so willing to help.
Oct 07, 2020
Nice people and nice area to RVing. Love it!
Oct 06, 2020
Employees were friendly and helpful. The park has a nice feeling, lots of mature trees. The dog run area by the creek was naturally beautiful, and the fenced area was clean and adequate in size. Right off I-25.
Oct 06, 2020
Nightly trains and 6am dumpster pickup but other than those issues is a good stay
Oct 06, 2020
Great as always Maybe look at another exit option fo row a area. Would make it a little easier to leave with large rig
Oct 05, 2020
Nice facility what you expect from a koa
Oct 05, 2020
Great place, friendly staff , clean, organized , will be back
Oct 05, 2020
Beautiful camp ground. Men's restroom has no hooks to hang a coat, also no paper towels to dry hands after washing. Yes the restroom has a couple of ineffective air blowers from the 1980's to try and dry hands. They don't work.
Oct 21, 2020
We were traveling through in the middle of October and having a very hard time finding fresh water to fill up our two motorhomes. My daughter-in-law called them to ask if they knew of a place, since the rest area had already turned off their water. They said they were turning their water off in an hour or so and if we came right over, we could fill up. It was awesome. They did not even charge us. Next time we come through, I am sure we will spend the night.
- Suzann Comstock on Google
Oct 15, 2020
Helped us out in a pinch! We needed water and couldn't find anywhere open since it was the end of the season. The KOA was getting ready to shut their water off but they let us come and fill up. Wonderful people, great looking facility. We WILL be staying here next time through.
- Katie Comstock on Google
Oct 15, 2020
Very nice place to stay. Cabin very clean -- check-in good for late arrive And -- the town of Sheridan is very nice -- with many small businesses, well worth the money to visit. Late check-in worked great for us -- everything was correct.
- US N on Trip Advisor