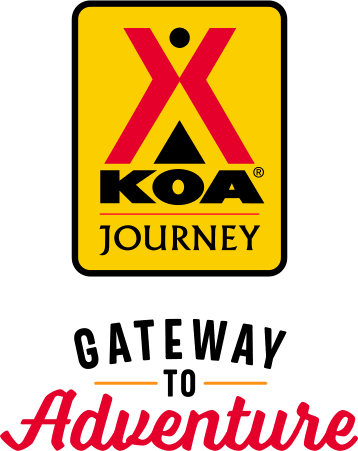 KOA Journey Campgrounds
KOA Journey campgrounds are the perfect oases after a day on the road. Whether it's along the way or a quick getaway, they've got you covered. Located near the highways and byways of North America with long Pull-thru RV Sites, they deliver convenience to the traveling camper. Pull in, ease back and take a load off.
KOA Journeys Feature:
Pull-through RV Sites with 50-amp service
Premium Tent Sites
Well lit after hours check-in service
Directions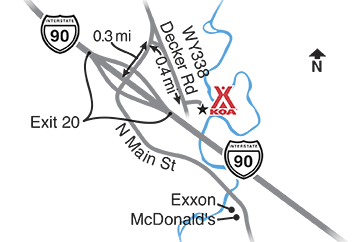 We have a new interchange so please use these directions as your GPS may not have a new map.  Take exit 20 head east toward Decker then take the first right at the no outlet sign. KOA is located 0.3 miles on the left side of the road.
Get Google Directions
Jul 23, 2021
Friendly people and nice park.
Jul 23, 2021
The staff were very professional and kind. Stacy called me to make sure that I knew how to get to Sheridan KOA about an hour prior to my arrival. The facilities were clean and well kept. I enjoyed staying at the Sheridan/Black Hills KOA.
Jul 23, 2021
Very clean! Friendly/helpful staff. Cabins spaced adequately. Would definitely stay again!!
Jul 23, 2021
Staff was a super friendly and its a nice campground. Jeff was also super handy when I needed some help with my RV.
Jul 23, 2021
We stayed just one night while en route to elsewhere, but we appreciated the clean, friendly, we'll managed park. The only bummer, the swimming pool was out of commission on a very warm evening.
Jul 23, 2021
Complete waste of money. The tent locations are 200 yards away from semi trucks driving 85 mph on the interstate. There is absolutely no sound barrier. I wish I didn't pay 35 for a night of no sleep whatsoever. Would not recommend this KOA. Would love to get my money back for this terrible experience. This campground needs to replan their tent sites to be further away from the interstate.
Jul 22, 2021
Easy highway access everything works as it should super friendly staff, the place has noticeable age, but the staff more than makes up for that
Jul 22, 2021
It's one of the older KOAs we have be at. They do have quite a few trees
Jul 22, 2021
Other than a mix up at check-in, where the previous occupant hadn't vacated the spot by the time of my arrival (4 pm), the stay was pleasant, and staff friendly. Grounds were clean.
Jul 22, 2021
Very clean, nice staff
Jul 22, 2021
Short but nice Campground
Jul 21, 2021
Very unfriendly and not willing to change our campsite to a bigger area and very demanding how we parked our cars even though we were in no one's way.
Jul 21, 2021
Excellent assistance for RV issue
Jul 21, 2021
Love this campground. Nice sites, nice amenities. Really nice staff!!!!! Enjoyed my stay very much.
Jul 21, 2021
Great people and nice wide and level spots.
Jul 21, 2021
Sites are much too close to each other. No sewage connection is a big minus. However, the staff is very good. They are friendly and polite, helpful, provide local information and are ready and willing to be of service.
Jul 21, 2021
We were here for only one night, we found the sites to be very cramped. We were unable to utilize our picnic table due to the closeness of the rig next to us. Also we feel the WiFi needs an upgrade, the only time we were able to get on line was after 10pm and before 5am. We found the staff to be very helpful and friendly, bathrooms were clean and well maintained. All in all it was a nice stop over
Jul 21, 2021
Everyone was super helpful, we got excellent directions to Mt Rushmore . We love KOA's!
Jul 21, 2021
Buen lugar para acampar. Muy tranquilo y limpio. Buena atención de parte de los encargados.
Jul 21, 2021
We had stayed here before a few years ago and when I knew we were going through Sheridan I didn't hesitate to call for a spot.
Jul 20, 2021
Enjoyed very much
Jul 20, 2021
Check in was easy. Campsite was as described, and clean. Facilities were as described, except the pool and one of the men's rooms are being renovated. Staff was very helpful! Thank you!
Jul 20, 2021
We were in an overflow spot which turned out to be just great. Our travel trailer had suffered severe damage to the rubber roof. Our host offered us a large tarp so we could cover the portion of the roof that was damaged. Our neighbor camper helped me with the cover and secure the tarp. All very helpful.
Jul 20, 2021
The owner and Manager here are great to take care of you. Would not hesitate to come back.
Jul 20, 2021
There's not enough space in this box to rave about the staff here. Everyone was extremely nice, helpful and caring. I watched them zoom around making sure every guest was taken care of and happy. There is one woman there (Stacy, I believe) that I can't thank enough for taking care of my kids and I on the most traumatic trip of our lives. She truly cares about people and you can feel it instant
Jul 19, 2021
We where there 2 days. The staff was very nice. The pool is very old. Clean but old and way outdated. Same goes for the bathhouse. It however served it's purpose and was close to town about 10 mins.
Jul 19, 2021
Very nice campground. We were always greeted with a friendly word and smile. We always enjoy our stay there.
Jul 19, 2021
Love the stay, for 4 years we stayed at ur cabin 4 sheridan rodeo. Alway been fun. Quiet at night. Relaxing.
Jul 19, 2021
It was Judy a overnight. Easy in and out
Jul 19, 2021
Very nice host helped us get checked in quickly as it was very busy.
Jul 19, 2021
The stay was great. The kids loved the pool and panning for gold. The noise from the highway is a little too much for me, but overall we had a great trip.
Jul 19, 2021
Everyone was so nice and extremely helpful when our pickup broke down.
Jul 18, 2021
No ac or additional fans in the cabins made it miserable with the heat ���� Odd there was only one bathroom, which they were consistently dirty from campers showering, etc. staff was friendly though.
Jul 18, 2021
It was clean, roomy spots, friendly staff. We had a quick one night stay during travels.
Jul 18, 2021
Although the campground was clean and staff very friendly, the kabin was OK. This campground doesn't keep up with the flowers like others, we found a sock from another traveler under our bunk so I question the cleanliness, showers were very low pressure and if someone flushed the toilet you were scalded in the shower. Paper towels need to be put back in the restrooms
Jul 18, 2021
Check in process went smoothly but the person that valet us to our spot directed us into an electric box causing a scratch and dent on our truck which we just had all the dents removed off before our vacation. Our spot was incredibly small, we weren't even able to open our canopy. We had one foot from the edge of our stairs to the next persons camper making it difficult to get in and out of the
Jul 14, 2021
This is an above average KOA. Lots of trees, nice sites. The managers were very nice. Close to all that the beautiful city of Sheridan has to offer. It is close to the freeway, but that is part of the KOA experience.
- Wayne Boulanger on Google
Jul 10, 2021
I had to pass through Sheridan on my way South and needed a place to ground for a few days. The staff was helpful, professional, easy to work with, understanding and accommodating. I had a pull thru space for my rig and it was quite adequate for what I needed. The staff leads you into your space when you check in to make sure you get into the right space and are able to hook up. I was grateful for that. The park does sit right off the highway and there is some basic highway noise depending on where your space is. The park has full accommodations and is not too far away from other services that might be needed. Some spaces do not offer septic, but they do have a dump station at no cost to the guest. Most, if not all, spaces have electric and water. The wifi is acceptable, but could be better. The signal shows strong most all the time, but that doesn't mean you are getting to where you are wanting to go. If you have your own internet, you are better off. I was told while I was there that this particular RV park used to be, at one time long ago, a drive in movie theater. Hard to imagine when you look around at all the rigs that are parked there. Interesting though. The park is well kept up and has a nice feel to it. Would I stay here again? Most likely.
- Max Meridius on Google
Jul 04, 2021
This place is beautiful! Covered in grass, under the trees, nestled next to the river, and butted up to the North Park walking area.
- Shandi Camino on Google