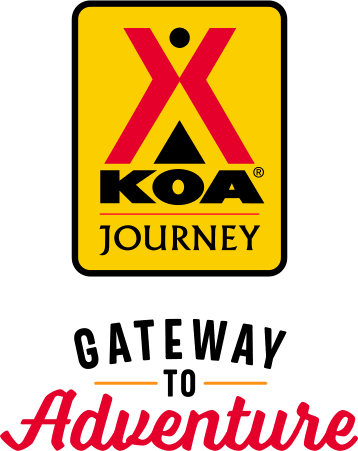 KOA Journey Campgrounds
KOA Journey campgrounds are the perfect oases after a day on the road. Whether it's along the way or a quick getaway, they've got you covered. Located near the highways and byways of North America with long Pull-thru RV Sites, they deliver convenience to the traveling camper. Pull in, ease back and take a load off.
KOA Journeys Feature:
Pull-through RV Sites with 50-amp service
Premium Tent Sites
Well lit after hours check-in service
Directions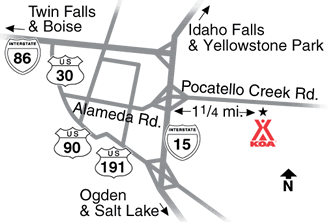 from I-15: Take Exit 71 Pocatello Creek Rd. East 1-1/4 miles. From I-86 W: Take Salt Lake Jct to Pocatello Creek Exit 71.  Please get into the middle lane and stay there do not go to your left or right stay in the middle lane and we are on the right hand side.Then east 1-1/4 miles.
Summer hours are from 8 A.M. -  8 P.M.. Winter Hours are 8 A.M. - Dusk. we do have a night registration booth for after hours, with a true map of all our sites with a notice of what sites are available for you to choose from.
Get Google Directions
Feb 15, 2021
Stayed in a wonderful little cabin! We love these! The staff was more then accommodating and friendly. Bathrooms were kept nice and toasty warm (for this cold winter time)- hot water for showers too! Very clean. Will be staying here again in summer for sure!
Oct 24, 2020
We always like to stay here.
Oct 24, 2020
Registered online and checked it quickly when we arrived. Kabin was clean and heater on when we moved in. Staff was friendly and helpful.
CAMPGROUND RESPONSE / COMMENTS:
Thank you for your comments.I am glad you enjoyed your stay in our Kabin in these crazy times. Please come back and see us. Tom
Oct 19, 2020
Would have provided 5 stars bc the check in was easy, cabin was very very clean as were the bathrooms and the space heater was a lovely tough but the mattress in the cabin was so uncomfortable that I was tossing and turning all night and woke up sore. I've slept on other cabin mattresses but nothing that uncomfortable.
Oct 16, 2020
Nice campground. Neighbors were coming and going at all hours and parked their loud car right beside the cabin. Staff were very nice and informative. Will stay here again
Sep 23, 2020
Just an overnight. No amenities. But, people were very professional and friendly.
Sep 20, 2020
outstanding, great place for pets and people, super helpful will positively be back great place and unbelievably CLEAN... when my daughter calls it clean it is better than new.. great caretakers and staff
Aug 21, 2020
its was perfect!!!!!
Aug 16, 2020
Great friendly staff, nice facilities!!
Aug 04, 2020
We stayed in the rustic cabins on our round trip drive from CO to WA and it was wonderful both nights. The grounds are clean, well-maintained and shaded. The playground was great for the kids. The surrounding countryside was beautiful and welcoming after our long days on the road.
CAMPGROUND RESPONSE / COMMENTS:
Great to hear from you and for you to take the time to let us know how your stay was. We here in Pocatello Idaho hope you have a great summer. Stay safe.
Aug 03, 2020
Very nice small camp ground but wish the cabins had air conditioners lots of yhe other KOAs do.
CAMPGROUND RESPONSE / COMMENTS:
We have tried with the air conditioners. We are getting a new system for heating and cooling them. We are on it. Thanks for staying with us.
Aug 01, 2020
Got in very late but the host made sure I could find info and keys during my overnight check-in. Thank you!
CAMPGROUND RESPONSE / COMMENTS:
We are glad you enjoyed your stay with us and look forward to seeing you again have a safe and fun summer.
Jul 25, 2020
The campgrounds and our cabin were clean, shady, and comfortable. We would stay there again during our travels any time! The playground was great for getting the wiggles out too! We only wish it had a pool or hot tub.
Jul 23, 2020
Nice campground, friendly staff. The bathrooms were really small. Only two showers and they were kinda small. Other than that it was great..
Jun 16, 2020
Another beautiful campground that is well taken care of. The lady we interacted with was not the most friendly and sociable person, but she wasn't rude or disrespectful. The cabin was nice but I would suggest sweeping them out more often since there were a ton of spider webs along the ceiling beams that we didn't notice until bedtime :(
Jun 07, 2020
Cabin smelled. No A/C or heater in cabin, no one was there to check me in. I received an email before I arrived that I had been checked in. I was lucky to find where they had put an envelope with my name on it which contained my key and cabin information. This is a very different experience than I have had at previous KOAs.
CAMPGROUND RESPONSE / COMMENTS:
We tell all our customers that if you come in after-hours that your reservation will be on then night booth. With the virus situation, we have our manager's # numbers list there for you to call if you have questions or issues.
Jun 05, 2020
Staff was super friendly. Facilities were clean. Easy access to and from I-15. Large Winco in town for resupply, but not really needed as KOA store had reasonable prices on items we needed. Again, staff was super friendly.
CAMPGROUND RESPONSE / COMMENTS:
Thank you for come and stay here in Pocatello. We hope to see you again and maybe you can go site seeing! We should be back open and running with the virus under control. Idaho has many things to see and offer.
Mar 18, 2020
Owners very nice. They had our cabin nice and warm when we arrived. Very nice location.
CAMPGROUND RESPONSE / COMMENTS:
Thanks for taking time to leave your comments, and we are glad you were happy with your stay. - Tom
Nov 10, 2019
Very nice campground. Very clean and very well laid out. The staff was very friendly and accommodating. I highly recommend this KOA if you are in the area!
CAMPGROUND RESPONSE / COMMENTS:
Thank you for your comments. We appreciate your staying with us and please come back and see us.Tom
Nov 09, 2019
Comfortable and reasonably priced, helpful staff
CAMPGROUND RESPONSE / COMMENTS:
We are glad you enjoyed your stay,and thank you for your comments.
Oct 22, 2019
So cute and cozy, private and warmed with a little heater. Thanks!
CAMPGROUND RESPONSE / COMMENTS:
We are glad you enjoyed your stay and thank you for taking time to leave comment. Tom
Sep 10, 2019
We appreciate that you have recycling. We would like to see lighting that is in line with the International Dark Sky organization so we can view the stars. Lights should have shields that allow the light to point directly down instead of to the sides. Also, you should have a sign in the bathrooms for the last person to shut off the lights! I notice that in KOA's where there is h0ns snshoulAlso
CAMPGROUND RESPONSE / COMMENTS:
we have signs for the restrooms that say please shut off lights when leaving but some how one was taken down. its been placed back up .as for no lights on our campground we only have two in the bottom for peoples to be able to see there way back to there sites or restrooms. other wise where are dark. RV
Aug 14, 2019
Nice staff. Close to downtown but quiet.
CAMPGROUND RESPONSE / COMMENTS:
Thank you for taking the time to let us know how your stay was.
Aug 04, 2019
Campground was decent. Close to town and restaurants. Restrooms need a bit of an updating. Perfect for an overnight stay.
CAMPGROUND RESPONSE / COMMENTS:
Thank you for coming and staying with us here in Pocatello Idaho.
Jul 30, 2019
Bathrooms were clean, lots of families with dogs and kids in campground but not crazy or rowdy. The dogs barked a bit at night. The store was very sparse in the way of groceries or supplies. Lots of nice shade, it was really hot in the 90's. Camping cabin had a fan in it which was helpful and a screen door as well as screen windows. Overall nice campground for stop over. Close to the locks
CAMPGROUND RESPONSE / COMMENTS:
thank you for taking the time to let us know how we are doing. as for our cabins we have no screens on our doors.
Jul 28, 2019
With the bathrooms being closed 2 hrs in the middle of the day, I expected them to be cleaner. Other than that, everything else was great
CAMPGROUND RESPONSE / COMMENTS:
we clean our restroom at 11am at check out time and before check in at 12:30pm other wise we will not be able to have them ready for incoming campers. they are open all other times just use your codes. we have to set a time to clean them. other wise we would have to clean with customers in them and that's not good.
Jul 13, 2019
We stayed for one night on our way to Yellowstone in a cabin. The bathrooms were small but clean. The staff were friendly. The game room and playground need updating. Not a kid friendly KOA. But it serves our needs and we would use it again if we were to drive through.
Jun 30, 2019
Coffee should open earlier
CAMPGROUND RESPONSE / COMMENTS:
thanks for coming to our koa. our coffee is a curtsy and we open at 8 every day.
May 30, 2019
Entspricht dem Mindeststandard, aber finanzielle Abzocke.
CAMPGROUND RESPONSE / COMMENTS:
sorry you where not please with your stay. at least I think from the score other wise I can't understand your comments but we do like when you take the time to comment on us. have a great traveling season.
May 26, 2019
Darling cabin. Good heater. Clean and warm bathroom with lots of hot water and good water pressure. Big trees. Saved our vacation from the cold, wet weather. Nice people.
Nov 23, 2018
Welcoming, clean we will be back
CAMPGROUND RESPONSE / COMMENTS:
thank you for coming and we look forward to your return. have a great holiday season.
Nov 04, 2018
We had a long day on the road and arrived really late. Thank you SO much for leaving the heat on, it made all the difference in the world!
CAMPGROUND RESPONSE / COMMENTS:
Thank you for letting us know how your stay was. and we are not motel six but we will make sure you are comfortable. have a great holiday season. drive safe.
Oct 18, 2018
Stayed in a camper cabin for one night on my way home. The heater was turned on for me in advance, so the cabin was nice and warm. The bathrooms were clean and also warm. There were lots of trees in the campground overall, probably nice and shady in the summer.
Sep 22, 2018
My choice for a nights stay on my recent road trip from CA to ID. Excellent cabin accommodations. Close to the inter state but not noisy. Met the owner in the morning and complimented her on her property. Well worth the money.
CAMPGROUND RESPONSE / COMMENTS:
thank you . and we hope to see you again down the road. have a great fall season.
Sep 19, 2018
One word: Awesome!!
CAMPGROUND RESPONSE / COMMENTS:
Thank you. we look forward for you to return on another time.
Sep 18, 2018
Stayed in Camping Cabin. Very comfortable stay. Clean restrooms/showers/cabin. Friendly employee.
CAMPGROUND RESPONSE / COMMENTS:
we are glad you took the time to let us know how your stay was and hope to see you again.
Oct 27, 2020
One of the best KOAs we have stayed at... not because of the location but because of the service and kindness we were shown by Rose and the staff! We were having RV problems and she helped explain some useful stuff to us and provided us with what was necessary to fix it. The showers here were great- nice, clean, warm, and spacious! Thanks again for your help, Rose! Sincerely- Newbie Campers 🙂
- Chelsea Abbott on Google
Oct 25, 2020
Great location. Quiet and good people running it. Glad it is open into November.
- Jim Herron on Google
Dec 30, 2020
Great location, not far off interstate. Nice bathroom/shower house, very clean!! Little gas station has quite the selection of goodies,treats and other household/camping needs, very convenient!
- Danielle Wickham on Google