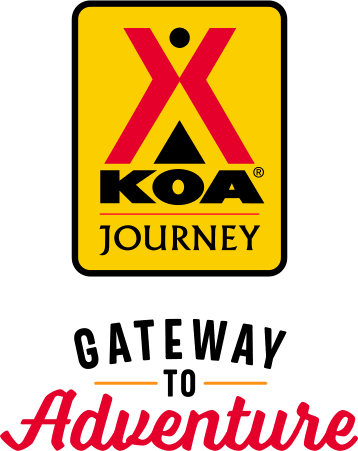 KOA Journey Campgrounds
KOA Journey campgrounds are the perfect oases after a day on the road. Whether it's along the way or a quick getaway, they've got you covered. Located near the highways and byways of North America with long Pull-thru RV Sites, they deliver convenience to the traveling camper. Pull in, ease back and take a load off.
KOA Journeys Feature:
Pull-through RV Sites with 50-amp service
Premium Tent Sites
Well lit after hours check-in service
Directions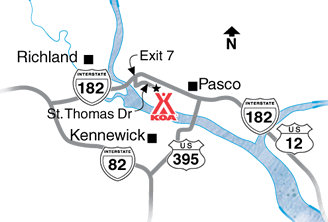 From I-182: Exit 7 at Broadmoor Blvd, south 0.1 mile, then east on St. Thomas Dr for 0.7 mile.
Get Google Directions
Jan 07, 2021
We enjoy our long term stay at KOA. Things can always be improved on, but for the most part, it's a great place to stay! Travis and Tina do a wonderful job, keeping things running smoothly!
Jan 07, 2021
The staff is amazing, hardworking and very friendly.
Jan 04, 2021
The stay was very pleasant. Was not aware KOA had campgrounds where you could live too.. Found it to be a smart thing to do seeing how not many people camp through winter. It was very quiet and pleasant. The only thing I'd like to see is a bigger area for dogs. But a great place to walk your dogs up the road.
Dec 06, 2020
Very accommodating and friendly. Large sites and clean shower and restrooms.
Nov 25, 2020
Pretty busy RV park right next to the highway, so it's a little loud. Nice, clean place to stay for a night or two. The staff was so helpful and kind, and I enjoyed meeting my generous neighbors.
Nov 21, 2020
We really like this place. That's why we stayed here again on our way home.
Nov 19, 2020
The place is clean and well situated for chess. That's why we're staying again tonight.
Nov 16, 2020
The staff there was so friendly and helpful. It couldn't have been a more perfect place to stay for our first night as RV owners. I am inspired to check out more KOAs in the future.
Nov 09, 2020
Being new to the hwy makes a lot noise but ok makes it easy to get anywhere .
Nov 08, 2020
We needed a place to stay while our apartment was being built. We are two college athletes, needed something close to campus, and affordable. KOA was a great fit for us. Friendly people and very affordable.
Nov 04, 2020
Stayed one night but good experience.
Nov 03, 2020
We brought our grandchildren. They loved the trick or treating . We were able to book the pool twice and that was a huge hit. Papa brought his RC cars and they loved playing with them and at the park. There are a lot of dogs , but all are well behaved and no barking. It was a great experience for us all. We will be back this summer for boating!
Oct 29, 2020
Nice park. We had a pull through which was just what we needed. Park was clean and pleasant. I would use the park again on another trip. WiFi was spotty and very slow. It kept losing connection. Easy in and out.
Oct 28, 2020
Great except WiFi was down. Friendly helpful staff.
Oct 21, 2020
I would like to thank Nick for helping me while I was at your K O A campground. He was very helpful and very nice to visit with. I don't know who was in the office when I called to see if I could extend my visit one day but she was very nice and was able to extend my visit for me. I love coming to Pasco K O A It is very convenient for me. Right between my tow Nieces. Thank you. CS
Oct 21, 2020
Had a great trip, no complaints.�
Oct 18, 2020
Even though we only stayed at Pasco one night, we enjoyed it. We were happy to have a pull-through to park our trailer. We will stay here again!
Oct 16, 2020
Great park! Staff are always friendly and healthful. Park is very clean.
Oct 15, 2020
Love this campground!
Oct 14, 2020
Very clean park. Nice and friendly staff. A little too much traffic noise from the freeway, but it is in a city.
Oct 14, 2020
We were there for a business trip and had to homeschool as well. WiFi was less than sufficient. Other than that it was a nice stay. Grounds were very nice and staff super friendly.
Oct 13, 2020
Sites are very close together,,also 6 lane highway beside the park was loud.
Oct 12, 2020
Facility itself is nice; very clean. Location is NOISY Traffic noise, sirens going off all night.
Oct 12, 2020
Nick was a pleasant person to welcome us and help us get settled in.
Oct 12, 2020
A bit noisy and lousy, unuseable WiFi.
Oct 10, 2020
Well, we were close to the freeway and the noise level was extreme. We do live in the country and understand I do some times that can' be helped. the rest of the facilities were great.
Oct 09, 2020
very convenient place to stay when travelling - very professional.
Oct 05, 2020
Great help. Clean. Well cared for. HORRIBLE noise as we are soooo close to a major thoroughfare
Oct 04, 2020
I had a great stay it is a clean and well kept camp ground. Tina and crew were extremely friendly and helpful. They have good rules and they enforce them. It's good to see them expanding as they are full most of the time.
Sep 30, 2020
We made reservations for 2 nights but ended up staying for 4 because this park is so nice and there is so much to do. My husband and son LOVED the RC track and I loved the indoor pool and laundry room lol. Travis and the staff are very helpful and kind too. We would absolutely stay here again.
Sep 29, 2020
LOUD! Right next to the freeway - horrible place to place an RV park. Heard every motorcycle and truck all night. Suspected drug deals going on at a trailer across from us. Cars and motorcycles in and out on Saturday morning. Playground needs TLC. The saving grace for this location is nice bathrooms and pool. The decor is very attractive. Hosts were nice and the trash pick up was prompt
Sep 28, 2020
The staff seemed friendly, the site was clean and well maintained. Other than the young man that filled our propane (he was not friendly at all) we had a good experience at this location. I would suggest changing the sign that went into the play area "no dogs allowed" as you had to cross this area to get to the dog play yard. It was a little confusing.
Jan 14, 2021
Very friendly & knowledgeable staff. The facility is very clean & well kept. I am proud to call this my new home. Thank you.
- Ward Bogart on Google
Jan 04, 2021
Highly recommend. Staff was awesome and even with covid19 we were able to do a lot and enjoy our stay. Will definitely be returning to this KOA
- Lacie Warwick on Google
Oct 09, 2020
Very nice, friendly people. Very neat campground, and for us, a much needed oasis.
- Carolyn Sullenberger on Google