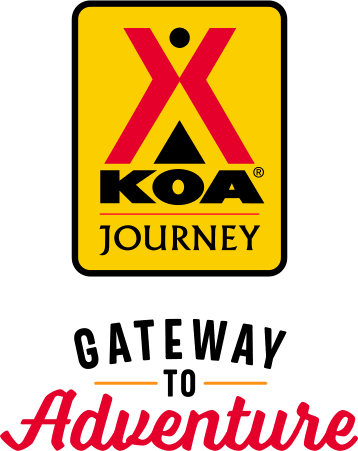 KOA Journey Campgrounds
KOA Journey campgrounds are the perfect oases after a day on the road. Whether it's along the way or a quick getaway, they've got you covered. Located near the highways and byways of North America with long Pull-thru RV Sites, they deliver convenience to the traveling camper. Pull in, ease back and take a load off.
KOA Journeys Feature:
Pull-through RV Sites with 50-amp service
Premium Tent Sites
Well lit after hours check-in service
Directions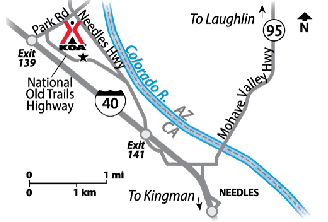 I-40 Westbound: Exit West Broadway/River Road, turn left, go about 1/2 mile, fork on to Route 66. KOA is about 3/4 miles on right.
I-40 Eastbound: Exit River Rd Cutoff, then first right over interstate, KOA on left.
From 955 from Blythe: Take Westbound I-40 to West Broadway/River Road.
From 95 Las Vegas: Take Eastbound I-40 to River Rd Cutoff.
GPS: If using GPS, please call. N34.869019. W114.643411
Get Google Directions
Jan 24, 2021
Stay here on way to Florida & back. Book ahead so we can get site we like. Staff always friendly and store has interesting items. Especially fun if you are interested in Rt 66 stuff. Easy in & easy out (well if you remember to go left if headed east, not right). Keep telling ourselves we will stay a couple of days one of these trips to check out local area. Definitely great for overnight stops.
Jan 24, 2021
Very quiet. Very good staff. All staff helpful and kind. Would highly recommend.
Jan 23, 2021
Nice place and we had an issue with our coach and had to stay longer than planned and they made it pretty easy to stay in the same spot as we couldn't move the rig.
Jan 23, 2021
Easy check in, friendly, nice quiet night!
Jan 22, 2021
Just a quick stop overnight. Clean park, friendly staff. If you need fuel, do not get it in California. Cross over the river to Arizona and save about 50%! :)
Jan 20, 2021
Quick overnight while traveling to see family. Staff was very good. We had little interaction because we were just traveling.
Jan 20, 2021
Nice nighttime view of the lights from town. And then beautiful sunrises (if you're up that early)!
Jan 20, 2021
Perfect stop on our drive, easy to check-in, easy to set up and easy to leave after a good nights sleep!
Jan 19, 2021
Love stay here.
Jan 19, 2021
Nice site, friendly and helpful staff, be sure to go across river to Arizona to gas up!
Jan 18, 2021
The park was clean and the Office staff was great!!
Jan 18, 2021
Great location, very clean and extremely helpful staff.
Jan 18, 2021
Very clean very helpful
Jan 18, 2021
KOA Needles is on my permanent list when traveling out West. It is beautiful, well maintained and the staff are very friendly!!!
Jan 17, 2021
Letting me check in early saved me $200 on a rental car. Truly helped me out! Everyone was helpful.
Jan 16, 2021
The campground and amenities were adequate, however almost no one wore a mask, even indoors. I was required to go indoors to check in and felt extremely uncomfortable because there were several other people inside without masks on. I will not be staying here again as I do not feel that the campground was doing their due diligence to keep their customers safe.
Jan 14, 2021
Staff was wonderful and extremely helpful. We enjoyed our stay
Jan 13, 2021
Nice week in Needles. Campground is in a good spot just outside the town with easy access. Bit of highway noise and a little dusty, but that's normal for the desert. Nice desert views and clear starry nights. Lots of birds running around and visiting. Friendly and helpful staff. Would definitely consider staying again.
Jan 12, 2021
Too short People were nice
Jan 11, 2021
I love this KOA. Big sites, easy to park and pull out, friendly people, beautiful sunsets. We only stayed a night, but will be back for a longer stay.
Jan 08, 2021
Easy access off the highway. Clean facilities. Friendly staff. perfect for night sky watching. Would definitely stay there again.
Jan 07, 2021
Overall campsite nice and clean. The only spot we have is kind of small . Water was clean but the water pressure drop below 0 without warning . It happened two days in a row. Staff was nice and friendly.
Jan 07, 2021
Friendly staff, nice dog park with plenty of room to take my dog for walks, good store, propane, it was a great stop for me!
Jan 07, 2021
Good, as usual.
Jan 05, 2021
Only there one night. Easy on/off freeway. Great staff. All gravel parking. Very wide pull through sites. Would definitely stay again.
Jan 04, 2021
The facilities are very nice. I especially liked that all the spaces were raked nicely and there were garbage cans in EVERY spot. We were greeted by more than one smiling face and helpful attitude. Thank you for that. The only downside is that it was very noisy with the freeway and trains but that would be the only downfall. I would suspect if in a full size RV the noise would be minimal.
Jan 04, 2021
Fast signin. A lot of room at the sites. Quite. Easy in and easy out. Friendly.
Jan 04, 2021
Excellent KOA. Attention to detail is evident. I really enjoyed my stay. The staff and Carla were very accomodating. I will make this KOA a future destination. Thank you! Wifi could use an upgrade. It was wonderful if no one else used it�Ϧ
Jan 04, 2021
Great staff, nice park for the night.
Jan 03, 2021
We just stayed overnight but were so grateful for the Needles KOA on our journey. I rated it a four stars for two reasons: 1) the site was a bit small leaving our tow vehicle to stick out into the roadway, and 2) The signage for those coming to your KOA up North on 95 was such that I had to circle around the block that the KOA is on. It was a good road but the extra circulating seemed unnecessary.
Jan 02, 2021
I have been visiting this KOA and staying in the camping cabins for over 8 years. Excellent location to relax and unwind. My dog loves to hike in the desert behind the cabin. The owners and staff are very friendly and I will continue to visit every year.
Jan 01, 2021
Our second stay here. It is easy to find, easy to check-in without contact, a very neat and tidy campground with pretty scenery.
Jan 01, 2021
easy to pull in and set up. People were friendly and helpful.
Dec 31, 2020
Staff here were very helpful and friendly. Our cabin was very clean and dry. Perfect for us after we had been backcountry tenting for a bit. We were warm and cozy in the cabin despite the high winds and cold outside. Showers were not great, but we got clean. Club house was nice and let us wash up our dishes in warmth. Store was well stocked with various items (if needed).
Dec 31, 2020
We thought your campground was extremely clean and very quiet. We loved the gift store with all of its neat items. The bathrooms were clean and the staff very friendly. Thank you so much!
Dec 29, 2020
We enjoyed it very much. Clean and quite. Well stay again. The staff was very friendly and helpful.
Dec 28, 2020
Stayed there the day after Christmas so the park was not very full. Nice check in and the managers are great. the store is very nice and even has wine and beer! Site was big and clean. We have a dog and their pet walk area is big and there is a huge desert behind the park you can also walk in (which is what we did). Definitely recommend
Dec 27, 2020
Mask-wearing could have been taken more seriously.
Jan 09, 2021
The staff is very friendly here and they have a small store which has nice items they give you free coffee. The bathrooms have hot water and there showers and sinks they have a nice laundry room as well we enjoyed our stay here
- Bill Hamonds on Google
Dec 28, 2020
Beautiful site with some spectacular views. Very clean, and friendly!
- Brandon Dunn on Google
Dec 27, 2020
Friendly helpful staff . Clean bathrooms. Great location off the highway. Needles has a lot to offer .
- matthew cline on Google