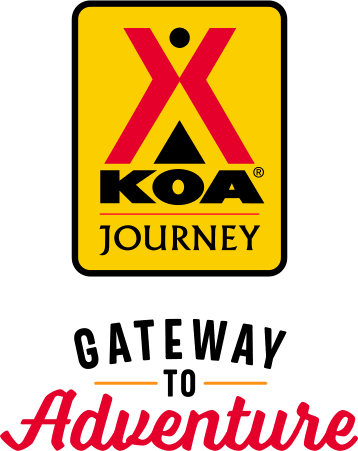 KOA Journey Campgrounds
KOA Journey campgrounds are the perfect oases after a day on the road. Whether it's along the way or a quick getaway, they've got you covered. Located near the highways and byways of North America with long Pull-thru RV Sites, they deliver convenience to the traveling camper. Pull in, ease back and take a load off.
KOA Journeys Feature:
Pull-through RV Sites with 50-amp service
Premium Tent Sites
Well lit after hours check-in service
Directions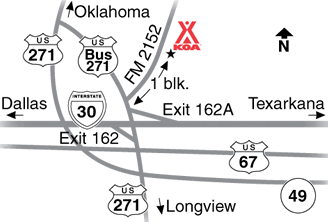 Eastbound on I-30 Exit 162 then turn left on Bus 271 over the I-30 interstate; at 2nd light turn right on Greenhill Road (also named FM2152); campground in 1/4 mile on the right.
Westbound on I-30 Exit 162A then turn right on Bus 271, take the next immediate right on Greenhill Road (also named FM2152); campground is 1/4 mile on the right.
Get Google Directions
Jan 21, 2021
Very honest and friendly staff whom "go the extra mile" to make you feel welcome !! The facility, grounds is extra clean and functional, Where People take Pride in their work! I will make an extra effort to stop here again soon. Thanks again to everyone involved - RustyOldMan
Jan 19, 2021
Our second stop there. Perfect layover for us. Nice level site, great dog friendly park with plenty of room. Super friendly staff. Thanks
CAMPGROUND RESPONSE / COMMENTS:
Thank you for the comment and we look forward to seeing you back on your next trip out this way!
Jan 17, 2021
Very flexible when we needed to move our reservation to the next night. Escorts to campsites. Heated restrooms and showers! Nice!
CAMPGROUND RESPONSE / COMMENTS:
Thank you for the comment and happy you enjoyed your stay with us.
Jan 14, 2021
Campsite was real small the cable was real fuzzy it was real clean and stuff was every nice
CAMPGROUND RESPONSE / COMMENTS:
Thank you for the feedback, we checked the cable on the site you were on and all clear on our end. We are always happy to help when campers let us know and often a bad coax cable or antenna booster is on for air tv. Thanks again!
Jan 12, 2021
Staff is very friendly and helpful. Concrete pads are level and plenty of space. Cute outdoor area. Great stay!
Jan 08, 2021
Nice campground. Clean facilities. Roads could use repairs
Dec 26, 2020
Friendly staff. Very kind and helpful upon arriving after normal business hours. Facilities were well maintained and user friendly. Would definitely recommend to any who are RV ing in the area.
Dec 24, 2020
Great people very helpful. Very easy to get to. Place was clean and laundry was nice. Level concrete pads.
Dec 21, 2020
Quick one night stay as we passed through Texas. The cement trailer pads were very nice, made for a quick and easy set up. The staff was very helpful.
Dec 17, 2020
The stay was great and staff was very helpful thank you !
CAMPGROUND RESPONSE / COMMENTS:
Thank you for the comment.
Dec 13, 2020
Was a little noise from the interstate but not bad. The internet was really good. Will see you again
Dec 10, 2020
I choose KOA when traveling because it is predictable and a good value. The Mount Pleasant KOA was a surprise. The communications, friendliness of the staff, after hours arrival instruction were excellent. When we arrived we found a very cramped park and frankly one that looked very "well loved" and in need of some refreshing (roads) and updating. I doubt we'd stay here again. WiFi was great!
CAMPGROUND RESPONSE / COMMENTS:
We appreciate your feedback. When you were here, we just had a big rain and roads did need some cleaning up, pumping water off. Since we took over the park 5 years ago we have done nothing but renovate and get positive feedback on all the projects we complete and continue to work on. Thanks!
Dec 08, 2020
Stayed here for one night on a trip from Houston to Nashville. Nice clean, quite campground.
Dec 07, 2020
This campground is just what w have come to expect at a KOA: everything works, clean, safe and friendly. Good value!
Dec 06, 2020
Very friendly staff, level concrete pull through sites.
Dec 06, 2020
It was a quick over night stay, but it was a nice, safe park. Staff was helpful and welcoming.
Dec 03, 2020
Easy access, nice grounds, friendly staff, clean restrooms, close to town and restaurants.
Dec 02, 2020
Great campground! They have thought of everything to make your stay the best! It was clean and very accommodating. The owners are always available to answer any questions. We especially enjoyed the dog park and the convenient location to everything in Mt. Pleasant. I highly recommend this KOA Camp ground and plan to stay there anytime we travel in an RV.
Dec 02, 2020
Excellent place to camp for a night or an extended stay. Great staff and super clean restrooms. They went out of their way to accommodate my special request.
Nov 30, 2020
We use KoA mostly for transit camping, one night on our way to/from destinations. We Travel to Arkansas from Houston for Vacation frequently. We have stayed in Texarkana (never again) and Shreveport. We really like this location. The managers made the difference! So friendly, nice, courteous, and helpful. Campground was very clean. We will continue to come back to this KoA in Mount Pleasant, TX!
Nov 29, 2020
Although we only stayed 1 night, the hosts were very accommodating. We had a nice level pull thru site so we didn't need to unhitch. The dog run was kept clean as was the park. Pine trees were dropping their needles keeping grounds crew busy. Water pressure was good. Didn't try the wifi but cellular was strong for both AT&T and Verizon. Tent sites looked very nice too!
Nov 27, 2020
very nice layout of area. Lots of space between rigs. Friendly people.
CAMPGROUND RESPONSE / COMMENTS:
Thank you for the comment!
Nov 26, 2020
Very nice concrete pad to park on. Staff led us to our site!!!
CAMPGROUND RESPONSE / COMMENTS:
Thank you for the comment!
Nov 23, 2020
This is a very nice park. My site was on the end of a row and had a nice yard and fire pit. Table and chairs at the site was nice to have for playing cards. I only stayed for one night but it was a very nice stay. I love the dog park and so did Lottie, my standard poodle.
CAMPGROUND RESPONSE / COMMENTS:
Thank you for the comment. We hope to see you back.
Nov 22, 2020
We thoroughly enjoyed our stay there. The best KOA we've stayed. Loved the cement pads, loved the great patio equipped with table and chairs and fire pit. Liked all the grassy areas to walk the dog. Also the management was very helpful and friendly. Would definitely stay there again
CAMPGROUND RESPONSE / COMMENTS:
We are happy to hear you enjoyed your site. Thank you for the comment.
Nov 22, 2020
We arrived after the office was closed, at 7 PM. Our tent camping reservation was taped to the window of the office with our campsite marked, which was very helpful. We stayed 12 hours so didn't really get to use or see much of the campgrounds. It was very quiet except this KOA is right off the interstate.
CAMPGROUND RESPONSE / COMMENTS:
We do close at 6:00 PM. Happy to hear you found our after hours procedure helpful. Thank you for the comment.
Nov 18, 2020
Nice, clean RV park. We enjoyed our stay.
Nov 16, 2020
Nice campground. Friendly staff.
Nov 15, 2020
the camp ground is very nice and quiet. the staff was extremely kind and helpful.
Nov 14, 2020
Excellent overnight stay again at this Mt. Pleasant KOA. Right off I 30. Easy in and easy out for my 36 ft 5th Wheel and 20 ft tow vehicle. Class As no problem either. The camp hosts are super. New Bar B Que place across the street in front. Food was great!
CAMPGROUND RESPONSE / COMMENTS:
Thank you for this wonderful review! We are so excited to have Jo Jacks-Bar B Que right across the street. Thanks again!
Nov 13, 2020
Outstanding Park with wonderful owners. Plan to return in spring 2021.
CAMPGROUND RESPONSE / COMMENTS:
Thank you for the comment and we will see you in the Spring!
Nov 11, 2020
I like this RV park, have always had friendly staff and they have the best cable TV of any KOA I have stayed at so far! Have been staying here for the past three years and will continue to when passing through!
CAMPGROUND RESPONSE / COMMENTS:
Thank you for the comment and for continuing to stay with us! We appreciate our campers!
Nov 10, 2020
We had a great time! Thank you for providing such a great place for us to stay.
CAMPGROUND RESPONSE / COMMENTS:
Thank you for camping with us and the comment!
Nov 09, 2020
Was what we needed for our week long stay
Jan 14, 2021
nice campground
- Rob Stevens on Google
Jan 13, 2021
They are very nice. Will help you the best they can.
- Cheryl Kizer on Google
Nov 01, 2020
What a treasure to find such a friendly, clean place to camp or rent a Kabin at! We loved our one night stay to visit out of town family that was 5th wheeling their way back home. We rented a Kabin and it was spotless, cozy and such a pleasant experience. The 2 Kabins are adjacent to the newly remodeled clubhouse and registration building where the newly remodeled bathrooms are. Everything was 5 star! It's a great place for even a 1 night Kabin getaway. Both Kabins have a single bunk and a full bed. They even put an electric heater in the room for us, and there was a fridge as well.
- Char Ferguson on Google