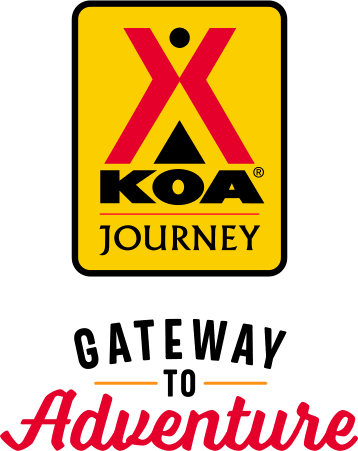 KOA Journey Campgrounds
KOA Journey campgrounds are the perfect oases after a day on the road. Whether it's along the way or a quick getaway, they've got you covered. Located near the highways and byways of North America with long Pull-thru RV Sites, they deliver convenience to the traveling camper. Pull in, ease back and take a load off.
KOA Journeys Feature:
Pull-through RV Sites with 50-amp service
Premium Tent Sites
Well lit after hours check-in service
Directions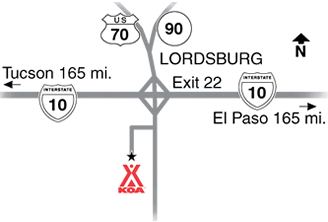 From I-10 Exit 22. From the west turn right, or from the east turn left on Main St, then turn right on Maple St by old Chevron gas station, then 2 blocks south on Lead St. If using Exit 20 from the west, turn right. Exit 24 from the east, turn left on Main St. 1.5 more miles, follow signs. GPS: N32.341837, W108.716667
Get Google Directions
Feb 10, 2021
Excellent KOA in Lordsburg, NM. Stayed on 3 occasions, all excellent.
Feb 02, 2021
Great KOA, Highly recommend!
Feb 01, 2021
The staff is friendly making check in easy. Bathrooms are clean.
Jan 31, 2021
The sunsets there are lovely. Also the Female staff are very friendly and helpful. The town itself is an unfortunate situation as it is dying. So the location is really an issue. Lots of RVs. Quiet location. Clean bathrooms. Needs updating badly.
Jan 18, 2021
I stayed in cabin #2 . It was very clean and peaceful. I would highly recommend staying here. The price is much better than the price of a hotel room. Especially during these times of a pandemic. Thank You KOA!
Jan 14, 2021
Unusually cold but took a long time for the cabin to heat up. Cabin was beautiful.
Jan 11, 2021
Clean bathrooms and kabins. Key always ready when we arrive after hours.
Dec 29, 2020
Amazing thank you!!!
Dec 15, 2020
Great stay this time, thank you.
Nov 16, 2020
The description of the tipi says "50 amp"! I booked because of that so I could charge my car overnight, just like at 14 other KOA campgrounds in the last 2 months. There IS a 50 amp circuit - directly next to the tipi and inaccessible by any vehicles, or anything else! LAME. I had to park in an RV spot to charge. The RUDE owner went off on me in the morning and made me pay $46 more. NEVER AGAIN!
Nov 10, 2020
Arrived late , at 11 pm. I had called earlier, KOA person said the key would be in the late box, it was, with paperwork. No problems with anything. Nice campground.
Nov 09, 2020
I Loved the Rustic Cabin look and feel, brought back so many memories of Camping through my Life. Think I found my new Favorite Cabin Away from Home Spot in Lordsburg!
Nov 07, 2020
If you need a place to stop over for the night, the Lordsburg KOA is it. It's not a fancy place, but it's clean and the staff are incredibly friendly. The only reason I don't give it a 5 is because the trains run through the night, so it's kind of loud. That's out of the KOA's control.
Nov 05, 2020
Great place for an overnight stay, the deluxe cabin is better than any hotel! The covered bbq is great! Safe and clean!
Oct 30, 2020
Everything was great except the bed mattress could be raised slightly for easier exiting for the elderly.
Sep 30, 2020
Great KOA operation in Lordsburg, NM. Will stay again there!
Sep 23, 2020
Very clean, the gentleman was very helpful and welcoming
Jul 17, 2020
It was fine just for a stopover.
Jul 02, 2020
Nice grounds, though much was unavailable due to the country's pandemic status. Quiet and clean; we'll definitely visit again.
Jul 02, 2020
Very friendly, positive staff and environment. Nice facilities. Easy access to highway, yet still quiet and tucked away.
Jun 22, 2020
Thankful for the KOA Kabins for a quick night stay. Rough area around the campground but it didn't affect my stay. Nice and welcoming staff.
May 21, 2020
Clean accommodations, clean restrooms, and beautiful grounds. Quiet area. Stayed in a cabin and brought sleeping bags for a simple overnight stay while traveling through. Excellent value for someone who doesn't necessarily want the tent-camping experience (sleeping on the ground) but doesn't need the amenities or want the cost of a hotel room.
May 21, 2020
Have stayed in a cabin here on two other occasions. Always clean, quiet, simple accommodations for a great price. Will stay here again. Love this place.
Jan 18, 2020
I had originally reserved the teepee, but upon arrival was informed we'd been moved to a cabin (at no extra charge) because it was going to be too cold for the teepee. Thought that was real nice.
Oct 22, 2019
Easy access from Hwy, quiet town, wonderful people, great clean campground. Clean cabins and bathrooms.
Oct 18, 2019
We had a very nice stay. We were only staying for a night on our way somewhere. It was nice having a dog run even though it was too small for big dogs.
Oct 15, 2019
Checking in was quick and efficient. Cabin and washroom super clean. Would have love a swing at front for relaxing. Love the kampkitchen for making meals. Could use some shade covers for the sun. Thank you.
Oct 14, 2019
Good directions to KOA; clean; hot water; plenty of room in cabin; night registration easy
Oct 13, 2019
Great. My cabin was neat and clean. There are some wonderful plants and bushes at that KOA such as a pomegranate tree behind the cabins. A fruit tree of some sort is there, too, along with a long forgotten garden with a very healthy surviving basil plant. It is my second stay in about three years, and I will definitely stop there again when passing through Lordsburg. Thanks. Jan
Oct 05, 2019
just an overnight stay. Clean and efficient.
Sep 28, 2019
Nice place. Super friendly staff!
Sep 20, 2019
"GREAT STAY"
Sep 06, 2019
Very friendly staff and a cozy affordable cabin. Couldnt get the wifi working but aside from that was a very nice stay, pool was a plus!
Aug 05, 2019
Bitten by bedbugs in cabin 01 at Lordsburg NM KOA.
Aug 05, 2019
First time staying at this and definitely NOT the last time. Very well kept location. One problem that is a KIA issue not this location. Mattresses in the cabins are too firm. Same problem in North Salt Lake City cabin we stayed in 3 years ago.
Jul 27, 2019
the site is old but in fairly good shape. the day we arrived it was about 98 degrees, the refrigerator and a/c were both turned OFF. it took all afternoon and evening too cool down.
Jan 27, 2019
Nice staff, clean facilities.
Dec 23, 2018
Our host was friendly and also efficient :) We came in late, she met us outside the office and gave us great instructions and sent us in our way quickly. We loved our deluxe cabin where she was kind enough to leave the porch light on for us :). Easy drop of the key in the early morning hours before the office opened and we were back on the road.
Dec 11, 2018
I arrived at 11:50 am unaware that the office closes and had to wait until 1 pm to check in. Check in itself was smooth, K1 was clean and equipped with a TV [never seen that at a KoA before!] although I would have preferred a microwave. The lock on the men's bathroom was clunky and difficult to operate although bathroom was clean. Overall, a good stay but the facility could use some upgrades.
Feb 18, 2021
Very friendly people , quiet park, good dog runs. I highly recommend staying here.
- Rott Guardian on Google
Jan 19, 2021
Fenced in dog runs, pleasant manager, pull-thru spaces, wifi.
- Wade Bradt on Google
Feb 21, 2021
Ok KOA. Nice folks. Was nice stop over for one night. Great sunset!
- Lori Kurth on Google