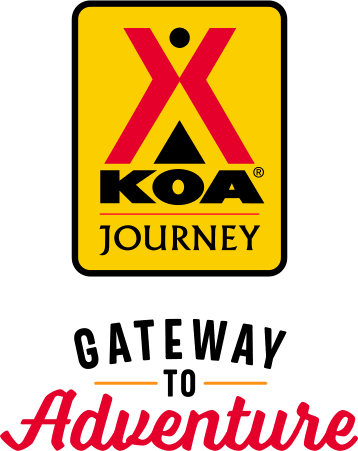 KOA Journey Campgrounds
KOA Journey campgrounds are the perfect oases after a day on the road. Whether it's along the way or a quick getaway, they've got you covered. Located near the highways and byways of North America with long Pull-thru RV Sites, they deliver convenience to the traveling camper. Pull in, ease back and take a load off.
KOA Journeys Feature:
Pull-through RV Sites with 50-amp service
Premium Tent Sites
Well lit after hours check-in service
Directions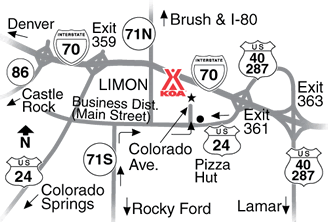 I-70: Exit 361 to US 24/Main St, west to Pizza Hut, turn right to KOA. All other highways, see map.
GPS: N39.264518, W103.672871
Get Google Directions
Jun 15, 2021
The best part of this place is the big dog park. Our site was level and utilities worked ok but need's renovation. The staff were friendly and appeared to be working on improvements. The store was very limited and didn't even have ICE available. The departure route was blocked so leaving was confusing. It's a shame that the camp has been allowed to be so run down. Overnight stay until improvement
Jun 15, 2021
Friendly staff in office. Great for our overnight stay.
Jun 14, 2021
Great one night stay - we would stay again This was KOA stay 104 since we retired in 2009 -
Jun 14, 2021
Stayed one night enroute from Cali to western NY. Once staff realized we were too big for our assigned spot they very willingly agreed to move us. Great customer service. Site was good for our needs.
Jun 14, 2021
Very friendly staff and very clean facility.
Jun 14, 2021
Friendly staff, clean are just a nice play to stay.
Jun 14, 2021
One of the roughest KOA"s we have stayed at.
Jun 14, 2021
having an unusable site was highly disappointing. The entire site was a mound of loose sandy clay. The only place you could sit was either in front of or behind the camper completely negating any shade. The pool was ICE cold, and the dog parks were full of dog poop that other owners had not cleaned up after. For a place to sleep this is fine, but nothing more.
Jun 13, 2021
Awesome renovations Very nice Will stay again for sure
Jun 13, 2021
Friendly staff. Good facilities. Great place to stay.
Jun 12, 2021
Bathrooms were unclean, refused to take our discount card because reservations were made under 1 name. Said it couldnt be done but the KOA we stayed at the following night was able to do it.
Jun 12, 2021
Very nice people but the bathrooms could use some work.
Jun 11, 2021
It looks like they are trying to renew a very old park. The problem is that many of the sites are very narrow, probably designed before slide-outs. Our Tiffin Breeze with the slides out reached from edge to edge, with a new small tree within 2 inches on one side and the neighbor's picnic table even with the other slide. No room to even walk next to the coach.
Jun 10, 2021
Friendly check in. Easy get around. A bit noisy for road noise. Otherwise quiet. Not much shade...or any.
Jun 10, 2021
The day we arrived, I broke my ankle on the uneven ground at the base of our RV steps. We spent that evening in the ER. We extended our stay by 2 days to give me time to heal. The last day I used the restroom at the campsite and had to make a phone call to the front desk to bring me toilet paper and waited quite a while until it was delivered. Will never camp there again!
Jun 09, 2021
Very nice rv park, easy in and easy out. Fast check in, long level spots. Crowning jewel for us is the extra large, nice dog park! Dogs got to run and play, very impressed with it, we'd come back just for the Kamp K9 experience! Our second time here in 2 weeks! We'll be back when we come through this area for sure!
Jun 08, 2021
Worst KOA ever! The spot to park was just wide enough for the RV. On both sides of the site they have clay built up in a mound 2' high running parallel to the parking spot. The picnic table on the mound was unusable. Our slide out hung over the neighbors picnic table. Our fire ring was under the other neighbors slide. Backhoe planting tree on Sun afternoon at our site. Attitude from staff.
Jun 06, 2021
clean, but spaces are a little narrow, luckily quiet time and no neighbor beside us.
Jun 06, 2021
Filthy, pigsty of an RV site. There was trash along with hundreds of cigarette butts. Manager did not seem to care when it was brought to her attention. Can provide photos if requested.
Jun 05, 2021
One night stop. Friendly atmosphere. Easy access to I 70. Small, quaint campground.
Jun 05, 2021
Dig park was the best
Jun 04, 2021
Fantastic place to stay! Nice and level spots. Easy to get into and friendly staff!
Jun 04, 2021
Perfect for a quick overnight stop
Jun 04, 2021
Everything was great. Very friendly employees. You get escorted to your space.
Jun 04, 2021
Park was nice, sites were a little close to each other. We do not have a dog but the dog park was very popular. Only negative was the construction noise, apparently a wind turbine was being installed.
Jun 04, 2021
Overnight stay
Jun 04, 2021
Very clean! The sites were spacious. The front desk assistant was extremely friendly, knowledgeable and accommodating. Give that girl a raise! We did not use any of the amenities, but definitely would stay again if we get out that way.
Jun 03, 2021
It was for only one night and we were terribly close to the cabin behind us but it was quiet it was great to have Wi-Fi it was convenient the only thing I would take away if it was terribly expensive and especially since
Jun 03, 2021
Nice facility. Provided a nice dog park, but people just let dogs roam without taking care of the treats they leave behind. Surge protector found an issue with missing ground on 50 amp service, but 30 was more than sufficient due to colder temps. Easy in and out.
Jun 03, 2021
Very friendly and helpful staff. Good accommodations. Excellent!
Jun 02, 2021
We reserved and paid for two sites a week ahead of our stay. Upon arrival we find that one of us is on one side of the campground and the other on the complete opposite side. When asked if they could put us together we were told no they were completely booked for the night. When we each went to our respective sites, both had amply sites beside them. When called the office again and asked why
Jun 02, 2021
Great park, excellent staff.
Jun 01, 2021
Update website to remove pancake breakfast.
Jun 01, 2021
We had huge rutts in our site and couldn't even level off. Asked for a dry site because we have a puppy and they stated they were full, but when we got up at 5:30 am the sites were still empty. It was a muddy mess. They don't take care off the campground. Would never return. I'm sure there are other campgrounds in the area.
Jun 01, 2021
The staff was very friendly and helpful. This KOA would be good for a quick overnight stay on the way to your destination. Our site was not very level. We got a lot of rain while we were there and the site flooded and did not drain out. There was 6" of standing water in some places. This made for a terrible time trying to pack up our trailer and get it hooked to our truck.
Jun 01, 2021
Quiet, clean, easily accessible park. Kids enjoyed the playground and store. Manager went above and beyond to try to solve a cable TV issue with our trailer and was very helpful with diagnosing a new issue for us.
May 31, 2021
It was ok for a one night stay
Jun 14, 2021
Loved this place. Very friendly staff and clean facilities.
- Tom Emmons on Google
Jun 11, 2021
Amazing staff and management. They really make you feel at home. Would 10/10 recommend to anyone looking for a clean place and friendly staff.
- Trey Swager III on Google
Jun 04, 2021
Great place and great people,
- jack Willis on Google