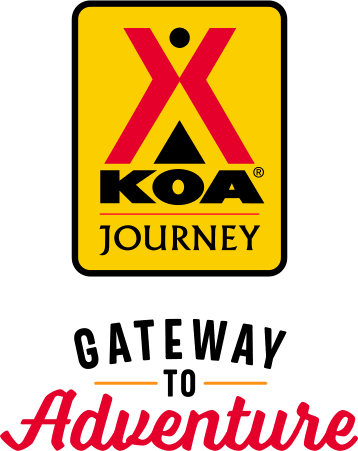 KOA Journey Campgrounds
KOA Journey campgrounds are the perfect oases after a day on the road. Whether it's along the way or a quick getaway, they've got you covered. Located near the highways and byways of North America with long Pull-thru RV Sites, they deliver convenience to the traveling camper. Pull in, ease back and take a load off.
KOA Journeys Feature:
Pull-through RV Sites with 50-amp service
Premium Tent Sites
Well lit after hours check-in service
Directions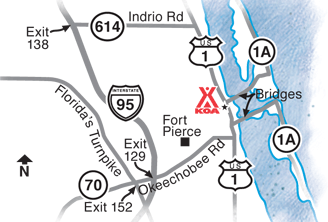 From Southbound Interstate 95 Take Exit # 138 and go East 5 miles to Route 1. Go south 3.8 miles and our KOA is on the right side at Sunny Lane, Look for Wendy's, we are right past them.
From Northbound Interstate 95 Take Exit # 129 (Route 70) and go east 3.8 miles to Route 1. Go North on Route 1 2.7 miles and take a left onto Sunny Lane, our KOA is on the left. If you pass Wendy's you went too far.
From the Florida Turnpike Take Exit 152 to Route 70 East and go east 4.3 miles to Route 1. Go North on Route 1 2.7 miles and take a left onto Sunny Lane, our KOA is on the left. If you pass Wendy's you went too far.
GPS Address: Use 1821 Sunny Lane, Fort Pierce, FL
Look for our year round Red and Yellow Holiday Lights on the trees in front of our KOA.
FOR PULL THRU SITES: OFF US HWY 1 GO WEST ON SUNNY LANE TO THE END. TURN LEFT ON SANDRIDGE RD, THEN TURN LEFT INTO FIRST DRIVEWAY THRU THE GATE. PULL THRU SITES ARE ON THE RIGHT.
Get Google Directions
Apr 04, 2021
Gina was awesome! I even forgot what day I was supposed to check out (Lol). She was supper understanding. Thanks again!
Apr 03, 2021
perfect place for our purpose
Apr 02, 2021
Rest rooms and laundry rooms very clean. Fire pits and tables were falling apart and the landscape not kept up.
Apr 01, 2021
Great spot to stay, within walking distance of food/groceries if needed, within 5 min to a beach, and staff is awesome! I'll be a regular for sure!
Mar 31, 2021
It was very cozy KOA. Managers were very nice.
Mar 31, 2021
It would be an ok spot to pull in & sleep for the night IF it was half the price that they are charging. Too expensive for what you get. No amenities, basically just a gravel parking lot. Bathrooms were nice & clean as usually for a KOA.
Mar 31, 2021
Small quiet campground convenient to beaches and other area places of interest.
Mar 31, 2021
Everything was good, staff was friendly, cabin was very nice and clean. The only negative was the location was right next to the US1 and railroad tracks which made it somewhat difficult to sleep with car noises throughout the night and train horns at 5 am. Overall though we enjoyed our stay.
Mar 28, 2021
The Likely rating is low due to the noisiness of the location (frequent nightly freight trains passing nearby). Also there are no amenities outside of clean restrooms/showers. Fine for one night but gets tiring after multiple nights. Best advantage is new grocery store within walking distance.
Mar 27, 2021
Very clean bathrooms and showers.
Mar 27, 2021
Felt like we were camping in a parking lot.
Mar 27, 2021
Easy to park. Convenient location.
Mar 26, 2021
Love the location and the staff
Mar 26, 2021
As usual, Gina made our stay in Fort Pierce very enjoyable. Everything is close by and the bathrooms, showers and laundry room were maintained immaculately. We will be back!
Mar 26, 2021
Nice people running the place. Location is convenient for the Navy Seal Museum (my prime destination), the Ft Pierce Inlet State park (which is in disrepair), but the commercial infrastructure nearby is weak. You have to go South on Hwy 1 for nice restaurants, etc. Overall there's not much to see and do in the area, which is why I wouldn't recommend staying in this area. This KOA is old too
Mar 25, 2021
Tiny KOA. I think it's the smallest in the US. The site doesn't have many amenities. It is close to a lot of nice beaches, restaurants etc. It was tricky to find as the signage was small and in one instance absent. The staff was kind enough to stand out on RTE 1 and wave us in. We would stay again for an overnight. The staff was super nice and helpful.
Mar 25, 2021
The lady who was working when we were there was exceptionally nice!!! She even called us on our way to let us know which entrance to come into. We liked the small size of the campground very much but the road noise was louder than anywhere we have ever stayed and we had a hard time sleeping due to the noise. Luckily we only stayed one night.
Mar 25, 2021
We made a last minute decision to join my sister staying here. It was after four but I got a prompt call after leaving a message. I got clear instructions on what to do. My only quibble is that it was hard to figure out how to actually get into the campground. We had a pull through and apparently we needed to drive around the perimeter of the place to park our rig. Otherwise great!
Mar 24, 2021
It was not up to par with the previous deluxe cabins that we rented. No soaps, other than dish soap, no paper towels, no coffee filters, 3 bath towels, and 2 hand towels were provided for a party of 5. Our RSVP said there were 2 roll away beds, there was only one that was in bad condition. No linens provided for the cot or futon, 1 pillow. Not good! Cabin needs new floor in bathroom!
Mar 24, 2021
Nice quaint campgrounds, not many amenities but was very nice experience regardless
Mar 23, 2021
Only stayed one night, but staff was very helpful and courteous. Sites were nice and had a pull through.
Mar 23, 2021
it small but quiet .
Mar 23, 2021
Friendly staff, very clean bathroom, plenty of hot water for showers , campsite trash pickup. But....$80 and it's basically a gravel parking lot, with a loud train nearby that runs all night and blows its whistle frequently as it passes through. And a rooster somewhere nearby to wake you every morning. Not much that can be done about the location, but $80 seems pricey for what you get.
Mar 22, 2021
Clean but loud and no WiFi
Mar 22, 2021
I was charged an extra night that was not supposed to be. I was also charged $100 for a whole, which the manager said was already there, but it got bigger from us. My husband went and bought supplies and fixed it himself. The fact that we fixed it, and I was still charged $100 is wrong. I would never recommend due to being charged $159.21 for the day we left and $100 for what we fixed.
Mar 21, 2021
Only stayed one night, traveling back from Florida. Camp grounds was clean and quiet. We called the campgrounds to let them know that we were running late because of traffic. We were instructed to go to the Valero station. If we didn't call we would not have known. Should be published on the web site for late check-in. I would have no problem recommending this campsite.
Mar 21, 2021
Visit every year. Clean bathrooms. Friendly, helpful staff, reasonable rates, nice campsites.
Mar 18, 2021
Owners and workers all very pleasant and helpful. Location not so desirable, bicycles stolen while we were there, cars driving around the small campground that did not belong there. Train tracks run all day and all night, very noisy. No Pool.
Mar 18, 2021
Close to everything
Mar 17, 2021
We have spent one week at KOA Fort Pierce. It was a wonderful experience and it wasn't the first time, we were there last year. This year we asked to have a pull through site bc we pull our travel trailer with a box truck. They gave us #9 site that was perfect. It is a very small campground but it very close to the beautiful beaches. There is a big supermarket, CVS just across the street.
Mar 17, 2021
This is a very small, quiet campground. Very clean! Very convenient to Hutchinson Island both north and south. Walking distance to a Publix which is very helpful! Gina, camp manager, is very nice and very helpful!
Mar 16, 2021
The best KOA in the world. Sylvester (the RV) and Tweety (the Yellow Jeep) love this place!
Mar 14, 2021
2 day trip for golfing, great site, hosts, and location! Will stop by again soon!
Mar 13, 2021
Well kept facility....bathrooms were excellent
Mar 11, 2021
Staff was very helpful and genuine when it came to addressing any questions I had.
Mar 11, 2021
Good communication regarding our late arrival, how best to enter the park with our size RV. Everything was easy. Our Packet at he office. Perfect stay and on our way in the morning! Thank you
Mar 10, 2021
This is the worst koa I have ever been to. It's right on highway 1 road noise very bad.Thats not the worst it's about 150 yards from rail road tracks that train come by all night long and blow the train whistle. Also when we arrived no one there at 2:00 pm.
Mar 10, 2021
We stayed one night on our way to Disney and everything was fine.
Mar 08, 2021
You better open up the new KOA quick, this place is really a dump, only good thing to say, close to the beach!
Feb 21, 2021
We were only here for overnight, but what a great place to stay. Small, but it had everything we needed. I needed to do laundry and the dog needed to run a bit in Kamp K9-we were both happy. It's located off really busy Highway 1, but we had no issues with traffic or noise. We were in a pull through, and we received a phone call on our way there directing us to the rear entrance instead of the front. Would stay here again.
- LorraineB1938 on Trip Advisor
Jan 29, 2021
Super accommodating especially for a quick stop through. Staff was very helpful with after hours check in. Very quiet small area close to great sunrise and wildlife areas
- JeremyOllis on Google
Mar 23, 2021
Update* We stayed in the deluxe cabin, the good thing was it was very clean. If you choose to stay here just know it's very close to a busy highway, so expect loud traffic and it's close to train tracks. If you have little kids or you're taking your dog(s) the cabin is adjacent to the busy highway (in case you have a runner, be careful) Also, bring your own soaps, linens, coffee filters, paper towels, pet bowls (all of the KOAs that we've stayed in has provided all of this). Our RSVP said there were 2 roll away beds and there was only 1 cot in not-so-great condition (no linens provided for it). It was very close to easily accessable, beautiful beaches, so it was worth the inconveniences to us. **** Our trip is actually set for a future date, I'm writing this review as a first impression.. and will update after our stay. I made an error when booking my appointment so I called the campground, Gina called me right back and was so friendly, she corrected it immediately, her kind demeanor and prompt service made me even more excited for our upcoming trip!
- Jennifer M83 on Google