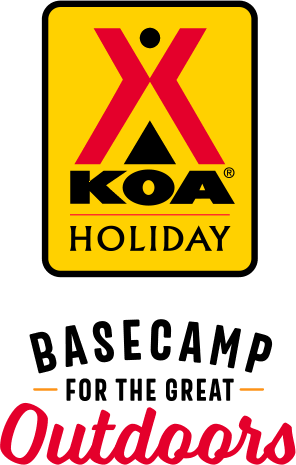 KOA Holiday Campgrounds
Whether you're exploring the local area or hanging out at the campground, KOA Holidays are an ideal place to relax and play. There's plenty to do, with amenities and services to make your stay memorable. Plus, you'll enjoy the outdoor experience with upgraded RV Sites with KOA Patio® and Deluxe Cabins with full baths for camping in comfort. Bring your family, bring your friends, or bring the whole group – there's plenty of ways to stay and explore.
KOA Holidays Feature:
RV Sites with a KOA Patio®
Deluxe Cabins with full baths
Premium Tent Sites
Group meeting facilities
Directions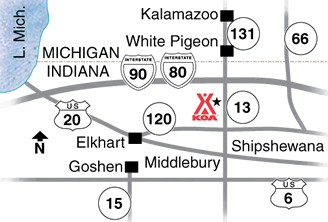 I-80/90 Exit 107, south 1 1/2 miles on SR 13
OR
4 miles north of downtown Middlebury at the intersection of SR 13 and SR 120.
OR
5 miles north of US 20 on State Rd 13
GPS entries can also include Indiana 13, Highway 13, North Main Street & on some devices US 131 (which is a Michigan Highway and we're just 2 miles from Michigan). This information was provided by various campers that discovered that GPS doesn't accept our address.
GPS: N41.727623, W85.683629
GPS Coordinates: Lat 41.72756N Long 85.683629W
Get Google Directions
Jul 22, 2021
What a nice campground! Our 11 year old really enjoyed the fishing pond (and it was a beautiful setting!!!). Great experience all around!
Jul 22, 2021
Nice campground. Fantastic location. Exceptional staff. Will definitely return!
Jul 22, 2021
Wonderful park. Loved the dog park. Everything was great
Jul 22, 2021
We stayed one night in a 50 amp full hook up site. We were on a corner lot across from the tent sites and very close to the very clean bathroom/shower house. Check out was as Noon, but we had a tour scheduled at the Jayco Plant and the owner graciously let us extend our check out in order to do the tour. Also wood and ice was delivered to our site when needed. We also enjoyed the pool.
Jul 22, 2021
Very nice, well kept campground. Nice space between sites.
Jul 22, 2021
They need trash dumps on each row.
Jul 21, 2021
We love the calmness of the campground and have gone here for years. We love that even when it was rainy, there were still things to do like play in the rec room . However with only a few bathrooms to choose from, we found a woman smoking in the confined area and putting her cigarette out in the sink. I wish this was more closely monitored. Also, our TV remote couldn't turn the TV on or off .
Jul 21, 2021
Staff was friendly, especially the young man who was mowing!!!!!! Well kept park!
Jul 21, 2021
The game room was disgusting. Dirty flies because of plates of food and garbage not cleaned up. Our site was s unlevele that we asked for a quote if we moved to another one. Was told $6 more a night and when I checked my bank they charged more than double that amount. We did check out Eby's Pines while we were there and will be camping there in the future.
Jul 20, 2021
Staff friendly and welcoming! It's clean, bathrooms pretty cleaned! Cabins were clean. Had activities that were fun, pool was great! It was a great weekend and prices were good.
Jul 20, 2021
terrific as always see you on the way back
Jul 20, 2021
Great stay, friendly service.
Jul 20, 2021
This was a friendly and clean campground. We enjoyed our short one night stay and would stay again on our way through town.
Jul 19, 2021
Overall it was great
Jul 19, 2021
My family and I have restarted our tradition of coming here for a weekend to get away and have fun. Next year we will have two new members of the family I couldn't be more excited. -Tyler K.
Jul 19, 2021
The sites were nice and level so that made for a quicker setup! We really enjoyed the surrounding area the campground was in, however, at the campground we were in a site by the road and it was very very noisy a good portion of the day and night. I would be willing to try this campground again, but I would try a different site than the one we were in.
Jul 19, 2021
Took care of my needs and well kept park. See you in August !
Jul 19, 2021
We had a great time! The kids lived the fishing tournament, pool, and mini golf! Everyone was very polite and nice. I wish the sites were a bit bigger but beyond that it was a very good time!
Jul 19, 2021
Efficient check-in , clean facilities and level site.
Jul 19, 2021
This review has been removed by KOA due to profanity.
Jul 19, 2021
It was great!!
Jul 19, 2021
Nice campground. Convenient location. Friendly staff. Nice bathroom. Accommodating.
Jul 19, 2021
One of the worst KOA we have ever stayed at. To start we had dogs barking all night long beside us. And through out the campground. We take our dog also camping and I would never let him carry on like those dogs we experienced. Then in the "O" area I am assuming they are seasonal campers but they were loud and had a campfire 6' high. the whole park just had a disgusting appearance to it.
Jul 19, 2021
clean nice people that work here
Jul 17, 2021
Has been better. A/C mode doesn't work in Cabin 10; cabin dirty. Women's bathroom smelled awful, needed cleaning. Handicap shower in men's bathroom only had full pressure when turned all the way to hot, but hot water too hot. No one staffing activity center in the evening. Pool/office closed after 6pm. Whole place felt shut down/abandoned after 6pm. Experience was much better in years past.
Jul 17, 2021
We stayed in the deluxe cabin and it was very clean and well stocked with linens for the beds and anything you would need to cook as well. We also did quite a bit of swimming and the pool was very clean also. Everyone was so friendly and helpful. We enjoyed our stay and will stay again! Thanks for making us feel at home!
Jul 17, 2021
Creepy hanging dirty vent cover over both women's showers, with strange light in it! (Almost didn't shower due to it, but I was desperate!) Campsite had dog poo in it (would have been easy for them to check the site beforehand.) Loud due to roads (cannot be controlled but loud nonetheless).
Jul 17, 2021
Site was nice, people were friendly very enjoyable
Jul 17, 2021
Even though we there for only 1 night, we really enjoyed this KOA. Super nice bathrooms, nice gravel flat sites, clean pool, super friendly staff. A great stop over on our travels.
Jul 16, 2021
Stayed in deluxe cabin. Very spacious but extremely dirty! Spent our first night cleaning dead flies, cobwebs, bugs and layer of thick dust from walls in living room. Wished I had brought cleaning supplies. No kitchen towels or dish cloths to do dishes with.
Jul 15, 2021
Great campground! Clean facilities and friendly staff.
Jul 15, 2021
The site(8) was always covered in flies. Couldn't go in or out without getting them inside. The highway noise from all the trucks started about 5 am and was unimaginable. I would not stay there again.
Jul 14, 2021
Very convenient to access all the things we wanted to do. Nice long level sites were nice. Would've liked more shade for the 50amp row, but that's how it goes.
Jul 14, 2021
Nice lot. Friendly staff. Close to sites of interest. Quiet at night.
Jul 14, 2021
This KOA is directly off of a busy road and the kampground is extremely loud. It is not the peaceful and serene location that I had imagined. There doesn't seem to be many employees and the bathrooms were quite smelly. I've stayed at no less than ten different KOAs across the country and this was by far the least welcoming, clean, and fun.
Jul 13, 2021
Enjoyed it very much.
Jul 13, 2021
Very relaxing. Loved not seeing golf carts running around all night.
Jul 13, 2021
Wife complained that the satellite restroom was dirty. plugged toilet. broken sink lever for two of the three nights we stayed. The men's room was gust fine.
Jul 13, 2021
A very friendly staff. This was a last minute trip the staff helped us to get a spot on a very busy weekend.
Jul 22, 2021
Very nice campground. Fantastic location. Exceptional staff!
- Deborah Peloso on Google
Jul 11, 2021
Very clean shower house. Quiet and real nice. Check in was quick and easy. Right off highway so easy to access. Always can count on KOA to be good experience.
- Alan Prifogle on Google
Jul 06, 2021
Just an overnight stay with our 43ft Class A, towing. Site was large enough that we didn't have to unhook. The pool was beautiful.
- Liz Chadwick on Google