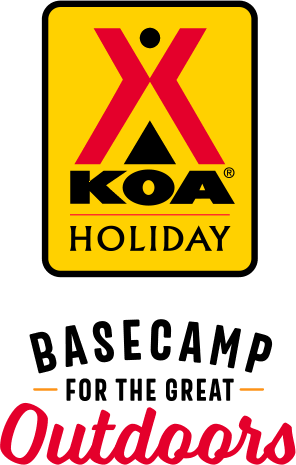 KOA Holiday Campgrounds
Whether you're exploring the local area or hanging out at the campground, KOA Holidays are an ideal place to relax and play. There's plenty to do, with amenities and services to make your stay memorable. Plus, you'll enjoy the outdoor experience with upgraded RV Sites with KOA Patio® and Deluxe Cabins with full baths for camping in comfort. Bring your family, bring your friends, or bring the whole group – there's plenty of ways to stay and explore.
KOA Holidays Feature:
RV Sites with a KOA Patio®
Deluxe Cabins with full baths
Premium Tent Sites
Group meeting facilities
Directions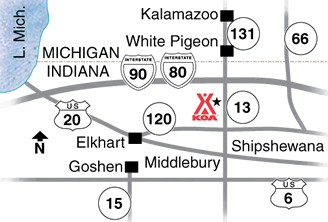 I-80/90 Exit 107, south 1 1/2 miles on SR 13
OR
4 miles north of downtown Middlebury at the intersection of SR 13 and SR 120.
OR
5 miles north of US 20 on State Rd 13
GPS entries can also include Indiana 13, Highway 13, North Main Street & on some devices US 131 (which is a Michigan Highway and we're just 2 miles from Michigan). This information was provided by various campers that discovered that GPS doesn't accept our address.
GPS: N41.727623, W85.683629
GPS Coordinates: Lat 41.72756N Long 85.683629W
Get Google Directions
May 08, 2021
Very clean,roomy,close to town and folks were very friendly and kind. Enjoyed our stay
May 08, 2021
This campground is right next to a busy road and it's loud all the time. The patio site (8) needs work-the fire pit and deck are in bad shape. The campground was clean except for dumpster area. Did not use facilities. We will not return.
May 06, 2021
Awesome place for an overnight stay. Very accommodating staff.
May 05, 2021
Very clean campgrounds!! Friendly staff! Love the fenced in dog area. Will DEFINITELY use this KOA again in the future!!!
May 04, 2021
Easy to get to, check in easy, friendly staff. First corner after check in is tight. Make sure you swing wide. We're 45ft moho + toad and did fine. Site was good. Nice walking trails. Didn't use any amenities. We would return.
May 03, 2021
The outside entrance area in uninviting. From the street, it didn't "welcome" us in. It needs to be freshened up, or remodeled or something. The pull through camp sites are close together. I wish there was more space between camp sites. The staff was nice and friendly, and did help out if there was a need. I liked how the garbage was picked up at the sites daily.
May 03, 2021
We were there for ten days sites were in good shape and the koa is close to everything in the area.
May 03, 2021
Cabin was too close to hwy and playground. *description said cabin was "close to playground"...not 10ft from it. Property was smaller than we thought. Had a problem with kids throwing rocks at windows but property management took care of it right away.
May 02, 2021
It was just what we needed after a long drive
May 01, 2021
Very nice campground, nice walking trails, close to a lot of things in the area. Would stay again if in the area.
Apr 30, 2021
Just over night so didn't see or do anything but rest. Campground was easy to get around in and clean. Tv hook up was not at every site so must ask for info on that. We moved to get close enough to hook up
Apr 29, 2021
Great park, will definitely stay again when we come back through in the Fall
Apr 28, 2021
2 nights while traveling. Early in season. Should get better as season progresses. Our stay 2 or 3 years ago it was excellant
Apr 26, 2021
Very friendly staff & nice campground! Enjoyed walking the trails.
Apr 26, 2021
While the bathrooms are clean, a lot of the other things about this facility are just okay. The rental bicycles are mostly broken, the grill on the site ran out of gas, and could use some maintenance. The lot sizes are very small, and the planting of the shrubs around the patio were a bit too close, beside having some being dead. If I were to stay in this area again I would look elsewhere.
Apr 26, 2021
Everything worked, no problems
Apr 26, 2021
peaceful campgrounds.
Apr 25, 2021
The staff was wonderful especially the ground keeper, the only problem was the spaces are very small. You are on top of your neighbors, but I noticed that at all the KOA that is why I would never stay for a long term.
Apr 24, 2021
Polite people, clean campground. Love the super site with patio with furniture, gas grill, beautiful paved fire pit area! I was impressed.
Apr 23, 2021
Beautiful park with lots to do! Host was accommodating & helpful. The only reason I didn't give it a 5, is the cable didn't work at our site. Of course, we didn't discover it until after the office was closed. When I reached the manager, he said we could move to any site we wanted, but it was just too much trouble after hooking/setting everything up, so we switched to "air"
Apr 21, 2021
Very helpful staff, very professional. All the activities that we did were very updated. Campsite was nice and maintained. Staff worked with us having a late arrival time as well as being able to move sites when we needed. The facilities were very well kept and maintained. Very clean. Absolutely would recommend and will come back.
Apr 20, 2021
Staff very helpful. Well tended grounds.
Apr 20, 2021
very clean the rest rooms and showers. easy to work with people.
Apr 20, 2021
We arrived late and they called that afternoon to welcome us and to inform where our packet would be once we arrived. Camp ground was clean, bathroom smelled good and was clean. Check out was at 1pm and was wonderful to relax before headed back home. Cant wait to come back when it is warmer for the pool!
Apr 19, 2021
We spoke with them earlier in the day and told them our anticipated arrival time (after office closed). Arrived & set up only to discover the electric was not turned on. In the morning I spoke with the manager who said I should have just moved to another site. They did not offer any recompense. I paid for an electric site & should have been refunded something.
Apr 19, 2021
We have been there several times and have always enjoyed our stay.
Apr 19, 2021
No information on the KOA or area when checking in, few sites with both working electric and cable together. Not well managed.
Apr 19, 2021
Nice clean campground.
Apr 17, 2021
Always a great stay here!!! The staff is Super Friendly
Apr 16, 2021
Very nice manager and friendly staff. The cabin we stayed in has one maintenance issue I will discuss with the manager upon check out.
Apr 14, 2021
Very friendly reception and service. Strong Wi-Fi.
Apr 14, 2021
I have stayed here many times and definitely will again.
Apr 12, 2021
Had fun with the kids and fur babies. Very family-friendly and great amenities.
Apr 10, 2021
Very clean and easy off/on highway
Apr 09, 2021
The office staff was friendly. The campground itself is well kept. We stayed in a cabin, which could use a thorough cleaning- top to bottom. The bed in the main bedroom felt broken in the middle. We ended up leaving a day early because the bed was so uncomfortable.
Apr 08, 2021
Friendly hosts. The grounds were nice. It was very nice to be able to take a nice stroll around the lake after driving all day. Only there for a night.
Apr 07, 2021
Friendly staff and well kept sites.
Apr 24, 2021
Really nice place
- christy sanchez on Google
Apr 20, 2021
Wonderful stay. Had a Pull thru. Staff was extremely attentive. We were arriving late and they called us around 4pm asking when we will be arriving. Since we were coming in after hours they told us where our check in packet would be and if we needed anything else. Site was CLEARLY drawn out. Camp ground was clean. Bathrooms smelled good. Awesome that check out was 1pm, nice relaxing check out. Will come back when it's warmer.
- Robert Pong on Google
Apr 18, 2021
First camping place in my life. My friend tought me how to camping. Yeah i love it. I wosh i can do it again soon
- Sungmin Yang on Google