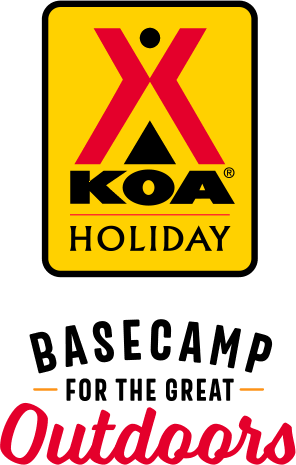 KOA Holiday Campgrounds
Whether you're exploring the local area or hanging out at the campground, KOA Holidays are an ideal place to relax and play. There's plenty to do, with amenities and services to make your stay memorable. Plus, you'll enjoy the outdoor experience with upgraded RV Sites with KOA Patio® and Deluxe Cabins with full baths for camping in comfort. Bring your family, bring your friends, or bring the whole group – there's plenty of ways to stay and explore.
KOA Holidays Feature:
RV Sites with a KOA Patio®
Deluxe Cabins with full baths
Premium Tent Sites
Group meeting facilities
Directions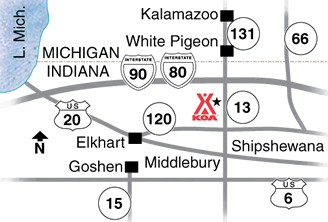 I-80/90 Exit 107, south 1 1/2 miles on SR 13
OR
4 miles north of downtown Middlebury at the intersection of SR 13 and SR 120.
OR
5 miles north of US 20 on State Rd 13
GPS entries can also include Indiana 13, Highway 13, North Main Street & on some devices US 131 (which is a Michigan Highway and we're just 2 miles from Michigan). This information was provided by various campers that discovered that GPS doesn't accept our address.
GPS: N41.727623, W85.683629
GPS Coordinates: Lat 41.72756N Long 85.683629W
Get Google Directions
Nov 07, 2020
Well run. Friendly management and staff.
Nov 05, 2020
Very clean camp ground, very pleasant host, laundry is very inexpensive. Definitely will stay again
Nov 01, 2020
Quiet so that was good. Probably looks better in the summer. The water post at our site was falling apart so some work to spruce up would help. Would be nice if a dumpster was near the rv's instead of all the way at the entrance. Never used their bathrooms so that I cant comment on. Guy at the counter was nice.
Oct 31, 2020
stay was good. campground nice however we were on a top of the line site and paid top dollar and contractor trucks parked right next to us. not very nice scenery for what we paid.
Oct 31, 2020
When I booked the site I was unaware that the campground is located next to a very busy and loud high traffic intersection. I eventually became used to the noise after a couple days. The cabin was beautiful and clean. I have a very sensitive nose, so the very strong odor from whatever cleaning spray they used was overwhelming at first, but seemed to fade over time.
Oct 30, 2020
We had the best campsite in the park with a large deck and deck furniture. The only problem I had with the park is that the dumpsters were a little far. Otherwise, staff were very nice and it was a very nice park. I would definitely stay here again.
Oct 30, 2020
Stayed one night only; satisfied with accomodations
Oct 27, 2020
We've been there several times this year
Oct 26, 2020
I've been to several other KOA's. All of which were great until this one. Trash in firepit, no security, speeding cars, cable didn't work, wifi was in and out so basically didn't work, trails covered in dog feces, very loud road noise. Apparently half the cars in Middlebury have dual exhaust. I won't return here.
Oct 26, 2020
Had to let water running a while to get clear water. Little road noise. Camp grounds and restrooms clean. As always made new friends and wonderful people.
Oct 26, 2020
managers and employees super nice. everything was clean. we were there in October- late in the month so not super busy but it was nice and lots to do in the surrounding towns. would go back
Oct 25, 2020
No cable connections the time we stayed and they did not fix so we did not have TV otherwise Campground was very nice
Oct 25, 2020
The campground shows a lack of maintenance, sites need to have new stone installed. The sewer connections should have threaded inlets to eliminate sewage spills. The patio blocks on deluxe sites need to be re-laid to level them and they need weeding. Also a number of water hydrants on empty sites were dripping, again showing lack of maintenance.
Oct 25, 2020
A little out dated, but very clean bathrooms. Cable television was lousy. Would be nice to have TV on rainy nights. Good drainage, even after rain, no puddles.
Oct 22, 2020
We enjoyed taking the nature walks. It was very late in the season so that was pretty much all there was to do there. Getting in and out was pretty simple and efficient. I did notice there were a number of younger families spending one last weekend camping. Seemed like a nice place. There is a good chance we will come back to visit when the RV factories are open for tours again.
Oct 22, 2020
Nice campground. Plenty of amenities. Great Wi-Fi. Friendly Staff.
Oct 22, 2020
Great place and friendly staff! Thanks!
Oct 20, 2020
The sites are level. Jerry is amazing to work with. There is some road noise, but that's expected being off a highway. We stayed three nights and would stay again.
Oct 20, 2020
well keep , nice helpful people
Oct 20, 2020
Awesome place and friendly staff!
Oct 20, 2020
Had a few small issues with the first site we were in. We asked if we could move to a different one and the hosts found us another site closer to the playground without a problem. The staff here really seems to want to make sure everyone has a great experience.
Oct 19, 2020
The cabin was cozy. However, the blinds need replaced. They are broken and are not inviting.
Oct 19, 2020
Owners/ staff were great. Made our stay easy after a long day of traveling
Oct 19, 2020
Our children really enjoyed the outdoor activities. GaGa Ball, bikes, mini golf and hiking trails. Very nice and helpful staff.
Oct 19, 2020
This was our first time with the new owner, & it was a nice stay, but different because it was late in the season. The store didn't open until 10am, because it was late in the season, so we really did not get to know the new owner.
Oct 18, 2020
A fairly small quiet campground. We have stayed here twice and have enjoyed both stays. The staff is very friendly and reliable.
Oct 18, 2020
A little noisy because of busy road traffic but the park is very nice and the owners are very accommodating. Very clean and picked up.
Oct 18, 2020
We had an amazing time! They were very helpful. Loved the camp ground!!
Oct 18, 2020
Super clean, friendly and comfortable!!
Oct 17, 2020
Very accommodating staff, nice park
Oct 17, 2020
We stopped on our way back home to Pennsylvania. It was a very clean and nice place to stop and spend the night.
Oct 16, 2020
Not happy with the pull thru since we couldn't just pull thru and wait for the rain to stop we were in middle of road with truck. Also if my husband says the bathrooms are not clean and outdated then there is something wrong. Also one night someone was working on something and it was so loud. The picnic table needed a paint job. The whole campground needs updating. no security.
Oct 15, 2020
Great site. Clean laundry room. Comfortable stay. We'll be back.
Oct 14, 2020
Seemed like nice place. Highway noise was bad at times but tolerable. Would definitely stay again.
Oct 13, 2020
Lots are too small and to close together. Lot had cigarette butts in the grass when we arrived. Someone several lots away was playing music loudly until 2:00 am on Saturday night. This was long after quiet hours and very annoying. For all of those reasons we did not enjoy sitting outside even though the weather was beautiful.
Nov 30, 2020
Friendly and accommodating folks! Convenient location.
- Keith Lessner on Google
Oct 25, 2020
Clean facilities and friendly staff. Great place to stop and stretch your legs. They have a pond, mini golf, large chess, a playground, and lots of drive through spots.
- GreenEyedGuide on Google
Oct 11, 2020
We had great time. The place was always kept clean.
- Yara Mia on Google