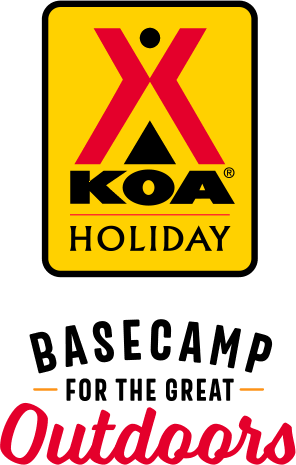 KOA Holiday Campgrounds
Whether you're exploring the local area or hanging out at the campground, KOA Holidays are an ideal place to relax and play. There's plenty to do, with amenities and services to make your stay memorable. Plus, you'll enjoy the outdoor experience with upgraded RV Sites with KOA Patio® and Deluxe Cabins with full baths for camping in comfort. Bring your family, bring your friends, or bring the whole group – there's plenty of ways to stay and explore.
KOA Holidays Feature:
RV Sites with a KOA Patio®
Deluxe Cabins with full baths
Premium Tent Sites
Group meeting facilities
Directions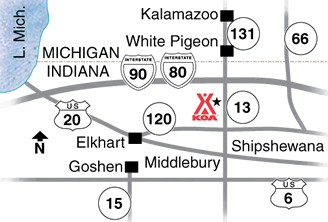 I-80/90 Exit 107, south 1 1/2 miles on SR 13
OR
4 miles north of downtown Middlebury at the intersection of SR 13 and SR 120.
OR
5 miles north of US 20 on State Rd 13
GPS entries can also include Indiana 13, Highway 13, North Main Street & on some devices US 131 (which is a Michigan Highway and we're just 2 miles from Michigan). This information was provided by various campers that discovered that GPS doesn't accept our address.
GPS: N41.727623, W85.683629
GPS Coordinates: Lat 41.72756N Long 85.683629W
Get Google Directions
Sep 17, 2021
The cabin was not clean. My white sox were black from the filthy floor. Will not stay here again.
Sep 17, 2021
Very surprised that the cabins were so close. Also was facing a play ground, which is great for the people who have young ones with. However not so great for the people who are getting a little away time form their young ones. Also for the older people who want some peace. Which doesn't happen which children who are playing. The children there was well behaved. But the setup was not the best.
Sep 17, 2021
Good campground for short stay Loaned me a ladder Thanks
Sep 16, 2021
We really didn't think it was up to the standards we expect from KOA. Kind of grundgy and very impersonal.
Sep 16, 2021
Very clean and staff was very helpful and friendly during our stay….September 12 thru the 15th , 2021 !!! Will definitely be back again !!!
Sep 16, 2021
Nice staff and convenient overnight site.
Sep 15, 2021
Staff is friendly but the sites and roads need some serious maintenance. This campground has gone down hill sto since it was sold
Sep 15, 2021
The campground was clean and the staff were courteous and helpful. There was quite a bit of road noise from the highway past the entrance from large trucks but it quieted down during the night. The cable at our site didn't work well enough to watch TV but that didn't bother us much because we always carry along movies and can use phone wifi to get TV programs. Lull thru sites are easy to acces
Sep 14, 2021
Nice place, our first time there. We were on site #5, close to the front and it was very noisy! The road noise was much louder than expected. If we go back, we would request a campsite further into the park and away from the road. Otherwise, it was a very nice campground.
Sep 14, 2021
This review has been removed by KOA due to profanity.
Sep 14, 2021
The folks here are very, kind,, helpful and accommodating. The sites are big enough for big rig pull thru, there is plenty of room to move around coming and going. The only problem I had was I was next to the highway and apparently there is no noise ordinance. Jake brakes are horrible. It's too bad the township or city doesn't control that part.
Sep 14, 2021
Jerry and workers are all friendly and willing to help in any way. Very nice stay great KOA.
Sep 14, 2021
Just an overnight stay - campsite was nice - staff was very helpful - got tired of firewood stink quickly
Sep 13, 2021
Air conditioner dirty, no working smoke alarm in cabin, showers had hair in drains. Staff were friendly.
Sep 13, 2021
Was very clean and everything worked as it should. Too close to highway and campsites very close together.
Sep 13, 2021
Extremely nice staff. Restroom was nice and the showers were great. Overall the grounds were kept clean and tidy and to have trash pickup at the site was unheard of. Our only complaint, which is no fault of the KOA was the road noise. We would stay here again.
Sep 13, 2021
Very nice park. Only stayed one night as we were passing through. Will stay again and for longer.
Sep 11, 2021
We enjoyed our stay and will be back again
Sep 10, 2021
Clean & quiet campground, helpful and friendly staff. Definitely our go to place for the area! Will be back for sure!!
Sep 10, 2021
Loved the park. The only issue was the dusty road.
Sep 10, 2021
Awesome! We were there for a quick stop on a cross country drive. They had so much to do, food, everything we needed for our stop. A storm rolled in in the middle of the night and I was able to text the main number who responded where to go should the weather get worse. They were great and put my fears at ease! Would definitely recommend and stay again! Great for kids and adults!
Sep 10, 2021
The sites would be better with a concrete pads as long as you can't have mats.
Sep 10, 2021
Manager Jerry is really friendly. I stayed at this campground 3 years ago and it has improved greatly.
Sep 09, 2021
Greeted by friendly staff it was great that wood was delivered. Bark park was a wonderful surprise. Restrooms were very clean. All staff were helpful
Sep 09, 2021
Nice campground. Wou stay here again if in the area.
Sep 08, 2021
The park is located at the corner of IN 13 and IN 120. The traffic is bad and noisy. With all the manufacturing going on in the area the semi truck traffic is unbelievable. The park also has a bad dust problem. If it rains its OK, but if the weather goes without rain for a couple of days the dust is terrible. The park needs to have the roads treated to keep down the dust.
Sep 08, 2021
Tons of amenities and activities. Sand tent pad was nice and electric tent site had a ton of shade. I wish there were non-electric options with more shade and further from the road. We paid for electric we didn't need or use to have a better site. Also we could hear highway noise a lot but I know that isn't within your control. Thanks for the fun!
Sep 08, 2021
nice campground accomadating owners
Sep 08, 2021
Major sewer and water problems! No shower pressure and couldn't flush the toilets! They only have two showers which need updating desperately along with what should be a working fan hanging open from the ceiling in the ladies room. Bathrooms are very important to campers and it should be a priority if you want them to return. Overflowing dumpsters when you enter campground is not a good sign.
Sep 08, 2021
I took a tent site recommended by the staff, it suited me perfectly for my 5 day stay. As always, so neat and friendly.
Sep 16, 2021
An excellent visit. The people were the best. They were all very willing to talk to us. And very knowledgeable of the town.
- Terry MacDonald on Google
Sep 08, 2021
Very clean. The most helpful staff. Nice arcade/50s diner looking area. Pool is very clean also. Not necessarily an area to stay if your really outdoorsy but near all the tourist attractions. They closed the arcade due to a thunderstorm but gave us keys to open it for our 17 year old. Once again can't say enough about the staff.
- Christi Perrenoud on Google
Sep 06, 2021
A nice family oriented park. I got a tent site on Labor day weekend for 5 days. Cabins were taken. All of the KOA features you would expect. Everyone was smiling. You can't go wrong with KOA.
- Richard Cale on Google