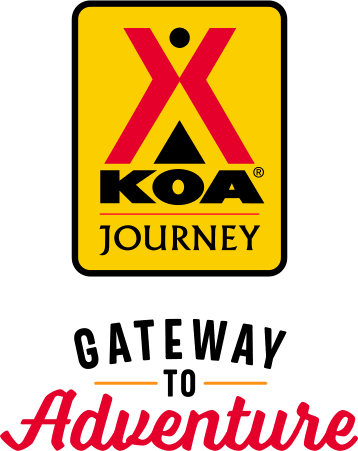 KOA Journey Campgrounds
KOA Journey campgrounds are the perfect oases after a day on the road. Whether it's along the way or a quick getaway, they've got you covered. Located near the highways and byways of North America with long Pull-thru RV Sites, they deliver convenience to the traveling camper. Pull in, ease back and take a load off.
KOA Journeys Feature:
Pull-through RV Sites with 50-amp service
Premium Tent Sites
Well lit after hours check-in service
Directions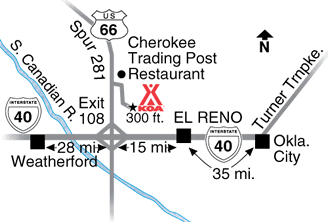 15 miles west of El Reno on I-40 or 28 miles east of Weatherford Exit 108. Exit at Cherokee Trading Post & Restaurant.
Get Google Directions
Nov 23, 2021
Perfect for just a short stay. Staff was very friendly and helpful!
Nov 22, 2021
Great place for extended stay and lots of things for kids to do
Nov 22, 2021
Minor drawbacks 1. No trash dumpsters. You take your trash to a large trash can and must remove the very heavy lid. For kids and elderly, this could be an issue. 2. No jacuzzi. OUTSTANDING STAFF!
Nov 21, 2021
Nice campground!
Nov 19, 2021
Excellent cabin; very clean; great location.
Nov 17, 2021
Staff is super nice
Nov 16, 2021
I arrived to a very polite and helpful staff. They assisted me and was very patient and tentative to solving an issue with upgrading to a bigger cabin. We enjoyed the cabin, atmosphere and the amenities. Everything was clean and pleasant. You should commend your staff. Me and my family left the KOA with fond memories that will last a lifetime.
Nov 16, 2021
Campground seemed nice and restrooms were very clean, However, this KOA is located entirely too close to the Interstate...way to much noise for restful night of sleep.
Nov 15, 2021
Classic older KOA, nice employees, clean grounds, equipment older but all worked, sites are parking and 6' width of grass, plenty of room to turn into drive through sites. Have used thus KOA three or four times in past 5 or 6 years - never a problem. AND, they have a couple live buffalo that greet you on the drive in.
Nov 15, 2021
Very convenient location to restaurants and stores. Great overnight stop.
Nov 15, 2021
Everyone is top notch that works there. Friendly helpful. Place is clean. Hands down one of the best KOA's It's our go too stop off making out trips Love the people there.
Nov 14, 2021
I received excellent customer service. I really like this KOA, it's seldom crowded and the bathrooms and showers are sparkling clean.
Nov 14, 2021
We were there only overnight and arrived late. Directions were on the door. Checked at office to be sure everything was ok. Desk person very friendly and helpful.
Nov 13, 2021
Very happy with our stay. The staff is very friendly and helpful. Would stay again.
Nov 13, 2021
No water. Kitchen closed early. On the other hand, the staff was young and very polite. It needs to be said I got there late and it was cold out.
Nov 12, 2021
The space is small but adequate. It is quiet and clean. The kids enjoy the play area. The peddle carts need repair. The lodge cabins (I've stayed in KL1 and KL2 now) - both have lamps RIGHT OVER YOUR HEAD in the bed. If you sit up - you hit them. This placement is not good. Also, we'd like hooks on the wall to hang a jacket.
Nov 12, 2021
Great park, clean and updated facilities with friendly staff!!
Nov 11, 2021
It was a beautiful lake. The KOA could use some updates inside the cabin as well as more toiletries.
Nov 09, 2021
Good place for a stop over. Bathrooms were super nice , laundry room was clean and the lady at the office was very friendly.
Nov 08, 2021
I cannot express enough how nice the staff is. This place is so beautiful and clean. Showers rock. The pond is amazing. Caught a 15" big mouth. I released it back. Special thanks to Brenda and all staff.
Nov 07, 2021
It was all good. Keep up the fine job.
Nov 03, 2021
There was a confusion about the pull through area and a couple others thought the site we were on was a drive through site and got blocked in having to back out. better signage about being a dead in might help. Otherwise, it was a very nice park.
Nov 02, 2021
Just an overnight while driving through. Every thing went well, quick check in process.
Nov 02, 2021
Facilities were great. Staff was great. Negatives were road noise and trash along the banks of the pond.
Nov 02, 2021
All was good. Maybe heat in the showers/bathroom?
Nov 01, 2021
We loved that you were easy access off freeway, kids loved they jump pad & exercise toys!
Oct 29, 2021
Very short. Got in about 2330 and left about 0500. Everything was ready for us at the office door, hope we didn't wake or disturb anyone while we set up. Will definitely stay here if we pass through again and stay longer.
Oct 28, 2021
Great easy off highway location…other reviews spoke about close sites but it is fine for an overnight stay…wonderful staff…riverside views from cabins; treed shady RV sites; pullthrus for longer coaches
Oct 28, 2021
Staff was very friendly. Cabin was clean and pleasant. Campground was clean and especially at night was quiet. Will stay here again when in the area.
Oct 28, 2021
Exceeded expectations. Flexible and friendly staff. Super clean and large bath house. Back-in sites in trees better than pull throughs. Cabins on hill above water.
Oct 27, 2021
Nice campground and staff.
Oct 27, 2021
Easy on. Easy off . Good restaurant !!
Oct 25, 2021
Always enjoy a layover here even though the sites are very close together and traffic noise from I-40 gets a bit loud if windows are open. The office staff is friendly and efficient.
Oct 25, 2021
Site are tight
Oct 24, 2021
Easy to find, which is always a plus. Large sights and beautiful scenery.
Oct 24, 2021
We have stayed here many times during our travels and really enjoy the convenience of easy access in and off the interstate. Also enjoy the convenience of the restaurant.
Oct 23, 2021
Every now and then you find a campground that exceeds your expectations and this is definitely one of them. We loved our stop here and it will spoil us for other campgrounds. Thank you to the staff at El Reno for all you do to make it great for your guests.
Oct 23, 2021
Our stay was very nice just overnight. We stayed in site 38 pull thru. Didnt like it because very hard to determine beginning and end. And there was glass broken lots of it someone broke mirror i guess. But people at checkin very nice. Sooo convenient to restaurant and gas and wifi excellent
Oct 22, 2021
We stayed in a lovely tent site with shade, fire pit and raised picnic area. Had a great stay!
Nov 19, 2021
At first we wasn't sure what to expect when pulling through the parking lot of a truck stop but we got a cabin, the staff was super friendly and we had a beautiful view of the pond. Very clean cabins and bathrooms. The water pressure in the shower was awesome. My wife and our family stay at different KOAs but this one was by far the best with the hospitality. If we ever come back to Oklahoma we will be staying with these ladies again.
- Casey Pennington on Google
Nov 16, 2021
I've stayed at the El Reno West KOA a few times in the past and it has always been a very pleasant experience. Well, I'm back again only this time on a monthly basis.We recently moved from New Jersey to Oklahoma and are in the process of having a home built in the Yukon area. The campground itself is very clean and aesthetically pleasing. The staff here is amazing, very friendly and very helpful. We plan on being here for several months. While there is a campground closer to Yukon we prefer to make the drive for a very nice place to stay until our house is completed. They make you feel like family here. You just can't put a price on that.
- Joe Gangemi on Google
Nov 03, 2021
Love this park nice and quiet and clean park
- Gil Garry on Google