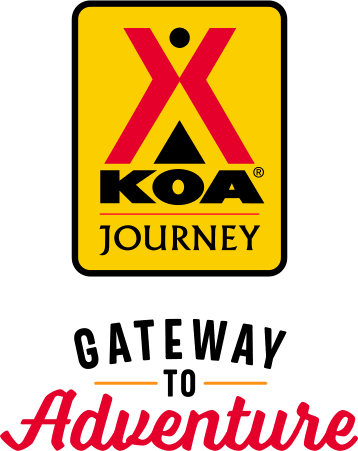 KOA Journey Campgrounds
KOA Journey campgrounds are the perfect oases after a day on the road. Whether it's along the way or a quick getaway, they've got you covered. Located near the highways and byways of North America with long Pull-thru RV Sites, they deliver convenience to the traveling camper. Pull in, ease back and take a load off.
KOA Journeys Feature:
Pull-through RV Sites with 50-amp service
Premium Tent Sites
Well lit after hours check-in service
Jan 13, 2021
Super friendly staff. Long, level pull-thru sites.
Jan 12, 2021
Expensive for one night in January
Jan 11, 2021
The staff are wonderful, friendly, and helpful. Our stay went well and had no problems. The owner could do a little upgrading to the campground as it may be getting a little too rustic for the glampers. I do look forward to our next stay and a big pot of squirrel stew!
Jan 09, 2021
One night stay in very muddy site.
Jan 09, 2021
We have stayed here several times before going between Florida and Indiana. The staff here are great. We encountered a dead battery on our tow vehicle, when we were ready to hook up. My hubby walked up to the office even though they were closed, he was flagged down and staff came and used their jumper cables and got our truck started for us. We will continue to stay here.
Jan 08, 2021
This campground is nothing fancy. I good quiet place to stay overnight far enough from the expressway so you don't hear no noise from the traffic. perfect for what I need. very easy on and off the expressway, which is great!
Jan 08, 2021
Good overnight stop.
Jan 08, 2021
only a short overnight stay. but our reservation was waiting for us and we had no trouble finding our spot
Jan 06, 2021
Quiet, spacious, pretty setting.
Jan 05, 2021
Wifi intermittent!! Dog park poop container overflowing! I stayed on 30 & puppy at adjacent lot left out for extended periods of time - constantly barking - their site also needed litter picked up. Parks condition continues to go down. It's is in need of major TLC !!! Check-in folks Diane & Connie terrific - but new gal has no clue of what she is doing!!! I love the park - but it needs help !
Jan 04, 2021
RV spaces with very good space. Store was very empty. Bathrooms in regular condition.
Jan 04, 2021
I had a very nice experience at Cordele Journey. There is one employee that I MUST give kudos to. Diane at the front desk is an incredibly valuable employee. She helped me so much when I needed a few things at the grocery store and couldn't get out to get them. She made sure that I had what I needed. She deserves a huge raise for just being so kind to all the RVers, not just me. THANK YOU DIANE!!
Jan 03, 2021
Everything was great except for the fire ants next to the fire pit and a couple other places. Dogs kept getting spurs in their feet grass could be mowed more often. But as a whole the place was quiet and comfortable and easily accessible from I-75. A great stopping place heading North or South.
Dec 30, 2020
Campground was pretty run down looking and poorly landscaped. Our site was very sloped, sewer hookup poorly located, roads were bumpy dirt, playground hadn't had leaves blown in months, sketchy full timers. I can't see anyone staying more than overnight as a pass through.
Dec 29, 2020
This was 1 overnight stay on our way home. Clean campsites and nice level pull through. Staff was very friendly.
Dec 28, 2020
Checking in was easy, the bathrooms are in poor condition. It was convenient to the freeway, good cable TV and WIFI, just an older property. Great for a one night stop over.
Dec 24, 2020
Just an overnight in a motor home. Nice and easy in and out. Nothing special but it was all we needed..
Dec 22, 2020
We stayed here one night while on the road. We called earlier in the day, reserved our site, and paid in advance. The office was closed when we arrived, but check in was simple and the place was peaceful and quiet. This was not our first time stopping here and we would definitely stay here again.
Dec 21, 2020
Very friendly staff! It was fairly empty but as expected for a cold December. Nice and quiet stopover on our travels.
Dec 15, 2020
Small, clean park with level sites.We were pleasently greeted when we arrived and quickly taken care of when we needed to purchase propane. During our stay we had mechanical issues with our motorhome and were unable to leave as planned. Lamar, the owner, was very helpful in trying to find a mobile technician to come to the park to fix our problem. We truly appreciated Lamar's friendly support.
Dec 15, 2020
When I placed my order for a camp site I ordered full hookups for my 2020 new 36 foot 5th wheel and when I arrived they gave electric and water only. They realized the mistake and moved me to another full hookup spot. The camp grounds was only 1/2 full or less when we arrived and only 2/3 rds full when left. The bathrooms were old and needed some maintenance performed.
Dec 14, 2020
Campground smelled of sewage 2 of 3 days. Bathrooms were acceptable, not clean, just acceptable. The playground is a lawsuit waiting to happen. I would not return to this KOA unless I was completely self sufficient in a motor home for a single overnight stop.
Dec 10, 2020
Thanks for the stay, I was passing thru to Indiana to funeral services for my Brother and Dad who died from Covid. They were extremely respectful of the no contact check in. Can't thank you enough for that part. The campground appeared to be well kept. We have put it on our list to stay there during a more happy pass thru. Bill V.
CAMPGROUND RESPONSE / COMMENTS:
so sorry for your loss, Prayers
Dec 09, 2020
The hookups and dump station look old and dated. It's a very basic campsite, but would stay again if passing through.
Dec 09, 2020
Clean and quiet. Person at front desk Very friendly. One night stop. Great!!!
Dec 06, 2020
Excellent, beautiful & clean.
Dec 06, 2020
Great ...level...quiet...easy on and off highway
Dec 02, 2020
Very friendly and safe. I will be back!
Dec 02, 2020
Overnight stay ice and clean like all KOAs. Fire pits are to close to pull through. The people next to us, had their fire pit about 4 feet away. Much to close to be comfortable. Luckily to cool to be outside that night.
Dec 02, 2020
Good location for a over night. Didn't use any of the Campgound facilities so I can't say anything about them. But just by outward appearance of the Campgound I would say that the place needs a little TLC. Or it will soon be in a downward spiral
Dec 01, 2020
Very disappointed... Read the reviews and thought it would be a clean place to stay the night on our way home. Bathrooms were filthy, cable reception was not good and the "Large Pull Thru Sites" are just giant sand pits. We checked in late and out early so never had a chance to meet the office staff. We will definitely not be returning to this KOA.
Dec 01, 2020
Very clean and nice people that work there
Nov 30, 2020
Not the best KOA we've stayed at. Several old campers and automobiles at multiple sites. Place really looked bad.
Nov 30, 2020
The location of the campground is good. I do like the distance from my house as a halfway point for mountain trips. Definitely not an abundance of stuff to do or any frills, but it does what we need it to do for a one night stay. This time it rained overnight and in the morning as we were preparing to leave, our septic connection was completely backed up. Couldn't dump black or get. Frustrating
Nov 29, 2020
Very quite campsites considering how close to the highway it seems to be.
Nov 29, 2020
We arrive late and left very early but the camp was clean and well laid out.
Nov 29, 2020
Great place to over night along I-75. Convenient pull-thru spaces for quick in-and-out.
Nov 28, 2020
Very friendly and accommodating for a quick stay. We enjoyed our stay at this very rustic place. However, the bathhouse and restrooms could use a lot more attention.
Nov 27, 2020
We stayed overnight while traveling home. Staff is great!! If our travels bring us this way in the future, we will stay here again.
Jan 04, 2021
Nice place
- David Riggall on Google
Dec 06, 2020
Ms. Connie deserves 10 stars for customer service and another 10 stars for her kind heart !! Recently me and my dog broke down (south of Cordele Exit 97) on I 75 around noon. We barely made it off the ramp and coasted into an old struck stop that apparently had been shut down for some time. After several hours at the abandoned truck stop, spent contacting family and making arrangements for a 100+ mile tow, I found the KOA campground on GPS. Me and ole faithful walked there shortly before dark and were greeted on the KOA front porch by Ms Connie. She welcomed us and let me and my dog get out of the cold! She let me charge my phone, provided my dog w a bowl of water and even offered me something to eat, while I waited on my family to arrive. My background in retail management and customer service makes me appreciate and applaud Ms Connie for going above and beyond. As a probation officer now, I appreciate and applaud Ms. Connie for her kind and trusting nature, for her hospitality when a stranger and her dog wandered onto the property and needed a temporary haven. Ms Connie is truly an asset to her employers and to all the KOA customers that she host!
- Donna Courson on Google
Dec 06, 2020
Right off highway. Very beautiful. Helpful, polite folks working in office. We'd definitely come again.
- Holly Niro on Google