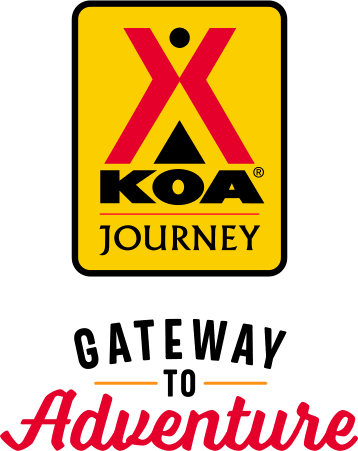 KOA Journey Campgrounds
KOA Journey campgrounds are the perfect oases after a day on the road. Whether it's along the way or a quick getaway, they've got you covered. Located near the highways and byways of North America with long Pull-thru RV Sites, they deliver convenience to the traveling camper. Pull in, ease back and take a load off.
KOA Journeys Feature:
Pull-through RV Sites with 50-amp service
Premium Tent Sites
Well lit after hours check-in service
Sep 24, 2021
Great staff, clean area, quiet.
Sep 23, 2021
Great place for us to stay overnight on way to Dollywood from Cocoa Florida. Very friendly and kind personnel. Would recommend highly. Even had a fenced in area for our 4 furry critters to be able to roam free for a little bit. Very clean and well kept campground.
Sep 22, 2021
A nice older campground. Seems to be well maintained. Only issue was water spigot leaked really bad. A good place for overnight stop.
Sep 22, 2021
Great service and a nice , cozy , quiet spot to spend the evening.
Sep 22, 2021
Lady at the office was very nice and helpful on the phone. Easy to get in and not have to unhook when just stopping for the night.
Sep 19, 2021
Nice campground. Small, quite, all pull throughs. Nicely shaded. Only problem—I tried to take a shower but couldn't get anything more than lukewarm water. No thank you. Otherwise, a great place. And RIGHT OFF the Interstate. Very easy in and out to continue travels.
Sep 18, 2021
Good overnight stay. Nice laundry room. The pool was closed. Did not use the bathrooms. The only bad thing, which was not the fault of the campground , was the gnats and other flying pests. They were horrible!
Sep 18, 2021
Greeted nicely...old camp needs a great deal of attention... buildings, grounds, sites, driveway, etc
Sep 14, 2021
The 30 amp outlet was mounted upside down, causing my plug to fall off a couple times until I wrapped the cord over the power box. The TV cable outlet was mounted cockeyed and loose, and the reception was poor. WiFi was mostly Ok, just a bit slow. On the other hand, the park is neat & clean with friendly, efficient service.
Sep 13, 2021
The staff was very accommodating and friendly. We really enjoyed our family girls camping trip!
Sep 13, 2021
Always stop here going to Massachusetts and returning to Florida- very quiet, clean and friendl
Sep 12, 2021
We enjoyed the overnight night stay staff was very friendly and helpful. I want to thank the wonder lady that help straighten out my mess up on my reservation. I will recommend this campground to all.
Sep 11, 2021
Site was great, quiet and large with privacy in between. Under new management and seems like he is very much into improvements and updates. . Only draw back was we had driven all day and were exhausted but no place to order delivery or takeout nearby so we had to cook dinner and clean up afterwards. That was okay but would have been better if we could have gotten even a sandwich delivery.
Sep 09, 2021
Nice and quiet clean bathrooms great stay over coming from va to fl great on and off i75 thankyou for a nice stay
Sep 08, 2021
Convenient off the interstate. Pool was not open.
Sep 08, 2021
The best thing about your campground is the size of the sites. Disappointed that there was no handicap facilities for toilets or showers. There was a very large hole that was full of water. Our truck wheel went into the hole and it was muddy up toe the middle of the rim. This was reported to Bob Combee but nothing was done about it. It should have been marked with a cone.
Sep 08, 2021
No one was at office when we arrived. We had to wait 40 minutes. It was a quiet campground. Pool is in bad shape and closed. Bathrooms were clean. For an overnight stay would be OK.
Sep 07, 2021
I'm Steve the husband. I enjoyed the stay, the Staff were very polite and courteous.
Sep 07, 2021
It's a mediocre campground. Pretty tight spaces. Easy access off the highway but you drive past some apparently abandoned strip malls so it looks pretty sketchy on the way in. Good enough to get some sleep on a trip, but not somewhere you would actually hang out.
Sep 07, 2021
Had a great stay. KOA always provides great experience.
Sep 07, 2021
Just a late arrival and leave early the next morning. Did not use the amenities except for the K9 Park. Just a side note that there was no poop bags at the waste bucket and an unprepared person would not be able to clean up after their pet. Overall, i would stay there again while traveling through.
Sep 07, 2021
Campers were young and loud unsupervised with four wheeled motorcycles running until midnight
Sep 06, 2021
Staff was great. Although the park needs an upgrade.
Sep 05, 2021
Spacious sites and level. Had lots of shade and well maintained.we stay here on our way through to North Georgia and have not had a bad experience yet. Easy in and out.
Sep 05, 2021
This was a last minute stop during a trip home on a holiday weekend. We were shown outstanding hospitality and flexibility at a well-maintained and comfortable park. Thank you for everything!
Sep 04, 2021
Big shaded sites well maintained. Easy in and out. It was close to the highway but noise was very low. I have stayed here 3 times and will stay again on my way through.
Sep 03, 2021
Easy in. Easy out. Right on the highway. Very clean and well kept KOA!
Sep 03, 2021
It's fine, but it's a little old and outdated compard to other KOA's that we've stayed at.
Sep 01, 2021
Over friendly staff. Clean new laundry. Long level sites, but they need gravel, instead of dirt and mud. Excellent cable and wifi. The place needs some spiffing up. Paint exterior buildings and some plants at front office. Surrounding area has abandoned buildings, but campground felt safe and quiet. It just has a very sad and lonely appearance. Easy access to 75.
Sep 01, 2021
It was a very nice rv park
Aug 30, 2021
I think this is an underrated KOA in that it has very spacious and grassy spaces. Pool is out of commission due to a water line break, but the hospitality made up for it. Staff was more than helpful. LOTS of TV stations—most KOA's are lacking in this.
Aug 30, 2021
We were very happy with our site, we were very comfortable. We will be back that way in June 2022, so we will definitely plan on staying there.
Aug 30, 2021
This was just a one night stay on our way back home. Arrived after dark. Hard to tell roads from the actual sites since everything seems to look like grass in the area where we stayed. However, it was a VERY quiet place, away from road noise.
Aug 29, 2021
Cable is horrible.
Aug 29, 2021
e didn't need the swimming pool.\, but it was a disaster. The 30 amp hookup had not 110 outlet. Otherwise, got our needs filed. For too much $$$.
Aug 29, 2021
This park is not up to KOA standards. It needs a lot of cleanup, and work. Would never go back.. It is a disgrace to the KOA system.
Aug 27, 2021
We were only there for one night. Campground looked very old and sad. Grass needed mowing, sites were dirty.
Aug 26, 2021
Super nice staff great level site..will be sure to stop on next trip
Aug 26, 2021
Easy clean and I'll stay again
Sep 19, 2021
Great KOA! Wonderful host, really went out of his way to get us settled in. Sites were level, mostly shady and grassy. Dog friendly 🐾
- Tracy Johnson on Google
Aug 22, 2021
Great place for a birthday party. You have a building with a kitchen and access to the pool. The children love it. (It would be good for an adult party or family reunion as well.
- Tina Allen on Google
Jul 30, 2021
Such a pleasant surprise…. We were looking for a quick overnight stay. With the cabin option at KOA Cordele, we decided it could be a perfect fit rather than doing a local hotel. I am so glad we made this choice! The air conditioning was cool, the beds were comfy and the fire pit was perfect for s'mores (even in July)! And even though it was hot outside, the cabin was under the trees enough where there was plenty of shade. The bath house was clean and my son LOVED being able to ride his scooter around and play pool with his dad in the office. Best of all though were the people that worked there… Because we were only stopping for a day, we hadn't been very prepared with firewood, s'mores sticks or a lighter for the fire pit. When we checked in, I found the roasting sticks for a few bucks and then asked about a lighter and fire wood. She immediately asked the gentleman that was working and he said he would take care of it. We got settled in and when we came back out, he had delivered firewood to the fire pit at our cabin site, a lighter and even a lint/paper roller starter!! To say they went above and beyond to make sure we had the best night, was an under statement!
- Jessica Clare on Google